By Erika Huber
Fashion has ancient roots in all world cultures. We need clothes. But we want to look good. And we've been trying to balance these goals ever since we invented the loincloth.
When it comes to investing in fashion stocks, it helps to understand the differences between wants and needs, and short-term and long-term trends - and how those aspects work together to affect your portfolio.
The fashion industry is highly reactive and undoubtedly volatile. Seasoned investors know to shy away from holding fashion stocks for too long for those reasons. But is investing in fashion merely a gamble?
It doesn't have to be. Let's take a peek behind the catwalk curtains...
Obstacles on the Runway
Retail has had it rough lately. Companies are dealing with an excess of store space and scrambling to adapt to a new brand of tech-savvy, media-literate consumers. Thousands of brick-and-mortars are likely to close their doors this year.
According to the McKinsey Global Fashion Index, the industry was worth an estimated $2.4 trillion in 2016. For many years, its growth rose a steady 5.5% annually, but last year it saw growth of less than 3%.
Despite the bearish industry outlook, there's potential for improvements in the fashion world in 2017. Analyst projections are pretty split on the matter, but many are hopeful that some retailers will learn from their mistakes in the next few years.
How can fashion companies do this? And how can you spot value in fashion stocks?
Let's cover the basics of spotting fashion winners...
Follow the Fashion Forecasters
Financial analysts find it hard enough to predict what the markets will do next. Predicting fashion trends in time to act on them seems almost impossible. But you don't have to be Anna Wintour or Valentino to know what will be in style. Just look around you.
Fashion is a wearable sign of the times. What's on the runway is a manifestation of what's on the minds of many.
And designers are not the only ones controlling the colors, cuts and patterns that consumers go for. Two other factors come into play: the cyclical nature of fashion trends and the unpredictability of world events.
If you can't keep up with those two things, don't worry. There are people who get paid to know what's going on in the world of fashion. These people study and track new trends - and they know when old ones are due for rebirth. They're fashion forecasters, and their analyses are vital to companies, consumers and investors.
Fashion forecasting is a rather scientific field of work. It involves statistics, historical data, psychology, sociology and more. A plethora of major brands use forecasters to enhance their sales.
Ralph Lauren (NYSE:RL), Hugo Boss (OTCPK:BOSSY), H&M and Reebok - among others - are connected to fashion forecasting firms, such as WGSN, Trendstop and Fashion Snoops.
These firms are hunter-gatherers of data that will make brands more marketable and relevant. They're paid handsomely for their insights. But you can follow blogs curated by firms and individual forecasters to see where the industry is headed.
Here are just a few of the things fashion forecasters do in their research processes...
Collect images that frequently show up on a variety of platforms: runway events, blogs, social media, textile trade shows, etc.
Conduct surveys, follow world news, and analyze company sales and government economic reports
Use historical data to time when a trend is likely to reoccur. (Fashion history repeats itself.)
Short-term trends generally last up to two years. They're brought on by current events, pop culture and internet fads.
Long-term trends, lasting two years or more, are characterized by game changers like new political climates, major shifts in demographics and technological innovations.
Both trend periods tend to come and go in waves - just as bull and bear markets do.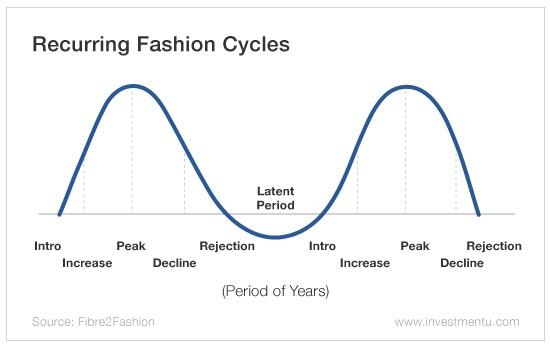 Also, forecasters must understand how global events create "butterfly effects." Seemingly irrelevant things, like health crazes or political movements, can eventually influence how a society expresses itself.
Take the recent revival of third-wave feminism. It has influenced the new "covered up" look being sported on the street and by iconic risqué dressers like Rihanna. The "naked Kardashian" look is being replaced with a style that reflects being comfortable and fully owning one's identity.
The "wellness revolution" has driven the "athleisure" and "athluxury" trends that have given Nike (NYSE:NKE), Under Armour (NYSE:UA) and Adidas (OTCQX:ADDYY) their megabrand statuses. As people become more concerned with their health, they aren't just dressing to look good anymore. They're dressing to look well.
Fashion forecasters have paid close attention to employment stats. In 2016, 43% of employed Americans spent time working remotely. That number is expected to grow. This also fuels the comfort trend. People are trading in slacks and skirts for joggers and yoga pants.
So let's take a closer look at the sportswear trendsetter Adidas...
The company has had a major resurgence. The comeback is likely due to strong, trend-focused marketing and R&D.
Adidas is stepping into the future in other ways, too. The German company teamed up with Carbon, a Silicon Valley-based startup, to create the soles of the Futurecraft 4D sneaker using "Digital Light Synthesis." This technology will allow Adidas to manufacture products that can be easily altered and personalized for each wearer. It plans to release 5,000 pairs later this year.
Recently, Adidas' stock surged as much-anticipated NMD and Boost sneaker styles hit the physical and digital shelves.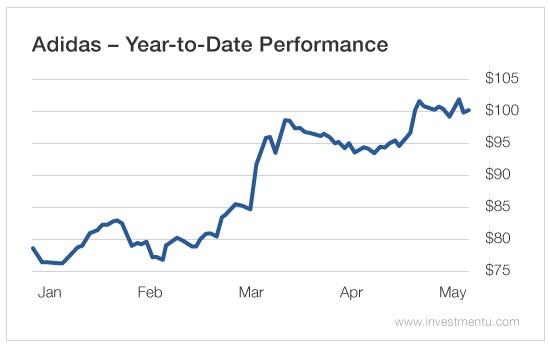 If Adidas is successful with its tech innovations, it could shape up to be one of the best value buys in the fashion industry.
Get Yourself Some Green
Fashion can be a cutthroat space. So if you're an investor who doesn't want to take a chance on getting burned, stocks like V.F. Corporation (NYSE:VFC) can be safe plays. VF owns practical brands like JanSport, Timberland and The North Face, and has been around since 1899. History shows it has market endurance.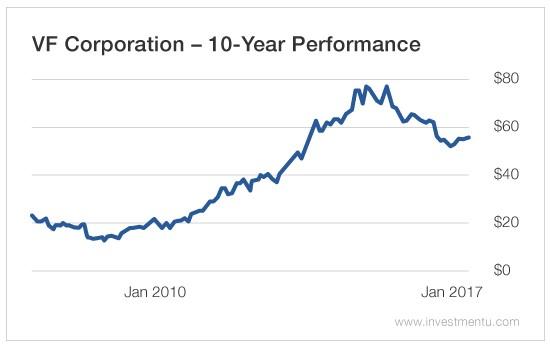 If you want to be a fashion-forward investor, focus on long-term trends - and don't put all your eggs in one handbag. It's always better to spring for a long-term investment than a fad buy that won't last through the year.
The fashion industry is poised for big transitions. And savvy investors will be quick to profit.
It's no wonder the Pantone Color Institute named "greenery" the color of 2017. The hue represents rebirth and regeneration, things the fashion world will be seeing a lot of this year.
And with the right market timing and attention to detail, you can make your pockets the color greenery - inside and out.
Disclosure: We expressly forbid our writers from having a financial interest in their own securities recommendations to readers. All of our employees and agents must wait 24 hours after online publication or 72 hours after the mailing of printed-only publication prior to following an initial recommendation. Any investments recommended by Investment U should be made only after consulting with your investment advisor and only after reviewing the prospectus or financial statements of the company.
Editor's Note: This article discusses one or more securities that do not trade on a major U.S. exchange. Please be aware of the risks associated with these stocks.