The French Republic is a member state of the European Union, the sixth largest nation in the world by GDP, and the seventh largest exporter. It has numerous structural strengths including a well-diversified, modern, and efficient economy benefitting from a highly educated and wealthy population, a modern and technologically advanced economic base, traditional openness to trade and foreign investment, and a well-functioning legal system. However, while the labor force is growing, the population is also aging and will require support. France suffers from a structurally sluggish economy, high unemployment, high corporate tax rate, and an over-bloated state. Terrorist attacks have also brought security and immigration issues to the forefront of politics.
In addition to the terrorist attacks of late, France gained traction in the media on the back of its highly contentious presidential election, which was a source of uncertainty for investors globally. Four candidates fought a very close race in the first round. Ultimately Emmanuel Macron, coming in first place, and Marine Le Pen, coming in second, made it through to the second round. This matchup made history, as neither second round candidate was from a mainstream party, suggesting a change to the traditional French political landscape.
Le Pen was the leader of the historically controversial far-right Front National (FN) party and wants to leave the EU and the euro. She stepped down as FN leader after the first round in an attempt to distance herself from the party founded by her father in 1972, and broaden her appeal to Francois Fillon's more far right supporters as well as Jean-Luc Melenchon's supporters who back her protectionist views, demand side economic policies, and rollbacks of labor market reforms Francois Hollande put in place. While the left was angry about the outcome of the first round and took to the streets, the Socialists overwhelmingly backed Macron. Macron ran independently with his own party "En Marche!" and is for a stronger and more integrated euro area, tax cuts for households and corporations, deregulation, decentralization of labor negotiations, a longer work week, and public spending cuts.
With Macron winning the second round of the presidential election on May 7th, investors are now turning their focus to the lower house elections in June. It is our view that it will be difficult for his new party to get the majority, making it more challenging for him to pass meaningful reforms. However, these labor and tax reforms could be a major catalyst to unlock meaningful potential GDP growth and a strong bull market in France. While this is not our base case, we do think some watered down reforms will be passed that will skew the risk in the French market to the upside.
Outside of the elections, policy risks remain in the dealings with Brexit, Russia, and the U.S. Also, social stability continues to be a risk in France, with social tensions having contributed to low support of democratic institutions. France is diverse with immigrants making up about 12% of the population, but it has struggled to integrate them into society, resulting in backlash against immigration, particularly after the terrorist attacks in Paris and Nice. A fractured labor market favoring incumbent employees and contributing to high youth unemployment also has weighed on social stability. The El Khomri laws incrementally improved labor market flexibility; however, hours worked, incentives which favor temporary over long-term contracts, and collective bargaining of wages remain key issues which need to be addressed to meaningfully improve the environmental profile of France.
Our economic outlook is neutral, but improving. France's economy is stuck in slow, but sustainable growth. France has recently moved in the right direction on reforms and the country looks to be relatively early in its economic cycle with plenty of labor market slack. Significant reforms could boost France out of its current slow growth regime and steepen the trajectory of potential GDP growth. Real GDP growth forecasts remain very attainable - close to levels seen in both 2015 and 2016 - providing room for economic growth to surprise on the upside. Private consumption has been a stable positive contributor to GDP growth with recent support from investment and government consumption. Recent manufacturing and service PMIs support an upside surprise in growth as well. Within France, there has been an increase in gross fixed capital formation, consumer lending, and housing activity, whereas net exports have been a drag on growth. However, a healthier Europe and potentially stronger global growth could help strengthen France's net exports.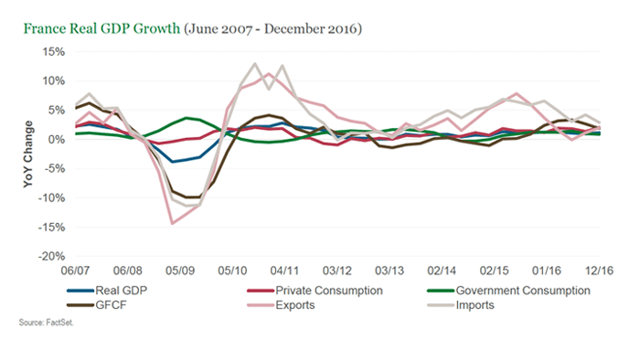 France has a growing population and one of the better demographic profiles among developed nations, but there has been little growth in its labor force since 2012 due to low participation among the youth and those 60+. The inflexible labor market has discouraged investment and hiring (particularly permanent hiring), which has undermined productivity and left many French workers with insufficient skills. The bifurcated labor market also has many youth workers working on temporary contracts where they receive minimal training.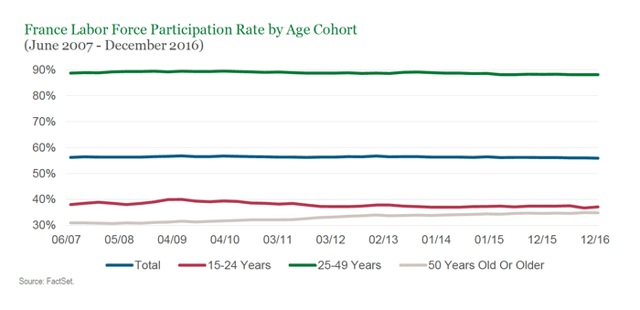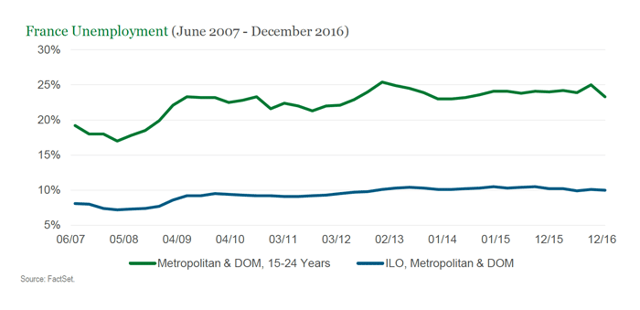 Despite a 10% unemployment rate, consumption has been relatively healthy. The French consumer has traditionally been conservative with high household savings (traditionally around 15%) offsetting some of the real wage and employment weakness. There have been some improvements in the labor market, however, which improves the outlook for consumption growth. For example, youth unemployment and total unemployment remains high, but these metrics have begun to improve. Broad wage growth also appears to be bottoming, which should be supportive of current retail sales growth rates and strengthening consumer confidence. Confidence for future financial situations suggests a potential for stronger retail sales growth as well.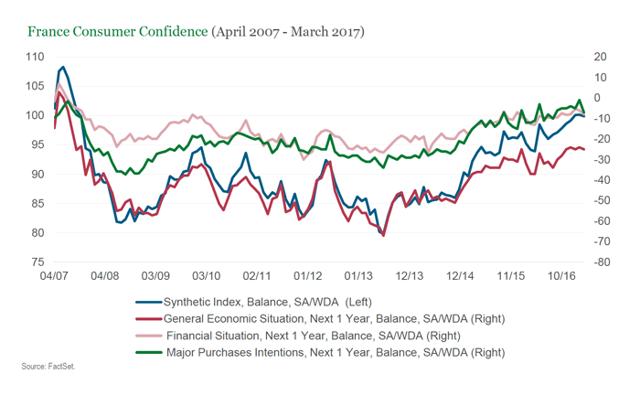 In addition to a high savings rate, the French consumer has one of the lowest indebtedness ratios of any developed economy relative to both income and GDP. This means, theoretically, the French population has more room than other developed countries to grow consumption and use credit. While consumer credit demand has remained low, household lending and intentions for major purchases have increased. Residential mortgage approvals and loan demand for home purchases have also picked up, reflecting a healthier housing market and more confident consumer. Household investment growth turned positive in mid-2015 and has continued to strengthen. This sector of the economy could support both consumption and investment.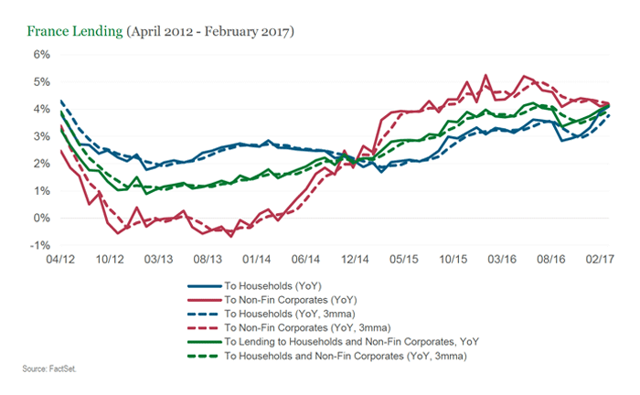 Business sentiment is strengthening and capacity utilization - especially in manufacturing - points to a potential pickup in corporate investment as companies need to expand capacity to keep up with demand and replace older, less efficient equipment. This should increase investment spending, productivity, and employment. Furthermore, a healthier core Europe should strengthen French exports, which should further the need for investment in transport, manufacturing, and industrial companies, as these are the largest French exporting industries.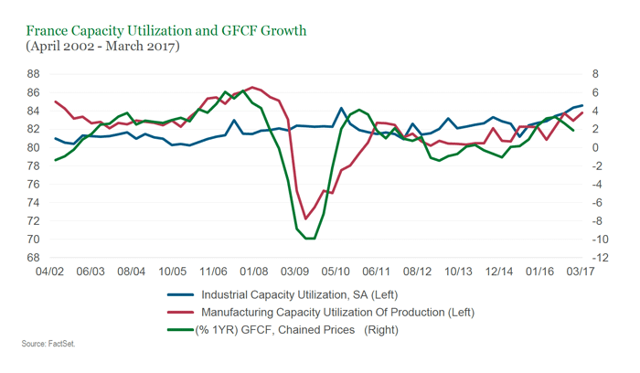 Labor rigidities have contributed to the loss of international competitiveness and a falling global market share of exports over the last two decades. However, reforms have started to show through as the share of exports has picked up since 2012 and France's manufacturing Unit Labor Costs have been steady since 2009. Francois Hollande implemented tax credits to encourage investment and hiring, labor reforms to improve the flexibility of the labor market, and most recently, a corporate tax cut that will benefit small and medium-sized enterprises this year and larger corporations in 2020. While both Sarkozy and Hollande passed several reforms during their time in office, they were not able to secure enough political consensus to pass the most meaningful of them. Many problematic regulations still exist that need to be addressed to make France truly competitive, especially in services where ULCs are less competitive. France has had a negative trade balance since 2007, during a time in which global growth has been muted. A stronger European and global economy could fuel export growth and narrow the trade deficit, whereas U.S. protectionism and potential loss of trade with the UK pose significant risks to export growth.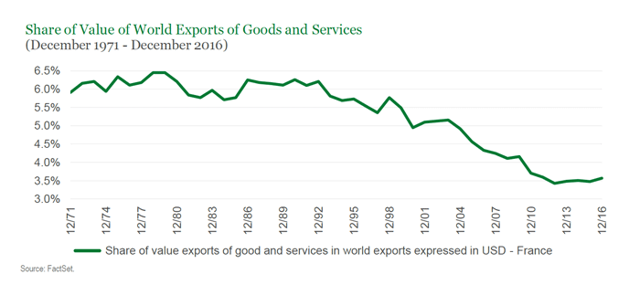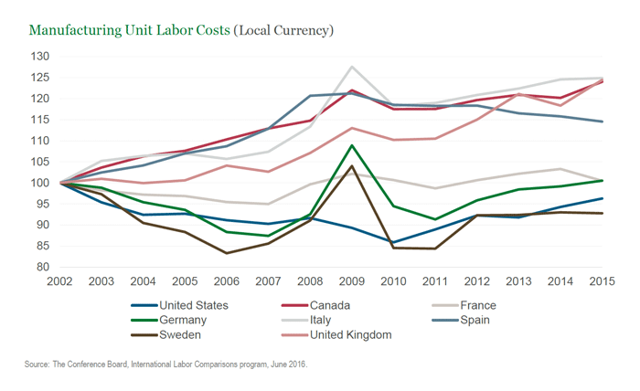 France's government is structured as a unitary semi-presidential republic and has a centralized decision making process. Government finances have continued to deteriorate, highlighting the need to bring the fiscal deficit under control. Government debt to GDP is close to 100%, due to persistently large budget deficits since the onset of the global financial crisis. Total French government budget expenditures are also very high as a percentage of GDP and relative to other European countries. Social spending is close to half of spending, with a large part of that comprised of unemployment benefits and social services, with the rest spent on pensions. Austerity measures have reduced the budget deficit, but it remains above the level mandated in the Maastricht Treaty. While a reduction in public spending, a decrease in headcount of public employees, and deregulation of the labor market would improve the fiscal position of France in the longer term, government spending is likely to be a headwind, or at the very least not a tailwind to growth going forward.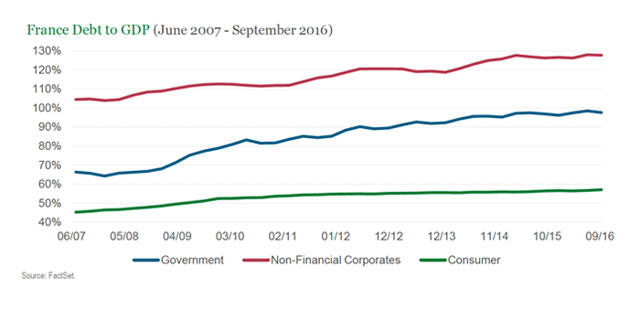 Extremely high corporate tax rates need to be lowered to increase competitiveness. The OECD estimates that decreasing the labor tax wedge by 10 percentage points for the OECD average country would raise the employment rate 3.7% and decrease the unemployment rate 2.8%. Given that the labor tax wedge in France is higher than average, the effect may be even greater. It also suggests lowering the tax wedge would increase the labor force participation rate, as well as bring down unemployment, particularly in low skilled workers.
Traditionally, the French economic model has been that of a large public-sector presence alongside thriving and innovative private-enterprises. The government retains considerable influence over key segments of infrastructure sectors, with significant ownership of railway, electricity, aircraft, and telecommunications companies. Since the early 1990s, the stance of the government has been to gradually relax control of these sectors, and since 1995, the economy has seen more market-friendly reforms that not only affected the corporate sector, but also the individual. This is likely to continue with Macron being elected president.
Inflation has picked up and is closing in on 2%, in line with the euro area. However, while the headline number has increased, core inflation has weakened toward zero. Much of the recent strength in inflation has come from food, energy, and transportation, much of which we expect to be transient. We do not expect the ECB to hike rates in the near term, as inflation remains well contained, unemployment is high, and economic growth remains muted. But we are more optimistic on Europe than we have been in the past several years and we do believe inflation and growth are healthy enough to suggest the ECB will likely taper, putting a floor under the euro. However, we do not expect significant strength from the euro, as the ECB continues to exhibit an easy monetary stance relative to the U.S. raising interest rates.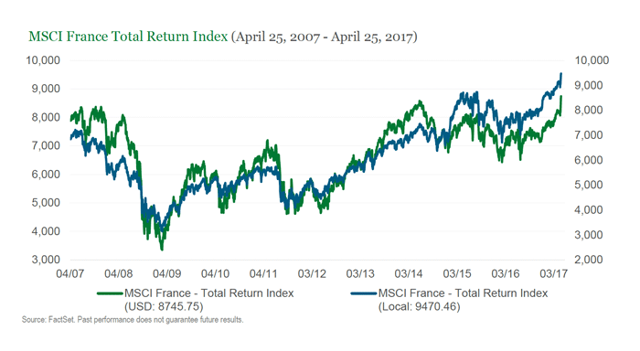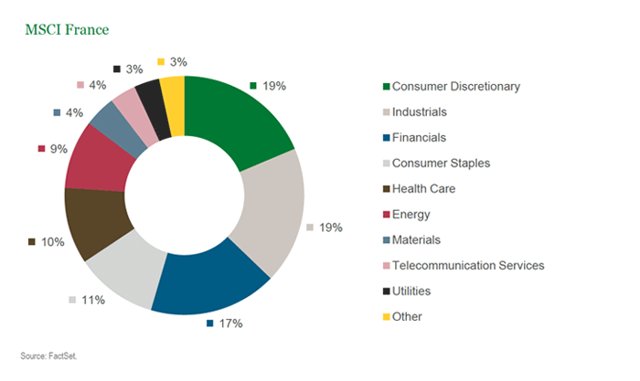 Presently, we believe a neutral to slightly overweight position is appropriate in France today. This recommendation could be meaningfully higher amid evidence that Macron will deliver on many of his promised reforms. Despite the need for reform, France has very successful, world-class multinationals that span many industries. It is also one of the more favorable developed market macro stories globally. It offers a combination of a cyclical uptick in the domestic economy, a strengthening European economy, improved global competitiveness, low inflationary pressures, loose monetary policy, and a potential kicker from labor and tax reforms that could structurally increase potential GDP. French companies still have low hanging fruit to expand margins, and increased top-line growth would allow operating leverage to kick in. The French equity market has not seen meaningful earnings or sales growth since 2011, so a stronger economic cycle and stronger export growth could allow an upside surprise to earnings. Labor and tax reforms would exacerbate this opportunity and allow for even healthier earnings growth and more globally competitive companies. Presently, most French companies are fairly valued, so it is important to be selective. We recommend focusing on more cyclical growth companies which are competitive exporters to the rest of Europe, exposed to construction and investment spending, and exposed to the French consumer.