Treasury auctions are taking out new highs, and investors look to be insatiable. Emerging markets are proving to be one of the hottest trades of the year, market inflows are showing waves of optimism, and millennials on public transit won't stop talking about the latest stock they bought on the Robinhood app.
I won't be the one to call market collapse here - the numbers on the US economy aren't looking bad per se. But if you can't recognize the hysteria in the markets right now, you're likely one of the hysterical.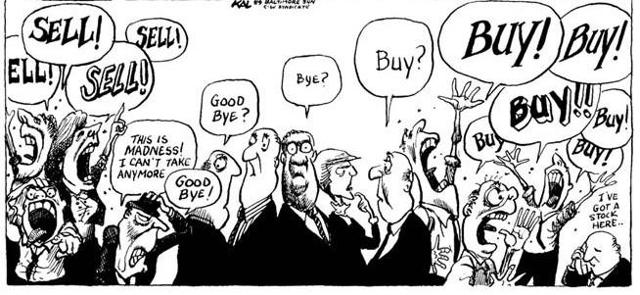 Now, I'm not saying buying is a mistake, just that investors need to exercise caution.
Jeff Gundlach and Bill Gross are out this last week shorting the S&P and high yield credit spreads respectively. (Gundlach is also long emerging markets.) This amid a nonstop stream of market optimism, growing risk appetite as the VIX (NYSEARCA:VXX) hits historic 1993 lows, and better-than-(I)-expected earnings season so far. (75% of firms that have reported earnings so far have beat EPS estimates, according to FactSet.) However, both ideas warrant careful inspection.
First, here are a few clips from Bloomberg's Brenslow on general market sentiment and how central banks have killed volatility. He put this note out last Wednesday (May 3rd), on the same day the SEC approved the market's first 4x leveraged ETF.
"Investors are suffering from the increasing amount of insider trading going on. Because fewer and fewer market participants are comfortable answering the question, 'What's going on?'

A lot of this is from the much-discussed volatility suppression caused by central banks. They got what they wanted and now the negative externalities they failed to appreciate are dangerously affecting accurate price discovery. When we need it most.

But none of this is new. We've entered a new phase where the questions traders must deal with are not as simple as how much more quantitative easing is there to be wrung out of the system. And traders simply don't know what they want to do. The result being we get long periods of inside days following gap moves. And this is largely untradable, unless you dig noise. The big questions remain unanswered.

And let's face it, no one has any idea what's going on in Washington. Is it really comforting that ineptitude is giving markets solace?

And I defy anyone to adequately and convincingly explain Chinese economic policies, let alone what zig or zag they're likely to take in the next month. Have fun trading the Bloomberg commodities index based on the Sino narrative.

Instead of asking yourself what does this price level mean, ponder the fact that it's increasingly deja vu all over again. There has been plenty of news, but lets face it the S&P 500, like so many other assets, hasn't done anything of significance in two months."
Despite recent earnings, investing in equities these days feels like throwing mud (money) at the wall to see what sticks, and blindly thinking the same will continue.
The calmer markets get, the harder volatility will spike - not if, but when, the pebble finally strikes the pond.
Following Gundlach, emerging markets have done well, and EM indices (NYSEARCA:EEM) are priced quite highly following strong performance since last year. News sources lately cite falling commodity prices and a hawkish Fed to be weighing on the China-dominated emerging market scene, but the reality is that emerging market equity performance continues to diverge from range-bound commodity prices.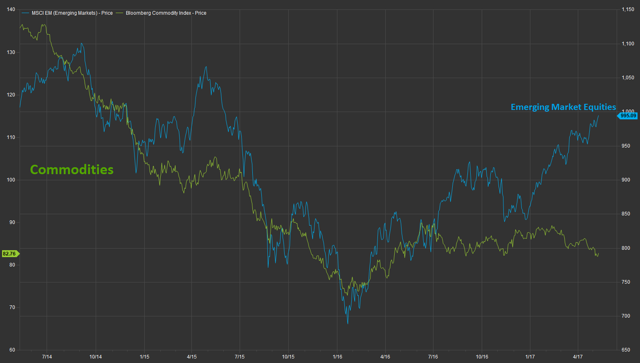 And so long as EM is so exposed to China, so it is to fluctuations in the RMB and Chinese devaluing antics. Similarly, emerging market forex indices are heavily correlated to volatility in the RMB.
High Yield
Gross's comments on high yield are particularly interesting given how tight spreads have been. Take a look: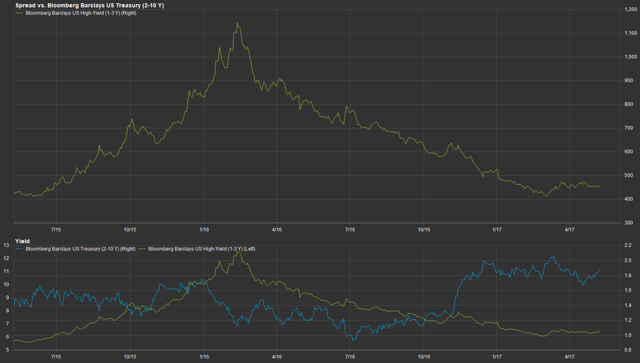 This doesn't mean opportunity isn't to be found. But with high yield spreads so tight, one has to be creative. One also has to wonder how much further the spread, and equity volatility for that matter, can be depressed.
High yield (NYSEARCA:HYG) continues to plow ahead as spreads continue to tighten overall, recently bouncing off of fresh lows. It has been historically correlated to the oil sector, in part due to the oil downturn in recent years forcing the debt of many oil players into high yield space. However, recent volatility in oil has not been reflected in high yield. Here's what I mean: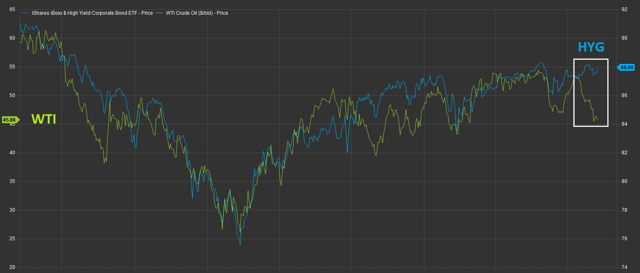 Energy is looking cautiously better, however, this week. Crude inventories have declined by -5.2mmb/d due to a decrease in imports, according to the latest EIA report. Gasoline inventories are down -0.2mmb/d but remain relatively high.
However, given the recent divergence between high yield and oil, I would neither look at that as a bullish outlook on oil nor to maintain the bullish trend in high yield we've had since the beginning of 2016.
In fact, take a look at HY spreads plotted against WTI.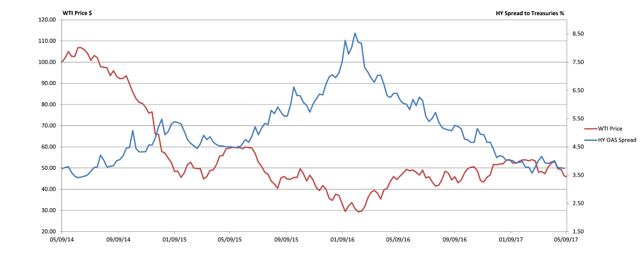 You can see what happened the last time WTI went below $40. This will be a key level to see how high yield reacts.
Conclusion
It appears to me that both emerging markets and high yield are simultaneously signaling signs of distress in a time where markets are investing with abandon. A pullback in either of the two will be a sharp blow to the ever-increasing risk-off climate, potentially leading to outflows in both as well as other alternative investments favored in times of optimism.
Disclosure: I/we have no positions in any stocks mentioned, and no plans to initiate any positions within the next 72 hours.
I wrote this article myself, and it expresses my own opinions. I am not receiving compensation for it (other than from Seeking Alpha). I have no business relationship with any company whose stock is mentioned in this article.
Additional disclosure: This article contains the opinions of BlackVault Investments and in no way is acting as an offering and/or solicitation of securities or investment advice. If you have any questions, feel free to leave them in the comment section or message me directly.