(Editor's Note: Investors should be mindful of the risks of transacting in securities with limited liquidity, such as CRCCY. CRRC Corp's listing in Hong Kong and Shanghai may offer better liquidity.)
Introduction
The China Railway Rolling Stock Corporation, known as CRRC (OTC:CRCCY), was formed in 2015 with the merger of China CNR and CSR. The merger led to the creation of a firm that within China occupies a monopoly position, while internationally it is by far the largest train manufacturer. CRRC benefits from China's growing high-speed network and the country's ambitions to build an international infrastructure-backed trade network under its "Road and Belt" initiative. The company is catching up on technology with Western peers while keeping its costs under control. As a result, it has been able to win by a wide margin nine-figure contracts, such as the supply of metro cars to Boston and LA. Currently, CRRC trades at an earnings multiple between 15 and 16 while paying a dividend of more than 3%. The company's largest shareholder after the PRC is a value investor and friend of Charlie Munger, Li Lu, and his Himalaya Capital with a stake of 1.94%.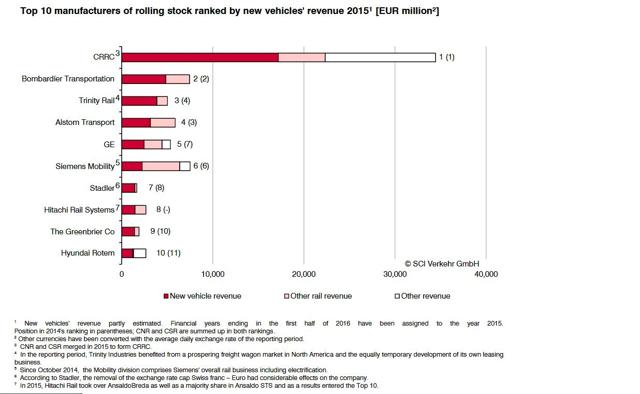 Source: SCI multiclient studies
Revenue streams
CRRC is divided into five business units:
Railway equipment: production of locomotives, electric multiple units (EMUs, i.e. self-propelled carriages), passenger carriages, freight wagons and track engineering machinery.
Rapid transit and urban infrastructure: production of rapid transit vehicles (metro trains and trams) and the engineering of the related infrastructure.
New industry businesses: CRRC is involved in a series of industries in which it can leverage the capabilities acquired in the railway business. These include the production of wind-power equipment, electric buses and water treatment.
Modern Services: this unit focuses mainly on financial services, logistics, and trading support.
Total revenues in 2016 were RMB 224 Bn (USD 32.4 Bn), about half of this amount was generated by the railway equipment business.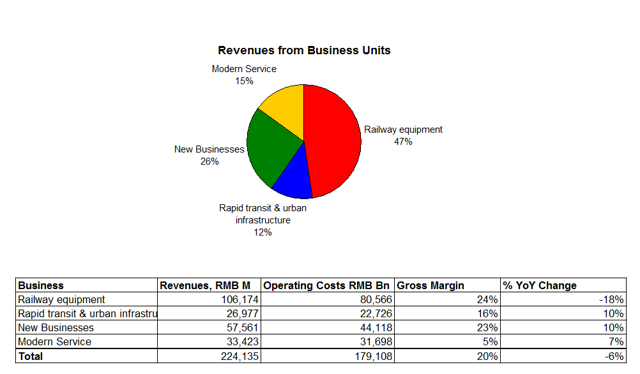 Source: author, data from CRRC annual report 2016
Revenues generated by the railway equipment business can be broken down further as the following table shows.

Source: author, data from CRRC annual report 2016
Continuous innovation
Collaboration with companies like Siemens (OTCPK:SIEGY) and Alstom (OTCPK:ALSMY) helped Chinese railway manufacturers to bring in the technology necessary to develop and eventually compete with Western firms. Nowadays, CRRC spends RMB 9.7 Bn (USD 1.4 Bn) in R&D, which helped it to develop independent technology. It was also able to push forward entirely new projects such as the development of medium-speed maglev trains and its battery powered suspension "Panda" monorails. According to this article, compared to conventional trains maglev trains are less likely to derail, have stronger climbing ability, smaller turning radius, offer a more comfortable ride, emanate less noise, generate no metal dust, and are estimated to require only a third of the maintenance cost of conventional trains.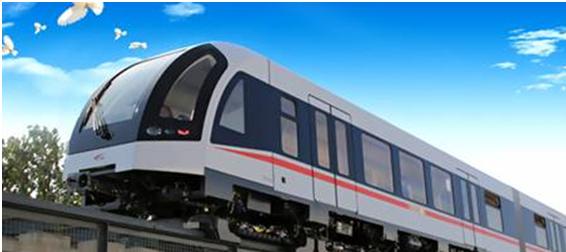 Low- to medium-speed maglev train; Source: CRRC
Other projects in the pipeline include a high-speed maglev train that can reach up to 600km/h (373 mph) and a double-decker "intercontinental train" able to operate in different climates and capable of adapting to varying railway gauges.
Internationalisation
CRRC's internationalization projects are as ambitious as its research. After all, the rationale behind the merger of CNR and CSR was to end the competition between the two on foreign contracts, even at the cost of forming a monopoly in the Chinese market. Revenues from abroad were only 8% in 2016, while the mid-term goal is to generate 35% of its revenues outside of China by 2025. To achieve that, CRRC is engaging in a strategy that is based on three points:
Aggressively bidding for foreign contracts and serving those contracts by setting up local factories with the aim of building a deep long-term relationship with foreign governments. An example of execution of this strategy are the operations in the US: in 2014 it won a $566M contract to build two new lines for the Massachusetts Bay Transportation Authority (MBTA). Part of the deal was to set up a factory in Springfield. Since then, more orders have come in from Philadelphia ($137.5M), Los Angeles ($647M), Chicago ($1.3 Bn with a new factory) and a second one from the MBTA ($277M). Chances are that the infrastructure plan of the Trump administration will lead to an additional increase in demand. Similar projects in other countries include a plant in Malaysia where CRRC is estimated to have a market share of 80%, and one in India that just started operations. CRRC manages to obtain a large number of international contracts because it can offer much lower prices with respect to competitors: the closest bid for the Boston Metro contract, for example, came in 30% higher than CRRC's offer and didn't include a factory that would create local jobs.
Providing trains for the "One Belt One Road" initiative. An example is railway line connecting Nairobi with Mombasa in East-Africa. Railway projects of this type are typically financed, built, and operated by Chinese firms.
Building joint ventures with Western competitors. CRRC recently formed a consortium with Bombardier (OTCQX:BDRAF) (OTCQX:BDRBF) to be able to compete for the renewal of the New York subways. According to people familiar with the matter, the consortium is in a lead position to win the contract that should amount to around $1.5Bn.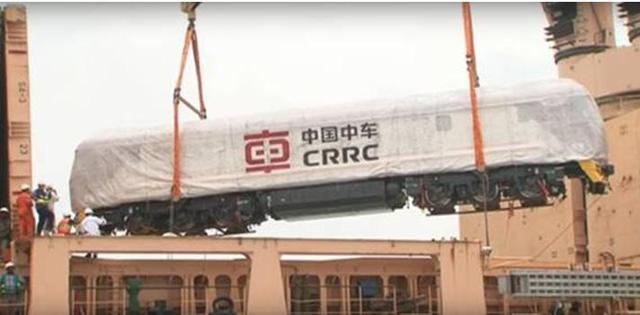 CRRC locomotives arrive at the Port of Mombasa (Kenya) for the new Mombasa-Nairobi line. Source: CRRC
Future Demand
A recent report published by the German consultancy firm Roland Berger claims a bright future for the railway industry in general and rolling stock manufacturers like CRRC in particular. During the next five years, the entire industry is expected to grow by 2% every year, with Europe and Asia Pacific being the main drivers. Demand will be particularly high for electric trains (only about 40% of the world's existing railways have already been electrified), high-speed solutions and urban transit.
As far as China is concerned, where the majority of CRRC's revenues comes from, there is still much space for growth. In 2016 China almost completed the "Four Vertical and Four Horizontal" high-speed railway network of 12,000km. This about halfway with regard to the "Eight Vertical and Eight Horizontal" planned high-speed network. China has come to the understanding that the high-speed network is the most efficient way to allow for its growing middle-class and migrant workers to travel between their native regions and the places they work or live. In addition, modern railway systems are an absolute necessity for China's growing megacities and metropolitan areas. These areas are simply too large and too densely populated to rely on the use of cars or other means of transport. For example, the Chinese government plans to integrate Beijing, Beijing and cities in the Hebei province. To support this, the National Development and Reform Commission (NDRC) plans to build nine railway lines at an estimated cost of more than $35 Bn by 2020.
Further increase in demand should come from China's infrastructure-backed globalization ambitions: we have already mentioned the "One Belt One Road" initiative that includes $900 Bn in all types of infrastructure ranging from gas pipelines to ports in China's neighboring countries and beyond. Railways lines are going to be a fundamental part of it as well, such as the 3,000km rail network linking the city of Kunming in South-Western China with Singapore.
Valuation
Earnings per share for 2016 were RMB 0.41, up from the theoretical RMB 0.30 in 2012 of CNR and CSR combined. During that time also cash flows from operations and assets rose more or less steadily. At the current stock price of the H shares of HKD 7.30, the company is valued at a P/E ratio of around 16 and a P/B value of 0.6. It yields more than 3% dividends. Further, the H-shares trade at a 35% discount with respect to the company's A-shares (Here is a recent article regarding the AH premium. Real-time data can be found here.)
A quick look at the balance sheet shows that the company is conservatively managed. Even though, as it is the case with the majority of Chinese firms, the debt burden is tilted towards the short term while longer-term debt is low: the current ratio is 1.2, while the long-term debt to capital is only 0.1.
| | | | |
| --- | --- | --- | --- |
| Balance sheet | M RMB | Statistics | M RMB / ratios |
| Non current assets | 117,357 | Book Value | 102,198 |
| of which intangible | 21,606 | Market cap | 180,880 |
| Current assets | 220,953 | P/B | 0.6 |
| of which inventories | 54,402 | Current ratio | 1.2 |
| | | Acid test | -17,676 |
| Current liabilities | 184,227 | Long term debt / Capital | 0.1 |
| Non current liabilities | 30,279 | | |
| Equity | 123,805 | | |
Source: Calculations by author, data from CRRC annual report 2016.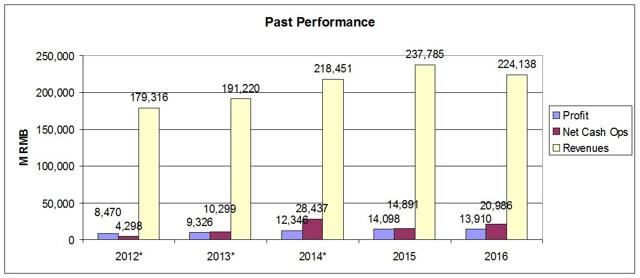 Source: Charts by author, data from CRRC 2016 annual report. *Reinstated
Challenges and risks
There are several risks connected with this investment. First of all, CRRC depends on China and its politics. Its single largest customer generates 57% of all its revenues, so the stock price will always be linked to China's willingness to expand its railway network at home and abroad alongside its ability to pay for it. In the past, the development of new railways came in several waves, which might happen also in the future.
The stock price also depends on the success of China's policies. For example, many routes of the national high-speed network aren't profitable yet. It remains to be seen if some of them ever will be and how this will impact future projects.
There are also questions on whether the Road and Belt initiative will actually be as successful as it is expected to be. Some argue that railways are easy to disrupt by criminals, which might turn out problematic on some lines that are going to connect China with Pakistan or China with Europe. Others claim the different gauge systems between countries make transportation of goods slow and much more expensive with respect to the sea routes.
Even though Chinese officials deny this vehemently, there is no doubt that China uses its Road and Belt strategy to increase its influence around the world in its almost imperialistic manner. There is a certain risk that at some point it hits a wall when Western nations see their influence melt away (together with the revenues of their rolling stock manufacturers). National sentiments by Western governments might make it more difficult for CRRC to sell their products abroad.
Even though CRRC has acquired as much knowledge as possible from Western firms through collaboration in its earlier days, there are still concerns whether it is able to fully enter the European markets, especially as far as high-speed trains are concerned. The European railway market is fragmented and requires certifications alongside security standards that could turn out to be more difficult to obtain than CRRC currently thinks.
Finally, the firm generates revenue with few but large orders since railway contracts are large ticket items. This leads to ups and downs in revenues, cash flows and profits that are not always quite predictable.
Conclusion
Trains are probably not on the radar of most Western investors. But if one studies how China is developing, he quickly realizes that efficient railways are a necessity to this country. No other company can better benefit from this development than CRRC. It is already by far the largest rolling stock manufacturer worldwide. It has a proven ability to improve technology and to produce at significantly lower costs than Western competitors. Yet, the stock trades at low multiples and recently dipped due to China's crackdown on shadow banks and entrusted funds, which impacted the market as a whole, but shouldn't have any meaningful influence on CRRC's business. Overall, right now should be a good opportunity for starting long-term position as potential clearly outweighs the risks.
Disclaimer: The article reflects my personal opinion and reality to the best of my knowledge, but I can't guarantee for content or outcomes. Please do your own research before making any investment decisions. Be aware that investing in a single stock may lead to complete loss of capital.
Disclosure: I am/we are long CRCCY.
I wrote this article myself, and it expresses my own opinions. I am not receiving compensation for it (other than from Seeking Alpha). I have no business relationship with any company whose stock is mentioned in this article.