Growth, whether it's dividend growth or earnings growth, we all want to be in on the rising part of the trajectory. In the shipping biz, the usual way to create growth is to take on new vessels, which is what Norway-based Ocean Yield ASA (OTCPK:OYIEF) has concentrated on over the past several quarters.
Ocean Yield has taken on 20 vessels over the past five quarters: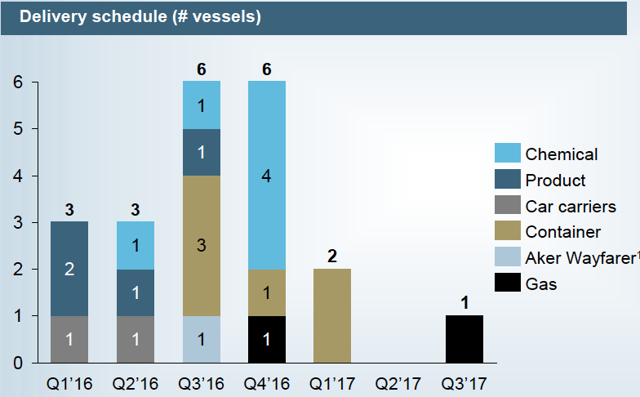 (Source: OYIEF site)
It's also very appealing to us that these vessels are deployed in a variety of industries, which diversifies OYIEF's business risk.
Another plus is that it operates on long-term contracts; currently, it has an average of 11.4 years left on its fleet's contracts with a backlog of $2.8B: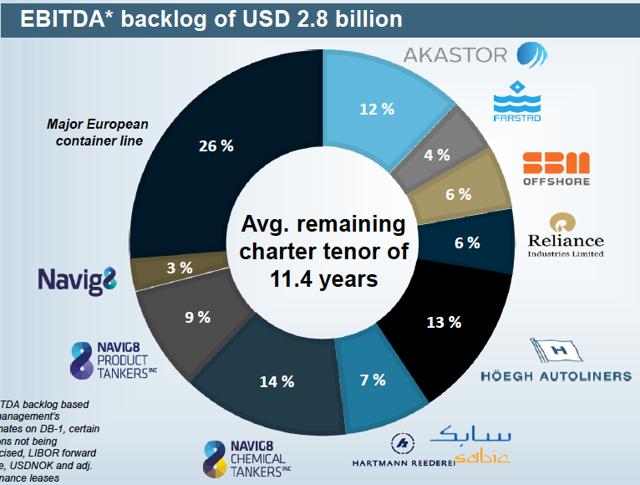 (Source: OYIEF Q1 '17 report)
We began covering OYIEF in early January 2017. Our previous articles can give you more background on this company, which went public in July 2013 on the OSLO stock exchange.
You can buy OYIEF in two ways - on the Oslo exchange or via the US OTC Pink Sheets. Although it sometimes shows very low volume in the US, we've seen it trade over 100,000 shares/day.
You also can buy it on the Oslo exchange via some US brokers, such as Schwab, for an approximate $100.00 commission.
It would be a good idea to compare the translated currency amount from Norwegian krone/share into US dollars per OTC share - sometimes there's a disparity.
Earnings: You want earnings growth? Here it is - revenue rose 18%, adjusted net profit grew 21%, and EBITDA rose 22% over the past four quarters.
Dividends/share grew nicely also, up 15.73%. Plus, management slightly decreased the dividend payout ratio, thanks to strong earnings, even though the unit count grew over 10%.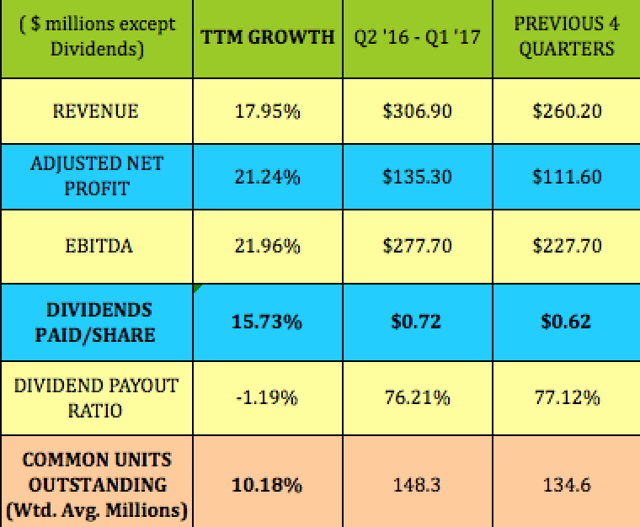 The Q1 '17 year-over-year growth figures for revenue, adjusted net profit, and EBITDA all looked robust...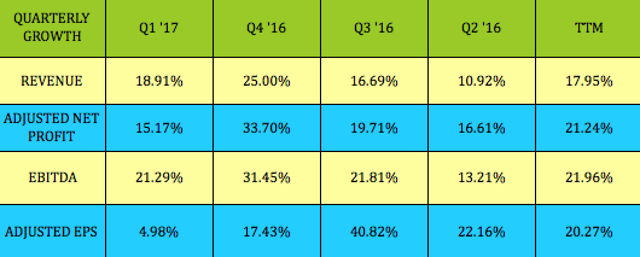 ...but sequentially, OYIEF had decreasing figures in all categories due to its vessel, the Lewek Connector, which charterer/customer EMAS Chiyoda Subsea stopped making payments for on 12/16/16. OYIEF terminated this contract in mid-February and then booked a four-month contract at $40K/day with another company.
Management expects reduced revenues from this vessel going forward due to the loss of the long-term charter contract.
The vessel is currently being marketed for offshore construction and cable installation work. One of the challenges is that there are quite long lead times for these projects - a lot of the projects for 2017 are already booked, so it's challenging in the short term.
Mitigating the earnings/revenue loss from the Lewek Connector vessel will be the earnings from two new mega container newbuildings OYIEF took delivery of in Q1 '17 - the MSC Rifaya and the MSC Leanne.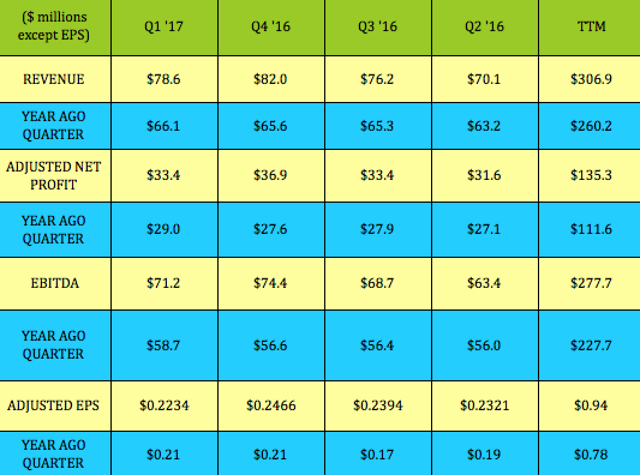 Dividends: Management recently announced its 14th straight dividend hike, raising the Q1 '17 payout to $.1850 from $.1825.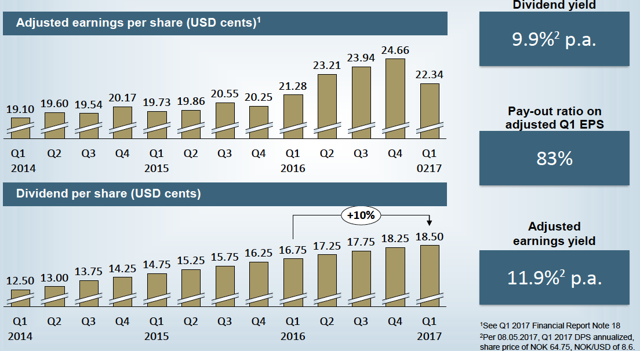 (Source: OYIEF Q1 '17 report)
The dividend payout ratio had been steady for last three quarters of 2016 at around 74%, but then jumped to 82% in Q1 '17, due mainly to the aforementioned Lewek Connector issue, which decreased adjusted EPS in Q1 '17.

You can track OYIEF's current price and yield in the services section of our High Dividend Stocks By Sector Tables.
In the Q1 '17 presentation, management maintains that it "expects to pay attractive and increasing dividends."
We think it can continue to do so. Why? Because its dividend coverage metric has a big cushion - it isn't adding back depreciation and amortization to derive its adjusted earnings figures.
For example, in Q1 '17, the company ended up with $36.8M in net profit after tax, which included $24.5M in D&A charges: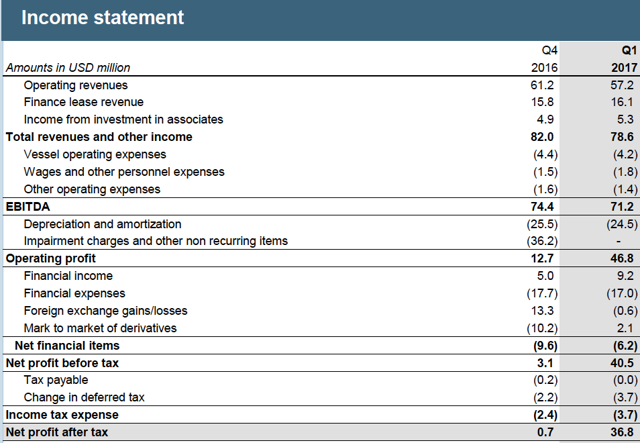 The company then made other adjustments to arrive at a $33.4M adjusted net profit figure for Q1 '17, which translated into $.2252/share.
The $24.5 D&A cushion is over 73% of its $36.8M adjusted profit figure.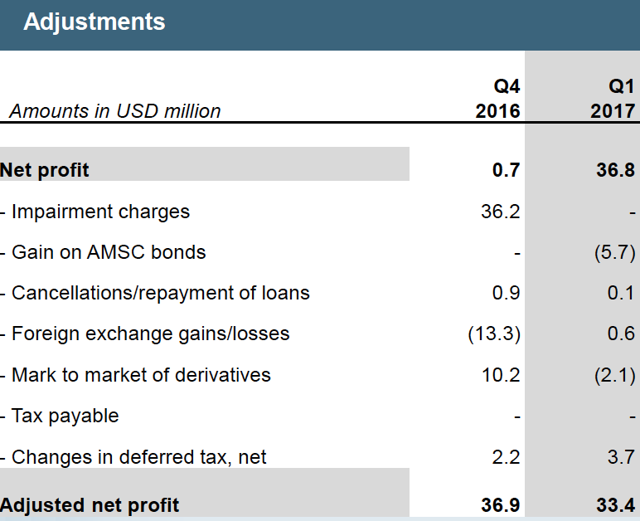 (Source: OYIEF Q1 '17 report)
OYIEF currently yields around 9.7% and should go ex-dividend again in early August:

Valuations: We just added OYIEF to our updated table of shipping peers, which includes Navios Maritime Midstream Partners (NYSE:NAP), DHT Holdings (NYSE:DHT), Euronav (NYSE:EURN), and Teekay (NYSE:TK).
Can we say that OYIEF is undervalued vs. these other stocks? Only on a P/E basis, where it has the lowest metric in the group.
However, OYIEF has one major advantage over these other stocks - it has steady dividend growth - whereas EURN and DHT pay variable dividends, and TK slashed its dividends in 2016. NAP, which we also own, has paid steady distributions with no cuts since mid-2015.

Performance: You'd think that OYIEF's earnings and dividend growth would have gotten stronger market support, but, alas, Mr. Market only has one foot on board so far.
However, adding in OYIEF's 9.7% yield gives you a YTD performance of 14.67%; we can certainly live with that.

Improving Financial Metrics: Here are more positive highlights - management improved its ROA, ROE, and operating margin in Q1 '17. It also cut down the company's debt, thereby improving its debt leverage metrics.

Debt and Liquidity: Management paid down a considerable amount of debt in Q1 '17; $67M in short-term and around $123M in long-term debt.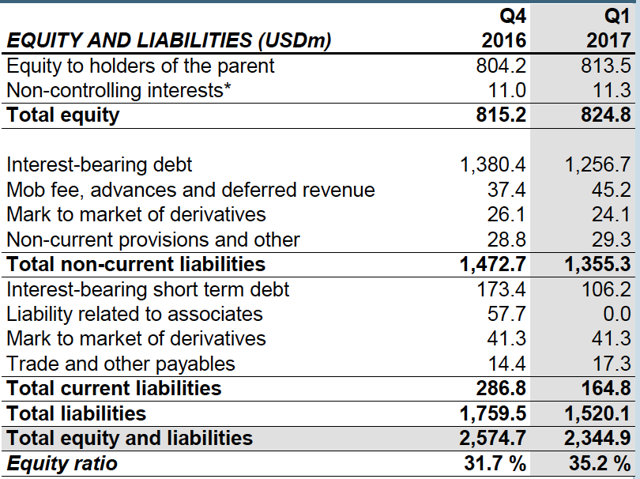 OYIEF has $264M in available liquidity, and management says its "target of $350 million for new transactions in 2017 remains unchanged."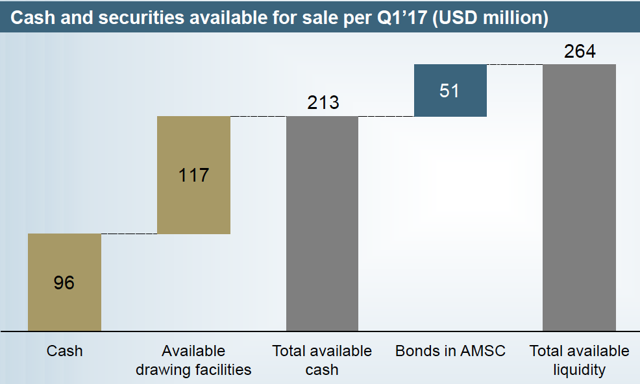 (Source: OYIEF Q1 '17 report)
Options: OYIEF doesn't have US options available, but you can see details for over 20 other income-producing trades in both our Covered Calls Table and our Cash Secured Puts Table.
Risks: In spite of having long-term contracts, OYIEF, like any other business-to-business company, depends upon solid performance from its counterparties.
As we previously mentioned earlier in this article, management had issues with its customer, EMAS Chiyoda Subsea, which stopped making payments for the Lewek Connector vessel on 12/16/16. OYIEF took a $35.6M impairment charge in Q4 '16, which knocked net profit down to $.7M. Management terminated this contract in mid-February and then booked a four-month contract at $40K/day with another company.
Management subsequently was able to rework the financing for the Lewek Connector vessel with its lender, getting a three-year extension, and lessening the amounts of the last five payments to around $24M each, which should be manageable given the income from its ongoing, expanded fleet:

(Source: OYIEF Q1 '17 report)
Management also did a restructuring deal with Farstad Shipping, a customer which represents about 4% of OYIEF's total backlog, giving it a break on day rates in 2017-2021 in exchange for higher rates from 2022 onward. It also delayed Farstad's balloon payment until 2023 in return for receiving shares in Farstad ASA and a related company. The balloon payment is worth around $15M in US currency.

(Source: OYIEF Q1 '17 report)
All tables furnished by DoubleDividendStocks.com unless otherwise noted.
Disclaimer: This article was written for informational purposes only, and isn't intended as personal investment advice. Please practice due diligence before investing in any investment vehicle mentioned in this article.