CEO Bobby Kotick led Activision Blizzard's (NASDAQ: ATVI) first quarter conference call with a short but interesting speech. He didn't once mention 2017's revenue driving Destiny or Call of Duty game releases, though early metrics point to both titles success. Instead, Kotick took to the opportunity to prioritize the company's plans to sell advertising and media rights. This article discusses how these adjacencies fit into Activision's model and considers some of the dynamics in the space.
Part One: The Virtuous Cycle
Activision's model is driven by delivering value to players. From the graphic below, note that the company focuses on developing large franchises. By investing in internal processes, talent and technology, high quality content is created. The quality and life of the content is such that a relatively large upfront cost is still a value to hardcore gamers. Players become highly engaged with the content and make additional in-game purchases allowing for further reinvestment in the title and franchise.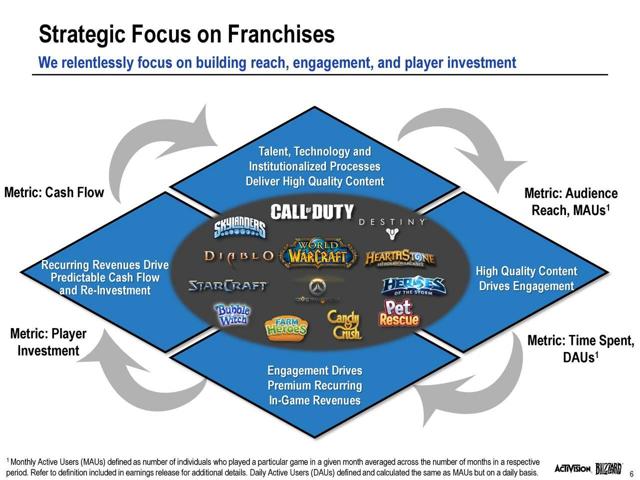 Source: 2017 Q1 - Results - Earnings Call Slides
In his statement, Kotick pointed out that the aforementioned model has created sustainable franchises that engage hundreds of millions of people with organized competitions and communities. He added:
The value of sports in our everyday lives has grown exponentially, and so have the commercial opportunities that we see in sports. We actually believe the same opportunity to further professionalize esports now exists, and we think the impact can be as significant as the traditional sports we know and love.
The commercial opportunity is particularly strong because typical esport viewers are harder to reach millennials. And the share of millennials watching is two to three times higher than with the big four U.S. sports.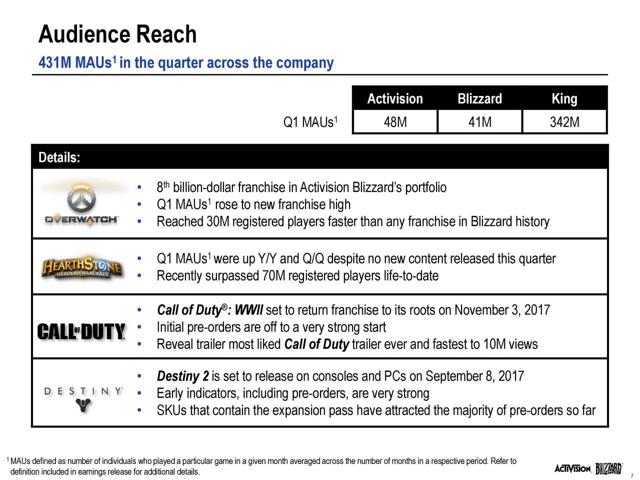 Source: 2017 Q1 - Results - Earnings Call Slides
Activision is advancing plans to further professionalize gaming competition by launching the Overwatch League later this year. Released in 2016, Blizzard's Overwatch is a team based, multiplayer shooter with $1 billion in revenues and an estimated 30 million players. Describing the plans Kotick said:
The competitions we're creating around the world will attract sponsors and advertisers resulting in broadcast revenues, licensing, sponsorship and ticket sales, and most importantly, amazing spectator experiences.
Activision is building a dedicated channel for esports through Major League Gaming, which they acquired late in 2015. Across the company's multiple networks, significant advertising revenue is forecasted because of the large number of highly engaged users. Plus Activision plans to employ technology for targeting and analytics to drive advertiser ROI.
In an article in 2011 I discussed how Activision would be purposefully late to the mobile gaming craze. Last year Activision invested $5.9 billion and finally expanded into mobile gaming through the purchase of Candy Crush developer King Digital. But more interestingly, an ad platform called Ad King is currently being tested that will further monetize King's large, engaged user base. Though Ad King seems focused on delivering ads to players and not viewers, similarities to Google's AdWords for video must be drawn.
Part Two: The Players In Game Video
Evidenced by the investments discussed above, Activision is prioritizing the selling of advertising and media rights. The company's main direct competitor, Electronic Arts (NASDAQ:EA), does not appear as affianced with the opportunity. Admittedly, EA is pursuing esports across competition levels and engaging spectators through partnerships with ESPN and Univision. However on this week's conference call CEO Andrew Wilson opined the following:
And while there will almost certainly be solid revenue generation from broadcast rights, from sponsorship, from advertising, from players and teams and the monetization of those things, the lion share of the revenue will always be the digital transactions that exist in the ecosystem.
EA may be less enthusiastic than Activision because their titles are currently not as attractive to stream. If one looks to Amazon's (NASDAQ: AMZN) Twitch platform, the primary deliverer of game streaming, Activision's titles are significantly more viewed. And it's interesting to note that EA's portfolio is heavily focused on real world sports based properties while Activision has focused on multiplayer shooter and real-time strategy games based on in-house IPs. Also to note is that both Twitch, through advertising, and players, through patronage, are monetizing Activision and EA's intellectual property.
Google's YouTube and their content creators are also a major beneficiary of monetizing gameplay video. The video game segment is estimated to be the fourth largest on the platform. The majority of game video on YouTube is not streamed live but is in edited and uploaded format. YouTube recently stated that total user engagement has reached 1 billion hours per day. Though not an apples to apples comparison, gamers spent about 40 billion hours last year playing Activision's titles.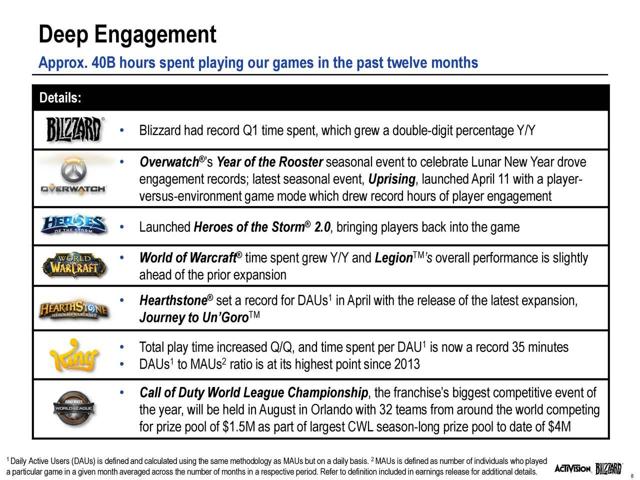 Source: 2017 Q1 - Results - Earnings Call Slides
Last Word
Activision's has proven the sustainability of its game development business model and continues to deliver value to a large player base. The company rightly wants to leverage the high user engagement and is pursuing game adjacencies in advertising with Ad King and media rights with the Overwatch League.
However, Twitch and YouTube are dominating the streaming and upload business and capturing the majority of ad revenues by enable players to monetize their gameplay. As Activision builds out its new media properties, the model must remain based on delivering value to its gamer communities.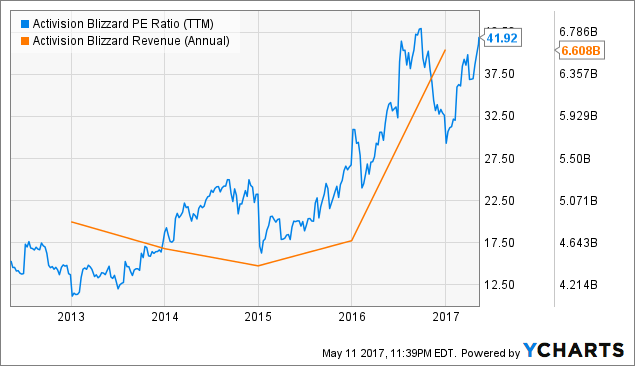 ATVI PE Ratio (NYSE:TTM) data by YCharts
Though not as conservatively financed as EA, Activision has a strong, improving balance sheet. Management has a history of both execution and caution. The franchise portfolio is the largest, most relevant in the industry and the company is gaining leadership in new media opportunities. Activision deserves its lofty multiple.
Disclosure: I/we have no positions in any stocks mentioned, and no plans to initiate any positions within the next 72 hours. I wrote this article myself, and it expresses my own opinions. I am not receiving compensation for it (other than from Seeking Alpha). I have no business relationship with any company whose stock is mentioned in this article.