I've tried this before on this platform and it never works, but I'm going to try it again just to see what happens.
You should pay really close attention to what's going on in China's vast, labyrinthine shadow banking complex.
This is an absurdly convoluted topic which reflects the absurdly convoluted nature of the problem, so I'm going to simplify it as much as absolutely possible in an effort to do the impossible: present a concise post on Chinese shadow banks.
There's a lot of leverage in China. There's also a non-performing loan problem that isn't reflected in the "official" NPL numbers.
In order to get around the bad optics associated with traditional lending gone bad, China's financial system has developed a ridiculously complex maze of backdoor credit channels that looks like this: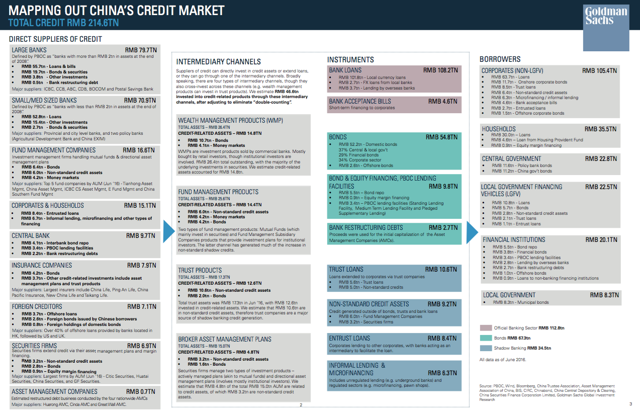 (Goldman)
Or, illustrated differently: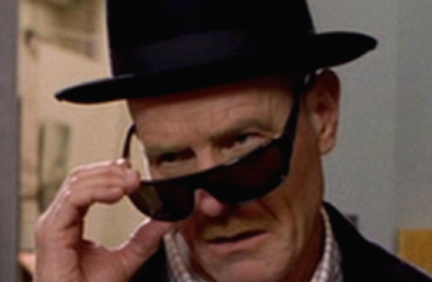 Ok, so why should you, as someone who generally doesn't care about China, concern yourself with this?
Well, I'm glad you asked. Here's why: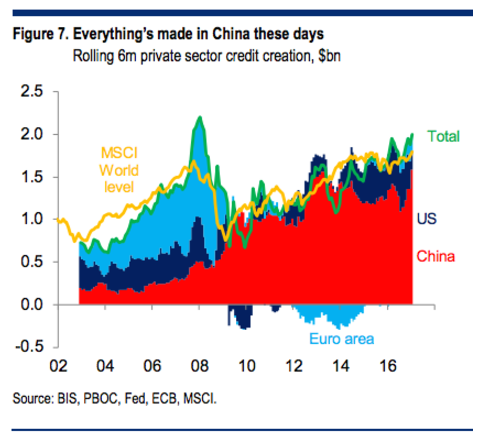 (Citi)
The takeaway from that chart: for all intents and purposes, there is no private sector credit creation without that insanely complex system shown in the Goldman flowchart above.
Read that again: if that system you see in the flowchart goes into reverse, there is no global credit impulse. Private sector credit creation flatlines across the globe.
Given that, it certainly shouldn't come as a surprise to you that credit growth in China is a leading indicator for equities (NYSEARCA:SPY):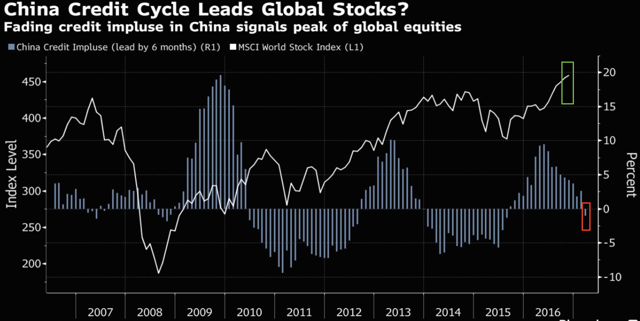 (Bloomberg)
Now, the thing you need to understand about that flowchart is that all that stuff listed under "intermediary channels" is shadow banking. And a lot of the money from those channels ends up as speculative bets in everything from stocks, to commodities (NASDAQ:COMT), to real estate.
That's why you've seen so many spectacular booms and busts in China over the past couple of years.
So, what China started to do late last year was squeeze these channels by pushing up money market rates. The idea is to crack down on the type of speculation described above.
Well obviously, the risk is that when you do that, you impair credit creation, and as outlined above, the very last thing the world needs is for the Chinese credit impulse to die.
The trick then is to keep credit to the real economy flowing while curtailing shadow banking.
Where that shows up is in "total social financing" or, "TSF." You've probably heard of that.
What you want to look for in the TSF data is the difference between the headline TSF print and the "new RMB loans" component. The difference between the two (and again, this is a gross oversimplification and that's on purpose) is shadow banking.
We got the latest read on this on Friday. When you look at the following chart, what you want to do is eyeball the difference between the gray bars and the purple bars: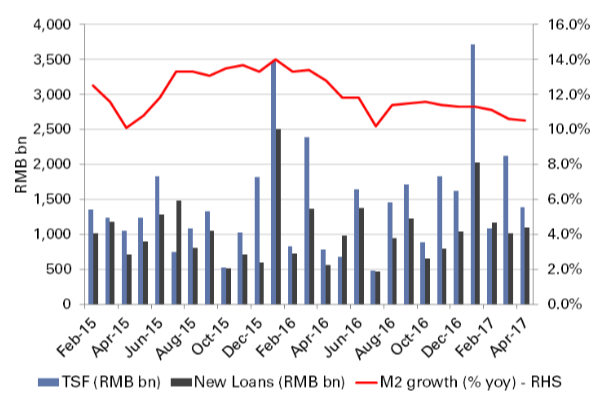 (Goldman)
See how the difference between the dark gray bars and the purple bars narrowed materially in April and with the exception of February is narrower than it's generally been since last year? Yeah, so that's the shadow banking complex being squeezed.
Here's a more granular look: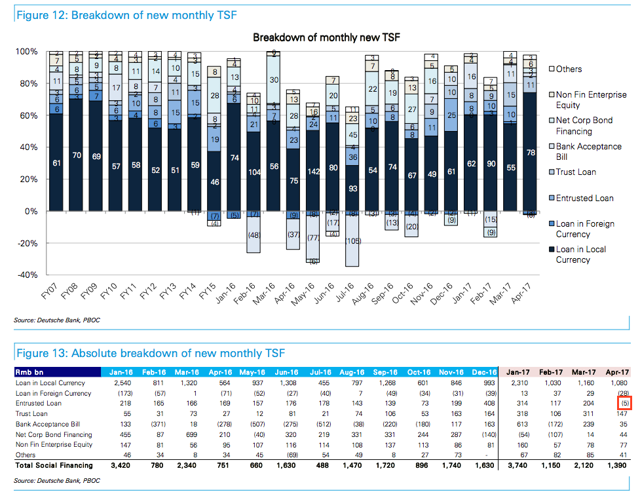 (Deutsche Bank)
Believe it or not, that number down there on the bottom right-hand side in the red box matters a lot. I'm not going to get into the specifics because your eyes will glaze over, but I would encourage you to recall what happened in the Chinese bond market in mid-December and then skim this piece from Bloomberg.
So basically, what China managed to do in April was keep credit to the real economy flowing (see the black bars in the Deutsche Bank chart) while squeezing the shadow complex.
Of course, the problem is that because shadow banking has a history of inflating bubbles by encouraging (indeed by "funding") speculation, squeezing those back channels acts as a giant margin call. And so what you get is carnage in places you might not have expected.
That last point is important. Because that's where you can get spillovers and contagion. Sure, there was a supply/demand element to the metals mayhem (NYSEARCA:XME) that unfolded earlier this month, but don't forget what Citi said:
When it comes to the commodities market, rising Chinese money market rates not only triggered large-scale unwind of the earlier reflation trades (mostly in the onshore futures market) which pushed iron ore lower, but also forced physical traders, especially the ones who stocked up with high leverage, to liquidate inventories, as well as accelerated the shift of downstream inventory cycle from restocking to destocking.
See? That's a great example of how something that shouldn't be a fundamental driver (rampant speculation catalyzed by China's shadow banking complex) can end up effecting your fundamental thesis (a bullish bias supported by the reflation narrative).
Ultimately, that's about as simple and concise an assessment of what is a truly complicated issue as you'll find anywhere.
Hopefully, that contributes to your understanding of this and also alerts you to just how important it truly is.
Disclosure: I/we have no positions in any stocks mentioned, and no plans to initiate any positions within the next 72 hours.
I wrote this article myself, and it expresses my own opinions. I am not receiving compensation for it (other than from Seeking Alpha). I have no business relationship with any company whose stock is mentioned in this article.