Apparently, Priceline (PCLN) posted awful - just awful - results in its latest earnings report. Case in point: EPS beat by only 11%, a continuation of EPS's track to hit a new all-time high (the record is in early 2015). How could this happen and what should we do!?
The selloff wasn't due to any bad results or the <1% miss in revenue; it was due to guidance. Anyone unfamiliar with my earnings trade techniques is likely also unfamiliar with the fact that guidance trumps numerical results for about 40% of stocks. PCLN is one such stock and is thus hard to predict (guidance is hard to predict).
Just to make PCLN longs to feel better, I'm going to be writing an article (you're reading it now, in fact) on why you should not be panicking or even concerned about PCLN's future. Let's start with the concept perhaps most difficult to understand but most likely to help you as a trader: A fall in stock price after poor earnings guidance, but with an EPS beat, is only justified if the future projector of the company has changed so drastically to not only counteract the fundamental improvements but also push the future fundamentals downward (i.e., we should be able to predict that the EPS of the next quarter is to be lower than it would have after standardizing it with the most recent EPS improvement excluded from the dataset).
A 5% Change
Management issued guidance for the next quarter that would put the stock back one year in terms of EPS, at a time when PCLN was trading at $1420. With this in mind, PCLN should have fallen to $1420 (a 25% decline) if the selloff were due to correcting the stock price for EPS. The actual change was only 5%, 20% of what was "expected."
I believe that PCLN was unfairly punished because of an overemphasis of a single quarter; it is the long-term trend that is important here: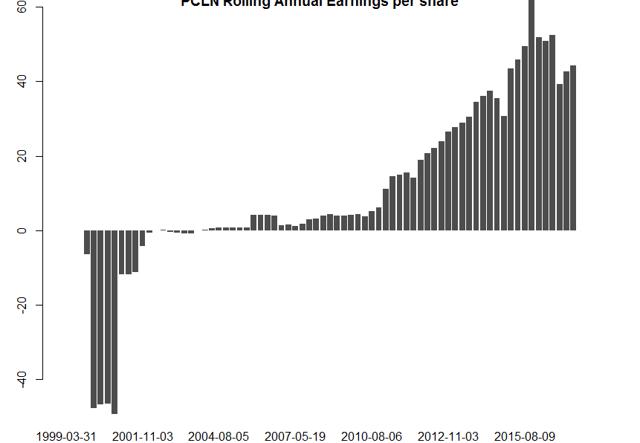 I believe that every stock has its own characteristics - characteristics that can be justified and explained through the fundamentals. It follows that I believe that PCLN has a characteristic growth trend: several steps forward, one step back, as we see in the chart above, which is a rolling average of EPS. To justify an increasing stock price, we must see the trend increasing, and the actual numbers at the current time are not that important (which explains the ignorance of the EPS beat).
The problem is that PCLN too actively manages its expectations by posting lower-than-expected guidance. The connection between EPS beat and stock price seems to have all but vanished, so why does management care so much about beating EPS every time - shouldn't they be posting more realistic guidance if they want to see the stock rise? As investors, however, we take things as they are: PCLN beats on EPS every time; guidance is always underballed; investors react to the guidance, not the EPS.
Mean Reversion
It would be nice to be able to predict guidance, but I have yet to find a consistent way to do so. The solution I have for now is to react appropriately, analyzing both the guidance and the "characteristics" of a stock after earnings. If you're ready to feel good, let's begin with one such characteristic of PCLN's: mean reversion.
Many stocks mean-revert after earnings. This means that earnings reactions tend to be overblown. To see a gap after earnings on a mean-reversion stock is to see an area gap opportunity.
PCLN's characteristic of mean reversion is rather peculiar: It overreacts to bad news but underreacts to good news. Give me an earnings rally, and I'll say PCLN has more gas; give me a miss, and I'll say PCLN will fill the gap. I am not a PCLN permabull; I am simply interpreting this characteristic in a playable perspective.
Trading the Gap
So yeah, as a gap trader, of course, I'm going to run my gap algorithm on PCLN's gap to see if the implications of my analysis of its characteristics are correct. Here's what you get if you buy PCLN every time it has a gap of this sort (down gap with a red candlestick on the day after the gap), selling five days after buying: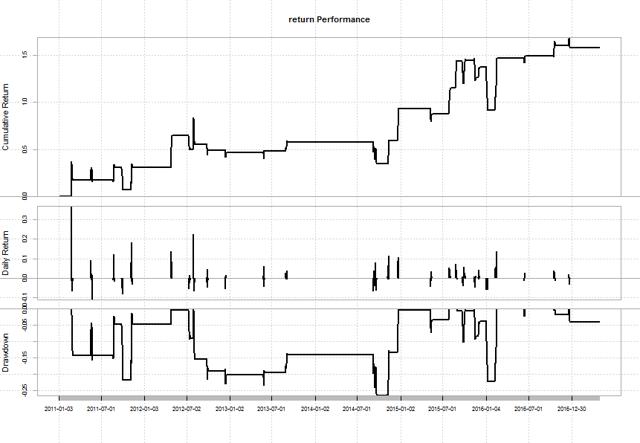 In other words, you get a profitable trading strategy. In other words, you get area gaps - gaps that close over the following days and weeks. For most down gaps, to see the following 2 to 3 days making no effort to retrace the loss is to be expected; area gaps start to fill from day 3 onward, on average.
The most important point here is that the gap analysis is in line with the fundamental analysis: An EPS beat should imply PCLN be priced at a higher number unless the guidance was so bad as to undo the fundamental growth. I looked through the earnings call transcript and even ran my software Sentiment Summoner (in development) on the transcript to pull out a sentiment score, as well as some important statements in the report.
Sentiment Analysis
We end up with a sentiment score 40% lower than PCLN's average but still 10% higher than the market average (PCLN is thus a rather optimistic company). So, it would be wrong to say that the most recent earnings call transcript was pessimistic; it was simply not as optimistic as usual. Indeed, both optimistic and pessimistic statements were made; below are some that were pulled out by Sentiment Summoner:
We won't let short-term margin objectives do something that might be detrimental to the long-term growth of the business."

-Emphasis on long-term growth at the expense of short-term profits

So we don't disclose repeat rates, nor do we disclose how much money we're devoting to remarketing."

-Lack of transparency

Turning to priceline.com overall, we are pleased to see the team make progress in Q1 as priceline.com began to see benefits from its investments in technology and people."

-Emphasis on teamwork (positively correlated to future stock price growth) and progress from past investments

We expect such investments will enable KAYAK to differentiate itself in the marketplace and grow its audience."

-Brand-creation instead of commoditization

Margin performance was better than our forecast due to gross profit growth and advertising efficiency that exceeded our forecast."

-Unexpected excess growth
The most important takeaway here, I think, is that PCLN's gap is the sign of an overreaction based on short-term guidance; both "short term" and "guidance" are inaccurate predictors of PCLN's future fundamentals. Things change, and the stock should change with them; however, I do not believe that the most recently revealed changes justify a 5% selloff and can even be interpreted as positive changes, placing PCLN's valuation above $1900. I believe the gap will fill and hope that PCLN longs feel better after reading this article.
Earnings Predictions Track Record:
April's Brier Score:
| | | | | |
| --- | --- | --- | --- | --- |
| Ticker | Probability | Direction | Result (1=correct) | Brier Score |
| | 0.68 | Long | 1 | 0.1024 |
| | 0.65 | Long | 1 | 0.1225 |
| | 0.68 | Long | 1 | 0.1024 |
| | 0.59 | Short | 0 | 0.3481 |
| | 0.65 | Short | 1 | 0.1225 |
| | 0.72 | Long | 1 | 0.0784 |
| | | | Average Brier Score (0 to 1; 0 = always right): | 0.14605 |
| | | | Brier Skill Score (-1 to 1; 1 = perfect foresight) | 0.778712121 |
Upcoming Earnings Trades: BABA, NKTR, ILG, PCLN, ULTA, NTES, CACC, and HD.
Get my earnings trades: Exposing Earnings.
Have questions about Exposing Earnings? Contact me.
Notes:
Note: Get my articles as soon as they are published by clicking the big orange "follow" button at the top of this page. Make sure you choose "real-time alerts." Trade alerts sent through "Copy My Trades."
Note: All unlabeled figures were created by me. I used R to pull data directly from Yahoo and ADVN. Charts with blue backgrounds are from Etrade Pro. Fundamental charts from a paid subscription at simplywall.st.
Disclosure: I/we have no positions in any stocks mentioned, but may initiate a long position in PCLN over the next 72 hours.
I wrote this article myself, and it expresses my own opinions. I am not receiving compensation for it (other than from Seeking Alpha). I have no business relationship with any company whose stock is mentioned in this article.