The U.S. Treasury announced last week that it will auction $11 billion Thursday (May 18) in a reopened 9-year, 8-month Treasury Inflation-Protected Security. This is CUSIP 912828V49, with a coupon rate of 0.375%.
This TIPS first auctioned in January with a real yield (after inflation) to maturity of 0.436%. Since that auction, 10-year TIPS yields rose to a high of 0.61% on March 14 and then dipped to a low of 0.32% on April 13. Here's an eight-year trend chart for that after-inflation yield:

Next Thursday's auction should result in a real yield near 0.50%, and the price should be at a discount to par value. But a lot can happen in the volatile Treasury market. If you are interested in investing in this TIPS, check these data sources in the days before the auction:
Bloomberg's Current Yields Page offers a real-time look at the pricing of this TIPS, which trades on the secondary market. As of Friday, it was trading with a real yield of 0.47% and a price of about $99.14 for $100 of par value. It trades at a discount because the market yield is above the coupon rate of 0.375%.
The Wall Street Journal's Closing Prices Page shows this TIPS closed Friday with a real yield of 0.464% and a price of about $99.15. There are two TIPS maturing on January 15, 2027, and this is the one being reopened:

Notice the accrued principal column in that chart? This reopened TIPS will have an inflation index of 1.00925 on the issue date of May 31. That means investors will be buying just short of 1% of additional principal at the auction. It will raise the adjusted price, but buyers will also get additional principal.
Inflation breakeven rate. With a nominal Treasury currently trading at 2.33%, this TIPS currently has an inflation breakeven rate of 1.86%, which is pretty attractive. In the originating auction in January, the breakeven rate was 2.044%. Since then, inflation expectations have declined and TIPS have gotten cheaper versus nominal Treasurys. In general, if a 10-year TIPS has an inflation breakeven rate below 2%, it is 'cheap' versus a nominal Treasury. Here is the breakeven trend over the last five years:

I'd say that this auction is shaping up to be fairly attractive, especially if the real yield can climb over 0.50%. The last seven 9- to 10-year TIPS auctions have fallen below that rate. Last week's weak inflation report caused nominal Treasury yields to decline, which also dragged down real yields. If you are considering a purchase at Thursday's auction, watch the secondary market, which should give a fair estimate of expected yield.
Here is the history of all 9- to 10-year TIPS auctions since July 2008: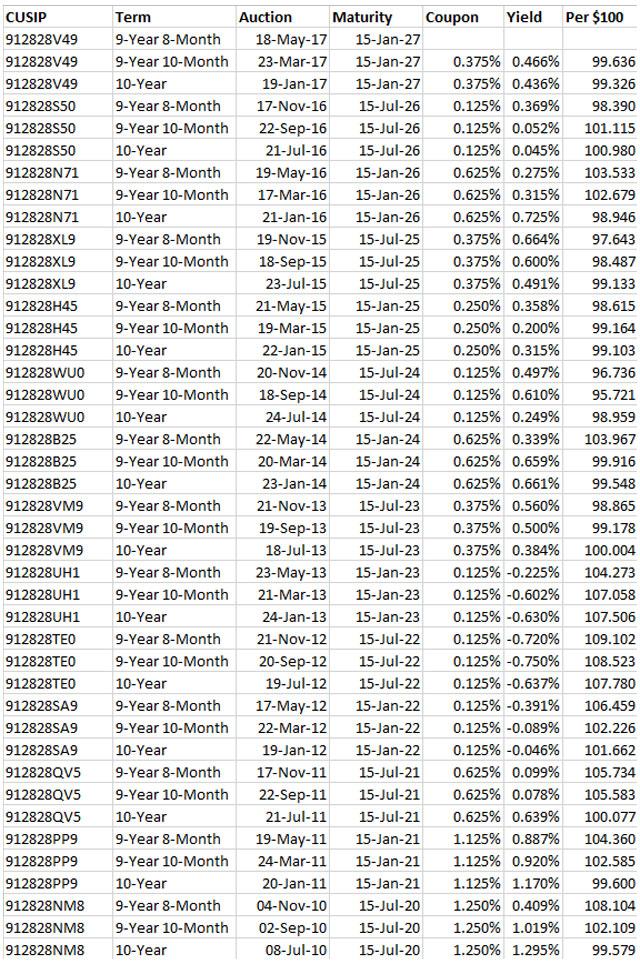 Disclosure: I/we have no positions in any stocks mentioned, and no plans to initiate any positions within the next 72 hours.
I wrote this article myself, and it expresses my own opinions. I am not receiving compensation for it (other than from Seeking Alpha). I have no business relationship with any company whose stock is mentioned in this article.