In line with our process of being on the ground in the countries we invest in, Scott Osheroff, Analyst at Asia Frontier Capital, travelled to Cambodia to visit portfolio companies and other companies on our shortlist. The photos in this article are all by AFC.
It took nine hours to reach Banlung, the provincial capital of Ratanakiri, from Cambodia's capital, Phnom Penh. Banlung is tucked up into the northeast pocket of Cambodia in an area referred to by some as the Dragon's Tail, an area which in some ways resembles the wild west. Recently built roads, courtesy of Chinese investment, have transformed a once pothole-ridden two-day journey into a smooth two-lane road which traverses the province to the Vietnamese border.
The area, once lush with virgin forest has given way to heavy logging (which has only accelerated with improved infrastructure) and then rubber plantations, planted at the peak of the rubber market between 2010 and 2012 and which now struggle for survival. However, I was not here to sightsee, but rather to visit the country's first foreign-owned mining operation, a small-scale gold deposit.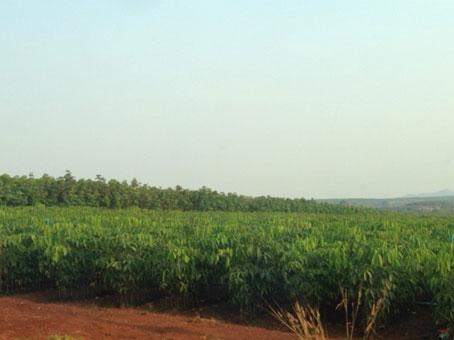 One of many rubber nurseries adjacent to a rubber plantation.
An underexplored country, Cambodia hosts several international quality resource assets including a 907,000oz gold deposit measuring ~2g/ton, which is owned by Australian-listed Emerald Resources and both onshore and offshore oil & gas reserves. I was on my way to visit a gold asset owned by India's Mesco Steel had been recently acquired from Canadian-listed Angkor Gold.
The morning after we arrived in Banlung, a modest town built on logging and gem trading which you could easily pass through without a second thought, we headed east towards the Vietnamese border. About forty-five minutes into our drive we flanked right, turning off the main road and into the jungle. Passing by an ethnic minority group village which has seen its quality of life markedly improve through CSR projects related to development of the gold asset, we kept on deeper into the jungle.
For about one kilometre the area was beautifully lush as we bounced up and down along the potholed, hard-packed earthen road towards the mine site. Sadly, further on it was unfortunate to see the stark reality of Cambodian deforestation in full swing as the jungle had been clear cut, except for that on several knolls, while the entire area was being slashed and burned in preparation for planting cassava. It felt outer worldly. This is the unfortunate truth about many developing countries-lack of infrastructure keeps the environment intact, while primitive logging roads pave the way for real roads and eventual habitation.
Passing through the newly planted cassava fields and traditional Khmer houses, we came upon the mine license boundary. Through the bush, I was shown where a storehouse for explosives was being built, and where electricity and other infrastructure was being planned. This was followed by a tour of the two mine shafts, one of which is a steep incline and the other vertical. A small mine with 30,000oz to 40,000oz respectively, it is believed the mine is open at depth which will likely allow it to operate past its expected seven to eight-year life span.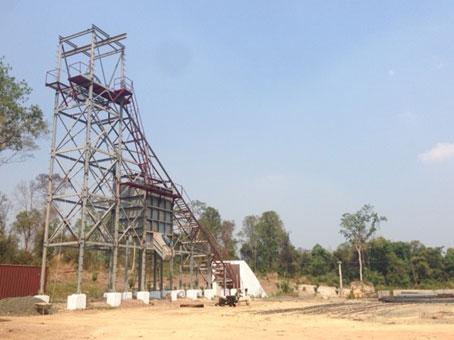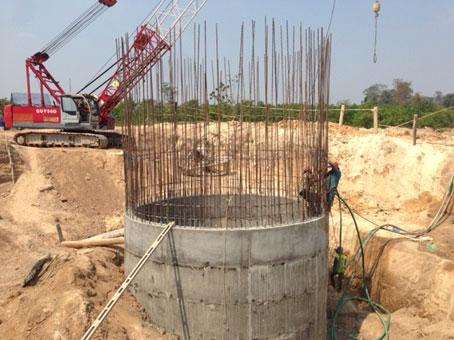 Mesco's gold mine shafts.
Having arrived at the mine site around noon, the outside temperature was well above 40 degrees Celsius. Therefore, after an hour touring the property it was time to retreat back to the air-conditioning in the car.
Having left the mine site and back on the main road to town, I was told by my driver that we were to make a detour before heading to town. Not long after we turned off the main road and onto a country road passing through a local village which clearly didn't have much exposure to the outside world. Not far past the village we came to a crawl as my driver was trying to find a road camouflaged by head high grasses. Once identified, we turned into the field cutting a new path. Once through the grass we had arrived on a privately owned rubber plantation which I was told measured ~1,000ha.
Row after row, the plantation was tranquil and cool under the thick canopy of rubber trees. Deep into the plantation we came to a stop and put the car in park. As we got out a large group of people approached us. In ragged clothes with hands in front of them I thought maybe the zombie apocalypse was real. However, as they got closer it became apparent their hands were full of lush gems. We had driven into a small-scale gem mining operation. Two foreigners must have seemed like easy targets for a sale as we were handed gem after gem to be inspected. After buying a few for souvenirs, a group of what looked like moles came walking towards us. Covered in a thick layer of dirt from head to toe these were the miners who had come out of their holes to also attempt a sale. It was a surreal experience.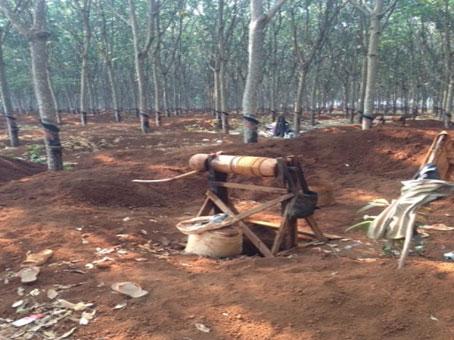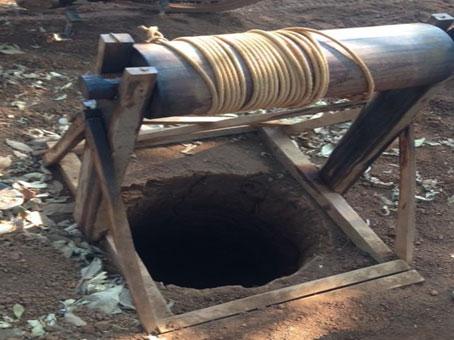 Gem mine camp and mine shafts
After having enough of stones being shown to us, we walked around to explore the mine site. It is important to note that you had to walk carefully, for on the other side of every mound of dirt was a shaft, some of which go to depths of thirty meters. I did not want to trip! It was remarkable to see such a primitive operation in the middle of a rubber plantation providing employment for several dozen people. On the drive back to Banlung, I better understood why there were so many gem shops in the center of town.
The following day we concluded our trip with a 7 hour drive to Siem Reap, home of Angkor Wat. The trip was gruelling due to the heat and the distance, though the newly constructed Chinese highway was pleasantly smooth. We passed over several gorgeous rivers whose bridges we stopped on to take photos as there wasn't much in the way of traffic. We also passed by an ominously large structure which we had thought was a Chinese financed power plant. However, on its back side stood what we learned was 10,000 hectares of sugarcane to feed what, upon completion, would be the largest sugar mill in Cambodia.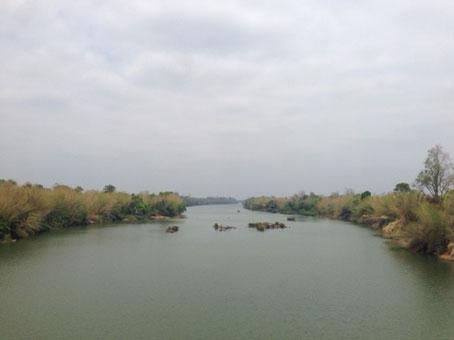 In the late afternoon, with our petrol tank light flashing red, we limped into Siem Reap. Enjoying some fresh Siem Reap sweet sausages and a cold Angkor beer was the appropriate way to end the day.
The following morning, before flying back to Phnom Penh, I decided to revisit the Angkor Wat complex, which frankly you cannot visit enough. With so many temples spread throughout the complex the atmosphere is second to none.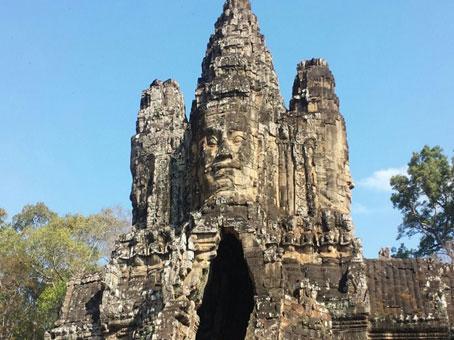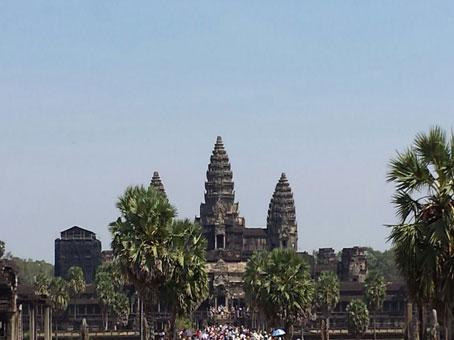 Disclosure: I am/we are long EMERALD RESOURCES.
I wrote this article myself, and it expresses my own opinions. I am not receiving compensation for it. I have no business relationship with any company whose stock is mentioned in this article.