Acxiom Corp. (NASDAQ:ACXM)
Initiating on ACXM with an OUTPERFORM Rating and $40 PT; Solid Data Analytics Platform in a Data Driven World
With rapid growth of programmatic targeted advertising and blooming of artificial intelligence, we expect Acxiom's Audience Solutions in conjunction with Connectivity segments to grow at 17% annually for next four fiscal years (F2018-22) and remain the driver behind our annual 12% consolidated growth for the same period. We estimate revenue growth along with stabilizing cost of revenue and operating costs to result in 27% annual compounded adj. EBITDA growth for the same period. Our price target of $40 is driven by a 7-year DCF with 1% terminal growth.
ACXM's platforms together create a comprehensive data analytics suit for a distinctly data-driven and targeted omni-channel ad campaign. While Marketing Services segment enables clients to execute people based marketing campaigns through unifying consumer data in a highly privacy safe environment, the Audience Solutions (AS) and Connectivity segments enable clients to recognize consumers and analyze their offline/online behavior to create a perfect omni-channel ad campaign. AS's InfoBase includes 1,500 demographics through partnerships with giant digital marketing platforms (e.g. Facebook (NASDAQ:FB), Twitter (NYSE:TWTR), Yahoo (NASDAQ:YHOO), etc…) providing marketers with highly targetable information. AS's AbiliTec enables marketers to ID individuals based on different variables and link their offline and online activities. Combining AbiliTec with LiveRamp IdentityLink's identity graph, Axciom creates consumer identifiers in a privacy-safe way to create a comprehensive omni-channel view of the consumers. Recent major partnership announcements with ACXM are good indicators of leading quality.
With global programmatic advertising growing at 22% a year to 2020 and advancements in artificial intelligence, we see our above street estimates justified. Over 90% of ACXM's revenue comes from the U.S., the largest programmatic ad market, and with U.S. video/display programmatic advertising growing at 31%/24% annually between 2016 and 2018, we expect ACXM to deliver on our above consensus estimates. Globally, programmatic ad market is expected to grow at 22% annual rate from 2016 to 2020.
Programmatic does not necessarily mean data-driven or targeted. While majority of display and video advertising is bought programmatically, this does not mean all are targeted or data-driven. Advancements in AI and algorithms are boosting the need for large data and data analytics platforms.
Our 24-month price target for ACXM is $40. Our PT is based on a 7-year DCF valuation and is equivalent to ~13x EV/F2019A EBITDA estimate.
INVESTMENT THESIS: STRONG AND COMPLETE DATA ANALYTICS PLATFORM
We rate shares of ACXM OUTPERFORM. With rise in targeted programmatic advertising and advancements in artificial intelligence, we see consensus estimates as conservative. Our above street estimates are a result of our expectations for growth of programmatic advertising and the integration of artificial intelligence in marketing strategies requiring marketers to leverage highly accurate and updated data in order run efficient cross-channel (omni-channel) advertising campaigns. Acxiom's platforms provide marketers with comprehensive data and data analytics tools to perform the task and recent partnership announcements with giant digital platform and advertising platforms are indicators of the quality of services ACXM provides.
Risks to the attainment of our price target and investment thesis include: material downside in growth of advertising, either from loss of core market share or less-than-expected programmatic ad spending; deterioration of margin expectations (such as from higher-than expected cost of revenue or operating costs); unfavorable regulatory trends; and unexpected, adverse changes in technology or deal trends.
ACXM'S SEGMENTS (Excerpts from the Most Recent 10Q)
Marketing Services ("MS")
Marketing Database Services. ACXM's Marketing Database offering provides solutions that unify consumer data across an enterprise, enabling clients to execute relevant, people-based marketing and activate data across the marketing ecosystem. ACXM's consumer marketing databases, which ACXM designs, build, and manage for its clients, make it possible for its clients to collect and analyze information from all sources, thereby increasing customer acquisition, retention, and loyalty. Through its growing partner network, clients are able to integrate their data with best-of-breed marketing solutions while respecting and protecting consumer privacy.
Strategy and Analytics. ACXM's Strategy and Analytics offering consists of marketing strategists and data scientists who leverage industry knowledge and advanced analytics to assist its clients with identifying growth opportunities, addressing marketing data and technology needs, and adopting best practices. In addition, ACXM helps its clients identify and address their data privacy and governance requirements.
Audience Solutions ("AS")
InfoBase. With more than 1,500 demographic, socio-economic and lifestyle data elements and several thousand predictive models, our InfoBase products provide marketers with the ability to identify and reach the right audience with the right message across both traditional and digital channels. Through partnerships with a wide range of online publishers and digital marketing platforms, including Facebook, Twitter, 4INFO, AOL, eBay (NASDAQ:EBAY), MSN, and Yahoo!, marketers can use InfoBase data to create and target specific audiences.
AbiliTec. As shown in the illustration below, AbiliTec helps brands recognize individuals and households using a number of different input variables and connects identities online and offline.
Connectivity
ACXM's Connectivity segment enables ACXM's clients to build an omni-channel view of the consumer and activate that understanding across the marketing ecosystem.
ACXM's primary Connectivity offering is LiveRamp IdentityLink, an identity resolution service that ties data back to real people and makes it possible to onboard that data for people-based marketing initiatives across digital channels. Leveraging AbiliTec and the LiveRamp identity graph, IdentityLink first resolves a clients' first-, second-, and third-party, exposure, and transaction data to persistent anonymous consumer identifiers that represent real people in a privacy-safe way. This omni-channel view of the consumer can then be onboarded to and between any of the 450 plus partners in ACXM's ecosystem to support targeting, personalization and measurement use cases.
ACXM'S PLACE IN [PROGRAMMATIC] AD CHAIN
We consider programmatic advertising and AI technologies as the key forces behind the growth for data and data analytics, where ACXM platforms come to play in the ad chain. For this reason, for the rest of this research report we mainly focus on how programmatic and AI technologies are evolving and growing to become the principal way of advertising in near future, and how the advancements will gradually increase the need for data to support our above Street estimates for ACXM, as one of the top players in the industry, with great chance of increasing its market share. Just to be clear, Acxiom is not a programmatic advertising platform or a DSP/DMP and its platforms are merely designed for data collection and data analytics purposes.
In essence, advertising is divided into two phases: 1) prospecting(finding potential customers) and 2) retargeting(targeting prospected customers to raise conversion rate). Prospecting is the process of acquiring qualified consumers to consider your product while retargeting is intended to drive consumers to the conversion point (end of funnel or purchase intent point). While historically retargeting has been a more essential part of advertising, we believe that the current trends point to a reversal. Prospecting helps marketers find consumers at the top of the purchasing funnel and potentially drives them toward the lower part of the funnel and eventually to the conversion point. Traditionally this process was done through traditional media without using explicit data to target prospects. With technology advancements, basic targeting capabilities came along, giving marketers ability to target based on geographical locations or demographics. General targeting like this needs general information but nothing too specific in terms of individual attributes.
While general targeting (e.g. based on geographic or demographics) helps raise brand awareness, it also results in waste of impressions and money, caused by targeting large pools of consumers who might essentially have little common to share resulting in unsatisfactory number of conversions. But today marketers have better ability to run targeted ad campaigns based on much more granular data with capability to adjust campaigns, as needed, on a real-time basis. Currently, there are a large number of consumers who believe that targeting could improve. Based on a research by Adadyn, only 65%/59% of male/female shoppers believe ads are targeted properly.
Targeting consumers efficiently requires an immense amount of constantly updated data and a platform that can link offline and online consumer behavior to create a perfect picture of the consumer's behavior and attributes. Most exact data, in our and many industry experts' opinions, comes from logged-in users. For example, information coming from a Facebook user who's logged in to his/her account can give a marketer a nearly perfect picture of that user; given amount of personal information available on each users account. ACXM's InfoBase, with more than 1,500 demographic, socio-economic and lifestyle data elements and several thousand predictive models provides ACXM clients with highly accurate data from large digital platforms like Facebook, Twitter, 4INFO, AOL, eBay, MSN and Yahoo!. These highly accurate data can be used by marketers to run highly targeted campaigns accompanied by high ROIs. InfoBase includes info on over 100 million households and over 150m individuals.
It is crucial to realize that every individual has their own unique purchasing path. Meaning one method of prospecting or retargeting may not work for all types of consumers, so in order to create a perfect path, from upper funnel to lower, marketers need to have a perfect picture of their clients' attributes. This fact, most of all, requires a platform to link offline and online behavior. This is where AbiliTec, Acxiom's flagship platform, comes to play. AbiliTec helps brands recognize individuals by tagging a virtual ID on them based on different inputs (e.g. Email address, mobile device ID etc…) which are used to eliminate duplicates and identify online/offline behavior of individuals. One major issue with digital campaigns is cross bidding. Cross bidding is the results of bidding on ads for the same person on different platforms used in a campaign. This issue can be resolved by Acxiom's AbiliTec, which can signal duplicates.
Once accurate data are pooled, marketers will need to think about reaching consumers on the right channels at the right time. Through its Connectivity segment's primary offering, LiveRamp Identity Link, Acxiom provides marketers with foundational identity layers that link data to real people in order to create a perfect omni-channel picture of the consumers. Marketers then can use the profiles to share it with any of ACXM's 450+ partners to support targeted advertising campaigns. For example, In March 2017, Commerce Signal, a transaction data platform, announced a partnership with LiveRamp's IdentityLink to better assess in-store attribution by connecting the dots between online impressions and offline sales.
Advancements in programmatic advertising and artificial intelligence, in our view, are and will become a much stronger force behind the need for data and data analytics. As programmatic advertising matures, we expect advertising to become much more efficient through targetability, which most of all requires exact and updated data. According to a survey by AdRoll in September 2016, only 7% of marketers invested more than 50% of their budgets in programmatic advertising in 2013. That number grew to 32% in 2015. 98% of marketers, surveyed, plan to maintain or increase programmatic budgets this year and 87% of them believe programmatic provides them with better return on investment than traditional media. According to the same report, 84% of marketers believe attribution is critical, or very important to, marketing success compared to 35% in 2014. The number of marketers, who've adopted an attribution model rather than a single-click model, has grown to 40% from 24% in 2014. While the survey provide a fundamental reason behind programmatic advertising growth, it also points out to what marketers are thinking about the challenges related to programmatic advertising. 51% of respondents named increase in mobile conversion as the highest challenge facing mobile advertising. Conversions are a result of efficiency and precision of targeting, and what drives these two factors is accurate data. Indeed, a massive pool of data and a platform that can analyze those data, remove duplicates, and create omni-channel profiles.
Figure : ACXM - Marketers who invest >50% of their budget in programmatic grew to 32% in 2015 from 7% in 2017 while <10% of budget shrank to 6% from 40% in the same period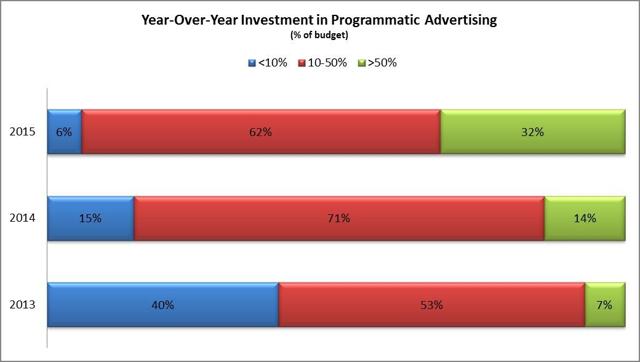 Source: Adroll
Figure : ACXM - High ROI and total conversion as the most important determinants of digital campaign success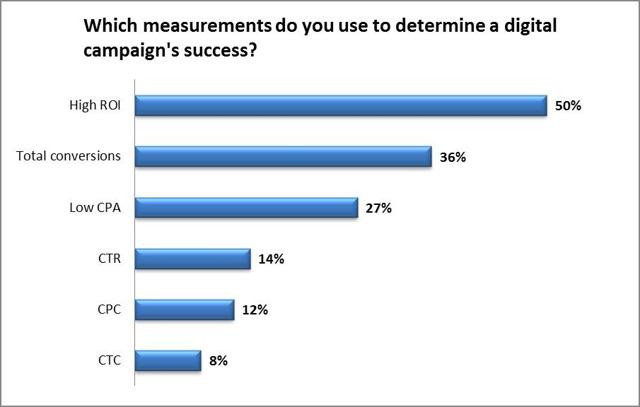 Source: Adroll
Figure : ACXM - Marketers allocate largest portion of their budgets to prospecting (top of the funnel)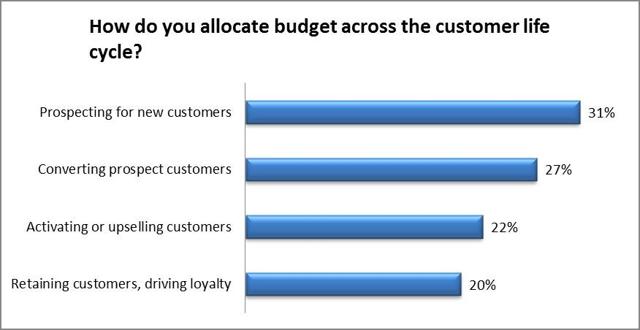 Source: Adroll
The growth in programmatic advertising should get a shot in the arm by TV players adopting the technology. Currently, less than 2% of total U.S. TV advertising is done programmatically equating to ~$1bn of total TV ad market of $67bn in 2016 compared to $31bn total programmatic display (video and motionless display) ad market. We started seeing signals from TV players for adopting the technology in 2016. Unlike display advertising where supply exceeds demand, TV has been loath to giving agencies and brand access to their inventory. Our checks indicate that, most of all, this lack of enthusiasm is a result of TV players' belief that programmatic process could deteriorate their inventory value as exchanges and bidding processes have no price floors. We are strongly against this belief for two reasons: 1) TV inventory is much scarcer than digital display inventory and as a result supply and demand rule should keep prices in check and 2) once marketers are able to efficiently target consumers and adjust campaigns on a real-time basis, they will get higher value from their TV campaigns and higher value will result in higher pricing.
According to a survey by Advertiser Perception, the focus of Newfront is mainly on topics that require data and data analytics:
Figure : ACXM - Using data to make better TV buying decisions, cross-platform measurement, integrated solution on TV, digital & mobile screens and programmatic TV buying are top four Newfront topics

Source: Advertiser Perceptions
Recent partnership announcements of major players in the industry with ACXM are good indicator of the importance of data and ACXM's leading quality as a data analytics provider. On Jan 31, 2017, DataXu, a leading provider of programmatic marketing software, announced a partnership with ACXM providing DataXu with ACXM's third-party data for advanced TV and analytics solutions. The partnership will allow marketers to use their own first-party data along with ACXM's data to run effective targeted campaigns on a cross-channel basis. On September 27, 2016, Acxiom and Adobe announced an advanced partnership. The partnership will allow Adobe Marketing Cloud clients to access ACXM's data through Adobe Audience Manager's Audience Marketplace with greater ease to run more accurate marketing campaigns. In February 2015, Facebook and Twitter both announced partnerships with ACXM to use the platform for better targeting and improving cross-channel advertising capabilities.
One of the main issues with programmatic advertising is the relevancy of the ad shown on a specific digital platform. For example, a creative work that works well on website might not necessarily be suitable for another website and a different audience. Our checks show that this issue is being addressed by companies like Spongecell (Also an ACXM partner), a programmatic creative platform that leverages data-driven technology to automate production and delivery of highly relevant, customer ads to clients. On March 17, 2017, Spongecell announced a partnership with Grapeshot to integrate Grapeshot's vertical targeting tool to further enhance its creative targeting based on web page content. The partnership will allow marketers go one step forward in delivering relevant messages to the point where they can distinguish on highly personal characteristics.
Last year, Comcast's (NASDAQ:CMCSA) AudienceXpress started beta version of Pronto to create a programmatic TV market place, and recently NBC announced that it will make $1bn of data-driven inventory through its new Audience Symphony platform. Even though initially local stations were hesitant to adopt the technology, with the near adaptation of ATSC 3.0, we expect local stations to be highly inclined to take on programmatic advertising, especially through mobile advertising. Beginning of last year, Television Bureau of Advertising (TVB), the group that represents local TV stations, issued guidelines for programmatic TV, its first pass on the subject. By mid-2015, Sinclair Broadcast and Visible World also started working on an Audience Network, which allows agencies and marketers to target specific local broadcast audiences. On March, 9th 2017,Conde Nast, a long-time Axciom Client, announced a partnership with NBCU and Vox to deliver mobile video, branded content and targeted data to better compete with the duopoly of Facebook and Google.
eMarketer forecasts programmatic TV to more than double in 2017 to $2.16bn (from $0.71 in 2016) and to double to $4.43bn in 2018. Given the size of the TV ad market, the flow of money to data analytics and TV DSP platforms should be meaningful. In May 2015, Placemedia, a supply-side platform for linear TV, announced that it will offer programmatically sold inventory at the upfront. It claimed to give advertisers access to 30 billion monthly traditional TV impressions from networks like A&E, AMC, Bravo, CNN, ESPN and more.
Not only TV is adopting programmatic advertising, other platforms like radio and outdoor advertising are doing the same thing. Last year, iHeartMedia launched programmatic private market place for its digital radio through AdsWizz's programmatic platform, which enables iHeartMedia to take advantage of first-party and third-part data to fully leverage programmatic technology. A year before that, iHeartMedia also announced a programmatic ad network for its broadcast radio stations through cloud-based provider Jelli.
In a survey done by Adobe, top priorities for marketers are among related topics that Acxiom platforms are shaped to address:
Figure : ACXM - Data-driven marketing, Multichannel campaign engagement and programmatic buying among top priorities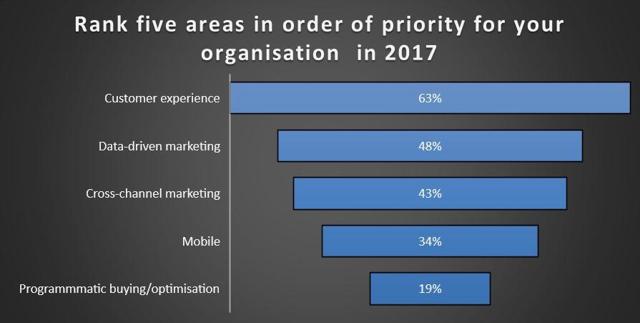 Source: Econsultancy/Adobe Quarterly Digital Intelligence Briefing
In its 2016 report, respondents named data driven marketing the most exciting opportunity in five years' time:
Figure : ACXM - Data driven marketing that focuses on the individual names as the most exciting opportunity in five yrs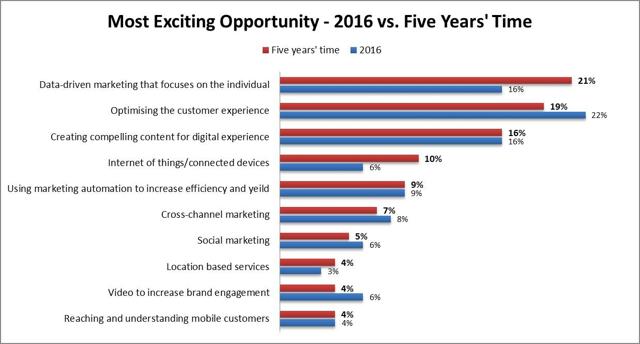 Source: Econsultancy/Adobe Quarterly Digital Intelligence Briefing
Not all programmatic bidding is done through AI or machine learning. What is important to our thesis here is that programmatic advertising is evolving toward more data-driven methods that involve machine learning and application of algorithms to large sets of data. We believe AI driven advertising, in its modern sense, has a long way to mature. What we mean by modern AI is using large data sets and applying an algorithm to them to identify trends or common occurrences and, even at more advanced levels, the ability to predict consumer behavior and provide marketers with insights that can be used to target consumers at a highly efficient rate. While we don't expect a fast replacement of humans by AI technologies, we certainly believe that the trends are in that direction. However, no matter what level of development programmatic is at, the need for data is crucial and this supports our OUTPERFORM thesis and view on Acxiom as a seamless data analytics platform with sub segments that provide a unadulterated picture of consumers through massive pool of data and data analytics tools.
We certainly think of AI as a boost for data analytics platforms. While there is a lot of confusion in the industry about what exactly AI is, most marketers believe that consumers are ready for artificial intelligence, according to Boxever, a consumer intelligence cloud.
Figure : ACXM - ~80% of marketers believe consumers are ready for artificial intelligence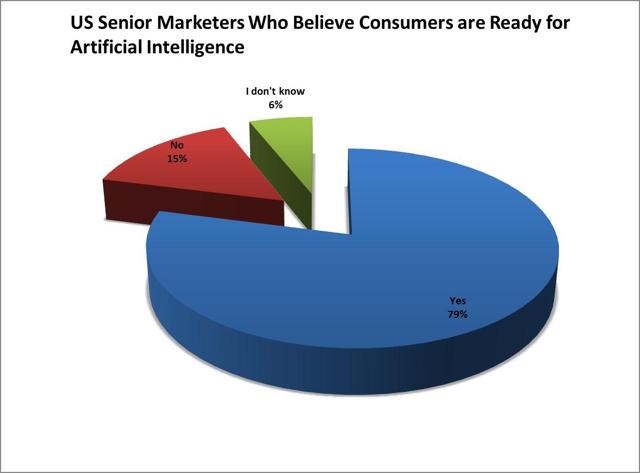 Source: Boxever, eMarketer
According to a survey by Winterberry Group, 50% of North American marketing and media executives value the use of data sets in predictive analytics & modeling followed by 41% who value data for cross-channel measurements & channel attribution capabilities, two of main traits of ACXM platforms. According to Tractica, global AI revenue is expected to grow from $644m in 2016 to $39bn in 2025 (58% CAGR) driven by machine learning, deep learning, computer vision, natural language processing, machine reasoning and strong AI.
Figure : ACXM - 49%/41% name predictive analytics & modelling/cross-channel measurements & channel attribution as most important technologies for achieving value from data

Source: Winterberry Group, eMarketer
In a survey done by Techemergence, most executives voted "Search" as the AI marketing tool with highest profit potential today but "Recommendation/Personalization", "Customer Segmentation/Targeting" and Programmatic advertising as most likely profit drivers in five years. Search is forecasted to lose its 1st position to 6th in five years.
Figure : ACXM - Recommendation/personalization, customer segmentation/targeting and programmatic advertising named as top three marketing applications to drive profit in next five years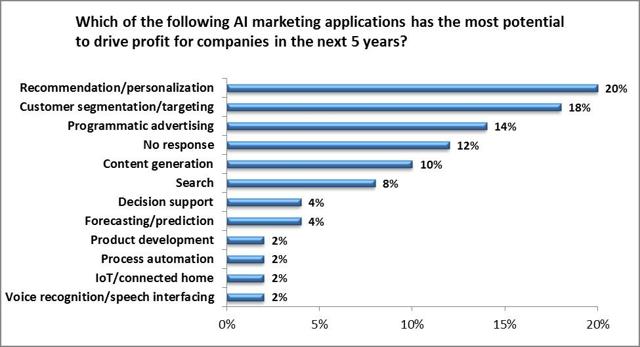 Source: Techemergence
Another driver behind programmatic ad growth will be native advertising (advertising within content) and header bidding technology. Native advertising has proven to be more impactful way of advertising compared to other forms of display and video advertising. We consider being less intrusive and distracting to the content the main reason for native favorability among consumers. According to IPG Media labs and Sharethrough, consumers look at native ads 52% more frequently than banner ads. Here are some of the other interesting statistics from the report:
Native ads resulted in 32% lift in brand favorability compared to 23% for banner ads
32% of respondents said they would share a native ad with a friend compared to 19% for banner ads.
Native ads resulted in 52% lift in purchase intent compared to 34% for banner ads
With DSPs adapting to native advertising buy-in, we expect native advertising to see meaningful growth in 2017 and 2018. This phenomenal growth will come after header bidding (horizontal bidding) becomes the principal way of trading native advertising. Most, if not all, DSPs currently participate in native advertising. Header bidding, as opposed to waterfall bidding, performs a horizontal bidding process where every bidder has the same chance of winning a bid as opposed to waterfall bidding where bidders, especially bigger players, would get a different treatment and depending on their size a better or worse chance of buying the inventory. Header bidding will result in more efficient bidding process for publishers as more demand will run through the inventory. According to a poll conducted by Advertiser Perceptions in May 2016, almost half of marketers who used native advertising utilized programmatic bidding and allocated 19% of their native budget to it. Lauren Fisher, an eMarketer analyst, believes that the interest in native advertising is driven by multiple factors like in-feed platforms, ad-blocking concerns and growing knowledge that desktop-driven formats do no perform as well on mobile.
Figure : ACXM - 19% of marketers' budget is allocated to programmatic native advertising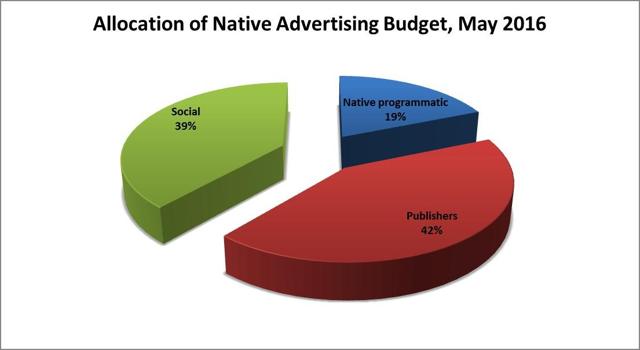 Source: Advertiser Perceptions, eMarketer
INDUSTRY TRENDS, EXPERT COMMENTS AND NEWS SUPPORTING OUR THESIS ON ACXM
Magnaglobal, the media arm of IPG, forecasts global programmatic and automated digital media buying to grow to $42bn in 2020 from $19bn in 2016, a 22% compound annual growth rate. Per Magna, programmatic ad sales reached +27% last year, slowing from +54% in 2015, result of a more mature industry. Even though growth slowed, incremental dollars of $4bn were similar to $5bn in 2015. Zenith Optimedia, Publicis' media arm, forecasts global programmatic to grow 31% in 2017, faster than social media (+25%) and video advertising (+20%) and expects programmatic to account for 58% of total global display advertising. Zenith estimated U.S. programmatic ad market of $24bn for 2016, constituting majority (62%) of total global programmatic spending. Per Zenith, programmatic accounts for 70% of total display advertising in the U.S. and the U.K. compared to only 23% in China, where we see growth potential for ACXM. One important point made in Zenith report is that programmatic has started to extend to traditional media including TV, radio and out-of-home. Zenith forecasts that programmatic trading will eventually be a standard offering across traditional media.
In 2014 and 2015 there were a lot of buzz around fraudulent digital advertising and this, in our opinion, is causing a slowdown in digital ad growth. In March 2014, Wall Street Journal asserted that ~36% of all web traffic was fraudulent or only ~64% of total web traffic was viewed by humans rather than bots. While many marketers lost trust in digital advertising, there came many initiatives to gain this trust back; for example, Trustworthy Accountability Group started verifying publishers inventory to help marketers better distinguish bot traffic. On March 14th, New York Interactive Advertising Exchange (NYIAX) was launched. NYIAX is a standardized exchange for buying and selling guaranteed advertising inventory, much like stock exchange. Enabling marketers and publishers to buy and sell guaranteed digital media contracts with efficiency and transparency should result in higher sell-through and CPMs for publishers and a more confident way for advertisers to gain access to premium inventory. The pilot with several companies will be completed by late 2017. NYIAX CEO Lou Severine said that he hopes to support TV, print, radio and out-of-home after achieving critical mass within digital.
By ad channel, in the U.S., eMarketer forecasts 26%/19% growth in programmatic digital display ad spending for 2017/2018 and 40%/23% growth for programmatic video advertising in same years. Programmatic display advertising will constitute 78%/82% of total display advertising and 69%/74% of video advertising in 2017/2018. eMarketer also forecast U.S. programmatic TV ad market to grow 206%/105% in 2017/2018 to constitute 3.0%/6.0% of total TV ad market.
Figure :ACXM - eMarketer estimates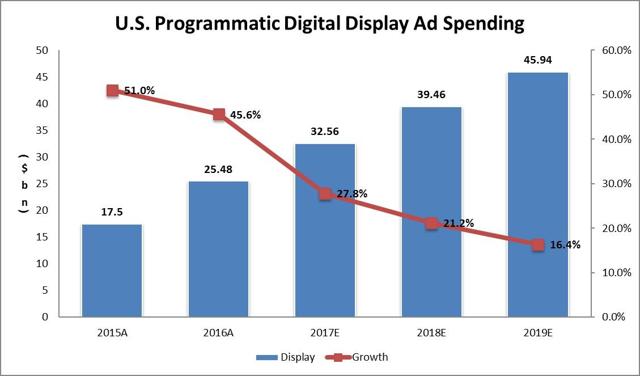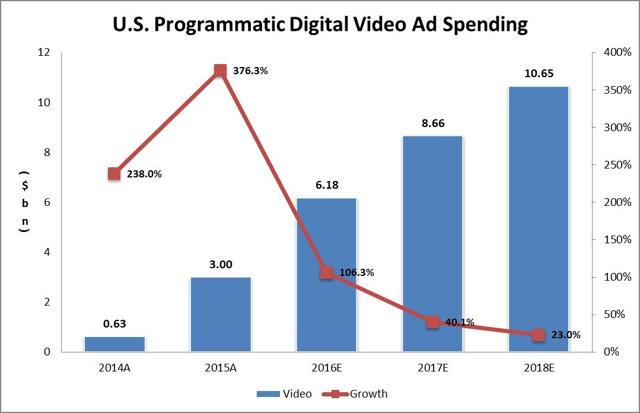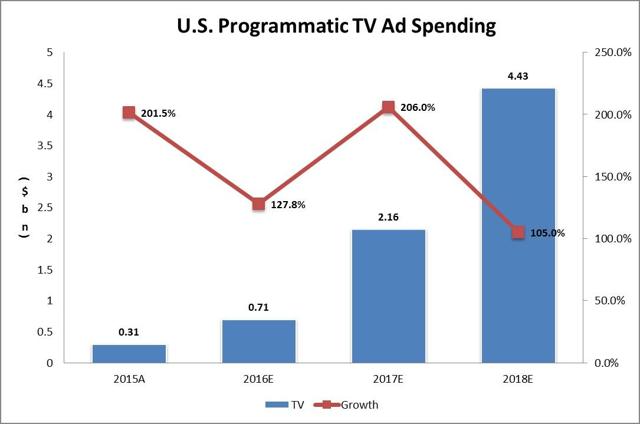 Source: eMarketer
Earlier this year, HAVAS Group announced its 100% Programmatic training course for its employees. Havas announced that more than 25% of its employees have taken the new certification program and 96% of them said they feel more confident discussing programmatic and 97% said they would recommend the course to their colleagues. "Programmatic is more than media," said Andrew Benett, global CEP of Havas Worldwide and Havas Creative Group. "It reflects a total change in our industry and has vast implications for creativity as well. We have always used audience data and personalized messaging to drive creative solutions and now we can do that through automation to achieve scale. It's just as important for our creative teams to understand this as our media teams."
Tim Webster, chief strategy officer of The Exchange Lab, a programmatic agency, believes that lack of data is hampering programmatic TV's progress. In a Real-Time Daily interview earlier this year, he said "Traditional TV is still incredibly manual when it comes to distribution of advertising, so the efficiencies of programmatic from transactional point of view should be a welcome solution, [though] this is a little further off. What's really interesting is the ability to offer a single buying point across TV, desktop, and mobile. These will allow marketers to get a holistic view of all channels when it comes to their media buying which in turn will enable them to be more strategic and ensure cross-channel communication with their customers" and as an answer to how it is going to happen, he mentioned. "It's already beginning to happen in some areas of the TV industry, such as OTT services. Some media owners are already set up to use data and are executing programmatic ad campaign for advertisers. National TV stations, on the other hand still have a way to go to be able to advertise programmatically. There isn't enough data available yet to gain the type of efficiencies seen in the programmatic through other channels."
At a programmatic media panel, late last year, many industry heavyweights shared their view on the state of programmatic advertising. "We're in the third inning," said Mark Zagorski, CEO of eXelate. "The first inning was a about reducing friction between buyers and sellers, and the second was about inventory and price optimization. Now, we're in the era of audience verification and targeting. The system is more efficient and we're more accurately reaching audiences," he said.
At the same panel, Scott Howe, president and CEO of Acxiom, said that his clients will spend ~$300m in targeted TV in 2016. He was asked, with advertisers like P&G pulling back on targeting, what does that mean for the rest of the business? "Some companies are outliers. P&G is one of them," he replied. "The targeting needs of consumer package goods companies are light, but for considered purchases such as auto, they're heavy."
In an interview with PubMatic's president, Kirk McDonald was asked about the future of Facebook/Google duopoly. Here's his response: "The Facebook/Google duopoly will reach a tipping point in 2017 as publishers and advertisers recognize the threat imposed by the imbalance of digital advertising dollars going to these players. With more brand dollars migrating online and increasingly programmatic, competition among companies like Verizon/AOL/Yahoo, Amazon, and even Snapchat will heat up as they vie for the next largest share of digital advertising pie." He was also asked about the way marketers will cope with all the changes in ad industry. Here's his response: "Brand marketers will follow in the footsteps of Disney, Procter & Gamble, etc., by building internal programmatic buying competencies and pulling programmatic spending in-house. Marketers will work on material improvements in multi-touch attribution across screens, channels, and formats. The vendors able to increase confidence that direct-bought campaigns can deliver against specifically desired metrics will become game-changers, especially if the solution manages to close the loop between online and offline attribution, cross-screen, and cross-platform consumer touch points. Last click attribution modeling is flawed and everyone knows it. However, we've done little to move past this in the past five years. As brand dollars migrate from TV to digital, the standard of measurement must be improved. We should be able to solve this with technology, and that will be a demand made by the marketers."
Recent announcement of a partnership between two AI giants, IBM Watson and Salesforce's Einstein, points to the importance of data and data analytics tools. The partnership will combine Salesforce's CRM-driven customer data with IBM's unstructured data such as financial and retail data to weather information for better targeting. This comes after an announcement of a partnership between ACXM and IBM in June 2016 to combine IBM's AI capabilities with ACXM's extensive data and data analytics tools to help data scientists save massive amount of time on data preparation and spend more time on deriving insights. Partnerships like these also show the importance of third party data providers like ACXM in order to perform fruitful marketing campaigns.
Whether it's a marketer or an agency or an ad-tech firm, need for data remains the same. A marketer needs data to better understand their customers while agencies and ad-tech companies need data to make sense of the market and run efficient marketing campaigns. Recent partnership between Signal, a provider of customer identity recognition platform, and Tapad, a provider of cross-screen marketing, on March 2017, is a good example to illustrate this point. The partnership will enable Signal clients to better understand their customers on an omni-channel basis. Interestingly enough Tapad and Acxiom announced a partnership in Nov 2016. Through this partnership ACXM's LiveRamp gives Tapad access to more than 400 ad tech and mar tech platforms and Tapad provides LiveRamp with access to Tapad's Device Graph, which is designed to help clients understand their clients and their multichannel behavior.
OUR ESTIMATES, VISUALS AND FINANCIAL STATEMENTS
Based on company specific and industry specific reasons mentioned above, we are confident in our above street F2019 and F2020 estimates. Not only we believe that the need for data will be a massive growth drive behind ACXM, we believe that superior quality of ACXM platforms will result in ACXM taking share from competition. As a result, our F2019/F2020 revenue estimates are 1.9%/3.1% above Street while our adjusted EBITDA estimates for the same years are 3.1%/7.8% above street due to higher margin expansion resulting from higher revenue growth and more stable cost of revenue and operating costs.
Figure : ACXM - Our F2019/F2020 adj. EBITDA estimates are 3%/8% above consensus.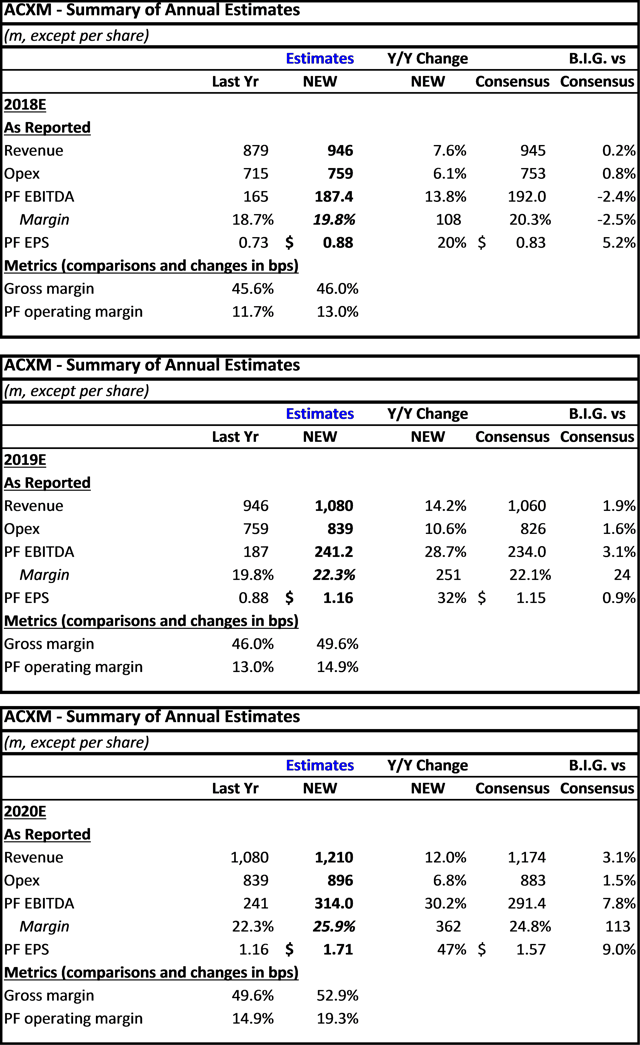 Source: Company data, our estimates
Figure : ACXM - Acxiom makes over 90% of its revenue in the U.S.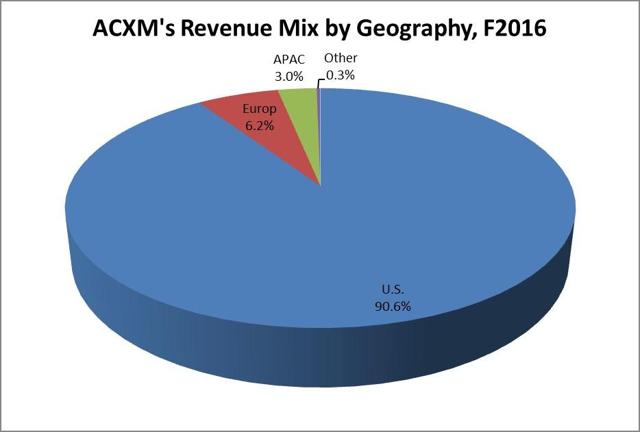 Source: Company data, our estimates
Figure : ACXM - Acxiom's strategic divestitures and fast growth of Connectivity segment has improved revenue mix to faster growing segment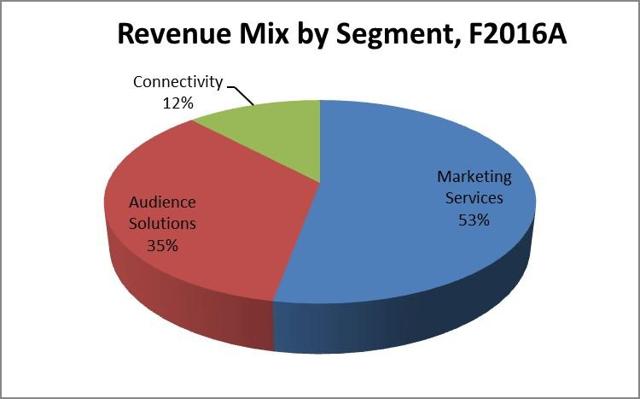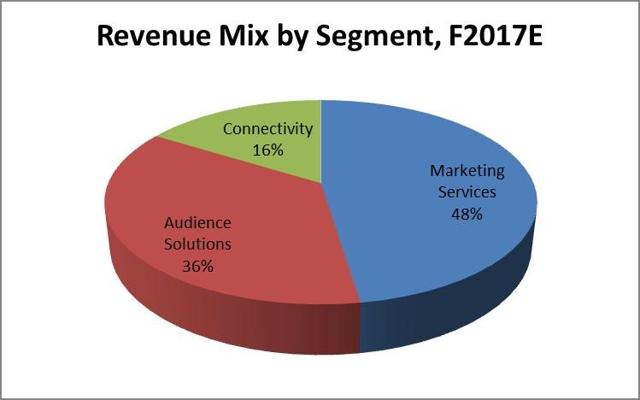 Source: Company data, our estimates
Figure : ACXM - We expect Audience and Connectivity segments to drive growth to F2022 with 17% compound annual growth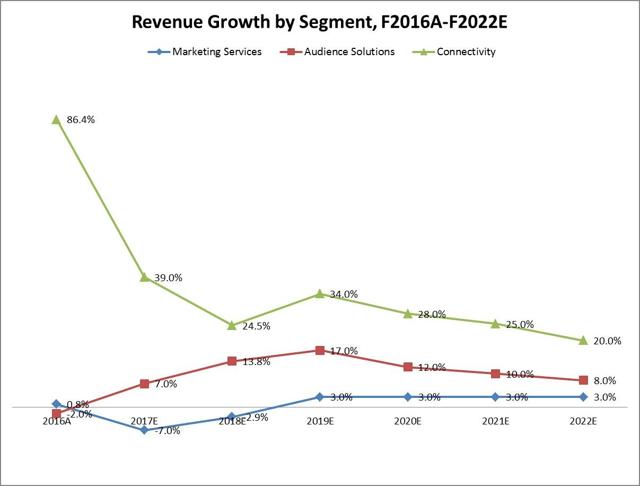 Source: Company data, our estimates
Figure : ACXM - We estimate ~1600bps margin expansion from F2016A to F2022E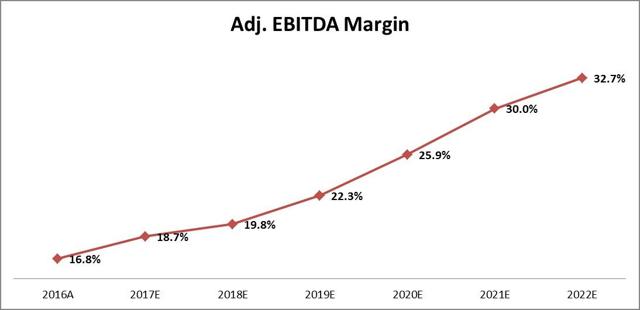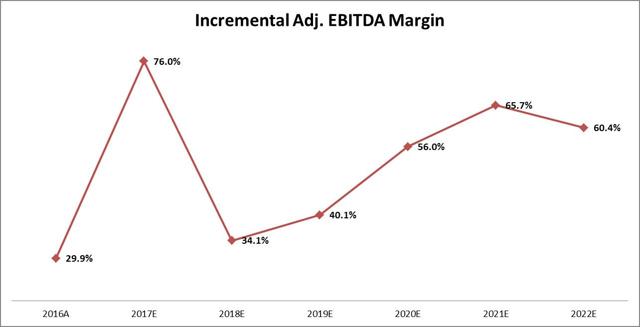 Source: Company data, our estimates.
Figure : ACXM - DCF analysis supports our $40 price target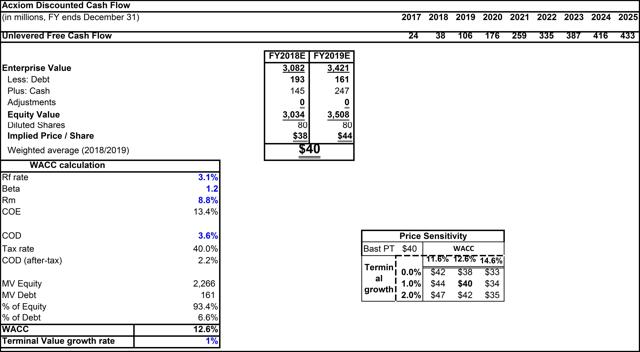 Source: Company data, our estimates
This article is part of Seeking Alpha PRO. PRO members receive exclusive access to Seeking Alpha's best ideas and professional tools to fully leverage the platform.
Disclosure: I/we have no positions in any stocks mentioned, and no plans to initiate any positions within the next 72 hours.
I wrote this article myself, and it expresses my own opinions. I am not receiving compensation for it (other than from Seeking Alpha). I have no business relationship with any company whose stock is mentioned in this article.