Gold Prices Dropped Three Weeks in A Row. But They Bottomed Last Week And Will Have A Run From This Week
Gold prices closed at 1,227.70 last Friday, up 0.28% for the day but still down 0.15% for the week. On weekly basis, gold has been down three weeks in a row. On the other hand, gold gained two days in a row after being down for the first three days last week. Last week's low was 1,214.30.
My view is that last week's low will be the so-called "deeper correction" bottom and that gold will start its run from this week.
There are several reasons I made such a bullish call:
Gold touched the bottom of its recent uptrend trend line then bounced back last week. See its daily chart below: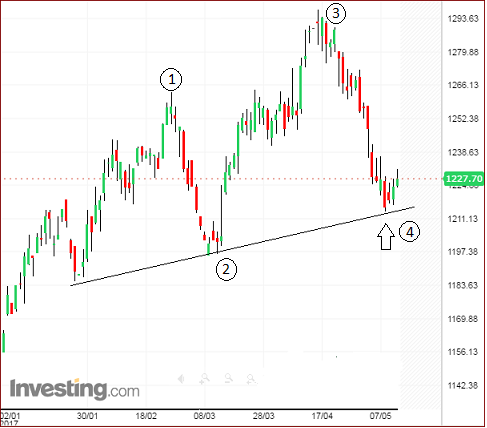 Source: Investing.com
2. Gold and gold miners are all falling into my downside target zones.
In my article "Gold & Gold Miners - A Small Pullback Or A Deeper Correction?", published on April 23, I said:
gold price may face a deeper correction in coming weeks
In order for it to be defined as a deeper correction, as I noted in my article, the drop in gold has to be more than $50 from its recent high.
As gold's recent high is $1,296, it was my view that gold would drop to below $1,246 during the pullback.
I did not give the exact pullback target in that article but gave my expectations later on in the article's comments section.
Gold will drop to 1,200 – 1,210 or SPDR Gold Trust ETF (GLD) 115 level.
VanEck Vectors Gold Miners ETF (GDX) may see bottom at 21.00 level and
That is, it is my view that gold may drop $86 - $96 before bottoming.
Now three weeks past, gold and gold miner ETF recent lows are:
Gold – 1,214.30; GLD 115.56 - both happened on May 9th; and
GDX – 20.89; GDXJ – 29.33 and JNUG 3.43 (or 13.72) on May 4th
All came more or less very close to my downside targets.
But how I can claim that their recent lows are their "deeper correction" bottoms?
That brings us to this important reason:
3. When gold drops to a new low, but gold miners refuse to move lower, bottoms for all are there.
Below is the GLD and JNUG 5-min chart in the 5 day period from May 3rd to May 9th: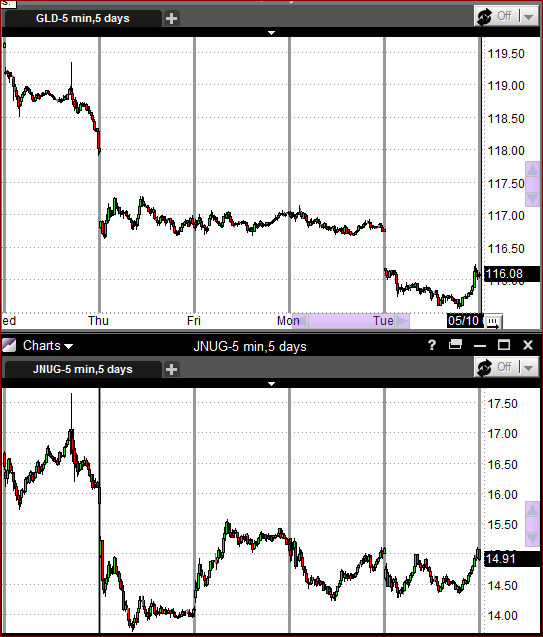 On May 4th, GLD gapped down to a new local low of 116.70, then made some rebound. JNUG followed. It set a new local low of 13.74 then bounced as well.
On May 5th, gold stayed at its lows with a very narrow trading range, but JNUG had a strong move, which gave the first sign of gold miner bottom.
On May 8th, gold still stayed at the same narrow range and gold miners pulled back.
On those last two days, gold touched its May 4th low a few times but JNUG never revisited its May 4th low. JNUG's low on those two days was around $14.30.
Then came to May 9th. GLD gapped down again to below 116 and bottomed at 115.56. But this time, JNUG refused to follow. It only made a small dip and revisited $14.30 again.
When gold dropped to a new low but gold miner did not follow, it gave its clearest signal: gold miners' May 4 low and gold's May 9 low would be their deeper correction bottoms.
I made my first JNUG buy at 14.37 on May 9
JNUG closed at 18.48 last Friday, up 34.70% from its recent bottom, and it gained 28.60% from my first buy. Not bad.
A Review Of My Recent Calls on Gold and Gold Miners
I made three calls recently on gold and gold miners and this will be my fourth call. They are:

Feb 27 - Gold And Gold Miners - Prepare For A Pullback. Gold dropped 9 days in a row after my call and dropped from 1,257.40 to 1,201.90.

March 14 - Gold And Gold Miners - Pullback Is Over. Gold made a big run, up from 1,201.90 to 1,289.10 after my call.

April 23 - Gold & Gold Miners - A Small Pullback Or A Deeper Correction? Gold made a deeper correction and dropped to 1,214.40 low before bounced.

May 14 - Gold And Gold Miners – Gold Price's Run Will Start This Week (this article). It remains to be seen whether my call is correct.

So far, so good. All my recent calls on gold have been quite accurate.
In addition, I have made few more calls on gold miners, all for my subscribers only:
April 18 - Gold & Gold Miners – Don't Fall Into A Bull Trap. In that article, I showed a Direxion Daily Junior Gold Miners Index Bear 3x Shares ETF (JDST) 60-min chart indicating a possible trend reversal: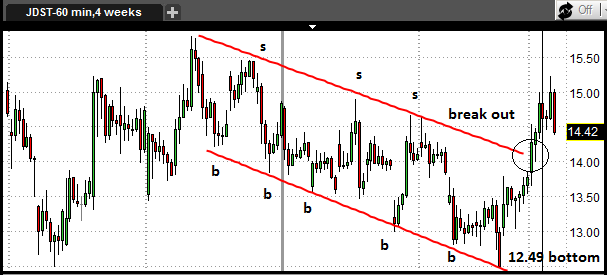 May 7 - Gold And Gold Miners - Where Is The Bottom? In that article, I first I showed how JDST made its run since breaking out.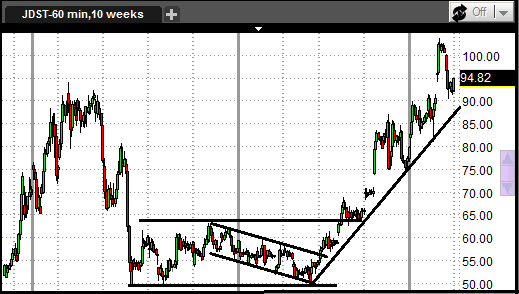 From its bottom of 49.95 (after 1:4 RS) to its high of 103.00, it made an over 100% run in three weeks.
More important, I called the GDX and JNUG bottoms in that article. Here is what I said:
GDX - The chance for its further drop is very small after three weeks of big drops in a row.
and
Direxion Daily Junior Gold Miners Index Bull 3x Shares ETF (JNUG) may be our main focus from now on.
There are many ways to play gold and gold miners including:
Play gold futures and play GLD options;
Play JNUG/JDST or NUGT/DUST pairs
Buy and hold physical gold, GLD and select gold miner stocks.
But many investors are finding it more and more difficult to make money doing this using any of the above methods, as gold has been very volatile and so have gold miners.
Buy and hold: It is very hard nowadays to find a gold miner stock that makes steady up moves as Apple Inc. (AAPL), Alphabet Inc (GOOG) (NASDAQ:GOOGL), JD.com (JD) do.
Play JNUG/JDST pair: The 3x ETFs have huge time decay problems and they are not for buy-and-hold types of investors. Playing it right can indeed lead to a big win, but it is not easy to identify its patterns. I do hope that this article can provide some help as how to play the pair.
Disclosure: I am/we are long JNUG. I wrote this article myself, and it expresses my own opinions. I am not receiving compensation for it (other than from Seeking Alpha). I have no business relationship with any company whose stock is mentioned in this article.