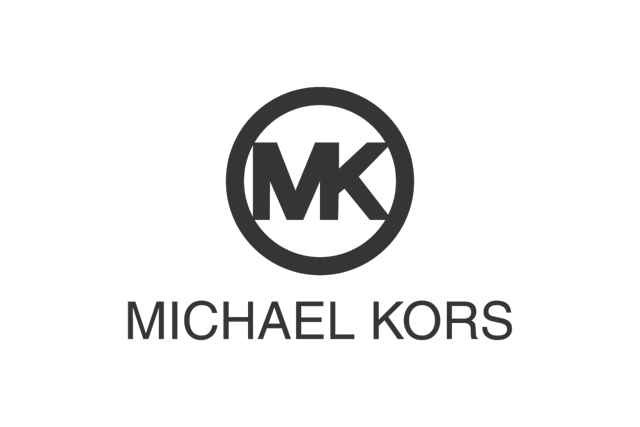 Some Context
Michael Kors' (NYSE:KORS) shareholders have been suffering for a while, and they can't blame themselves after all. The whole fashion industry has suffered for 2 years or more now, together with basically every sector exposed to brick and mortar retail. I discussed the reasons behind the decline in several articles - strong dollar and declining tourist spending, polarization in consumer spending behavior, deflationary competitive pressures, and so on. Moreover, some companies in the affordable luxury space such as Michael Kors and Ralph Lauren (NYSE:RL) (and Coach (COH) before them) have to deal with the excessive exposure in department stores and the excessive discounts on their products. A series of store closings due to the apparent overcapacity in the American retail space is not helping the industry either, leading to further deflationary pressure. As a result of these headwinds, Michael Kors started to report slowing and eventually declining comps and sales. The market punished the stock, which fell 64% from the top of $101 reached in February 2014.
Underlying Trends, Financials
Despite the several headwinds and the fear that the brand's success is largely the result of a fad, in the last 3 years the company didn't report very negative numbers. As we can see in the chart below, revenue, gross profit and EPS held up very well while the stock price was declining fast.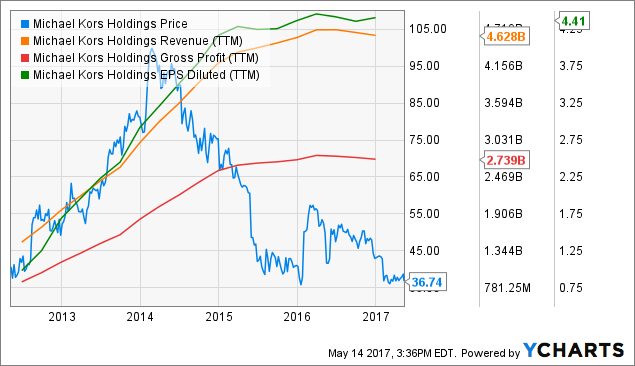 It's strange and rare to see such a strong deterioration in the price of a stock while fundamentals remain relatively stable. The reason is that the market is focused on comparable store sales and read their decline as a sign of weakness for the brand. Due to the intrinsic risk in any stock exposed to fashion trends, and the confirmation found in the declining comps, the stock fell sharply and still trades at depressed multiples.
Although we can't indicate any particular competitive advantage that could create a moat around Michael Kors' business, the value case finds support in a myriad of attractive financial characteristics and a depressed valuation. It's not hard to find reasons to like the company's financials:
Margins are healthy and some have shown resilience despite the bad conditions in the industry. For example, gross margin (trailing-twelve-months) has declined only 170 bps since March 2014, which is not so alarming, considering all the headwinds in the sector. EBIT margin declined more and is almost one third lower than in March 2014, but it's still a healthy 21.4% of revenue. EPS have actually grown, thanks to the constant buybacks that reduced the number of shares outstanding by a bit more than 20% since then.
Cash flow from operations continues to be healthy and growing despite the headwinds. As of last quarter, TTM Operating cash flow was $1,156 million, compared to $633 million in March 2014. FCF per share is $5.67, for a Price/Free Cash Flow ratio of just 6.55.
To summarize, margins have suffered as a consequence of the difficult environment, but in my opinion, not so much to panic. Operating cash flow has constantly grown and we can expect it to remain relatively stable, thanks to falling capex. EPS and FCF per share benefit from the strong buybacks, which according to management, will continue for the foreseeable future.
Looking at the balance sheet, there is nothing I don't like about Michael Kors. The company has basically no net debt, a current ratio of 2 and a perfectly solid quick ratio of 1.
Strange Valuation
Michael Kors remains a very interesting case in the affordable luxury space, as the market continues to price the stock as it was going to be in perpetual decline, although the company's top line and bottom line have not fallen sharply. The whole affordable luxury space is still trading at a great discount to the overall market, but KORS is trading at multiples that are well below its peers. Let's have a look at Michael Kors' valuation compared to peers.

Source: Author's Elaboration
Michael Kors is significantly undervalued compared to its closest peers, especially if we consider that the weakness in the affordable luxury segment has basically affected everyone. Now, what would happen if Michael Kors just followed Coach's same path? After all, realigning pricing and inventory and being more selective on their wholesale channels, as Coach did, doesn't seem an impossible task. Coach was affected by the same problems - excessive commercialization and discounts and loss of brand power due to the perception that the brand was always on sale. Their turnaround plan seem to be working pretty well, as same-store sales grew for 4 consecutive quarters. In my last article on Michael Kors I showed how the market is being much more negative with Kors than it was with Coach when the company was facing the same problems. I think it's useful to give a quick look at it again.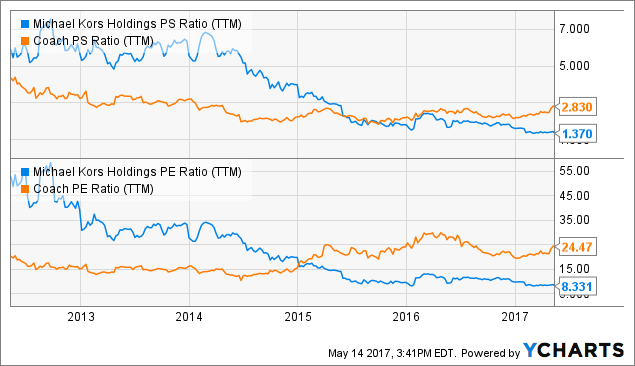 KORS PS Ratio (NYSE:TTM) data by YCharts
You can notice that if we exclude a short-lived selling climax occurred in the middle of 2014, COH has never traded at a price/earnings below 12.50, while P/S has never been below 1.9. Michael Kors is already trading 30% below that bottom valuations, although the weakness the company experienced is not even comparable to what happened to Coach.
From different perspectives, the negativity priced in the stock looks really exaggerated. Same-store sales remain the factor that can move the stock in either direction. But with the negativity priced in the stock, I would expect even a small improvement in comps to unlock some decent upside. In Q4, comparable store sales declined 6.9% YoY, with a downward acceleration from the previous quarter, when they declined 5.4%. Ralph Lauren, which reports before Kors and which is facing some headwinds related to deflationary pricing in department stores as well, has reported a relative improvement in comps in Q1, which means they declined only 5% YoY compared to a 8% decline in the previous quarter. As you can see in the stock chart, these stocks show a high correlation, due to the similar problems they are facing. Ralph Lauren gave us a small signal of improvement, although the work to re-establish growth is still a lot. Both companies have traded in a range for a few months.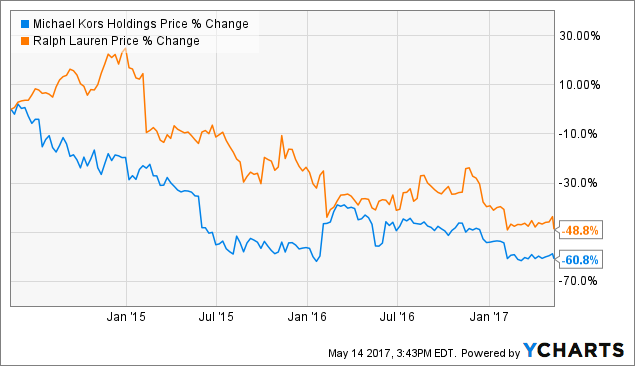 A lot depends on pricing pressures and whether the company will be able to realign pricing in a not so distant future, without too negative effects on sales. From what I have been able to see, there are signs that could indicate the start of a stabilization in the space and the main problems remain in the department stores channel. The decision to reduce the number of department stores that sell Michael Kors bags in order to regain some brand power will have an obvious effect on sales. But the market is mainly focused on same store sales, so any improvement in the owned stores segment will trigger some optimism.
I think KORS deserves a place in my portfolio, and I am betting on a stabilization in same store sales that should trigger significant upside. If these pricing pressures start to lighten as a result of the company's efforts to reduce the risks of excessive discounts in department stores, the stock would start to move closer to its peers' valuation. Based on the average EV/EBITDA multiple of the peers basket, there is a 38% potential upside for KORS, which becomes 83% if we take COH as a benchmark. What we need to see for KORS to trade closer to COH's multiple is just a few quarters of improving comps. After all, Coach's growth in same store sales is nice but not stellar, and it took just 3 quarters for the company to improve the growth rate in comps from -10% to +2%. Should the same happen to KORS, an EV/EBITDA of 9, the multiple where COH was trading before the news of the Kate Spade (NYSE:KATE) takeover, is absolutely reasonable. This would unlock a 57% upside for KORS. I expect some volatility in the short-term, but I see good prospects for KORS if they are able to manage the issue of pricing and discounts, as Coach did before them.
Thanks for taking the time to read the article. If you liked it, click on the follow button at the top of the page. You will get my articles as soon as they are published. I am available to further discuss the topics of this article in the comment section.
Disclosure: I am/we are long KORS, RL.
I wrote this article myself, and it expresses my own opinions. I am not receiving compensation for it (other than from Seeking Alpha). I have no business relationship with any company whose stock is mentioned in this article.