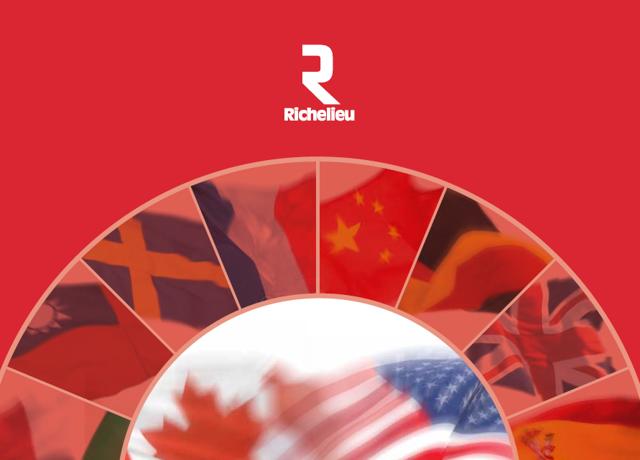 Richelieu (OTC:RHUHF) was brought to our attention by a colleague when he was searching for stocks that he found that met Peter Lynch's stock selection criteria. Upon first hearing about Richelieu, it seemed to meet some of our preferred criteria: small/medium capitalization, dividend paying, Canadian, and "boring". This analysis note takes a cursory look at Richelieu, to determine if it warrants further analysis.
Headquartered in Montreal, Quebec, Richelieu Hardware Ltd. is an importer, distributor, and manufacturer of specialty hardware and related products, focused on the North American Markets. Its primary customers are split amongst retail customers vis-à-vis the residential and commercial woodworking industry, home furnishing and office furniture manufacturers, and hardware and renovation superstores (e.g. Home Depot (NYSE:HD), Lowe's (NYSE:LOW)). In performing a cursory analysis of the past five years of Richelieu's fundamentals, the company has a strong balance sheet, great profitability, and a compelling dividend. However, it is presently overpriced.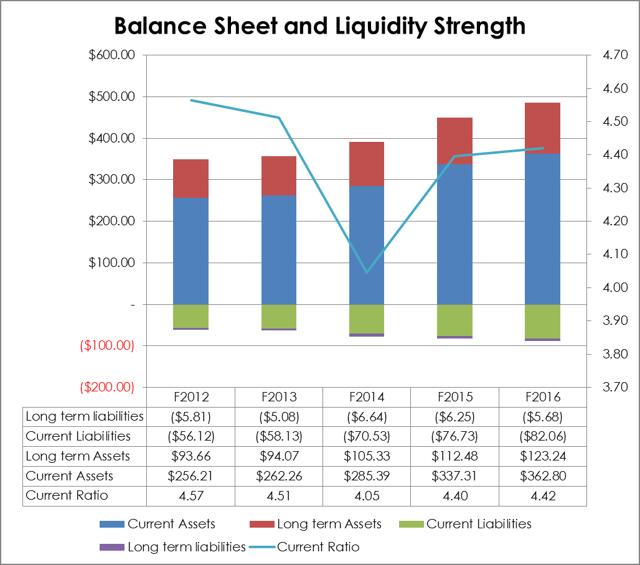 As evidenced by its balance sheet, and using the current ratio as an indicator of its liquidity strength, Richelieu is fairly strong. Its current ratio has consistently been greater than 4.0, which more than doubles the minimum threshold of 1.5 which we typically look for. Further to that, Richelieu's long term current liabilities are razor thin; in the past five years, they have never exceeded $7million. Moreover, in the most recent fiscal year the long term liabilities are $5.68million, and of that only $500 thousand is de-facto debt, with the balance made up of deferred taxes and other debt. In light of this, I consider Richelieu to have a very strong balance sheet. That said, concerning is the increasing amount of current liabilities: while debt itself has been low, these current liabilities pose a drain on the overall equity of the firm.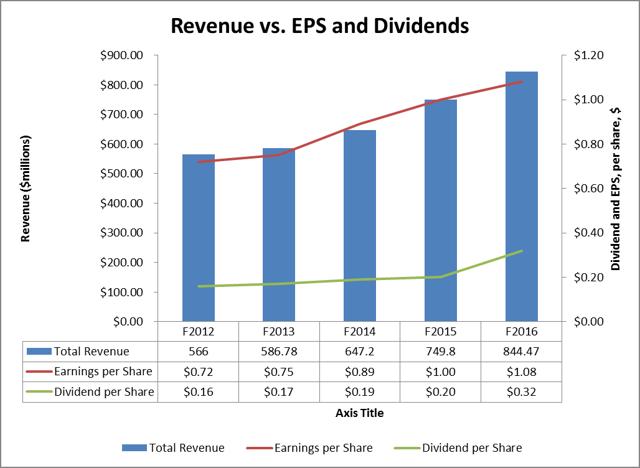 Richelieu's revenue, per share earnings, and dividend, have been on a positive trajectory for the past five years. Its dividend has an astonishing 18.92% compound annual growth over the past five years, and its revenue and earnings per share have compound growth of 10.52% and 10.67% over the same period, respectively. At the surface, Richelieu's EPS is growing faster than its revenues, which implies a reduction in overall costs being incurred between top-line revenue and bottom-line total profit. And while its dividend is growing at a faster clip, while not illustrated above, the dividend payout ratio has been consistently less than 30% over the previous five year period as well. Because the payout ratio is relatively low, at first glance there are no concerns for the dividend.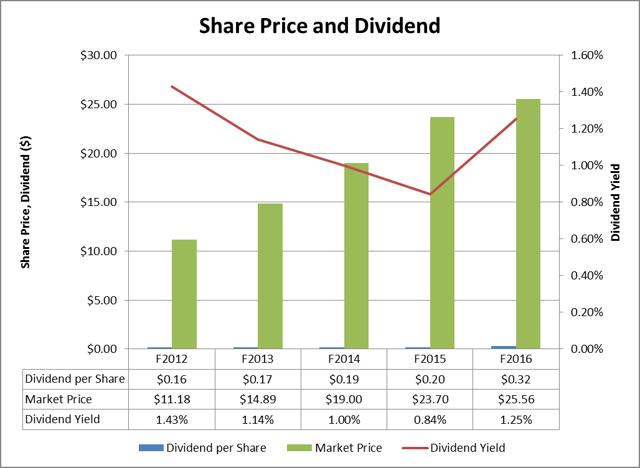 Reviewing the share price and dividend yield from another perspective, there have been impressive returns for both. The 18.92% dividend growth is complemented by the 22.96% compound annual share price growth over the same period. The yield is relatively low, with the most recent year only being 1.25%, so those looking for yield would be better off elsewhere. However, in terms of pure growth, Richelieu holds its own.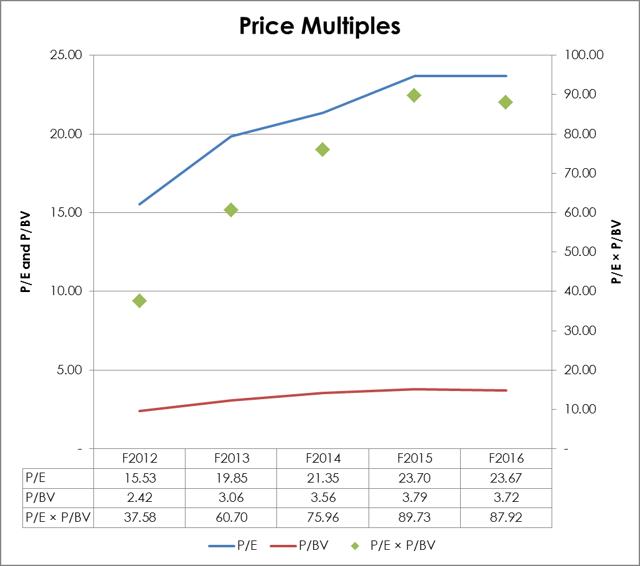 With great capital appreciation growth, a strong dividend, and-at the surface-very strong revenue growth, Richelieu hits many of the major checkboxes that we look for when selecting a company to invest in. The question then becomes: is it worth it? Unfortunately, this is where the stock appears to fall flat. As one of our primary goals is to find undervalued stocks, we look for stock with a P/E less than 15, P/BV less than 1.5, or a combined ratio less than 22.5. Richelieu fails on all three of these tests. As of the most recent fiscal year, Richelieu has a combined price multiple of 87.92, more than 3x what we would like to see.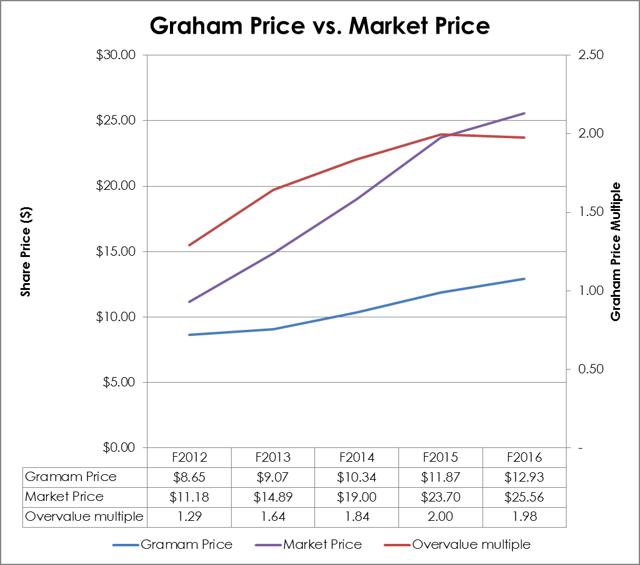 To drive this point further, using our combined threshold for P/E and P/BV of 22.5, we can see the implied Graham Price. As illustrated in the above table, the stock price is trending almost 2x of the Graham Price forecast, based on earnings and book value.
Closing remarks
A cursory analysis shows that Richelieu appears to be a strong company based on the past five years of fundamentals. That said, based on the most recent fiscal year it is overvalued. However, even though the company is overvalued, it has some intriguing characteristics. Based on this cursory analysis, I would rate this company a hold, and dig deeper into the following questions:
Because the majority of the current assets are receivables and payables, what is the cash conversion cycle of the company?
How fast is it turning sales into hard cash on its balance sheet?
"Other Long Term Liabilities" accounts for 1/3 of the total long term liabilities - while this is not de-facto debt, what risks do these other liabilities pose to the underlying fundamentals of the firm?
How does the story around the fundamentals change when we expand the analysis period to 10 years from 5?
Richelieu certainly deserves a deeper analysis to establish if it is a company which should be placed on long term watch-lists, to purchase on dips.
Notes
All figures in Canadian dollars.
Disclosure: I/we have no positions in any stocks mentioned, and no plans to initiate any positions within the next 72 hours.
I wrote this article myself, and it expresses my own opinions. I am not receiving compensation for it (other than from Seeking Alpha). I have no business relationship with any company whose stock is mentioned in this article.
Editor's Note: This article discusses one or more securities that do not trade on a major U.S. exchange. Please be aware of the risks associated with these stocks.