Executive Summary
Due to a bribery scandal in Africa, Och-Ziff Capital Management (NYSE:OZM) has been under siege. Since the scandal was announced in 2014, the firm's AUM has fallen by around 25%, but its stock price has fallen much more dramatically at over 80% since the peak. This overreaction from the market has created an opportunity with a disproportionate amount of upside compared to the downside risk.
Other catalysts for the company include their funds' strong history of outperformance, expected growth of capital flowing into alternative investments, and expected growth of pension assets.
Some risks the company faces include loss of reputation, shrinking hedge fund industry, and the potential for a major market pull-back.
My base case for Och-Ziff projects over 180% upside by 2020. My best case for Och-Ziff projects over 350% upside by 2020. My worst case for Och-Ziff projects over 40% downside by 2020.
Company Profile
Led by founder Daniel Och, Och-Ziff Capital Management is one of the largest alternative asset managers in the world offering multi-strategy funds, credit funds, CLOs, real estate funds, equity funds and other alternative investment vehicles. The firm currently manages $33 billion from a variety of different client types.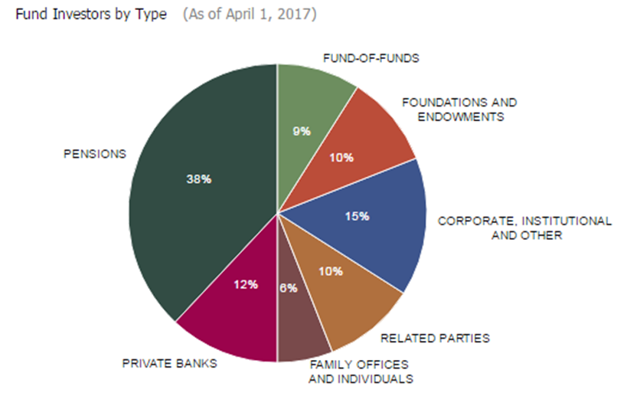 (Source: Company's Website)
The two main sources of revenue for the hedge fund are management fees and incentive fees, both of which are driven directly from assets under management and the investment performance of their funds. Growth in AUM due to inflows of capital from investors and positive performance of their funds lead to growth in the company's revenues and earnings. Alternatively, redemptions from investors and poor investor performance lead to decreased AUM and decreased revenues and earnings.
The hedge fund is best known for its multi-strategy funds and credit products. As of their Q1 2017 earnings report, Och-Ziff's multi-strategy funds accounted for $17.7 billion of the company's AUM. This number was down 36% year-over-year. This stark decline was driven by net capital outflows of $12.1 billion, which were slightly offset by positive performance of $2.3 billion. AUM in their credit products increased 7% year-over-year to $13.3 billion. The increase was driven by capital net inflows of $591.2 million and positive performance of $893 million. These numbers were partially offset by $564.1 million of fund distributions.
The Opportunity
While this sounds backwards, the big opportunity for investors in Och-Ziff stems from a major scandal involving the firm. In late 2016, a subsidiary of the hedge fund, OZ Africa, pled guilty to bribery charges. Och-Ziff first disclosed the Justice Department's investigation in 2014, but it failed to gain legs until the next year. Pension funds, foundations, and endowments, which made up over half of the investor base in the firm's funds, are all sensitive to reputational risk and began pulling their money from the hedge fund. This sent the firm's AUM and stock price into a downward spiral.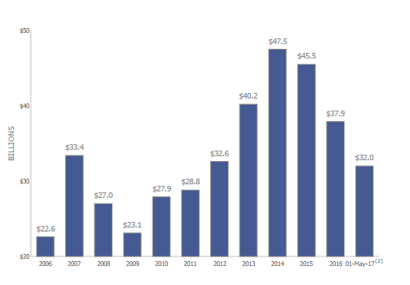 (Source: Company's Website)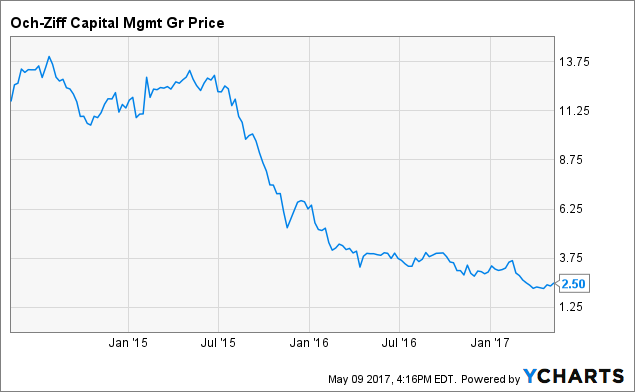 The company agreed to pay $412 million in fines and penalties, but the SEC concluded that CEO Daniel Och was unaware of the bribes. The firm is still seeing some of the negative effects of the scandal as they saw investors pull nearly $7 billion from the firm in the first four months of 2017. Several key executives have left the firm since the scandal, which has not helped the firm's turnaround attempt, but Daniel Och believes the firm is on the verge of moving beyond the scandal.
Catalysts
Och-Ziff stock price moves on two main factors. The first is its AUM, which is largely controlled by institutions who invest in their funds, and the second is the overall sentiment towards the hedge fund from investors who buy and sell their stock. While it is impossible to argue that the scandal didn't do immense damage to Och-Ziff's reputation, I believe it is equally as difficult to argue that a 25% decrease in AUM should lead to an over 80% decrease in stock price.
In their most recent earnings call Daniel Och said, "We are one quarter away from substantially all clients having had the ability to redeem since the cycle began, and from that point forward we believe that multi-strategy flows will return to being driven by performance and general industry trends." This means that the large disconnect between AUM and stock price should begin to close because any institution who was contemplating pulling their money from Och-Ziff funds already has. This is likely the worst it will get for this beaten down hedge fund, which presents an opportunity to investors with significant upside potential and very limited downside risk.
Mr Och also noted in the call that in his recent conversations with hedge fund investors that the dialogue has shifted away from the Africa scandal to discussions about performance and overall investing opportunities. As a result of the scandal, the hedge fund lost a lot of money from multiple large institutions including $350 million from Goldman Sachs' retirement plan and $190 million from the New Jersey Division of Investment. Both of these institutions cited "headline risk" as their reason for exiting the funds. While it will take some time before institutions trust Och-Ziff in the same way they did in the past, the hedge fund's superior performance will make it difficult for institutions to stay on the sidelines for long.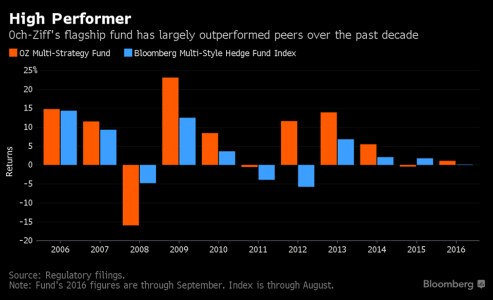 (Source: Bloomberg)
As shown in the chart above, Och-Ziff's largest fund, the OZ Multi-Strategy Fund, has outperformed the Bloomberg Multi-Style Hedge Fund Index nine out of the last 11 years. As the "headline risk" begins to dissipate around Och-Ziff, large institutions will be inclined to begin putting their money back into the hedge fund due to their superior performance. For this reason, the current trend of redemptions should reverse and there will likely be net inflows into the hedge fund by 2018.
Other trends that will drive Och-Ziff's AUM higher is the increasing alternative asset space and the expected growth of pension assets.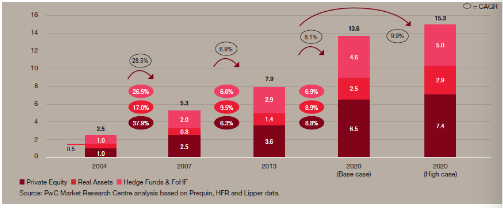 (Source: PwC)
The chart above is a summary of a study done by PwC, which concluded that between now and 2020, alternative assets are expected to grow to $13.6 trillion in their base case scenario and to $15.3 trillion in their high case scenario. One important thing for Och-Ziff is to note the increase specifically in "Hedge Funds & FoHF." The $3 trillion hedge fund industry has been under pressure recently receiving $70 billion in redemptions in 2016, but this study painted a much different picture for the industry. Many hedge funds won't be able to survive the race to zero, which will present ample opportunities for the best performing hedge funds to quickly gather this influx of capital.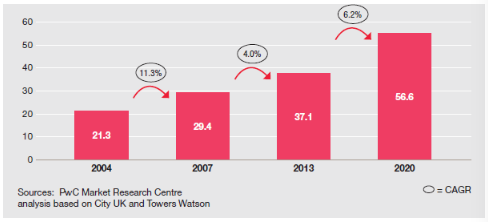 (Source: PwC)
In the same study from PwC, they looked specifically at what pension assets would look like in 2020 and concluded that they would grow to over $56 trillion. This is a promising trend for Och-Ziff, where pensions make up over 40% of their AUM.
Risks
The hedge fund industry continues to shrink
Can't overcome loss of reputation
A race to zero wipes out the ability for hedge funds to generate fees
A big market pull-back could outweigh potential inflows of capital and AUM could continue to fall
Och-Ziff's funds begin to underperform the market
Valuation
| STOCK PRICE | Base Case | Best Case | Worst Case |
| --- | --- | --- | --- |
| 2018 | $3.85 | $5.21 | $2.01 |
| 2019 | $4.78 | $7.59 | $1.76 |
| 2020 | $6.92 | $11.17 | $1.39 |
| UPSIDE (%) | Base Case | Best Case | Worst Case |
| --- | --- | --- | --- |
| 2018 | 58.4% | 114.4% | -17.3% |
| 2019 | 96.7% | 212.3% | -27.6% |
| 2020 | 184.7% | 359.7% | -42.8% |
These numbers are based on simulations using multiple variables including: the firm's AUM, the firm's performance, size of hedge fund industry, size of total pension assets, and capture rate of new assets.
Disclosure: I am/we are long OZM.
I wrote this article myself, and it expresses my own opinions. I am not receiving compensation for it (other than from Seeking Alpha). I have no business relationship with any company whose stock is mentioned in this article.