"The search for a scapegoat is the easiest of all hunting expeditions." ― Dwight D. Eisenhower

Amicus Therapeutics (NASDAQ:FOLD) has been on a nice little roll so far in 2017 and nice winner for the Insiders Forum portfolio this year as well.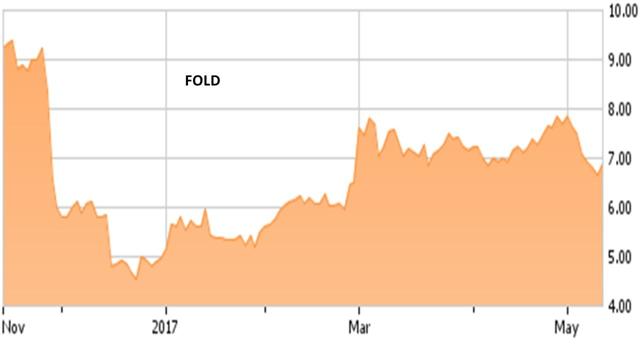 The stock has pretty much fully recovered from its plunge last October after the FDA declined to provide accelerated approval for its compound galafold to treat Fabry Disease even as it was approved in Europe for the same indication back in May of that year. Last week, this rare disease concern reported earnings. We take a look at the highlights today as well as a couple of upcoming trial milestones, that well could be additional catalysts for the stock later in the year.
Earnings Highlights:
Quarterly results were largely in line with the consensus. Amicus posted a loss of 39 cents a share on just under $4.2 million in revenue for the quarter.
Newly approved Galafold for Fabry Disease generated the revenue for Amicus. The product now has 101 patients of this very rare disease on the medication, primarily in Germany.
Galafold just rolled out to France, UK and Italy. Those sales should appear starting in the second quarter. The company's goal is to have 300 patients on this medication by year end.
The company burned through approximately $50 million in cash during the quarter. It ended the quarter with approximately $280 million which will fund all operations until the second half of 2018.
Upcoming Trial Milestones:
Critical trials on ongoing for the company's effort to treat the rare affliction Pompe Disease. The study is fully enrolled with 3 cohorts of patients, including ambulatory ERT-switch patients (Cohort 1), non-ambulatory ERT-switch patients (Cohort 2), and ERT-naïve patients (Cohort 3).
The company disclosed some encouraging results from a Phase 1/2 study before the bell this morning. "Patients who completed six months of treatment showed improvement in motor function, including the six-minute walk test, and stability or improvements in lung function as measured by forced vital capacity. In addition, patients treated with ATB200/AT2221 continue to show improvements in biomarkers related to muscle damage and disease substrate." These results have been good enough for a five percent rally in the stock in early trading Monday.
In addition, the company's efforts to develop the first approved treatment for Epidermolysis Bullosa (EB). Its compound SD-101 has a fully enrolled Phase 3 trial whose data should be disclosed sometime in the third quarter of this year.
Outlook:
I continue to like Amicus from a long term perspective. It has multiple shots on goal and is likely to have another compound or possibly two approved in 2018 while galafold sales continue to ramp up in Europe. That compound will probably have to wait until 2020 to be approved and marketed in the United States, pending further study data.
Cowen & Co. reissued a Buy rating and $12 price target this week after earnings, which is also the median analyst price target on the stock. If the 'animal spirits' ever pick up again in the M&A space, Amicus could be a logical buyout target. Its compounds are wholly owned and it is an area that has seen M&A activity in the recent past (see Baxalta).
Outside an outright purchase, I see Amicus raising some additional funding once approval of one of its other compounds seems assured. I have a full holding in the name, but if it dips on that event, I would probably pick up a few more shares.
"A lion does not become king of the jungle hunting mice." ― Matshona Dhliwayo
Author's note: To get these types of articles and Instablogs on attractive biotech and pharma stocks as soon as they are published, just click on my profile and hit the big orange "Follow" button and choose the real-time alerts option.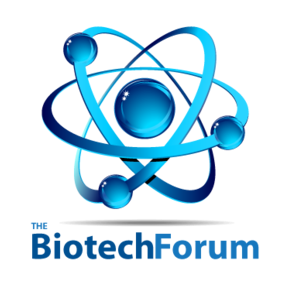 Thank You & Happy Hunting
Bret Jensen
Founder, Biotech Forum
Disclosure: I am/we are long FOLD.
I wrote this article myself, and it expresses my own opinions. I am not receiving compensation for it (other than from Seeking Alpha). I have no business relationship with any company whose stock is mentioned in this article.