When it comes to AMD (NASDAQ:AMD), Intel (NASDAQ:INTC), and Nvidia (NASDAQ:NVDA), analysts typically write about the impact of various program names the companies use internally for their chips, software, and platforms. The resulting word soup can be gobbledygook for investors who are not hardcore followers of these companies. More often than not, the word soup obfuscates what could be a clear and compelling thesis for these stocks for less hardcore investors.
We do not believe that investors need to know all the program names to understand how these companies work and what drives these company stocks. This article and all the articles in this series use minimum amount of jargon to make the investment case. While the investment case may be simple, given AMD's history and Intel's long-term dominant position, investors should pay special attention to the risk factors.
With that introduction, what follows is the second in a series of articles about AMD. For the first article in this series, see here.
To begin where we left off, the question is if AMD is a good investment after a 5x run up in the stock price in 2016?
To answer the question, we begin with assessing how AMD fares in each of the market segments that it competes in.
AMD derives its revenues from three areas: x86 solutions, graphics solutions, and custom/embedded solutions. In this article, we will address AMD's competitiveness in the X86 space and wrap up with our expectations from AMD's Analyst Day on May 16th.
AMD's Competitiveness In x86 Solutions Space
When it comes to x86 compute platforms, as we discussed in our earlier article in the series, there are only two contenders left in the field - Intel and AMD. AMD has been competing at the very low end of this business since early 2000s and that has taken a toll on the Company's market share (image below. Source: Passmark).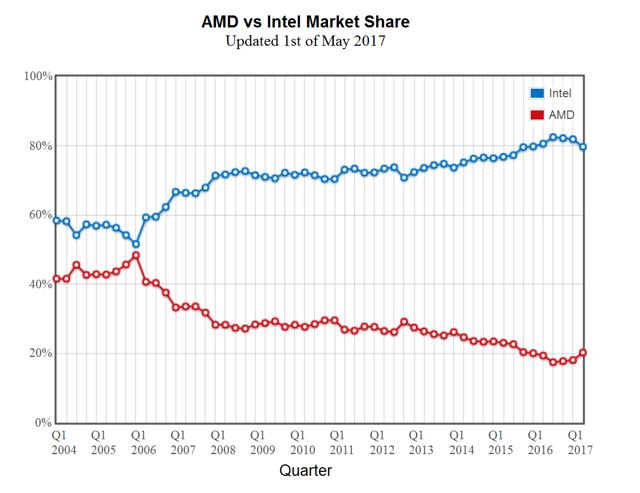 Now for the first time, AMD has a competitive product line as follows:
Desktop
At the high end, AMD's Ryzen 7, released in March, competes directly with Intel's high-end Core i7. While fans of the companies will argue how one chip is better than the other in one aspect or the other, there should be little doubt that AMD is competitive at the high end.
In the mid-range, Ryzen 5, which was released in April, will compete with Intel's Core i5. Mid-range solutions are feature-stripped derivates of high-end solutions and typically constitute the meat of either companies' offerings.
At the low end, Ryzen 3, to be released in H2, will compete with Intel's Core i3. It should be noted that even at the low end, AMD is likely to see a significant ASP and margin lift compared to its previous generation solutions.
The order of the product releases, from the high end to the low end, is a result of AMD using its limited resources to optimize for the highest gross margin dollars.
Laptop
Mobile chips differ from the desktop chips in the sense that many laptop CPU chips integrate graphics functionality. As we will discuss in more detail in future articles in the series, graphics is an area where AMD has traditionally outperformed Intel. Consequently, AMD has had a decent penetration in the laptop segment. However, even this has been limited to the low end of the laptop market due to the weakness of AMD's CPU.
For laptops, AMD plans to release Ryzen Mobile chips in H2 in time for the holiday season. Ryzen will let AMD break into high-end notebooks, which should help the Company to grow its share and ASPs. Because of the strength of AMD's graphics technology, AMD's prospects in the laptop segment appear even better than its prospects in the desktop segment.
Servers
Servers tend to have some of the most demanding needs in the computing space and use chips that typically offer much higher performance than desktop chips. Once AMD lost competitiveness in the CPU space over a decade back, Intel has come to increasingly dominate the server segment. It is now estimated that Intel has over 99% of the server market space.
AMD, using its Zen core, has come up with a server CPU called Naples which beats out the best Intel offers today (image below shows the comparison between Intel and AMD server chips). The Naples CPU is expected to be released in the current quarter.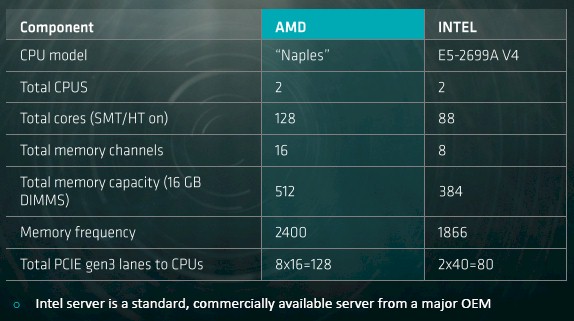 There is no doubt that Intel will respond to AMD's server forays but Intel's server CPU/platform design is an older one and is unlikely to keep up with Naples. Zen, being a newer core, likely has much more potential for improvement than the decade-plus-old Intel CPU core.
Even in the case Intel leapfrogs in the near term, it will be difficult for Intel to stop AMD from gaining a meaningful market share. In this context, one of the highlights of the AMD Q1 earnings call was a statement from CEO, Dr. Lisa Su:
"We have now seeded thousands of Naples processors across an extensive set of OEMs, end users and partners, and remain on track for our first Naples products to launch this quarter."
This commentary makes it likely that the server market views Naples as a credible alternative to Intel server solutions. If Intel had made a leapfrog design in a comparable time frame, it is difficult to imagine that AMD could have seeded so many servers.
The ASP on these server chips is an order of magnitude higher than desktop chips and the margins are extremely high (likely north of 70%). While the margin profile is attractive, given the stringent requirements of the server market, Naples is likely to see a slow ramp. Within the server space, we expect AMD to aggressively pursue the cloud market, which has the potential to ramp much faster than the enterprise market.
It should also be noted that the server platform is one area where AMD can be very aggressive in pricing as it knows that Intel cannot afford to crater its own pricing. With 99% market share, any price cuts would mean that Intel's bleeding would be very profuse.
From AMD's perspective, the ASP drop in the server segment would be temporary. As AMD wins several designs, future versions of the server chips can be used to increase ASPs to levels that are more consistent with Intel positioning.
Will Manufacturing Be A Challenge?
Historically, AMD had its own fabrication facilities and the Company was in a constant race to keep up with Intel. Intel, with its massive volumes and operational advantages, could stay a generation, and sometimes two generations ahead of AMD. This caused AMD to invest disproportionately in its fab facilities. However, once the Company was relegated to the low end of the x86 space, it no longer had the wherewithal to maintain the high capex or own its own fab. As a result, AMD spun off its fab in 2009 and became a fabless semiconductor company.
As part of the terms of the spinoff and later sale, AMD has been tied to its spin-off, Global Foundries, through long-term manufacturing agreements. Recently, AMD updated its supply agreements with Global Foundries to give AMD more flexibility with manufacturing. While AMD had to pay for this flexibility, AMD now has the capability to use Samsung (OTC:SSNLF) and TSMC (NYSE:TSM) as additional fabs if necessary.
Due to this flexibility, AMD no longer has an overhead problem or a process roadmap disadvantage compared to Intel as it had in the prior years. To exploit its advantage, AMD management is already spending considerable amount of money on moving the Zen family to state of the art 7nm masks.
In this context, a few comments about TSMC are in order. We believe there is a good chance that AMD needs to tap on to Samsung or TSMC to do the volume ramp necessary to get to the required volumes. To get a better perspective of Intel and TSMC, please see our earlier articles on the subject:
Intel And Taiwan Semiconductor: A Tale Of Two Cities
Intel Vs. Taiwan Semi - It's The Client, Stupid
The bottom line is that, in 2018, for the first time in x86 history, AMD may have both architectural and process advantage over Intel, and due to its foundry relationships, AMD will not be unduly burdened by fab expenses for capacity ramp. At the same time, Intel is now increasingly burdened with its manufacturing strategy and is increasingly at a risk of losing its traditional process advantage to TSMC.
Intel Competitive Response
It should be clear that Intel does not have the product line today to stop AMD from encroaching the high end, high margin parts of the x86 business. To stop AMD's momentum, Intel not only has to come up with a new CPU architecture and platform, but it also needs a high-end GPU architecture, which it traditionally lacked.
As Intel develops its own technology options, it is likely to resort extensively to marketing and bundling options to stall AMD's progress in every which way they can.
However, contrary to some investors' and analysts' fear, Intel is extremely unlikely to initiate a price war with AMD. Unlike in the past, when the PC market was growing, Intel has no other growth areas where it can take shelter. Given these companies' relative market shares and given that AMD has a competitive product, a price war is likely to destroy Intel's profitability without much in the form of offsetting strategic benefits.
Given the dynamics, Intel's response is likely to be not a price war but an all-out effort to outrun AMD with new product introductions. Intel certainly has the resources to pull such a plan off but such an approach takes time. That time creates a window of opportunity for AMD.
What Lies Ahead For AMD?
AMD's stock fell by about 30% after the Q1 earnings call due to concerns about soft revenue and margin guidance. While we agree that the guidance is soft, we find the expectation that Ryzen will ramp hard within a month after product release to be unreasonable. Not only does it take time for the Ryzen platform to mature to the satisfaction of large OEMs like Lenovo, Dell, and HP, these large manufacturers work around set product introduction cycles.
Most of the big manufacturers refresh their products three times a year - once for spring, once for back-to-school, and once for Christmas. Ryzen missed the Spring refresh cycle, which means that AMD chips at these big manufacturers are unlikely to be designed before the back-to-school season. Until the back-to-school demand sets in, AMD's volumes are restricted to small specialty manufacturers that are nimble and that do not necessarily follow the product introduction cycles the big vendors follow.
Consequently, Ryzen has only been available at low volume niche manufacturers. While some investors may be disappointed with the Company's low Q2 guidance, the reality is that there is unlikely to be significant volume for Ryzen until June. It will be late Q2 or early Q3 before the larger PC manufacturers start driving volumes. (On the other hand, if AMD's volumes do not ramp meaningfully in Q3, that would be indicative of a technical, manufacturing, or marketing problem.)
Having done all the tough technology work, now it is just a question of AMD's sales force executing before AMD can start realizing the TAM. Once the sales force does its job and the volumes kick in, the Company's gross margins should see a dramatic expansion. While it is difficult to estimate how high AMD's margins can go, we estimate that the Company's margins can easily grow between 10 and 20 percentage points over the next several quarters as all the high-end chips including server chips ramp up.
Couple the TAM expansion with margin expansion, AMD's profitability is set to grow rapidly from the current levels. While we can confidently forecast exceptional growth for AMD, the exact nature of growth will be difficult to predict since it depends on factors including AMD's product release dates, customer adoption, and Intel's competitive response.
When a Company is about to hit the knee of the S-curve on a new product, the exact timing of the ramp is difficult to predict. With AMD set to go through this tricky phase with many different products, forecasting can be difficult. However, the ramp of the product will be steep once the design wins commence in earnest.
Investors must ignore the emotion around the stock and think carefully about a simple dynamic. In a two-player market, the weak player suddenly and surprisingly becomes competitive. What happens to the market share? What will that do to both the players' prospects? And, how is each likely to respond? That is the lens in which we need to look at the upcoming AMD vs. Intel battle.
We have modeled various scenarios for the take rate of Zen architecture and believe that AMD has the potential to get to $20B to $50B in valuation in a span of two to three years depending on various assumptions. With the stock trading at about $10B in market cap, this implies a 100% to 400% increase in stock price over the next two to three years.
We expect that, given AMD's checkered history, it will take time for the stock to get to full valuation because very few investors believe AMD can outrun Intel. It will be a volatile stock because investors and analysts are likely to react quickly to bad news and fall prey to negative rumors - the mentality around this stock is going to be "sell now and ask questions later." So, holding on to this stock could be gut wrenching. It is going to be a roller coaster ride, but for the investors who can handle the ride, this will likely be a great stock to own for the two to three years.
Key Risks To Investment Thesis
There are fundamentally two risks to the AMD investment thesis. The first and foremost is that Intel is a giant in the x86 space and a formidable opponent. Intel will have more tools at their disposal than meets the eye. Tech industry is replete with stories of companies that underestimate the power and resources of a market leader and meet with failure. For example, Intel may use its massive resources to materially accelerate its product platform beyond what seems likely to be the case. While such an event is unlikely, it is still a risk that cannot be ignored.
In regards to the above risk, AMD's competitiveness, or the lack there of, at any point in time, will be on full display. Once it becomes evident that AMD is about to lose its technological edge and the Company cannot compete at the high end, it is no longer wise to stay long AMD.
The second key risk to AMD's thesis is that there could be unexpected execution problems at AMD. It is easy for hardware, software, or platform issues to delay the launch of key products materially. Sometimes, such delays can be debilitating. While this risk is difficult to see until it materializes, it appears to be low since the first product with the Zen core has already been launched.
What Can We Expect From The Analyst Day?
With the analyst day coming with about two weeks of the Q1 earnings call, we believe that there is very little that investors are expecting from AMD on 5/16.
We are skeptical of this view and doubt that the analyst day will be a boring one.
Considering the dynamics at play, we believe that the corporate metrics that the Company has been using in the past are no longer valid. We believe that the Company is likely to present material good news on several different vectors:
- Firstly, we believe the Company will show its updated x86 product roadmap to alleviate concerns about competition from Intel.
- Secondly, we expect the Company to present competitive details about Vega - its upcoming high-end graphics core. Vega can materially change the Company's position against Nvidia and is an important product to watch.
- Biggest upside is likely to come from a reset of corporate gross margin targets - while one can argue this is unlikely given the recent guidance, we are hard pressed to see how the Company can continue with its current gross margin guidance. We expect a 10% to 20% improvement in gross margins over the coming months and believe that a guidance revision is more likely than not. We expect the corporate gross margin targets to jump at least 5 points.
- The Company may revise annual revenue guidance. Once again this would appear unlikely given that guidance was given only about two weeks back. However, we believe that management heavily sandbagged 2017 guidance and an update is possible.
Combining all the above factors, we find it likely that the analyst day on 5/16 will very likely lead to a very significant pop in the stock price.
Prognosis
Assuming AMD can gain competitiveness at the high end of the x86 market as current plans indicate, there appears very little that Intel can do to stop AMD from growing. Without considering the graphics aspects or addressing emerging markets, AMD's near-term x86 TAM is likely about 10x what it's today when measured in revenue.
In terms of execution risk, the release of Ryzen 7, Ryzen 5, and the impending release of the Naples server chip indicates that the Company is past its most sensitive phase in terms of catastrophic failure.
With or without an analyst day pop, we would be looking to increase our position in the stock over the next few days, weeks, and months.
Our View of AMD: Strong Buy
Before it is here, it is on the Renewable Energy Insights subscriber platform. For timely and in-depth research and analysis of solar, wind, and battery industry stocks and developing news, please consider subscribing to our Renewable Energy Insights platform.
Disclosure: I am/we are long AMD.
I wrote this article myself, and it expresses my own opinions. I am not receiving compensation for it (other than from Seeking Alpha). I have no business relationship with any company whose stock is mentioned in this article.