RCI Hospitality (NASDAQ:RICK) is a strip club operator. If that offends, or is against your ethics, no need to read any further.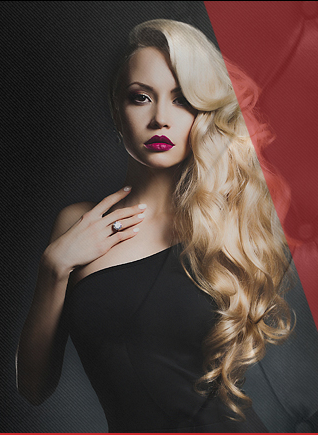 Source: Company website, rcihospitality.com
For those who have made it this far, and don't already know about RICK, I think you will be glad you continued.
RCI Hospitality Nightclub Segment
Running strip clubs (RCI refers to them as nightclubs) is a very profitable business which throws of lots of cash flow. Most strip clubs are in locations which strictly control the licensing of such establishments, and rarely if ever grant a new one. What this means is existing strip clubs are grandfathered in and tend to have a lasting moat. There is unlikely to be a new competitor opening across the street and cutting price, and the clientele doesn't argue too much that the drinks tend to be a bit higher priced. They are having fun, with better things to pay attention to than the extra buck per drink.
So, owning a strip club is somewhat similar to owning a popular bar. Most of the revenue for the operator comes in form of high margin entrance fees, and alcohol sales. As a matter of fact, RCI Hospitality habitually runs gross margins in the 85% percent range.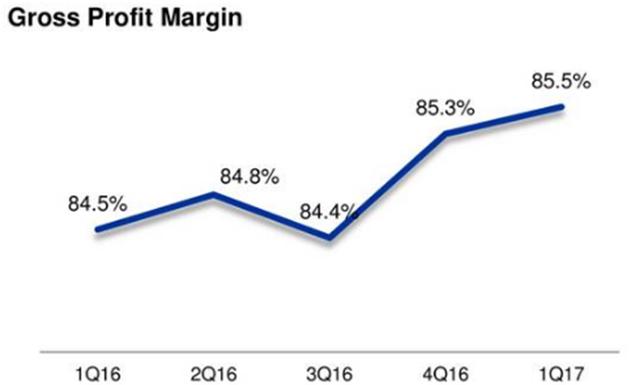 Source: RICK Q1 2017 quarterly earnings presentation
That's the kind of heady atmosphere that only software and internet companies typically enjoy. For comparison Darden (NYSE:DRI), the multi-billion dollar highly successful operator of Olive Garden and Longhorn Steakhouse restaurants, considers a 22% gross margin pretty good. Even better, a lot of RICKs gross margin tends to flow downstream to Fee Cash Flow 'FCF'. So far, this year RICK has generated $10 million in FCF on $68 million in revenue. Saying a 15% FCF margin on revenue is excellent, is an understatement; Darden did about 8.5% last year.
While the strip club segment is responsible for about 90% of RCI's revenue currently, RICK also has a second, new division, called Bombshells.
Bombshells Segment
Bombshells is a restaurant concept similar to Hooters or Twin Peaks but with a military theme. Along with food, drinks, and dozens of TVs carrying all the games, Bombshells features beautiful young waitresses in low cut outfits.
This too is a high margin, drink heavy business. Unlike the strip club business however, it's a business that doesn't require you to own the real estate (RICK owns most of its strip club real estate), and can reasonably be expanded via franchising. Thus, Bombshells has the potential to be just as profitable for RICK as the strip clubs; it can be expanded faster, and each location requires less money up front.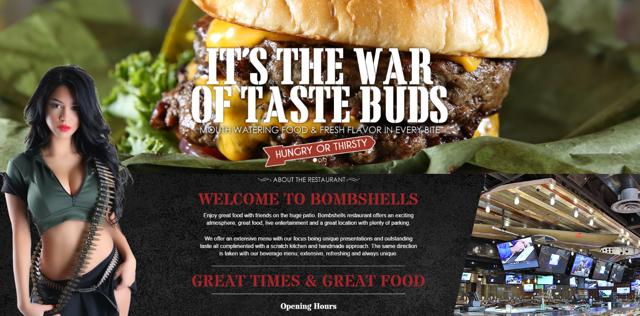 Source: Company website, rcihospitality.com
While new, there's only 4 corporate run locations currently with another 3 being built, the Bombshells concept has been successful so far. Revenue per location is averaging $4.4 million a year (Darden averages $4.5 million) and same store sales on locations open more than a year is +3.2%. But once again the big deal is margins.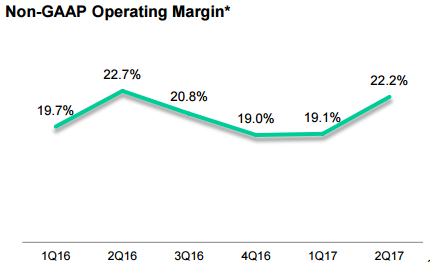 Source: RICK Q1 2017 presentation, note this is a combination of Bombshells 18% operating margin and the strip clubs even higher operating margins
Bombshells is running an 18% operating margin, Darden runs at half that, 9%. So, each Bombshells restaurant generates about twice the operating income as a typical Darden restaurant does, potential franchisees should stand up and take notice.
Risks:
RCI however is not without its risks. In my opinion the main one's are:
Legal Risk - While the business being unloved and un-favored provides a licensing moat, it also means they make a good target. Negative publicity, tax revenue demands, and lawsuits are too common. Legal costs should be considered a normal and ongoing part of doing business here as periodically some municipality instills a poll tax, or the company gets sued for designating the dancer's independent contractors, or whatever the next issue is.
Business Cycle - RCI is not immune to the business cycle. Men traveling on business trips are a regular source of clientele. When the economy is doing good, people buy high end scotch instead of a draft beer and the take per customer goes up. Thus, RCI will suffer when the next recession hits just like everyone else, maybe more so.
Management matters:
Eric Langan is the CEO of RCI Hospitality. He owns a little over 7% of the company (708k shares, $13.5M), or roughly 13 times his annual compensation, and has not sold a single share in over 10 years. He did however just buy some more (3,000 shares at $18.57 - $18.85). This makes him more than slightly interested in the long-term welfare of the company, and well aligned with shareholder interests. Mr. Langan comes across in conference calls as fairly humble and straightforward. A good operator who knows his business, and a CEO that is better for shareholders than most. He also still seems to listen and learn from others, a talent that is causing him to get better and better each year. I don't mean to write a puff piece here, I have never met the man nor talked to him personally other than in a conference call question and answer period, but well, that's how I see it. Let me explain why.
First I just have to say I have been on a lot of different conference calls and in a lot of different boardrooms, listening to a number of different CEO's in my life. Almost all are intelligent, driven, hard-working, and highly successful. Frankly if they were not, they usually would not get to that position. Unfortunately, the number whose interests are also well aligned with shareholders is much less, and those who are still humble enough to honestly pause, listen and learn is rarer still. So, I stand up and take notice when a CEO responds to a question about the capital allocation book, "The Outsiders: Eight Unconventional CEOs and Their Radically Rational Blueprint for Success" with,
"Certainly. I've read the book a couple of times. I even have an audio -- an audio book in my phone. I guess the big thing was -- I'm from the strip club business. I'll be honest. I started out as a manager of strip clubs, and we went public and we built into this company and we've kind of grown and grown. And so we have financial advisors that were telling us you have to have the growth, you need to get the top-line growing keep this going. And so we are focused on those things. And I think we did well with what our focus was. And the difference in that book has really taught us that the top-line is really not important. What's important as how much cash can we generate? And how are we reallocating that cash? How are we either returning to shareholders or creating more value for the shareholders with that cash? And what it really taught it me, we were always told, our paper is cheap, you can write stock checks all day long. Well of course, the investment banks love that, because they're making fees. And we were learning as I start looking at it -- wait a minute, this is the most expensive money and outsiders look really taught me how expensive those stock checks were.

And so now we use the formula and it really turned every decision into simple math. We know what our return is buying our own assets. So why would we pay more and I looked at some of deal we've done. Some of them were great deals. In 2008 we were making some fantastic deals. And some of the deals in 2011 and 2012 weren't so great, because our stock was so low, but we had gotten caught up in that write those paper checks, write those paper checks, the market will catch-up, the market will catch-up. And that book really kind of brought the thinking around to figuring out, okay, this is why -- that and -- another shareholder out of California, who got involved in the company, that really helped with that a lot, and got us to read the book. So it really helped. It's made a big difference and basically all of our decision making."
This might not have been the most concise or articulate answer I have ever heard, but it certainly was music to my ears. Management is not just saying it either. They have been talking the talk, and walking the walk. A version of the slide below has been a key, emphasized part of every quarterly earnings presentations for a while now,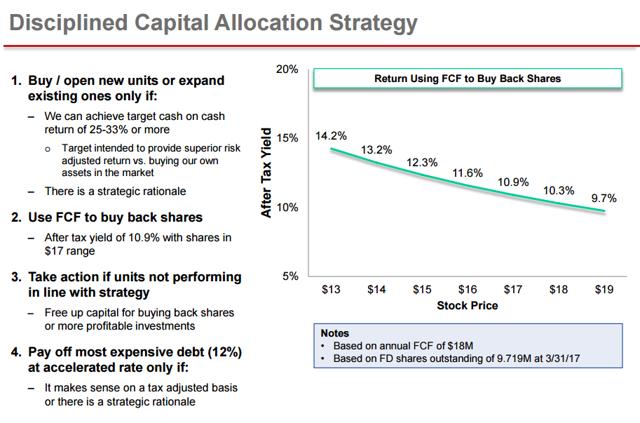 Source: Q1 2017 earnings presentation
When the stock was low, representing a risk-free, high, Free Cash Flow yield, they started buying it back. When the stock got really low, under $10, greater than a 15% FCF yield, they bought back even more.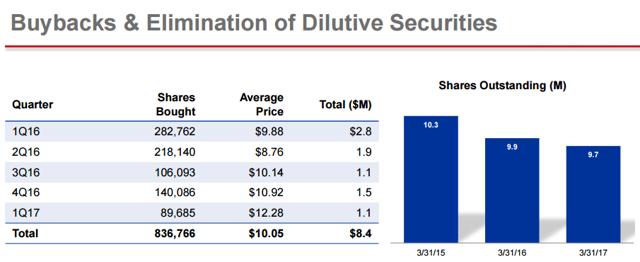 Source: Q1 2017 earnings presentation
These actions are not bravado, and they certainly are not empire building, what they are is good capital allocation and alignment. Management whose best interests are also shareholder's best interest. Mr. Langan clearly seems to understand that one of highest value things a CEO can do is to allocate capital appropriately, having a method for doing so, and following it.
But now the stock is above $18, representing about a 10% FCF yield on the curve above, and so they are switching back into growth mode again. The reason is simple, buying or developing clubs, while riskier, now delivers more than twice the expected return of buying back stock.
Growth (but only where it makes sense):
RCI bought two nightclubs, the Hollywood Showclub and Scarlett's, recently. The Hollywood Showclub is a first step into a new market, St. Louis. However, Scarlett's is by far the bigger of the two purchases so I'm mainly going to go in depth into that purchase to illustrate how buying clubs at the right price helps RICK shareholders.
Scarlett's is a larger, 25,000 square foot, marquee club in Miami only 5 miles away from another large club RCI owns, 74,000 square foot Tootsie's. As such there are some synergies between the two, and they are complimentary to each other (different atmosphere and clientele). At $26 million it is also one of their bigger deals, and is representative of some of the advantages RICK has.
The strip club industry is fragmented, mostly a collection of individual mom and pops, or in a few cases an individual owner with a few clubs. While there are thousands of strip clubs in North America, RICK is the only publicly traded company in the industry. As such it has access to banking and other resources individual owners don't. As a matter of fact, it is pretty difficult getting a loan in this industry. One of the reasons RICK quickly changed its name to RCI Hospitality and refers to the strip clubs as the nightclub division, once it started opening Bombshells, is to aid in getting lower rate mortgages on its real estate. I imagine bankers just don't like forwarding to their superiors approved mortgage applications on a building being used as a strip club. Too much personal career risk. The optics are not good, so better to play it safe, and let the potential borrower go somewhere else. The opening of the Bombshells division, change of the name from Rick's to RCI Hospitality, and renaming of the strip clubs as nightclubs, actually mattered. It directly contributed to them being able to take out low, fixed rate, long term, debt.
The difficulty in getting loans in this industry however is an advantage when RICK goes out to buy clubs, sellers just don't have too many better options. The pool of potential buyers is small, and they have a hard time plopping down $25 million cash up front. Potential buyers can make a deal to pay for a club purchase over time, just like RCI frequently does. However, how does the outgoing seller know the individual mom and pop buyer is still going to be around and paying them 10 years later? RCI Hospitality on the other hand, as a publicly traded company with multiple locations and known experience in the field, does not raise the same concern.
RCI typically targets 3 - 4x EBITDA when buying a club, emphasizing it is much closer to 3x usually, but in the case of Scarlett's they broke their rule and paid 4.3x EBITDA. As I said it's a large marquee club, with some synergies to another important club, and apparently, the name and reputation has some strategic value (they are considering rebranding some of their other high end clubs to the Scarlett's name). Additionally, the owner has been absentee, and thus they think they have some opportunity to reinvigorate the lunch and happy hour business which has been overlooked. They also point out a Hard Rock hotel is adding another tower nearby, the guests of which Scarlett's (and Tootsie's) can successfully market to. I estimate they can improve revenue's 5%, and lower costs 5% by doing things such as collective buying of alcohol and better control of cash handling.
Source: Author's calculation
This means the Scarlett's deal is likely to add almost $4 million ($3.995 rounded up), or 41¢ per share, in FCF per year! Put more simplistically, the deal was done at 4.3x existing EBITDA while RICK currently trades at a little over 8x EV/EBITDA, so it is obviously accretive. By my estimate the Scarlett's deal adds over $2 per share to RICKs long term stock price:

Source: Author's calculation
The $2.80 estimated is mainly based on the difference between what RICK paid for the asset, 4.3x EBITDA, and what the market paid for RICK at the time, 7.6x EBITDA (has since increased). However, coming at it from a second angle, I would point out this $2.80 in extra share value is only 6.8 times the expected 41¢ / share in FCF gain ultimately expected from the deal. This multiple on FCF seems a reasonable valuation expectation from the market.
Given the Scarlett's (and Hollywood) deal, it has become apparent management's current $18 million target for 2017 Free Cash Flow is too low. When questioned about it in the conference call they admitted as much saying,
"Yes, but we're not prepared to give you a new number yet. So we're going to continue to use the $18 million for our purposes right now and we'll probably -- we plan to adjust that for sure by August 4th and we may internally adjust that a little sooner,…."
The Scarlett's deal closed the day before the call, the Hollywood deal is recent, and there's 3 Bombshells in various stages of being built, so I don't really blame management for begging off providing an updated FCF number for now. Since management did not provide one, I came up with my own admitedly, simplistic version.

The existing business did $10 million in FCF the first half of the year. That we know. I assume it can therefore do the same in the second half. Add to that the $4 million a year in FCF we already estimate for Scarlett's ($2 million for the remaining half year). Then subtract out a guess of $2 million in maintenance capex for the rest of the year. That moves the $18 million 2017 FCF estimate up to about $20 million. Again, this estimate probably is not highly accurate, but it's good enough to help illustrate the effect of purchases on RICK stock: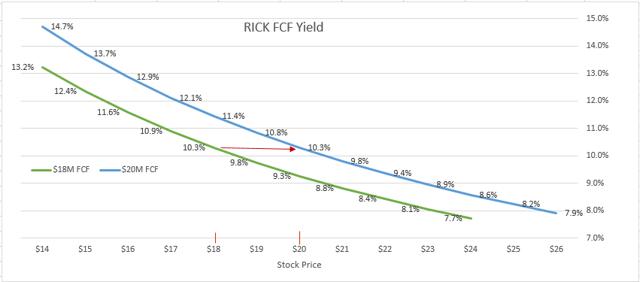 Source: Authors calculation
The graph above is simply a modified version of the same FCF graph RCI commonly provides in its conference call presentation deck (a picture of which is also up in the Management Matters section of this article above). The green line in this graph corresponds to the green line in the FCF graph provided by management in the last conference call. The $18 share price corresponds to a 10.3% FCF yield on $18 million in FCF, the same as it does on the FCF graph RCI provides.
The blue line however illustrates in yet different way, the effect of the Scarlett's deal on Free Cash Flow and the probable long term effect on share price. As I already roughly sketched out, the Scarlett's deal adds approximately $4 million to FCF annually or about $2 million for the rest of this year. That bumps this year's FCF up from $18 million to $20 million. A shift out of the curve (see red arrow). The blue line is simply the FCF yield that results from including the extra $2 million, $20 million in FCF, at various stock prices. As you can see, if the market demands a FCF yield of 10.3%, and the company generates $18 million in FCF, then the market should settle on a price per share around $18. If on the other hand the market demands the same 10.3% in FCF yield but the company generates $20 million in FCF instead (due to the Scarlett's and Hollywood deal), then the market should settle on a price per share closer to $20. The net effect of the Scarlett's deal is a shifting out of the FCF curve and a probably $2+ gain in share price.
Each time RCI does a deal like the Scarlett's deal, that curve shifts out a little more to the right, and the stock becomes more valuable. So, when RCI does these kind of deals, my main question is, "How many more can you do?"
That question was actually posed in the call in a couple different ways. RCI responded that while there are thousands of strip clubs throughout North America, they estimate there are only about 500 or so they would be interested in. They also alluded to having a healthy pipeline of potential deals in the 3x EBITDA range "some maybe a little under 3x" and for the recent deals they "raised $5.4 million with a few phone calls".
They did however also point out there's only about $12 million cash still available (after getting $2M back once the Hollywood Showroom mortgage closes). They have got build-out costs on three new Bombshells (I estimate $2.5 million needed in cash), the second $5 million payment on the Scarlett's deal in 6 months (I estimate that soaks up free cash flow generation between now and then), and various capital upgrades they need to do (as already stated I estimate $2 million, probably including some Scarlett's upgrades). I am also putting in another $2 million for a buffer. So, my estimate is they will have about $7.5 million available for additional purchases through the rest of the year (=$12 - 2.5 - 2 - 2). At an estimated 25% needed up front for each deal, that means they could possibly do another $30 million or so worth of purchases this year. If they can make the deals happen of course. They already have a lot going on with existing purchases and build-outs, but let's hope they can.
Valuation:
RCI Hospitality is no longer the deep value play it was when I originally invested in it. At 8.2 EV/EBITDA however, it is still a good deal. Rolling up the strip club industry (buying clubs from retiring owners) is something they are good at, have done numerous times, and at 3-4x EBITDA vs. their 8x EV/EBITDA is clearly accretive. In addition, RCI has the Bombshells wild card that so far is looking pretty good. If they can in fact attract a meaningful number of franchisee's, it greatly accelerates their already growing bottom line. However, even if Bombshells franchising is not successful, just the growth delivered by buying other strip clubs and opening corporate owned Bombshells justifies current multiples.

Target - I will set a target for RICK at 10x EV/EBITDA. That is still 2 less than the average EV/EBITDA of the other four companies listed above, a sin discount. Currently, that 10x EV/EBITDA equates to about $25 dollars per share of RICK. However, with each club bought, and each Bombshells opened, it goes up by a little bit.
Conclusion:
As an under-followed sin stock generating significant amounts of cash, I bought an initial position in RICK years ago when it had a market cap under $100 million. I have added since then, most notably when it dipped down into the $8s a little over a year ago (it's over $18 today). However other than occasional trimming required by portfolio allocation limit rules, like Mr. Langan, I haven't sold. RICK started out as a value trade due to great FCF yields and growth prospects. It has become my single largest buy and hold position due to good management alignment and superior capital allocation discipline.
RCI Hospitality is one of those rare companies with high margins, strong Free Cash Flow generation, disciplined management who know how to allocate capital, and plenty of solid growth opportunities. It deserves a higher multiple, and a buy and hold designation.
As always, I welcome further scrutiny and feedback from readers. If you find this article interesting, and would like to get notification of updates and/or my future articles, please click on the follow button above.
Disclosure: I am/we are long RICK.
I wrote this article myself, and it expresses my own opinions. I am not receiving compensation for it (other than from Seeking Alpha). I have no business relationship with any company whose stock is mentioned in this article.
Additional disclosure: This article covers a speculative investment. I do not know you: your goals, risk tolerance, or particular situation. Therefore, I can not recommend this or for that matter any investment to you. Do your own due diligence.