Facebook (NASDAQ:FB) is one of my favorite stocks and a comprehensive analysis was performed on its metrics to discover its fair value.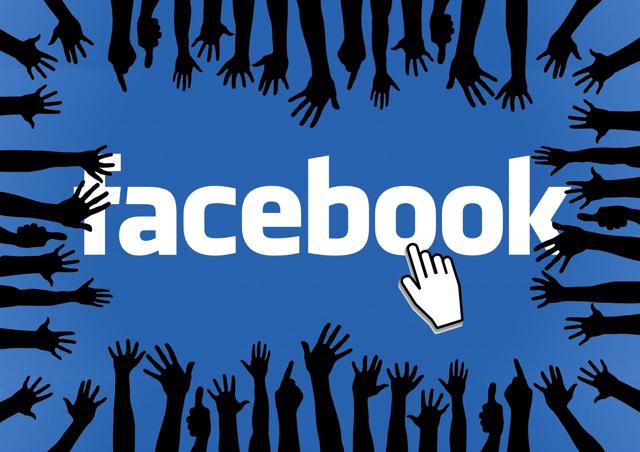 As first, consider that only 12% of Facebook's total Monthly Active Users reported in the first quarter of 2017 belongs to the US and Canada geographic region, but its correspondent ARPU, which stands at $17.07, is by far the highest among the other regions.
In seven years' time, there had been an almost complete inversion in the weight of US and Canada and Europe in terms of MAU when compared to that of Asia-Pacific and the Rest of World. Today, we can safely say that Facebook has become a typical developing world's phenomena.

Note that Europe includes users in Russia and Turkey, Rest of World includes users in Africa, Latin America, and the Middle East, and that access to Facebook has been or is currently restricted in whole or in part in China.
The rate of decline in the MAU's quarterly compounded growth rate for US and Canada and Europe has been different since early 2009. Europe has demonstrated to be more resilient than US and Canada. Nevertheless, if we project current trends into the future, there is the possibility that 10 years from now, the number of users belonging to the US and Canada region will return to where it stood at the early days of Facebook, followed few years later by European users.
The lion's share of Facebook's user base will come from developing countries (see the following tables where my estimates are in grey).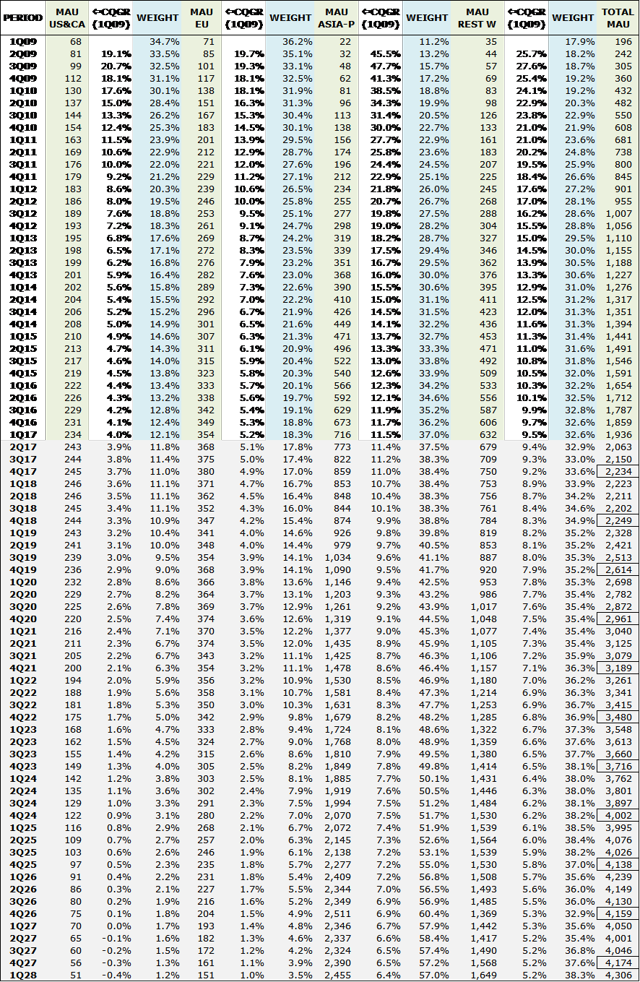 Shifting the focus on the historical evolution of the ARPU's growth rate, what emerges is an almost constant compounded quarterly growth rate since the first quarter of 2011, both in the US and Canada region and in the Europe region, around the average value of 8.1%. The trade-off between constant growth in the ARPUs and diminishing growth in MAUs may be explained by the ongoing process of transition from traditional advertising media (Direct mail, TV, Newspapers, Radio …) to new advertising media (Internet and social networks). As soon as advertisers will discover the real trend in social media usage (in respect to said two regions) maybe they will become less willingness to invest in these channels.
Regions such as United States and Canada and Europe are "mature" markets as Facebook itself implicitly recognizes in its last 10-K form:
Our revenue and ARPU in regions such as United States and Canada and Europe are relatively higher primarily due to the size and maturity of those online and mobile advertising markets."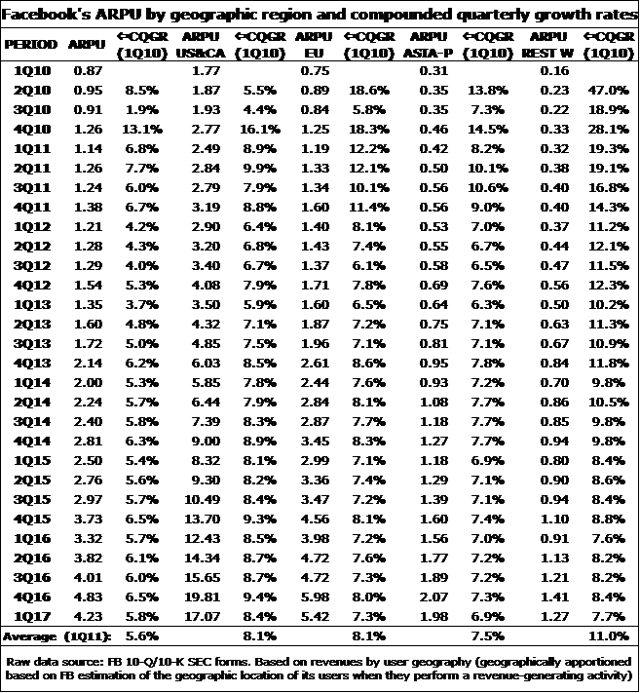 According to the IAB internet advertising revenue report (2016 full-year results), an industry survey conducted by PwC and sponsored by Interactive Advertising Bureau:
The compound annual growth rate - CAGR - over the past 10 years for internet advertising of 16% has outpaced U.S. current dollar GDP growth of 3% over that period. However, the CAGR decreased from 17% in 2015, suggesting that internet advertising growth may be slowing."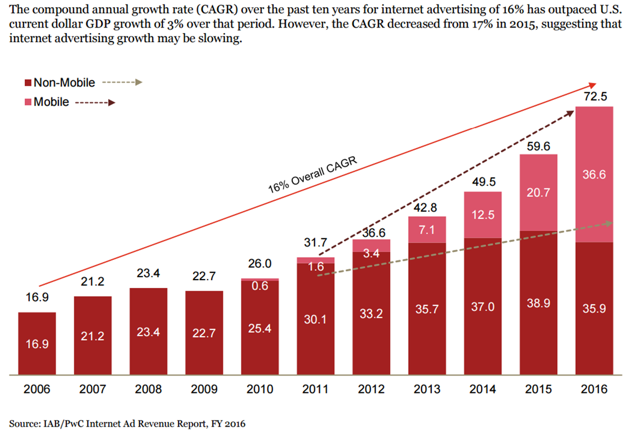 In my opinion, Internet advertising growth isn't slowing yet (as you may see from the following table where CAGR 03-16 has been computed and shown) but on the contrary what is somehow warningly is the recent decrease in growth of social media advertising (Facebook is a social network and substantially all of FB revenue is generated from third parties advertising on Facebook and Instagram. For 2016, advertising accounted for 97% of their revenue). In 2016, for the first time, the CAGR in social media advertising revenues computed for the last four years has shown a decrease.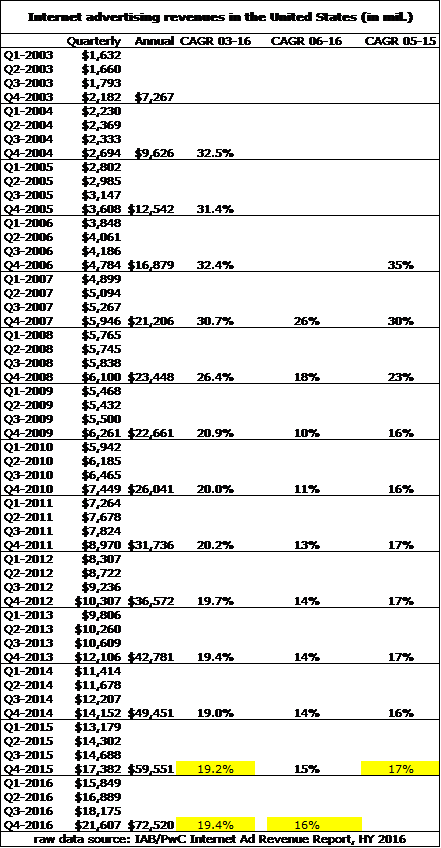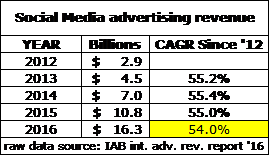 Clearly, Facebook hasn't yet lost appeal to US internet advertisers as proofed by its improvements in terms of its market share (now over 20%).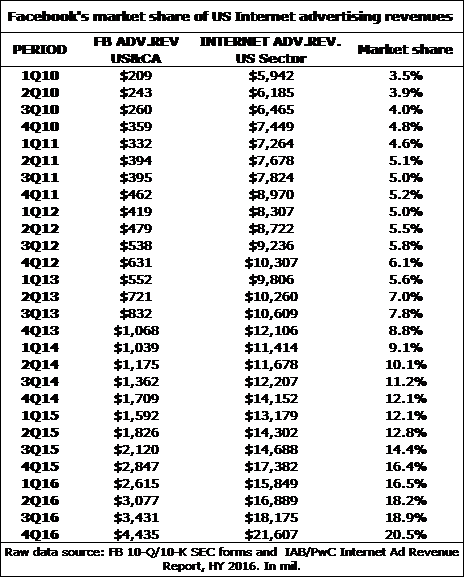 Said that, a projection of the quarterly ARPU by geographic region (to estimate future quarterly revenues which equal: ARPU Q(t) x average of MAU Q(t), MAU Q(t-1)) has been made in accordance with the following main criteria:
1) Adjusted ARPU has been estimated for each quarter and each geographic region. To compute adjusted ARPU, 5% of estimated Instagram users have been added to estimated MAUs to reach adjusted MAUs (according to an analysis of Pew Research Center of last November "93% of Twitter users also use Facebook - as do 95% of Instagram users and 92% of Pinterest users"). FB defined ARPU as their total revenue in a given geography during a given quarter, divided by the average of the number of MAUs in the geography at the beginning and end of the quarter. Facebook doesn't specifically break out Instagram revenue because that's sold through the same Facebook ad interfaces.
2) Future compounded quarterly growth rate of adjusted quarterly ARPUs of the US and Canada region have been supposed to follow (from 1Q 2018) the same path followed, in terms of compounded quarterly growth rate, by MAUs of the US and Canada region, historically and as estimated for the period beyond 1Q 2017.
3) The historical evolution of quarterly ARPUs of the US and Canada region has been identically applied to the estimated quarterly ARPUs of the other regions, wherever feasible.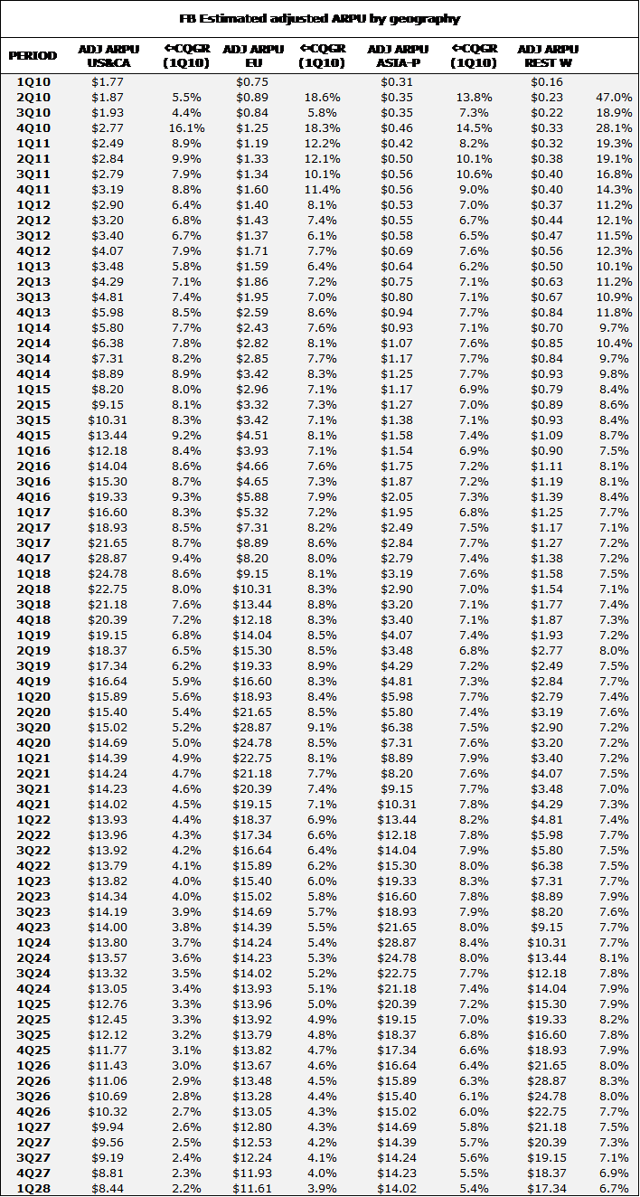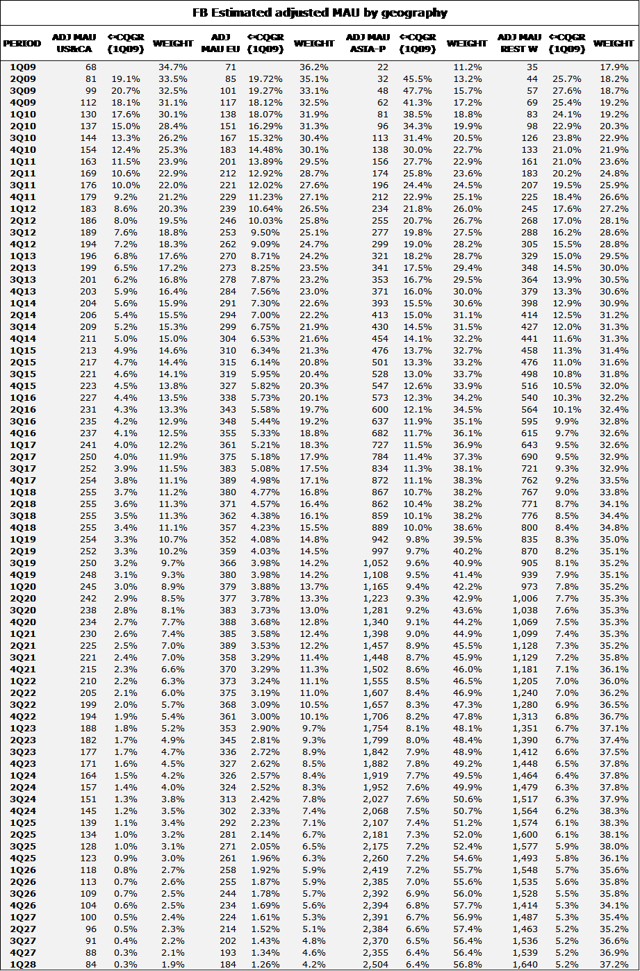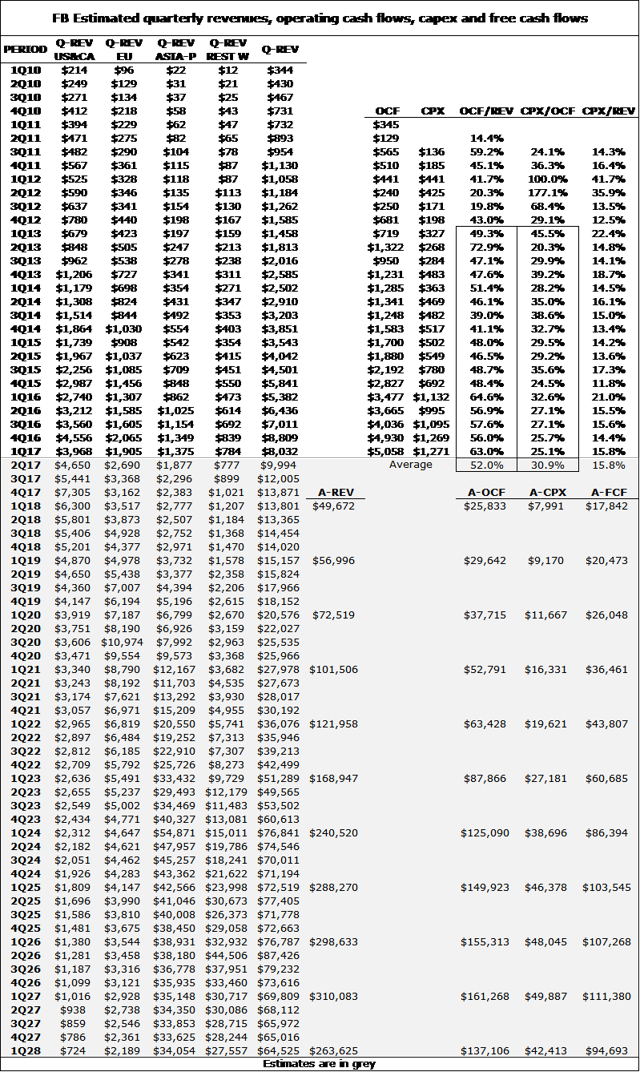 Once estimated, future quarterly revenues have been added to reach yearly revenues.
Perspective annual free cash flows were derived by applying the average historical ratio of operating cash flows over revenues and capex over operating cash flows to the estimated revenues and the difference computed. The resulting FCFs were used to feed the following DCF.
Here you can find the DCF model that shows a potential huge undervaluation of Facebook (NASDAQ:FB) whose fair value could be $419.8 per share against its value of $150.04 per share (as of May 11, 2017, 9:00 p.m. BST).

The question now may be: is it time to buy Facebook?
Well, assuming that Facebook is deeply undervalued, one of my major concerns regards their proposal, already approved by stockholders, to create a new class of non-voting capital stock, known as Class C capital stock, (the reclassification) and to distribute two shares of Class C capital stock as a dividend (the three-for-one stock split) to the holders of FB Class A and Class B common stock. In their last SEC form 10-K, they say that the reclassification is subject to class action lawsuits that were filed on behalf of Facebook stockholders and that the trial is scheduled to begin on September 26, 2017.
Holders of FB Class A common stock and Class B common stock are entitled to dividends when, as and if, declared by FB board of directors.
The Class C capital stock will have the same rights and powers (including, among the others, as to dividends and distributions) of Class A and Class B common stock, except for voting rights.
According to their last Form 10-K, FB does not intend to pay cash dividends for the foreseeable future, has never paid cash dividends and retains earnings to finance the operation and expansion of its business. As a result, a return on an investment in FB Class A common stock and, if issued, in FB Class C capital stock may be received only if the trading price of the shares increases.
In the following table, the impact on economic rights and on voting power has been simulated before and after the reclassification and split and of the transfer of Class B common stock.

Holders of Class B common stock (more than 85% of which belongs to the founder) could control the company with just 9.1% of the share capital if 269 M of Class B Common Stocks are converted into the same number of Class A Common Stocks - the same latter percentage could furthermore decrease to just 3% of the share capital, after the same said conversion, if the reclassification and split effectively materializes.
Well, I wouldn't like to hold shares without voting power in a company that probably will not distribute dividends for a very long time, even if I'm not used to vote at shareholder meetings for the common stock in which I invest. I believe indeed that some of those who exercise their right to vote for the same kind of shares I hold indirectly favor me when they represent my same interests (for example, when they vote to limit top management compensation or to launch shares buybacks).
That's the same reason why I will never buy Snap (NYSE:SNAP) shares, recently placed on the market through the IPO, which are without voting rights.
To conclude, I will probably buy some Facebook shares (after the next 72 hours), but should the stock split materialize, I will probably then get rid of them.
Price target: $155.45 (Systematic Risk Weight: 70%; Specific Risk Weight: 30%; Expected market return during the period: -1.7%).
PLEXOR's opinion, at a per share price of $105.04 (as of May 11, 2017, 9:00 p.m. BST, NASDAQ) and based on assumptions and estimates made, is now: "bụy." Horizon: Until next earnings date (the period) or until any eventual future material announcement by the company if it happens earlier.
Important disclosures may be accessed here.
The list of previously released opinions may be accessed here.
Further disclosures: I wrote this post myself, and it expresses my own opinions. I am not receiving compensation for it from and I have no business relationship with any company whose stock is mentioned in this post. I have no positions in any stocks mentioned in this post, and no plans to initiate any positions within the next 72 hours. I undertake no duty to update this post in light of new information or future events. Reasonable effort has been used to ensure accuracy of the information provided. However, there may be inaccuracies due to human or other error. Those inaccuracies include, but are not limited to, inconsistencies, omissions, and spelling mistakes. No responsibility is assumed for any errors or for the consequences of relying or acting on the information provided in this post. In no event will the contributor be liable for any direct, indirect, special or consequential damages, no matter what the cause. Please check my profile on sa for further disclosures and disclaimers.
Disclosure: I/we have no positions in any stocks mentioned, and no plans to initiate any positions within the next 72 hours.
I wrote this article myself, and it expresses my own opinions. I am not receiving compensation for it (other than from Seeking Alpha). I have no business relationship with any company whose stock is mentioned in this article.