The auto industry saw shares drop significantly from cycle highs over the past, mainly due to worries about the number of new car sales. Unfavorable conditions in the used-car market could pressure sales further, which doesn't bode too well for car manufacturers' shares.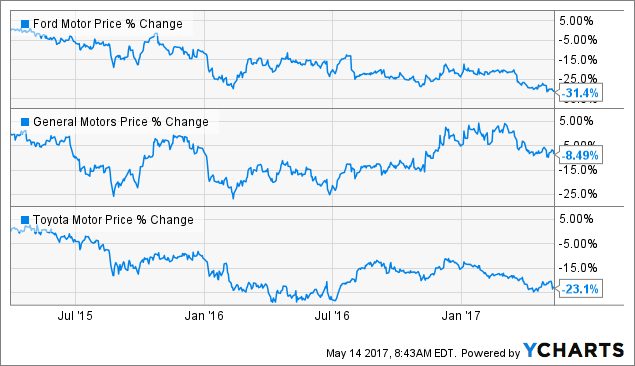 F data by YCharts
Major car manufacturers saw their share prices drop by 23% (Toyota (NYSE:TM)), 8% (General Motors (NYSE:GM)) and 31% (Ford (NYSE:F)) over the last two years, Volkswagen (OTCPK:VLKAY), which was further pressured due to the diesel scandal the company is experiencing, is not included in this list.
This drop in Ford's share price (as well as the drop in the share prices of the other car manufacturers) are based on fears about the US car market having peaked out for the time being.
This (relative) weakness in the US car market is visible when we look at the most recent data, from April 2017: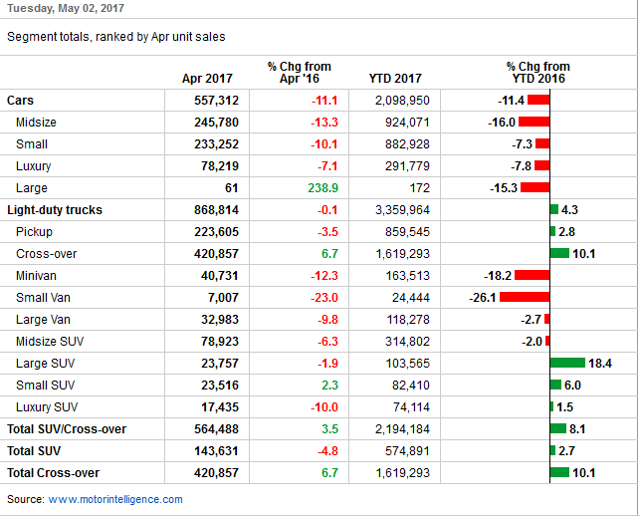 The WSJ reports that car sales dropped 11% in April, with light-duty trucks not being able to off-set that decline due to a very small drop (0.1%) in that category as well. The smaller SUV/Cross-over market grew slightly, but is not big enough to make up for the decline in the other two categories.
These sales results from the previous month are not disastrous for car manufacturers, but they show that sales likely have peaked and that investors will have to expect lower revenue and profit numbers going forward.
Another headwind that could play a major role in the next years are the increasing number of previously leased cars coming to the market, with the potential to pressure sales prices and / or demand for new car sales: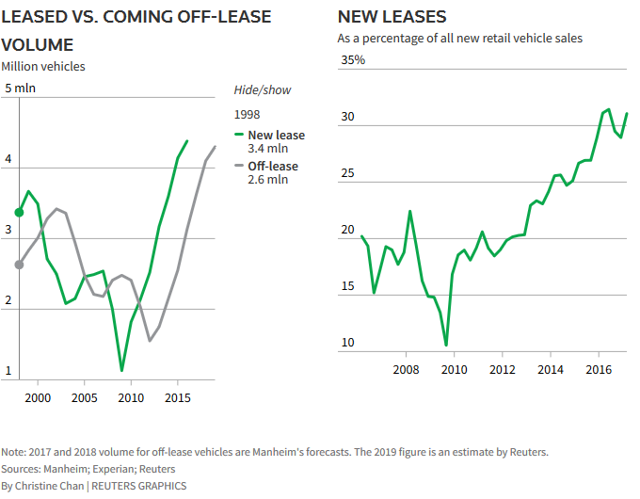 Reuters reports that the number of leased cars (as a percentage of sales) has hit a high of more than 30% recently, roughly three times as high as the low point during the last financial crisis. An increasing number of leased vehicles means that an increasing number of off-lease numbers will hit the market a couple of years down the road. As we can see in the left chart above, that amount has roughly doubled from the low point of 1.5 million vehicles a year already, and will likely continue to grow.
This trend is already hurting used car prices in the US (Ford's biggest market), and Morgan Stanley (NYSE:MS) believes things in the used car market could get much worse: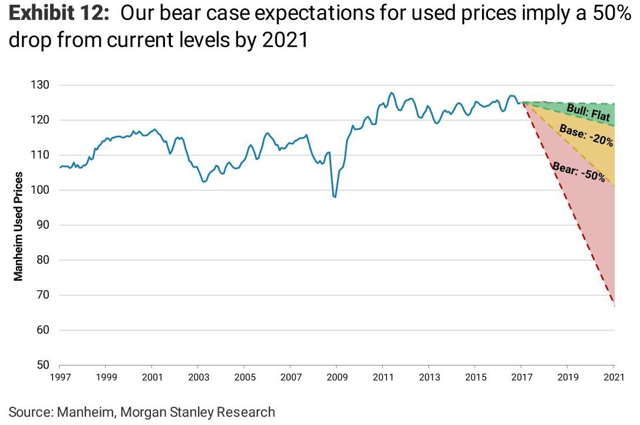 Estimates range from used car prices staying flat over the next four years (best case / bull case) to a worst case scenario of prices dropping by 50% through 2021. Everyone can expect that new car sales will be pressured significantly if customers have the opportunity to buy relatively new (off-lease) vehicles for a comparatively very low cost (as would be the case if used car prices would drop 50%).
In that case Ford (as well as other car manufacturers) could see large sales declines, which would hurt earnings for a couple of years.
Luckily, Ford's valuation is very low and already implies headwinds going forward: At 11 times trailing earnings Ford trades at roughly half the broad market's valuation -- the market anticipates that Ford will not set up sales records in the near future. If used car price sales do indeed drop, and Ford's sales and earnings thus drop as well, its share price could still remain around the current level.
As a thought experiment, for Ford to trade at 15 times earnings (with the share price staying slightly below $11), earnings could drop more than 20% from the current level -- and 15 times earnings would not be an excessively high valuation versus the broad market (which trades at all time highs) at all.
Ford's dividend, a main reason for many investors to own the company's stock, is not in danger of being cut either. A 20% earnings drop would mean that Ford's payout ratio would rise to 80%, but that is not a reason to cut the dividend, and this payout ratio would still be lower than that of a lot of other dividend stocks (such as Coca Cola (NYSE:KO)) with its 97% payout ratio or AT&T (NYSE:T) with its 94% payout ratio).
Ford's balance sheet looks very strong as well, and could easily take a hit from lower sales numbers (as long as the drop is not too big or too prolonged):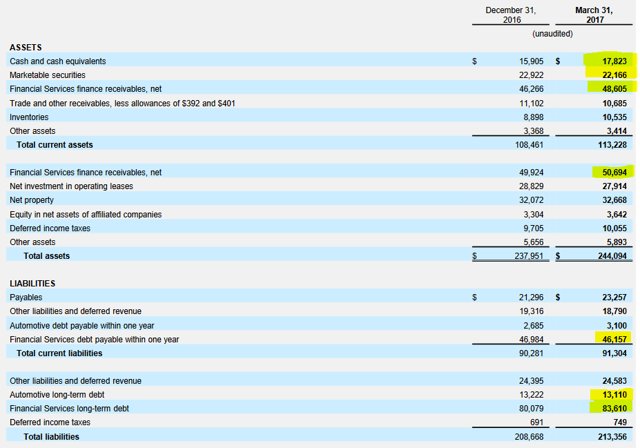 When we look at the company's balance sheet, we see that cash and equivalents equal $40 billion, financial services receivables total $100 billion, financial services debt totals $130 billion and automotive long term debt totals $13 billion. When we only look at the financial services net debt ($30 billion), cash and equivalents and the automotive long term debt, we get to a net debt position of $3 billion -- Ford's balance sheet is in pretty good shape, and if need be, the company's could increase its debt levels significantly.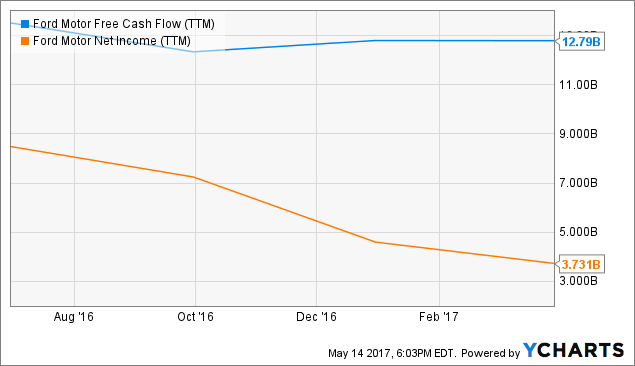 F Free Cash Flow (TTM) data by YCharts
Due to cash generation being very strong, the company is very unlikely to be forced to increase its debt levels though. With free cash flow of $13 billion over the last year the company could easily finance its cash dividend and other cash needs, even if cash flows would drop (due to a possible sales decline in the near future).
Ford's dividend and share price thus look solid (the share price actually is supported by the dividend yield), and would likely remain relatively stable even if car market conditions deteriorated further. With its 5.5% dividend yield, almost three times the broad market's 1.9% dividend yield, Ford's shares thus look relatively attractive for income seekers, even if the outlook for the car market isn't as good as it was in the recent past.
Takeaway
New car sales have topped out for the time being, and with the used car market getting flooded by off-lease cars in the next years, used car prices could see a big price drop of up to 50%, which would hurt sales and earnings of the main car manufacturers (especially those with a big focus on the US, such as Ford).
Due to share price declines headwinds seem to be priced in at least partially, thus Ford's share price would not necessarily drop even if sales decline in the coming quarters.
The dividend looks secure (even in a car market downturn) and is attractive due to its high yield.
Author's note: If you enjoyed this article and would like to read more from me, you can hit the "Follow" button to get informed about new articles.
Disclosure: I/we have no positions in any stocks mentioned, and no plans to initiate any positions within the next 72 hours.
I wrote this article myself, and it expresses my own opinions. I am not receiving compensation for it (other than from Seeking Alpha). I have no business relationship with any company whose stock is mentioned in this article.
Editor's Note: This article discusses one or more securities that do not trade on a major U.S. exchange. Please be aware of the risks associated with these stocks.