As mentioned in "Yields Are Finally Rising For BDCs", the average business development company ("BDC") is down around 6% from the beginning of the month but still around 7% higher than the lows in November 2016.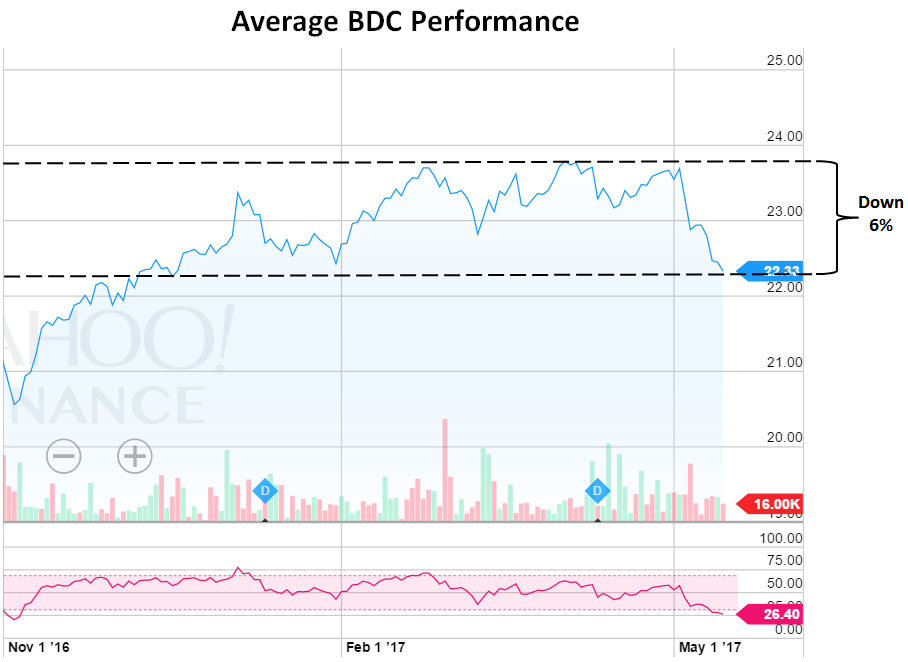 The average BDC is around 11% below its 52-week high with a wide range of results as shown below.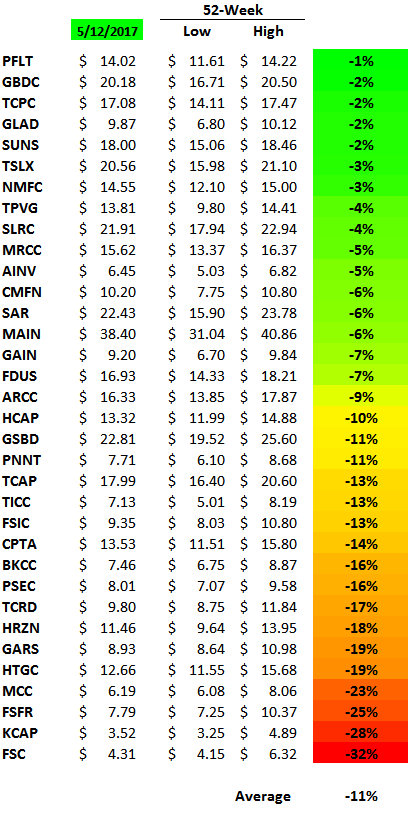 As usual, BDCs that are considered "safer" have outperformed the average and still remain closer to their 52-week highs including PennantPark Floating Rate Capital (PFLT), Golub Capital BDC (GBDC), TCP Capital (TCPC), Solar Senior Capital (SUNS), TPG Specialty Lending (TSLX), and New Mountain Finance (NMFC).
And, of course, many of the BDCs that have recently cut dividends or are expected to in the near term are further from their 52-week highs and doing poorly in 2017 as shown in the following table.
Important note: Hercules Capital (HTGC) stock is rebounding today as the company announced "Special Meeting of Shareholders Indefinitely Postponed and Initial Proposal to Approve Investment Advisor Withdrawn" that included the following wording:
"we continue to believe that externalization will build on our competitive advantages and position the Company for continued growth. We will continue to act in the best interests of our shareholders and we look forward to building on our collaborative relationship."

"The Company's Board of Directors has not set a timetable for this review process....The Company does not expect to make further public comment regarding these matters unless and until the Hercules Board has approved a specific alternative or otherwise concludes its review process."
I will discuss this an upcoming article expanding on my previous "Hercules Capital: External Management Analysis" article.
BDC Total Returns for 2017:
Since 2016, the average BDC has under-performed the S&P 500 due to the 6% decline in the first two weeks of May 2017. However, I am expecting BDCs to do well in 2017 and hoping for plenty of volatility so that investors can make opportunistic purchases for higher yields/returns.
Explanation of total returns: The Change in Price assumes that investors purchased the stock at the end of 2016. Dividends do not assume reinvestment and are calculated using the amounts paid (or accrued) divided by the purchase price.
BDC Total Returns Since 2015:
Looking at a longer term view of BDC returns, the average BDC has outperformed the S&P 500, especially BDCs with higher oil exposure due to being down significantly in 2015. Also, TICC Capital (TICC) and Prospect Capital (PSEC) were punished in 2014/2015 in part due to higher risk CLO portfolios.
Again, many of the safer BDCs have outperformed over the longer term as discussed in "BDC Total Returns Continue To Beat S&P 500 Since 2014".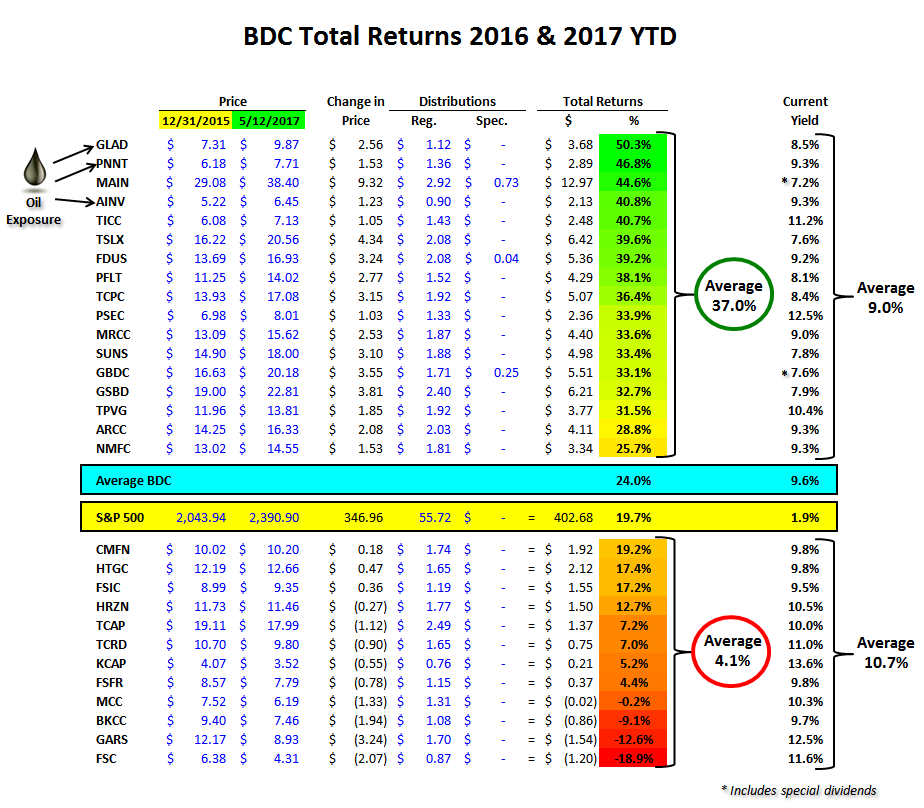 Personal note: I have updated my positions to reflect changes in my holdings, but please keep in mind that some of the positions are very small (not meaningful positions) for contacting Investor Relations for additional information and honestly disclosing that I am a shareholder. There are over 50 publicly traded BDCs and I try to cover as many as possible, but I do not have the bandwidth to include each company for each article.
Disclosure: I am/we are long ABDC, ACSF, AINV, ARCC, BKCC, FDUS, FSFR, FSIC, GAIN, GARS, GBDC, GLAD, GSBD, HCAP, MAIN, MCC, MRCC, MVC, NMFC, PFLT, PNNT, PSEC, SAR, SCM, SLRC, SUNS, SVVC, TCAP, TCPC, TPVG, TSLX, WHF.
I wrote this article myself, and it expresses my own opinions. I am not receiving compensation for it (other than from Seeking Alpha). I have no business relationship with any company whose stock is mentioned in this article.