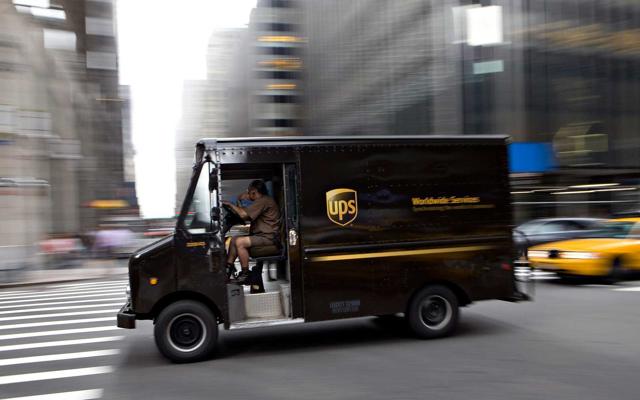 UPS (NYSE:UPS) has struggled to get its stock price to move appreciably in the last couple of years despite unprecedented growth in e-commerce, something which has and will continue to serve it very well. I've been cautious on UPS' valuation in the past because its share price has factored in sizable rates of growth that I haven't been able to reconcile against what I see the company actually producing. The dividend is certainly a huge draw at 3.2% and that's fine, but on a fundamentals basis, I just don't see a case for UPS at $104 after what amounts to a lackluster Q1 report.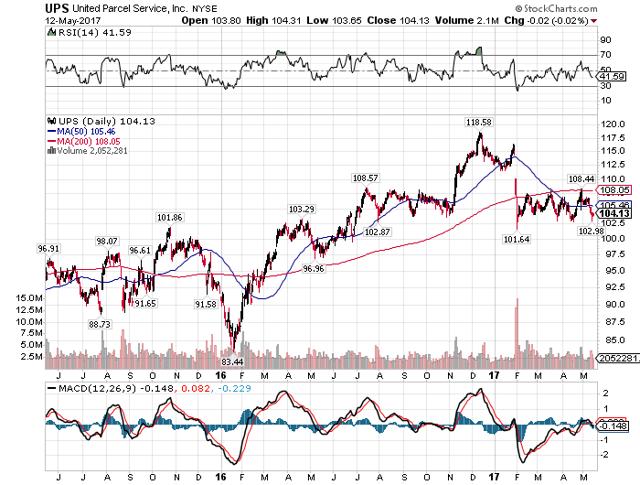 Total revenue was up 6% during Q1 and even more on a currency-neutral basis as UPS continues to grow the top line nicely. The years-long push by consumers to stay at home to shop instead of actually going to physical stores has been a huge tailwind for UPS and others and it is certainly showing no signs of slowing down. The 6% bump in Q1 revenue is plenty good enough for UPS if it can maintain that level going forward and indeed, it seems as though that should attainable. The Supply Chain and Freight segment produced an eye-popping 12% boost in revenue while the larger Domestic and International segments each came in around 5%. With balanced growth from its entire business, there are certainly worse places to be. And pricing was strong as well as average package volume was up 4%, with the balance due to pricing increases.
The problem is that with all this new business comes new costs, and it seems that UPS has been thus far unable to cope. There are many ways that UPS has to contend with high costs and they all have varying impacts. But in Q1's lower margin rates, we continue to see it struggle to keep up with booming demand and that's a significant long term problem in my view. And to be fair, this isn't a new thing; UPS has had years of this kind of growth and margins are still suffering, which I find very telling.
UPS has a lot of infrastructure to build out over the next several years in order to meet demand. It is working on new distribution centers as well as efficiencies within those distribution centers in addition to even looking further into driver routing. The thing is that it isn't like UPS has been doing nothing on those fronts and has lots of room for improvement; this is an efficient machine. That leads me to believe that any margin improvements that may come from these initiatives will be slight so I certainly don't think this is the savior.
Then there is the constant upward pressure on wages and benefits - not to mention the threat of strikes - from the various labor forces UPS employs. Unionized labor can be very expensive and UPS has certainly fallen victim to that in the past and by my count, compensation and benefits consumed 51% of total revenue in Q1. That is also a headwind that will be around forever and again, I'm not sure there's really anything UPS can do about it. This is another long term neutral or negative for margins.
A relatively smaller issue in comparison, peak season also offers up some challenges. The Christmas shopping period is obviously enormous for UPS and for the past couple of years, it hasn't exactly been smooth. Its customers forecast levels of demand and UPS staffs for them but if those forecasts are wrong, UPS is either understaffed and risks missing deadlines or its already-high costs are even higher, crimping margins even further. This is a problem for any business that has a peak season but with UPS, it has to rely on its customers for input and as we saw last year, those customers aren't always right.
I'm not trying to sound overly negative on UPS because this is a nice business. The problem is that it has lots and lots of investments that need to be made in the coming years for it to remain competitive and its labor and benefit costs only have tailwinds. That leads me to believe that the poor margin performance we saw in Q1 isn't just a bad quarter; it is just how things are going to be.
The stock is going for 17.6 times this year's earnings which, by itself, isn't that egregious. But UPS' growth rates also don't really support that kind of valuation at mid-single digit sales and EPS growth going forward. The buyback is small and relatively meaningless and the business cannot support anything more than what it is already doing in terms of growth; margin troubles aren't going to help improve that.
On a technical basis, the stock also looks pretty weak. It has been trading below its 200DMA since early this year and, importantly, each time it has tried to rally it has been rudely rebuffed by the 200DMA. That means there is little conviction with buyers and by extension, it looks like weakness is going to continue for UPS as I see zero catalysts for it to move higher from here.
The dividend is obviously a nice draw and at 3.2%, surely many shareholders still cling to UPS for that yield. But this company has too many problems to be a candidate for price appreciation, owed to its margin issues, of which there are many. I see higher costs coming for UPS with little to nothing in the way of margin improvements so for me, this stock is too expensive. And given that the chart looks as rough as it does, it seems now is a good time to get out if you're long.
Disclosure: I/we have no positions in any stocks mentioned, and no plans to initiate any positions within the next 72 hours.
I wrote this article myself, and it expresses my own opinions. I am not receiving compensation for it (other than from Seeking Alpha). I have no business relationship with any company whose stock is mentioned in this article.