I have recently published an article arguing that, within the battered OSD (offshore drilling) industry and considering the significant macro risks, Transocean (NYSE:RIG) deserved a closer look by risk-seeking investors looking for exposure to the sector. I do not share the same level of optimism, however, about one of its key competitors, Noble (NYSE:NE).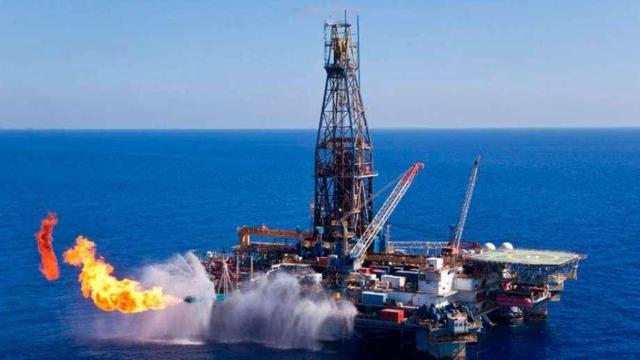 Credit: Houston Chronicle
The driller was the only one out of the top five OSD names (see graph below) to see a rebound in share prices following its most recent 1Q17 earnings release. The uplift, carried by management's comments about "continued improvement in customer activity overall" and $650 million in new contract awards, has been short lived and shares are now back down to trading near $4.50.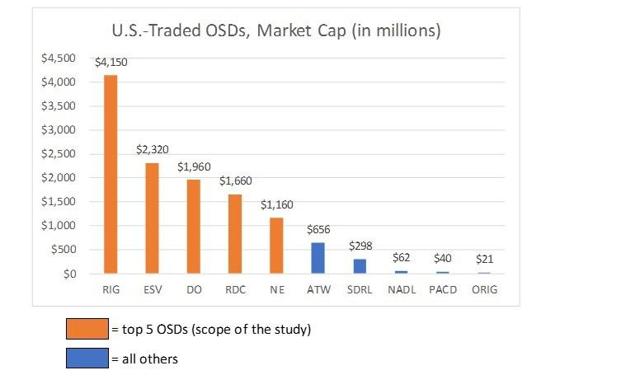 Source: DM Martins Research, using data from Yahoo Finance and priced as of May 12th, 2017
Looking a bit closer at the company's fundamentals, however, I would not be surprised to see shares dip further from current levels. Evidently, the softness in the offshore drilling space may still persist for as long as crude prices remain weak, despite some early signs of increased exploration activity. But beyond that, NE does not look de-risked enough for me to consider the stock a good buy given the fundamentals, even after prices have declined a peer group-high 53% over the past 52 weeks.
The driller is the most heavily leveraged among the "surviving five." Net debt to market cap reached over 300% in 1Q17, compared to Ensco's (NYSE:ESV) 124% and Transocean's 117%. While very little of that debt matures within the next 12 months, the total debt load impacts the company's ability to turn a net profit by generating very large amounts of interest expenses (160% of op income in 1Q17).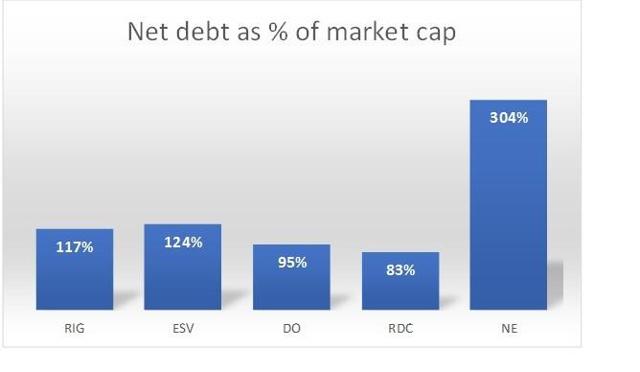 Source: DM Martins Research, using data from company reports
In addition, Noble is involved in what could escalate to a judicial battle with Paragon Offshore over its bankruptcy. SA contributor Vladimir Zernov has covered the subject well, pointing out that an easy win for Noble is far from being a certainty. Either an off-court settlement or a legal dispute could further put at risk Noble's already fragile balance sheet position.
In addition, and despite Noble's recent claims of an "impressive trend of strong operational execution," the driller produced the second lowest op margin in the sector last quarter, trailing only Ensco. The nearly 17 percentage-point deterioration in operating profitability reflected a sharp YOY drop in revenues of 40%. GAAP opex of 42% of revenues in 1Q17, as bad as it gets within the peer group, has not helped Noble convert drilling efficiency into superior bottom line results.
Given the above, one might think that valuation must be de-risked enough to reflect what seems to be inferior fundamentals. Instead, NE trades at a sector-high 10.9x forward EV/EBITDA (see first graph below). And even from an EV-to-backlog perspective, one of my favorite and least used valuation metrics, shares appear more richly priced than I believe would be reasonable (see second graph below).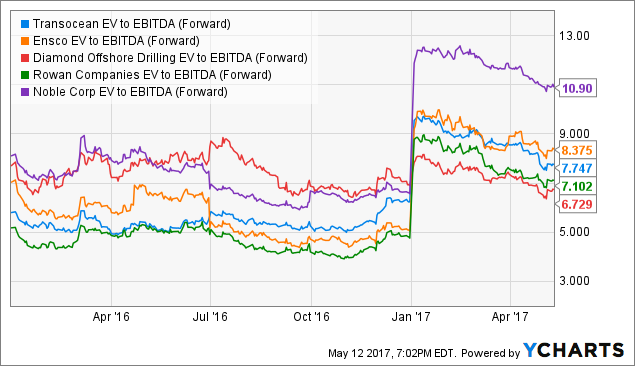 RIG EV to EBITDA (Forward) data by YCharts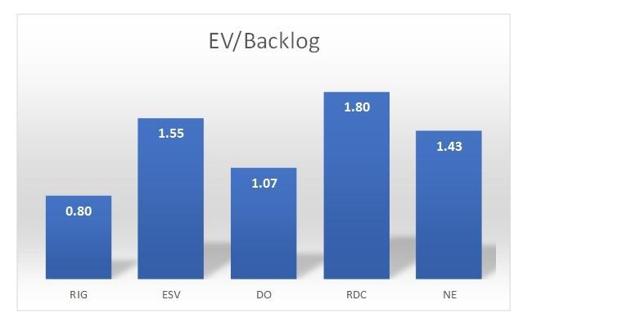 Source: DM Martins Research, using company reports and Yahoo Finance
Conclusion
Investing in offshore drillers nowadays is certainly not for the faint hearted. Yet, if I were to bet my money on one of the top five OSDs, Noble would likely feature at the bottom of my list.
Because of the steep drop in share price over the past year, and given the high levels of financial leverage, NE could be one of the most sensitive names to a hypothetical, drastic improvement in the offshore drilling landscape. But I think the space is already risky enough as it is, and betting on the underdog seems to me like taking unnecessary chances.
Note from the author: this article was written after an in-depth study of the offshore drilling industry that I did over the past few days. Premium subscribers of my SRG Portfolio service have been given access to all the back up data, in addition to a post in which I discuss the key takeaways in more detail. If you would like to know more about this subscription service, click here to take advantage of the 14-day free trial and get immediate access to all the premium material that I have published so far.
Disclosure: I/we have no positions in any stocks mentioned, and no plans to initiate any positions within the next 72 hours. I wrote this article myself, and it expresses my own opinions. I am not receiving compensation for it (other than from Seeking Alpha). I have no business relationship with any company whose stock is mentioned in this article.