Ford (NYSE:F) just hasn't been able to catch a break. Shares of the American auto giant continue to drift downwards despite an excellent value and well-covered dividend (by traditional metrics). After a slightly disappointing quarter shares sold off yet again. At this point shares of Ford are now trading at levels unseen since 2010. That's quite a remarkable place for Ford to be, especially since the decline in share price was due to what I saw as only a somewhat disappointing quarter.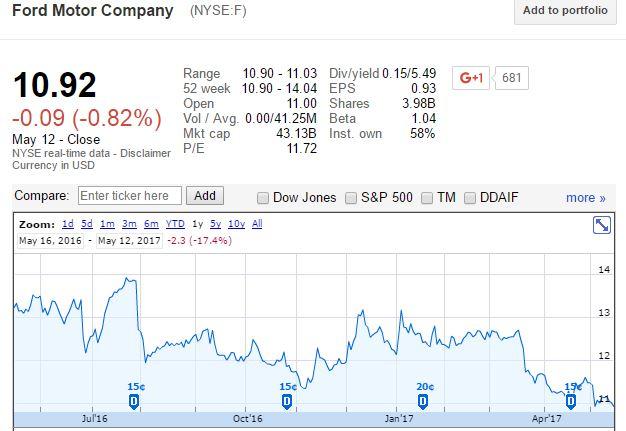 Courtesy of Google Finance.
Right now it looks as if Ford is priced for a recession, even though no recession is there. It trades at literally 6.5 times trailing earnings with a yield of 5.5%. This article takes a look at Ford's latest quarterly results and why shares have dropped by so much over the last couple months.
A tough quarter
Last quarter overall revenue on the quarter was up 4% year-on-year, and automotive revenue increased 3%. That's pretty good, but operating margins dropped from 9.8% to 5.4%, a drop of 4.4 percentage points. That drove automotive pre-tax results from $3.4 billion to $1.9 billion, a drop of over 40%.
The drop was due to increased warranty obligations, a rise in materials costs, a rise in commodities costs, and higher engineering costs. The Brazilian real and Canadian dollar contributed to those higher commodities and materials cost. But that severe drop in margins goes a long way to show how quickly the automotive business can swing.
Management reiterated its previous guidance of $9 billion in profit before taxes, but investors seem to believe achieving that could be a challenge.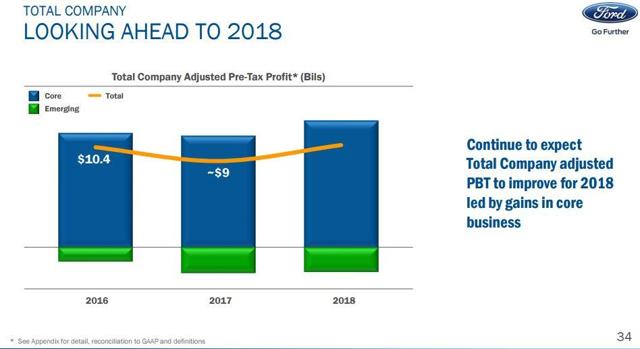 Courtesy of Ford Motor Investor Relations.
Management expects economic improvement in North America to drive profits higher in 2018. Yes, China remains a strong area for growth, particularly with the Lincoln luxury car brand; which grew 114% year on year in China. Revenue in Europe was also up double digits on the year. The higher-margin Navigator and Expedition models should come out in 2018 in North America, and that could pull revenue and margins higher next year as well. Nevertheless it is difficult to take management's forecast at its word when there are so many factors outside of management's control, particularly in commodities and currency, as has been displayed over the latest quarter.
Economically sensitive, low margin business
The auto industry is economically sensitive and is fairly cyclical in nature. For example, auto sales in 2009 were 5.4 million, down from 7.4 million two years ago. In other words, auto sales dropped 27% over the course of the 'Great Recession.' Because automobile manufacturers get fairly slim margins per vehicle on average, a drop like that can have a huge effect.
To give you an idea of how fragile profits can be, over the last twelve months Ford generated $153 billion in revenue. Altogether, however, cost of revenue was $128 billion over the same period, leaving just $24.4 billion in gross profit, $19.9 billion of which was operating cash flow. As you can see, there isn't much margin left over for the manufacturer, and in a capital-intensive environment where overhead cannot easily be rolled back, a drop in sales could result in, and in the past has resulted in, a collapse in profitability.
Yes, Ford as a company is built for cycles like that. The company has $28 billion in cash sitting in the bank. But what about the dividend? Yes, the dividend looks very well-covered: $12.8 billion in free cash flow with just $2.58 billion in dividends. That might seem well-covered, but a drop in revenue can quickly bring down that cash flow as well. Investors must keep that in mind.
This could ultimately be the reason why investors appear to be spooked. The truth is, Ford's cyclicality and low margins make it not an ideal stock for dividend investors who want (and often need) consistency, and yet management has to some degree touted the company as a good dividend stock. In my opinion, Ford stock is therefore having a tough time finding its 'natural constituency.' This is why Ford is priced as it was near 2010.
Conclusion
Is Ford a 'buy' for dividend investors? I'll put it this way: the market is pricing Ford as if we were in a recession. Not only are we not in a recession, but there is also no indication that there will be any recession.
Ford is probably my favorite of the automotive manufacturers. I don't mind recommending Ford here, but I personally won't hop into it. If you do hop into Ford, I could see a scenario where a recession causes Ford to consider chopping its dividend. Then again, Ford is built to handle a tough economy now, especially with the huge pile of cash it is sitting on. So if you want to buy it, go ahead, but be aware of the macro situation you're getting into.
Disclosure: I/we have no positions in any stocks mentioned, and no plans to initiate any positions within the next 72 hours.
I wrote this article myself, and it expresses my own opinions. I am not receiving compensation for it (other than from Seeking Alpha). I have no business relationship with any company whose stock is mentioned in this article.