Note: This article was first published on my SA Marketplace service on March 17, 2017 - so stock prices and stock data listed in the article are as of that date.
Lithium demand and supply - insights from my model
Strong lithium demand from:
1) Consumer electronics continue to grow and increased CPU capacity requires increasing battery capacity. I model consumer electronic demand for lithium to rise at 10%pa.
The rise of the global middle class with their insatiable appetite for consumer electronics (think mostly smartphones, tablets, PCs) will drive steady but not spectacular demand for lithium.
2) Electric Vehicles (EVs) sales growing at about 30-50%pa. 2015 growth was 40%.
Electric car global sales are currently 0.85% market share, and I expect this to grow to around 5% market share by end 2020. That equates to an increase from around 774,000 sales in 2016 to around 4.5m sales globally in the year 2020. If we assume the average electric car will have a 50kWh battery then each car will require about 40kgs of lithium. So by 2020 4.5m cars will require 180,000 tonnes of lithium carbonate. Adding to this will be lithium demand from electric buses, electric bikes, and electric trucks. In 2016 China demand for electric buses was 115,000 units. China has over 200m electric bikes (as of 2014) that can be converted to lithium-ion batteries from lead acid. Of note the Chinese e-bike numbers increased 1,000-fold in the 15 years prior to 2014).
3) Energy storage sales expected to grow at 50%+ pa between 2016 and 2020.
In 2016 energy storage installations grew 100% in the US. Lithium-ion batteries represented at least 97 percent of all energy storage capacity deployed in 2016. China plans to raise its power storage capacity by ten-fold to 14.5 gigawatts by 2020 (from 2016 levels). Citigroup forecast that the global energy storage market will be greater than $400 billion by 2030 from around 130m in 2015, or a growth of a staggering 3,077 fold in just 15 years. These figures are excluding car batteries. Energy storage has the potential to overtake lithium demand for EVs.
The summary of the above three lithium demand growth drivers will mean that total lithium demand should increase around 2.2 fold between now and end 2020. At end 2016 total lithium demand stood around 212ktpa. By end 2020 my model based on the above discussed assumptions has lithium demand forecast to be 478ktpa.
Lithium supply is increasing slowly due to difficulties in creating a new mine. Supply should be able to keep up with demand with some short periods of both undersupply (2016/2017) and oversupply (2019) based on my model forecasts. This should ensure that the lithium price remains mostly above US 10,000/t for lithium carbonate. The current contract prices are between US$10,000-15,000, with spot and lithium hydroxide prices higher especially in China.
Lithium demand and supply graph by Orocobre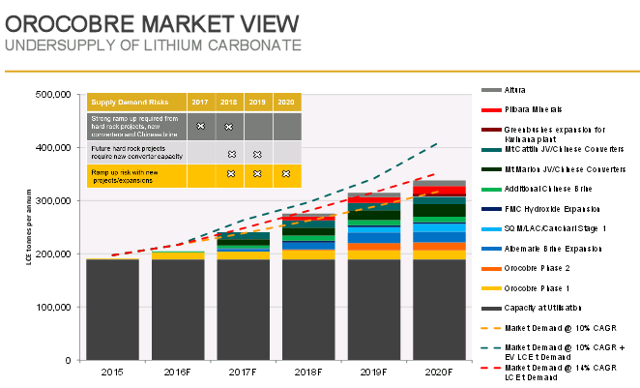 Source: Orocobre company presentation - November 2016 - page 10
We can see on the above graph forecast supply from the new lithium production coming online from 2016-2020. Looking out to 2020, we see the main contributors to new lithium supply are forecast to be Orocobre, Albemarle (Atacama and Greenbushes), SQM/LAC (Cauchari-Olaroz), Gangfeng/Neometals (Mt Marion), Galaxy Resources (Mt Cattlin), Pilbara Minerals and Altura Mining. Therein gives investors a very good guide of the companies they should be looking closely to invest in.
Given there is a strong case for lithium prices to hold above US$10,000/t the following 5 lithium miners can all do extremely well as they increase their lithium production and sales. The first 3 are current produces, and the last 2 should be producing by 2019.
Albemarle (NYSE:ALB) - Price = USD 104.01
I choose Albemarle in my top 5 as they have world class lithium assets and are the global leader in lithium production (with Sociedad Química y Minera de Chile (SQM)), currently producing around 65ktpa of lithium carbonate equivalent (LCE). That production volume represents about 30% of the lithium supply globally, making Albemarle a lithium superpower. Whilst not a pure play lithium miner they are quickly increasing their percentage of both revenues and net income from lithium (currently 17.7% of their revenues and 27% of net income). Importantly I expect Albemarle to achieve stronger lithium pricing contracts going forward as they have lagged their peer ((SQM)) in pricing until now. Added to stronger pricing is a rising production profile going forward as they expand both Atacama (Chile) and Greenbushes (Western Australia). Both of these mines are currently the lower cost leaders for brine and spodumene respectively. They also have the only producing lithium mine in America, albeit a small lower grade production from Silver Peak in Clayton Valley Nevada (not too far from the Tesla (NASDAQ:TSLA) gigafactory). Their other revenue comes from a wide variety of other chemicals (bromine), petroleum refining, packaging, transportation, pharmaceuticals, and crop production. This adds some diversification to their ever expanding revenue streams.
Catalysts include expected earnings surprises and higher priced lithium contract sales, increased production numbers as a result of expansions in the next 2 years both in Argentina and Australia.
Current debt is low at US$99.5m, with a 2017 net debt/EBITDA ratio of 0.91x. Net profit margin for 2017 is estimated at a healthy 16.3%. Market cap is US$11.7b. 2017 PE is 24.9, and 2018 is 21.0. Whilst these are a little higher than their historical average for Albemarle I am expecting earnings to surprise on the high side due to increased volume and prices for lithium. Albemarle won't be a multibagger stock as it is already a large market cap, it will be one of the safer ways to play the lithium boom. Albemarle are a must have for any lithium portfolio. Accumulate on any dips.
Analyst median 1 year price target is US$110. You can access the latest company presentation here.
Albemarle financials graph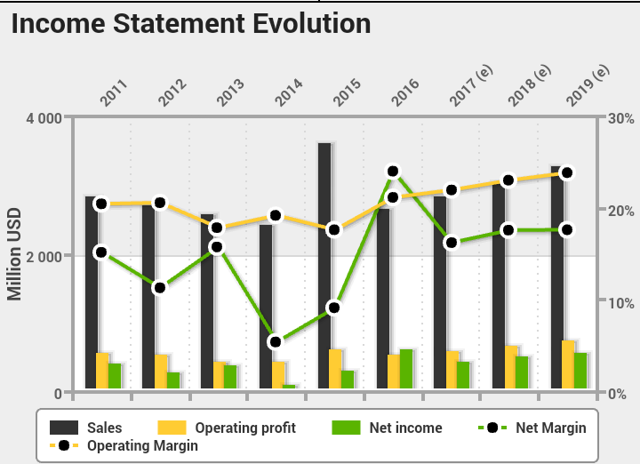 Source:4-traders
Orocobre (ASX:ORE, OTCPK:OROCF, TSX:ORL) - Price = AUD 2.90, USD 2.36
Orocobre are an Australian lithium miner with their flagship project being the Olaroz lithium brine mine in Argentina, where they hold a 66.5% interest, and are the operator.
I choose Orocobre as they are currently very well priced after recent heavy falls due to missing their FY 2017 production targets. I also like that they are a pure play lithium brine low cost producer, with plans to double production in the next 2-3 years, as well as expanding with a lithium hydroxide plant in Japan. Due to missing production targets the market is very down on the stock right now, which I feel is overdone. Orocobre do have several ex-SQM employees onboard so they should be able to correct their teething production issues with their ponds and plant.
Catalysts include improved production results, and expansion goals being achieved, and exploration upside with no cost via their 35.71% equity in Advantage Lithium (NASDAQ:AAL).
Market cap is US$458m. 2017 PE is 35.87, and 2018 is 14.34.
My price target is AUD 3.00 for end 2017, AUD 3.50 for end 2018, AUD 6.61 for end 2020. That would give investors a fairly safe 2.3 fold return in 4 years to end 2020, if all goes to plan. Analyst median 1 year price target is AU$4.34.
You can read the latest company presentation here.
Orocobre financials graph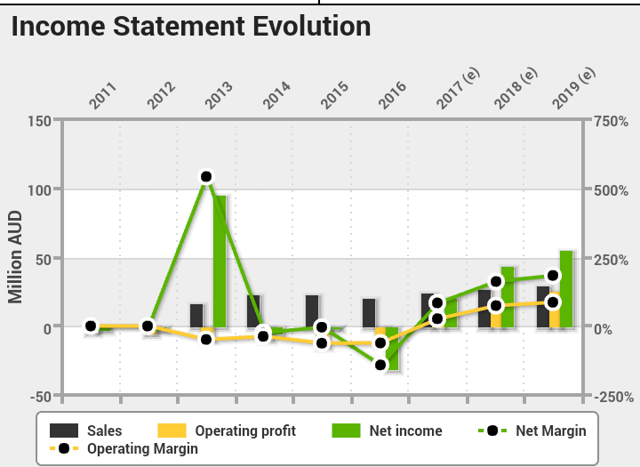 Source:4-traders
Galaxy Resources (ASX:GXY) (OTCPK:GALXF)
- Price = AUD 0.53 USD = 0.39
Galaxy is chosen as it is a current producer with a rising production profile. They have 3 lithium projects on 3 different continents and are diversified across brine and spodumene. Management under Anthony Tse are doing an excellent job.
Mt Cattlin (Australia) lithium spodumene mine is currently producing around 14kt per month (targeting 160ktpa in 2017) of spodumene and set to ramp to nameplate of around 250ktpa assuming they can achieve strong lithium recoveries and low mica (lithium waste) content. So far things are looking very good. Off-take for 2017 is locked in at US$905/t for 6% spodumene, making Mt Cattlin a cash cow, that will almost entirely fund their Argentina project capex (along with some debt funding). The mine is 100% owned by Galaxy.
Sal de Vida (Argentina) is a very large, world class, low cost, lithium brine asset owned 100% by Galaxy. This is their flagship project. Resource size is excellent with a total indicated, measured and inferred resource of 7.223mt LCE at 753 mg/L. This makes Sal de Vida one of the largest LCE resources globally. Chemistry is excellent with very low magnesium and low sulphate concentrations. This helps to lower the cost of production. The size and chemistry is shown in the graph below compared to peers. Galaxy Sal de Vida NPV is a post tax NPV @8% of USD 1.426 billion or AUD 1.8538b. Currently this is barely reflected at all in the stock price as the market cap is US$783m. This is due to current lithium miner prices being down. You can read more here as to why.
Sal de Vida is anticipated to ramp up to 25ktpa of LCE by around 2020, assuming construction goes ahead, which is highly expected. First production is expected to be in 2019.
James Bay (Canada) lithium spodumene project is well located in Quebec with a solid size and quality resource, close to infrastructure. If gives Galaxy a North American supply source and further optionality of supply.
Catalysts include strong cash flows and earnings reports from Mt Cattlin, James Bay DFS, Sal de Vida financing and construction commencing.
Current debt is around AU$33m, cash of AU$70m, with a 2017 net debt/EBITDA ratio of 0.4x. 2017 net profit margin is forecast to be a very healthy 39.8% (noting the graph below does not update this). Market cap is US$783m. 2017 PE is 12.1, and 2018 is 8.0.
My price target is AUD 0.71 for end 2017, AUD 0.88 for end 2018, AUD 1.43 for end 2020 (assumes Sal de Vida producing 15ktpa in 2020). That would give investors a fairly safe 2.7 fold return in 4 years to end 2020, all going well. Analyst median 1 year price target is AU$0.69.
You can read my 2016 article on Galaxy Resources here, a broker report here, and the February 2017 company presentation here.
Galaxy Resources financials graph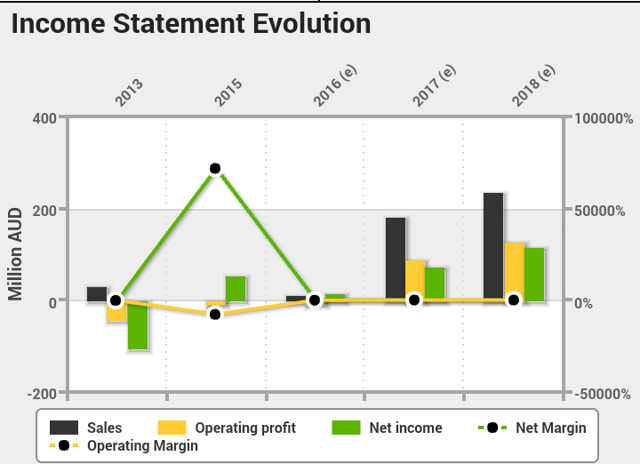 Source:4-traders
Lithium Americas (TSX:LAC) (OTCQX:LACDF)
- Price = CAD 0.89, USD 0.68
I choose Lithium Americas in my top 5 as they are currently a very well valued junior, largely de-risked, and a likely producer (with SQM JV) by 2019. Lithium Americas own 50% of the their Cauchari-Olaroz lithium brine project in Argentina, with 50% partner SQM. The asset is world class and Cauchari-Olaroz is the 3rd largest lithium brine deposit in the world (see chart below and red dot). Their 2012 NI 43-101 compliant resources for Cauchari-Olaroz were an indicated 8.7 million tonnes lithium carbonate at a lithium grade of 666 mg/L. Impurity levels are relatively low, with potash as a valuable bi-product.
Additional to their abovementioned JV, Lithium Americas recently brought on two excellent off-take equity partners in Gangfeng Lithium (US$174m deal) and Bangchak Petroleum (US$112m deal). This means they can now fully fund their 50% share of their Cauchari-Olaroz project capex, and should have no problems selling their product. Construction is set to begin soon, and they should be producing (stage 1) by 2019 at 50ktpa (25ktpa attributable to LAC).
Catalysts include FS for the Cauchari-Olaroz project, Cauchari-Olaroz construction updates, and a PFS for Lithium Nevada.
My price target is CAD 2.12 for end 2019, CAD 5.09 for end 2021 (assumes LAC 50% of 50ktpa in 2021). That would give investors a 2.4 fold return in 3 years to end 2019, and a 5.7 fold return to end 2021, all going well.
You can read my 2016 article on Lithium Americas here, and lithium expert Joe Lowry's article here.
Comparison of the major lithium brines globally.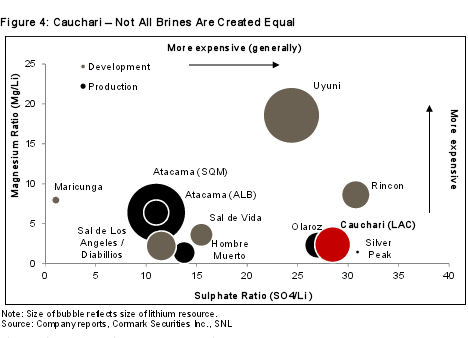 Lithium X (TSXV:LIX) (ROCEF) (OTCQB:LIXXF)
- Price = CAD 1.72, USD 1.28
I choose Lithium X as they have 2 quality brine assets in Argentina, some Clayton Valley brine, a brilliant managing director in Paul Matysek, and are extremely well valued in my view. Higher risk than those discussed above, but also higher reward.
The two Argentine salars are the Sal de Los Angeles (SDLA) and the recently acquired Arizaro salar. Both are owned 100%. At Sal de Los Angeles they are currently working on their PFS and pilot ponds, with plans to do their FS in Q1 2018, then full production of 15ktpa by Q2 2019. They are planning to move very fast indeed, working on several projects concurrently.
In their historical 2011 PEA (not to be relied upon) for Sal de Los Angeles, based on very low lithium carbonate prices of USD 5,000/t, the pre‐tax 8%NPV estimate was US$964 million, along with a pre‐tax IRR of 36%. However at $8,000-10,000/t, the corresponding pre-tax NPV8 would range between $1,450M and $1,850M. Given the current market cap of a mere US$88m, the stock has enormous upside potential. I don't believe the market has reacted to the recent Arizaro purchase, and does not yet see the huge potential. Matysek commented that the their two Argentine salars could share the one processing plant which is another big factor not yet appreciated by the market.
Their director Paul Matysek has taken several start up mining companies from nothing to something special (multi-million dollars) within short time frames, and has an incredible track record of success. You can view a short video here to learn more.
Catalysts include drill results at Clayton Valley, upcoming feasibility studies and construction of further pilot pond facilities for Sal de Los Angeles, and resource assessment and drill results for Arizaro.
My price target is CAD 5.31 for end 2019 (15ktpa from SDLA), CAD 11.25 for end 2021 (30ktpa LCE production in 2021). That would give investors a 3.1 fold return in 3 years to end 2019, and a 6.5 fold return to end 2021, all going well.
You can read more on my latest article on Lithium X here, and a recent investor presentation here.
Lithium triangle showing the large Arizaro salar in the middle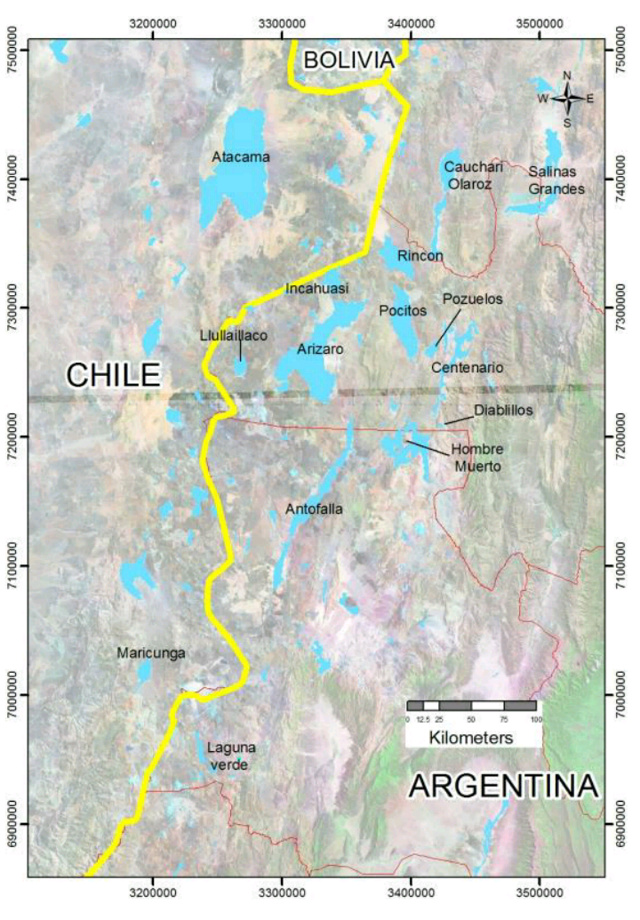 Five others to consider
Sociedad Quimica y Minera S.A. (NYSE:SQM) as they are currently in the top two global producers, with plans to expand into Argentina with their Lithium Americas JV. Currently they earn 53% of their profits from lithium, the balance coming from diversified chemicals such as iodine and potash. For investors not convinced about Orocobre due to their past production difficulties, they could buy SQM instead of Orocobre.
Neo Lithium Corp (TSX:NLC) as they own 100% of a superb Argentine brine asset (the 3Q Tres Quebradas project) with great lithium grades and chemistry. Because they are at a very early stage the stock is currently very cheap with a market cap around US$87m, however this should rise as they progress towards a possible 2020 production start time. A future low cost brine producer. You can read more here.
International Lithium Corp (TSXV:ILC) as they are partnered to succeed with Gangfeng Lithium. Early stager with a ridiculously low market cap of just US$10m. You can read more here.
Altura Mining (ASX:AJM) (OTC:ALTAF) as they are well valued on a market cap of just US$190m and likely to start production in early 2018 and currently commencing mine construction and finalizing financing. I also like their neighbor Pilbara Minerals (ASX:PLS) (OTC:PILBF); however they are not so cheap valued with a market cap of US$475m due to having a larger resource. They are also commencing mine construction and finalizing financing with a likely production start in early 2018. Both are spodumene projects therefore higher costs of production and hence higher risk should we get into some oversupply issues down the track. You can read more here.
Critical Elements (TSXV:CRE) (OTCQX:CRECF) as they are very well valued with a market cap of just US$96m, and have a solid spodumene project in James Bay Quebec Canada. They also have 10 other projects. They are a likely producer by 2019. As above I also like their neighbor Nemaska Lithium (TSX:NMX) (OTCQX:NMKEF); however they also carry a higher market cap of US$328m so not as attractive right now. You can read more here.
Conclusion
I have laid out the basics of one of the best ways investors can ride the EV and energy storage trends that have both only just begun. As with previous megatrends such as smartphones (think Apple (NASDAQ:AAPL) and Samsung) early investors that held for 10-15 years made multibagger returns. This time it is just possible lithium can benefit from two concurrent mega booms - EVs and energy storage. This possible double-boom offers investors even more potential. It may take a bit longer to play out as cars and energy storage are more expensive items than smartphones, however the potential gains can be massive.
The above portfolio of 5-10 lithium miners is the first way to make sure you can benefit from the EV and energy storage booms. My top 5 stocks are all very solid lithium plays selected from around 100 hopefuls. Many of the juniors will not make it. Those selected above will most likely all make it to the end of the boom with rising profits and stock prices.
Albemarle is a must have lithium superpower despite not being a pure play (SQM is also a good alternative). Orocobre are currently the cheap ugly duckling that can soon turn into a princess provided they can get their production moving. Galaxy Resources have potential to become the new pure play lithium superpower to challenge the current majors given their 3 projects potential and current strong cash flows. Lithium Americas is now significantly de-risked and will be a near certain producer within 2-3 years, yet they are still attractively priced. Lithium X has 3 lithium projects with 2 brine projects in Argentina and are managed by the most successful guy in town Paul Matysek. They are very cheaply priced considering their enormous potential.
The recent market correction for some of the lithium juniors gives investors a good timing opportunity to jump on board while stock prices are still very attractive. Wise investors will ride the boom all the way for the next 10-20 years and make huge gains.
You can keep up to date with the lithium miners by reading my regular lithium monthly news, published each month here on Seeking Alpha.
As usual all comments are welcome.
Editor's Note: This article covers one or more microcap stocks. Please be aware of the risks associated with these stocks.