Given last night's announced that Ford Motor Company (NYSE:F) will be cutting upwards of 10% of its workforce, I decided to take a look at Ford. We know that President Trump will probably be tweeting about this news, if he hasn't already.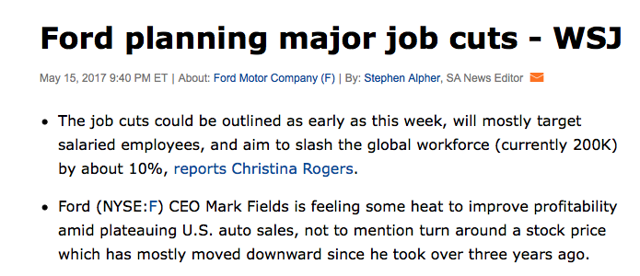 At the outset, let me be clear: besides staying at a Holiday Inn last night, I have never spent much time looking or considering investing in any OEM automotive stocks. The only notable exception was when we essentially low ticked and opportunistically bought shares of Volkswagen (OTCPK:VLKAY). By the way, I wrote four article explaining why we bought Volkswagen. While I was told by some readers that Volkswagen's stock was going to zero and that I was crazy, we made some money embracing the fear, the political grandstanding, and the sea of negative press. Fear and big stock declines can create opportunity for brave investors.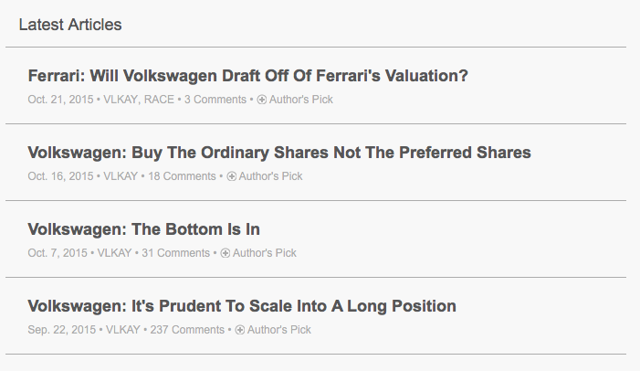 Source: My Volkswagen articles on Seeking Alpha
So one of the advantages of having spent very little time to zero time analyzing automotive equities is that is 1) I can approach the analysis with a fresh set of eyes and 2) it is good mental gymnastics akin to a high intensity upstream swim in the face of a strong current.
From what I have synthesized I have the following high level observations.
There is a lot of fear currently baked into Ford's stock price due the following:
A) North American units have peaked after years of overproduction. This overproduction was enhanced by fleet sales, attractive leasing offers, and access to cheap financing. Given the inherent operating leverage of automotive OEMs, there can be large swings in profitability, as there is a lag between the realization that overall volumes and capacity are too high and actually decreasing capacity and output. Therefore, in that challenging transition period, from tailwinds to headwinds, excess inventories need to be worked off to adjusted to this Brave New World. As a result there is a fear that higher incentives are needed to clear the inventory overhang (balance supply and demand), which often leads to dealer rebates that directly ding margins and profitability.
Take a look at YTD through April automotive sales.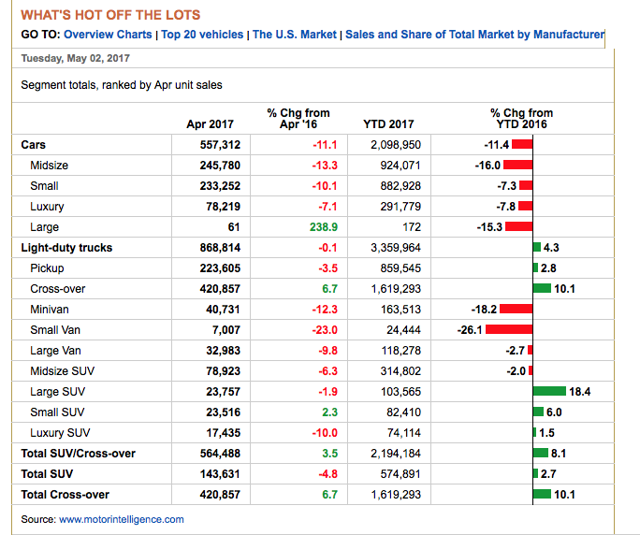 Source: WSJ
As you can see, Ford's car sales are down 22.1%, and only modestly offset by its light truck sales.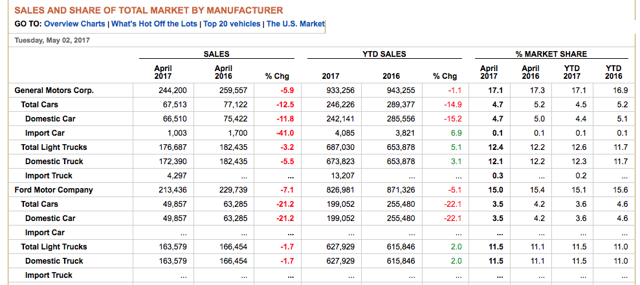 Source: WSJ
Speaking of operating leverage, look at these slides from Ford's Q1 2017 analyst slide deck. Operating Margin percentage drops from 9.8% to 5.4% and Market Share declined as well.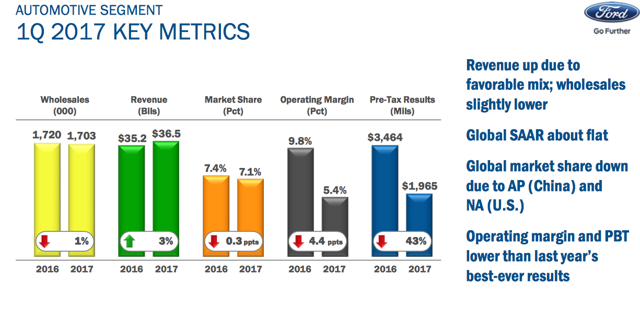 Here is an interesting Q&A exchange with Goldman Sachs' analyst, Justine Fisher, regarding new and used cars prices.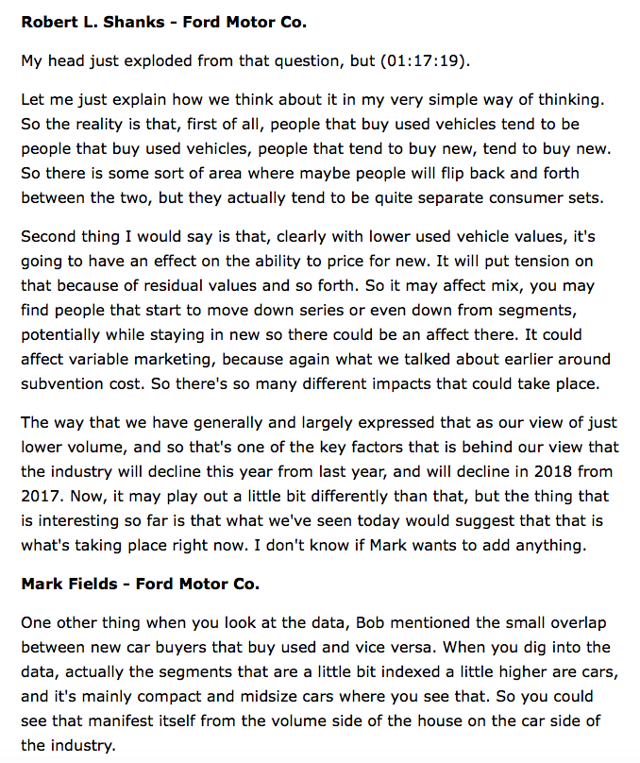 B) There is a fear that from 2014 - 2016 EOM dramatically over produced units by pulling forward demand in order to have kept utilization rates high. However, given the extended durability and useful lives of cars (cars are on road longer due to innovation) from years of overproduction, there is a big wave of leases that roll off starting in 2018 - 2019. These leases need to be absorbed by the used car market and should have a negative impact on used car prices.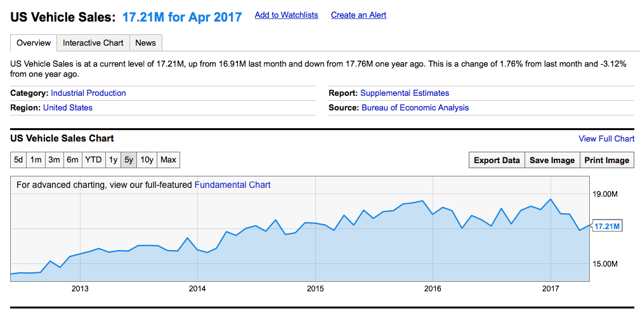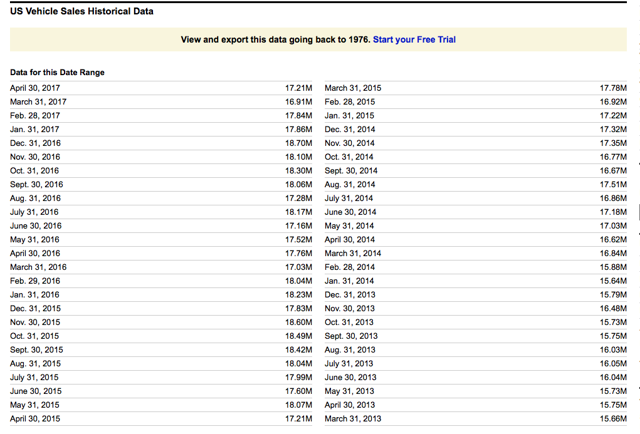 Source: Y Charts
This in turn has already negatively affected used car residential values.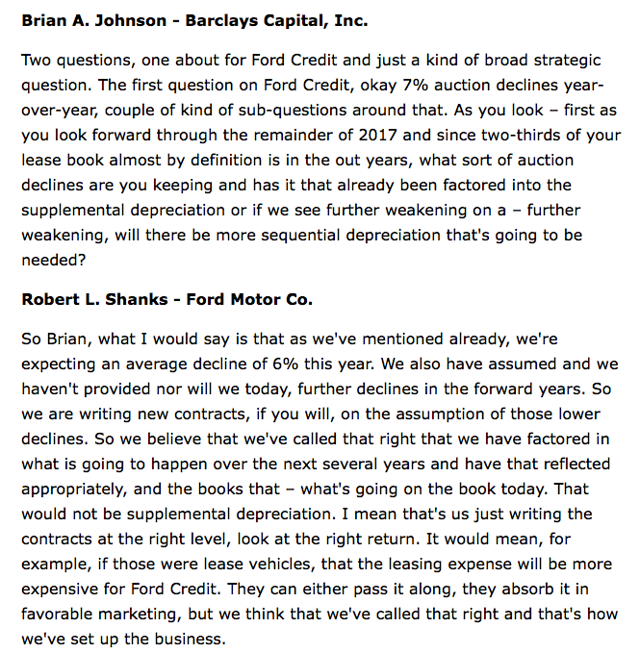 Source: Ford's Q1 2017 analyst conference call
C) Ford makes most of its money in North America and from its finance division. The company is relatively weak in other regions of the world. So when analysts think about Ford and there is a real risk to North American unit declines over the next 12 - 36 months, this explains some of the trepidation and weakness in Ford's stock price.
Look at the following slides:
North America: Is where Ford makes its money.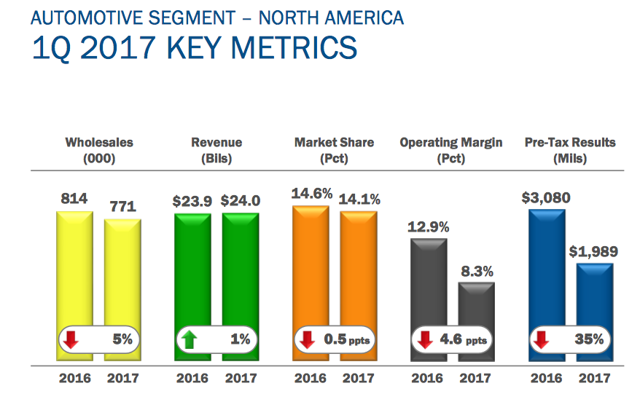 South America: Losing money.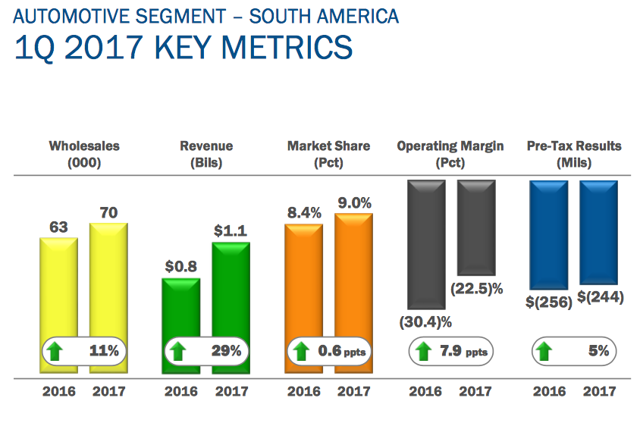 Europe: Very low operating margins.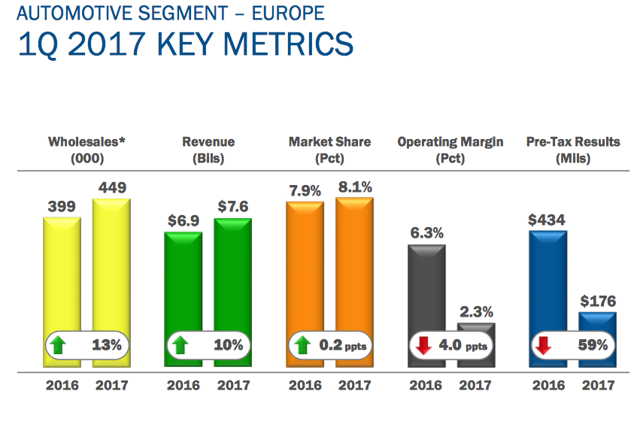 Middle East & Africa: Too small to matter.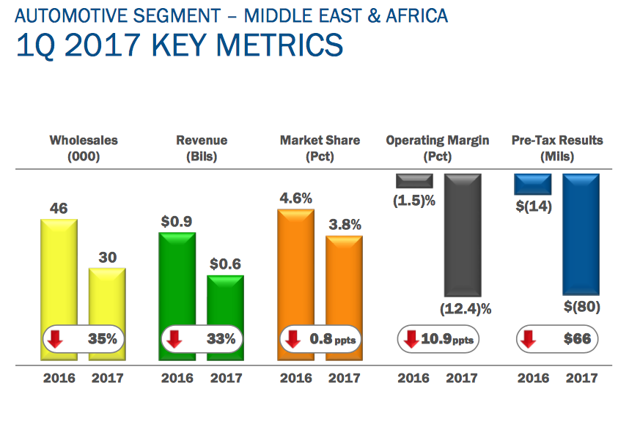 Asia Pacific: Disappointing operating margins.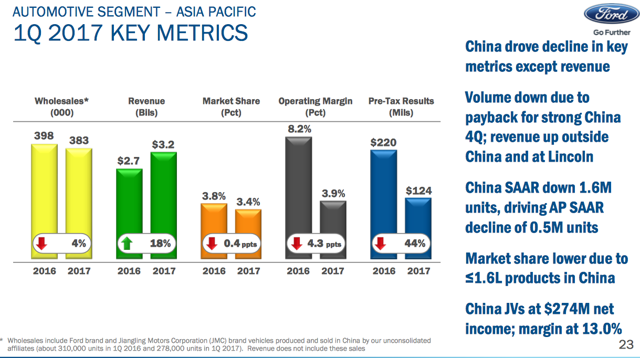 If we look at FY16 results, it is the same story, Ford makes its money in North American Trucks and SUVs and financing.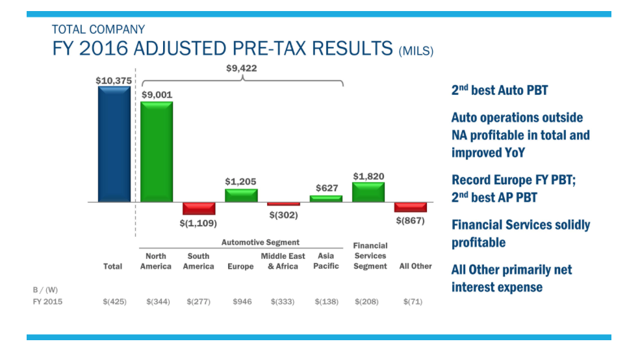 D) Finally, the threat of Tesla (NASDAQ:TSLA) and being behind the curve as they get leap frogged is real, but hard to define. I haven't done enough work nor do I have an opinion on Tesla, per se, so I am going to defer on this bullet point.
There was a specific Tesla question on the conference call and here is how Ford's management answered it.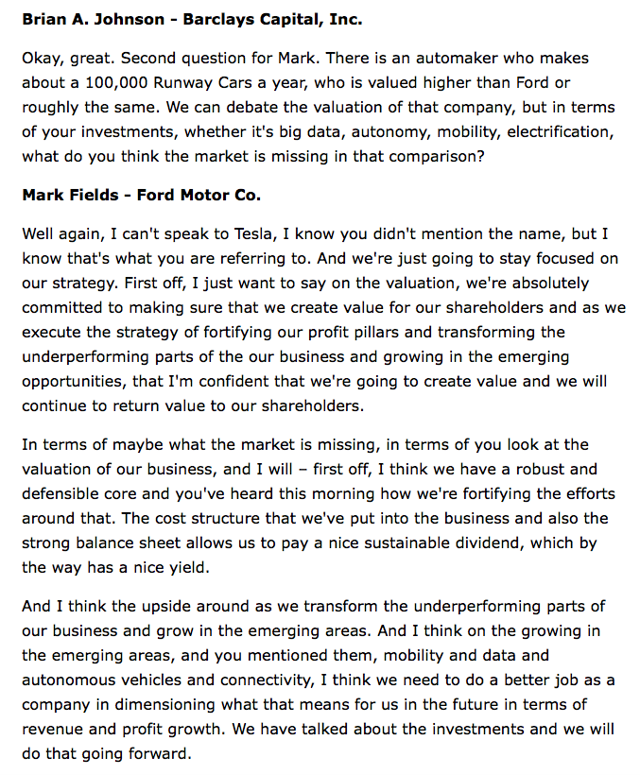 Here is a look at the five year stock performance of Tesla vs. Ford. Excluding dividends, Tesla is up 1045% and Ford is up 9.3%.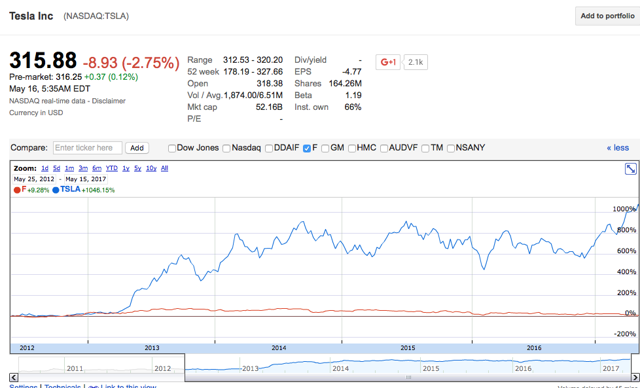 Source: Google Finance
Here is supplementary information for interested readers.
Industry Volume and Ford's market share.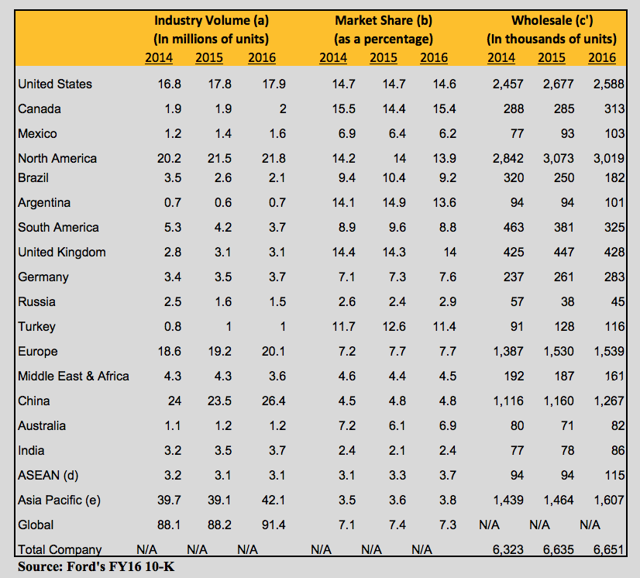 Here is a look at Ford's historical profitability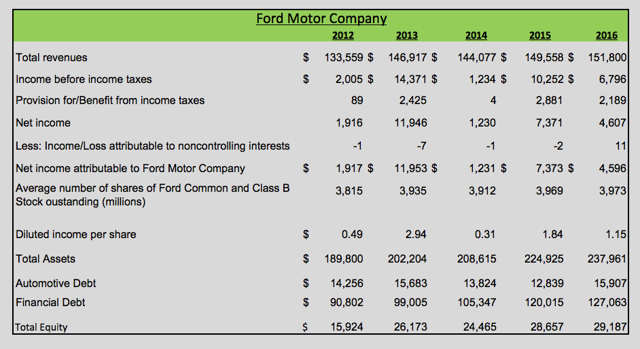 Here is a look at Wall Street Consensus estimates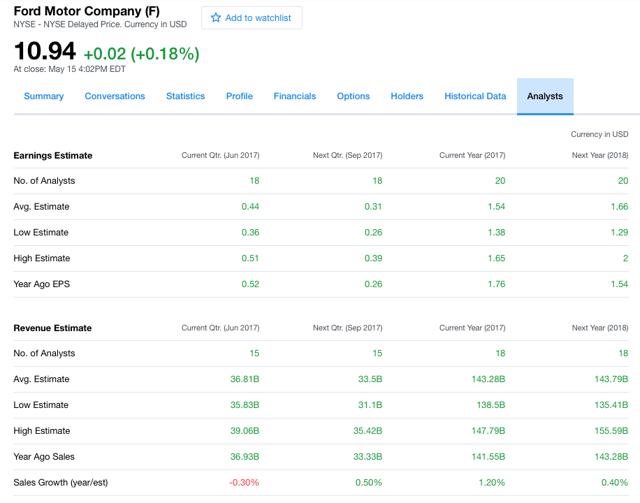 Source: Yahoo Finance
Takeaway
I hate to be anticlimactic, but I don't have a strong opinion on Ford shares at $11. I still need to do more work and modeling before I make any declarative statements. There seems to be a lot of fear currently baked into Ford's stock price, but on the flip side, its operating metrics are all moving in the wrong directions. I certainly wouldn't be short Ford at $11, but I need to do more work to get comfortable getting long the name.
If you like my work, please consider following my account to get all of my free content. If you're crazy enough to really like it, have a look at Market Adventures, my new Marketplace service. I just launched it on May 1st and have already written 17 articles since the launch date. A vibrant community is already forming, as Market Adventures already has 20 active subscribers. Please note, now through the end of May, you can still sign up for a discounted annual membership price of $400, as the price will revert back to $500 in June.
Disclosure: I/we have no positions in any stocks mentioned, and no plans to initiate any positions within the next 72 hours.
I wrote this article myself, and it expresses my own opinions. I am not receiving compensation for it (other than from Seeking Alpha). I have no business relationship with any company whose stock is mentioned in this article.