Friday's retail sales were up 0.4% in April on March and up 4.5% on April 2016 which adds a welcome sigh of relief to the otherwise dismal consumer spending post in the first estimate of the country's total output through the end of the 1st quarter. While we await May and June's estimates of GDP growth which will more than likely carry upward revisions to consumer spending, the starting baseline for the quarter is hard to spin in a positive light. First quarter estimates of GDP growth over the past decade have averaged a paltry 0.36% with a range of 2.8% on the high end (2013) and -2.7% on the low end (2008). Pent-up demand has consistently spilled into 2nd quarter final estimates which have averaged 1.78% over the period. The reasons why run the gamut from statistical difficulties with year-end seasonal adjustments to recurring inclement weather across large sections of the country. But retail sales, particularly in the bricks & mortar apparel space, have been much more persistently awful - and at the same time more structural.
That consumer spending has moved away from bricks & mortar apparel retailers should come as no surprise, as decisions around what, where and how spending happens in the space have further contributed to the growing divide between online and physical retail outlets. Online retailers have posted double-digit year-over-year (YOY) growth for the past 13 consecutive months. Overall YOY growth comes to an average of 8.75% on data back January 1992. By way of comparison, bricks & mortar apparel retail has posted negative growth for the past 25 consecutive months back to March 2015. Overall YOY growth for the period back to January 1992 is a negative 0.52%. Friday's retail sales report had department stores up 0.2% in April month-over-month (MOM) and down 3.7% YOY. Online stores rose 1.4% MOM and 11.9% YOY. The YOY divide, one positive the other negative, continues to grow unabated (see Figure 1, below).
Figure 1: Dow Jones Retail Apparel Index and the S&P 500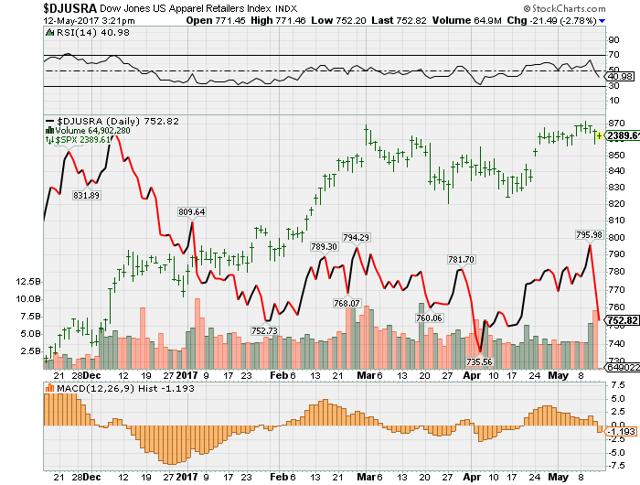 Nordstrom (JWN) operates 349 stores throughout the US and 5 stores in Canada with a total selling footprint of 29.79 million square feet. The company own 19% of its stores outright and another 38% company-owned on leased land. About 42% of the company's stores are both leased and situated on leased land with the remaining 1% being partially owned/leased on partially owned/leased land.
Nordstrom's total sales surprised to the upside through the end of the first quarter eking out a 2.73% increase for the period with a post of $3.354 billion. The cost of goods sold (COG) came to $2.155 billion for the quarter, an increase of 2.62% on 4th quarter COGs. Net earnings came to $63 million, up just shy of 37% for the quarter. Same-store sales declined 0.8%. The market showed little patience with the progress, pounding the stock with a 13% loss year-to-date (YTD). Revenue growth since 2012 has averaged 5.04% YOY while COGs have come is at 6.20% over the period. Net earnings have been negative at 0.34% YOY while earnings per share have fallen 11.68% over the period. The ratio of COGS to revenue came to 67.4% through the end of 2016 with the average ratio back to 2012 coming in at 63.2% as COGs have increased relative to total revenues for two consecutive years. The COG to total revenue ratio came to 64.3% through the end of the 1st quarter. Nordstrom is down just over 13% on the year (see Figure 2, below).
Figure 2: Dow Jones Retail Apparel Index and Nordstrom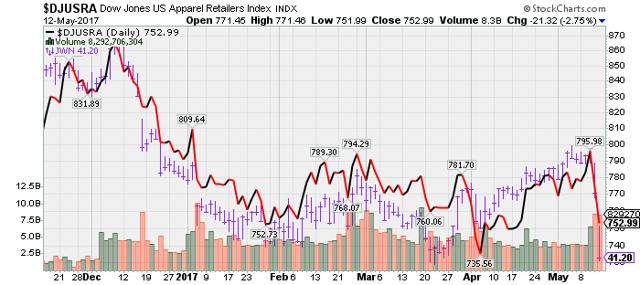 For Macy's (M), cutting staff and closing stores across the country has yet to yield appreciable bottom-line results. While Macy's brand stores have numerically declined from a total of 733 stores in 2014 to 673 stores through the end of 2016, the Bloomingdale's store count rose from 50 in 2014 to 55 over the period. Bluemercury stores, which the company acquired in 2015, increased from 77 to 100 - bringing the total store count from 823 to 829. Of the total, 382 are fully company owned free and clear of mortgages, 330 are leased, and 113 operate under a owned/land-leased arrangement, with the remaining 4 stores being a combination of owned and leased. The company has operations in 45 states comprising 130 million square feet. Leases average 20 years in duration.
Macy's total revenue for the 1st quarter through the end of April came to $5.3 billion, down 7.50% YOY. Earnings fell to $70 million, down from $115 million YOY for a decline of 39% while earnings per share dropped from $0.37 through April 2016 to $0.23 through April 2017 for a 38% drop. COGs as a percentage of total revenues remained largely unchanged at 61.9%. The company has posted falling revenue in both 2016 (down 4.80%) and 2015 (down 3.65%), with 2014 and 2013 both eking out gains of 0.62% and 0.88% respectively. The average net earnings for the period remains in double digit negative territory at 14.69% while the average of earnings per share for the period is also unsurprisingly negative at 8%. Macy's is down just under 33% on the year (see Figure 3, below).
Figure 3: Dow Jones Retail Apparel Index and Macy's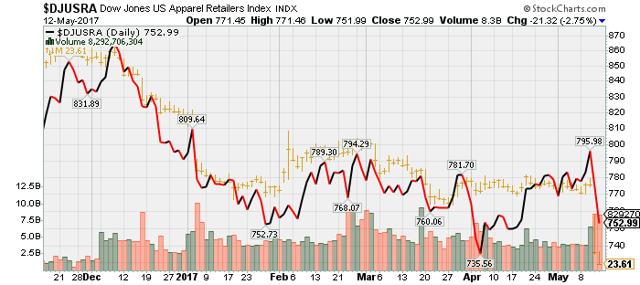 Through the end of January, Kohl's (KSS) operated 1,154 stores in 49 states with a total of 82.8 million square feet of largely leased selling space. The company owns 412 of its stores and eight of nine distribution centers across the country. The typical lease term is for 20-25 years with renewal options for consecutive five year extensions.
Kohl's' total revenue picture in the 1st quarter through the end of April came to $3,8 billion, down 3.2% YOY. Net earnings for the quarter were up 14% due to non-recurring events during the period that included store closing costs and other impairments. Earnings per share were also up 26% for the period for the same reason. COGs rose to 63.6% of total revenue for the quarter. Revenue back to 2012 was negative on a YOY basis at 0.45%. Averaged earnings over the period were well in negative territory at just under 13% while earnings per share were also negative at just under 7%. Year-to-date, KSS is down just under 27% (see Figure 4, below).
Figure 4: Dow Jones Retail Apparel Index and Kohl's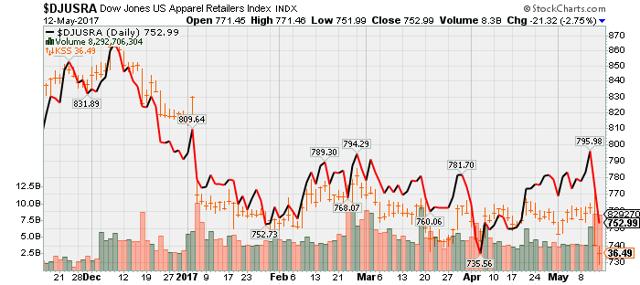 Comparing Amazon (AMZN) with Nordstrom, Macy's or Kohl's is grossly unfair by almost any measure to be sure. Amazon's quarterly revenue is bigger than what Nordstrom, Macy's or Kohl's makes in a year while its annual earnings exceeds that of its brick & mortar competitors combined. Amazon is fourth largest company in the world by market capitalization. The company is widely slated to surpass Macy's as the biggest apparel retailer by sales in the US this year. Amazon's current share price is just 4% off of breaking through the $1,000 threshold which the company will likely achieve within the coming months. That would put the company's valuation at about 140 times current earnings, surpassing the 117 times earnings valuation of the past decade. The list goes on and on.
Figure 5: Dow Jones Retail Apparel Index and Amazon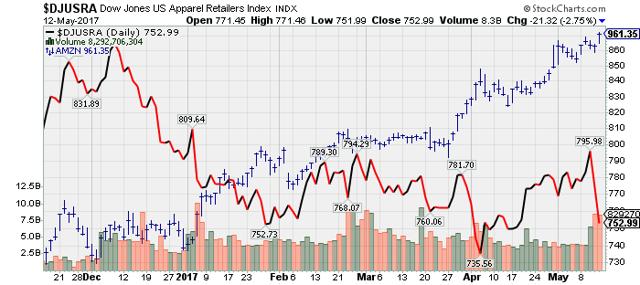 Net revenue for Amazon came to $32.1 billion through the 1st quarter of 2017 ending the 31st of March, up almost 23% YOY. Net income was up just over 39% YOY at $7.24 million while earnings per share was up just over 32% at $1.48/share. Revenue jumped just over 27% in 2016, 20.25% in 2015, 20% in 2014 and 21.87% in 2013 YOY. Net income soared in 2016 by 298% to $2.4 billion from $596 million in 2015, due in large part to the profit stream generated by Amazon Web Services (AWS). Net income fell by $241 million in 2014 due to the valuation of the Fire Phone program that was pulled during the year. Net income came in at $274 million in 2014 after falling by $39 million in 2012. Earnings per share came to $4.90/share in 2016, an increase of 292% over the $1.25/share post in 2015 and a loss of $0.50/share in 2014. Earnings per share hit $0.59/share in 2013 after losing $0.09/share in 2012. Amazon is up 27% YTD (see Figure 5, above).
Nordstrom, Macy's and Kohl's are classic short plays for the foreseeable future. The group has been slow to reduce the supply of stores at the same pace as consumer demand has declined well below supply in many of the markets the group serves. Supply could outstrip demand by as much as 30% across many markets across the country according to some estimates. Department stores across the country employed 1.278 million people in April 2016, according to BEA estimates. That total has already fallen by 50,000 a year later. A 30% reduction in department store employment could furlough as many as 380,000 workers.
That said, consumer spending as a whole appears largely intact. Personal consumption spending has grown well under historical trends since the Great Recession of 2007 averaging just 1.6% on a quarter-to-quarter basis - more than half that of the 1990 to 2006 rate of 3.44%. The recovery from the biggest financial disturbance this side of the 1930s has indeed been slow by many measures as the increased costs associated with health care, tuition and housing in recent years continues to take a toll on discretionary spending. Savings rates have increased dramatically from historical trends. Still, the 2016 decline of Macy's (down 47%) Nordstrom (down 36%) and Kohl's (down 20%) is reflective not so much of a decline in discretionary spending per se but how and where such funds are now spent. Amazon (up 119%) has been a clear winner in the overall shift. Year-to-date, the trend has continued with Nordstrom down 13%, Kohl's down 27% and Macy's down 33%--while Amazon is up 27% for the period. The equation is likely not going to change any time.
While the summer of 2015 would have been the optimal buy-in point for a short play on Nordstrom, Kohl's and Macy's, projecting a further 20% drop in the group's respective share price is realistic given the disruption to earnings a 30% reduction in the group's store count wreak on their respective share prices. Given current leasing restrictions of the three companies, such a reduction would be both protracted and costly. This would put Nordstrom at $34. Kohl's at $30 and Macy's at $20, based on Friday's market close. Meanwhile, Amazon's share price will likely continue to benefit from the group's fall from investor grace. The company's estimated earnings for 2017 will jump to $5.64/share, a 15% increase on 2016 earnings. A 10% increase on the company's current stock price of $961.35 comes to $1,057 or 188 times earnings over the next 12 months.