Verizon's (NYSE:VZ) revenues had been increasing for the last six years until it reported the first decline in 2016. As we can see from the graph below the decline in revenues has been significant with a corresponding drop in the share price. Verizon started taking action by making acquisitions when this decline was starting and has continued to invest ever since.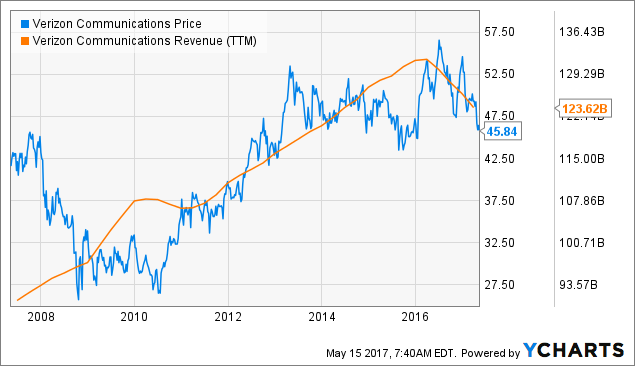 The company acquired AOL in 2015 ($4.4B), Yahoo's web assets in 2016 ($4.83 billion), and most recently Straight Path Communications ($3.1B). The AOL and Yahoo acquisitions were a way for Verizon to gain some online presence given the slowdown in the communications business. This was done knowing that achieving significant growth by adding large numbers of subscribers was no longer possible. Successfully leveraging the Yahoo and AOL investments depend on the ability of Verizon to provide value and succeed in the services and content markets which will be challenging. We know that Time Warner was unsuccessful in profiting from its much more expensive AOL merger which cost the company $160 billion in 2000. It will be interesting to see what benefits and synergies can be achieved by combining AOL and Yahoo. Yahoo's core properties include Flicker, Tumbler, and various news sites which Verizon hopes will generate increased advertising revenue in the future. AOL also came with various content holdings such as the Huffington Post which was acquired by AOL for $315 million in 2011. With its most recent acquisition, Straight Path Communications, Verizon gets spectrum holdings which will aid the company in developing its 5G network, albeit at a hefty price. The $3.1 billion acquisition comes with a $38 million dollar termination fee that Verizon must pay AT&T since it had originally reported a bid for the company. Straight Path was worth around $400 million only a couple of months ago before the bidding war started.

It comes as no surprise that a side effect of all of these acquisitions has been an increasing amount of debt on Verizon's balance sheet. Another important factor is a similar increase in the total shares outstanding as seen in the graph below. This is another factor investors need to look out as earnings have to be divided among a greater and greater number of shares.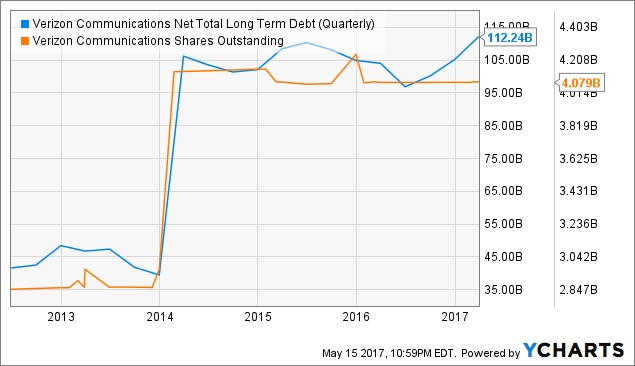 VZ Net Total Long Term Debt (Quarterly) data by YCharts
A more positive way to view the increase in debt is that Verizon is taking the opportunity provided by ultra low interest rates to make some strategic acquisitions. Clearly, it is better to make these investments when interest rates are low than when they are high. Let's also compare the cost of the Straight Path acquisition, $3.1 billion, to Verizon's cash flow from operations. In 2016, Verizon's cash flow from operations was $22.72 billion. Therefore, the cost of the Straight Path acquisition represents less than 14% of cash flow from operations. The five year average of cash flow from operations is around $32.7 billion. Let's take a closer look at the cost of investments and acquisitions versus cash flow for the last 4 years. To do this we will look at cash flow from operations versus investments in property, plant, and equipment and acquisitions and then take a separate look at retained earnings.

From the table above, we see that Verizon was able to cover the investments and acquisitions in the last four years through cash generated by its operations. Another indirect way to see that Verizon has still been generating positive cash flow while make these acquisitions is by looking at the retained earnings numbers over the last four years which have continued to increase at a fairly steady pace since 2013.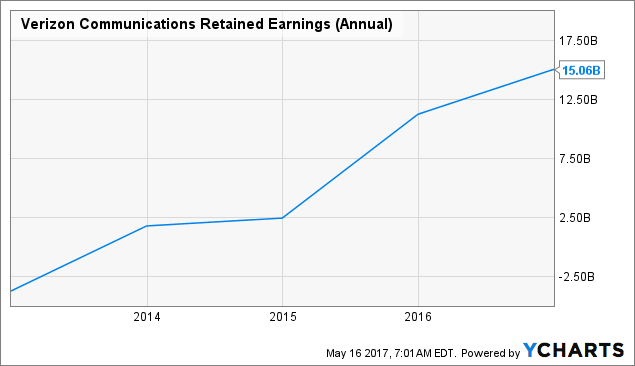 VZ Retained Earnings (Annual) data by YCharts
Valuation
From a present value perspective, while Verizon does not appear to be very undervalued the shares seem attractive at current price levels as long as you do not forecast a negative growth rate.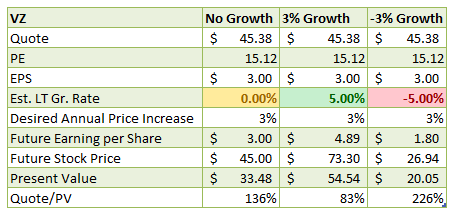 For an explanation of the formulas used to calculate future earnings per share and present value above, please visit this link. In calculating the future stock price a PE ratio of 15 was used since this is the company's current multiple. Verizon has had a high PE of over 140 and a low PE of 10.58 in the last five years. Note, that the three percent growth rate used above is also higher than the median analyst estimate of 1.34%. The analyst estimates for long term growth rate range from -1.90% to 5%. Also, note the low number, 3%, used for the 'desired annual price increase' number which was chosen to account for the high dividend Verizon currently pays of slightly over 5%.
Options
One way that options could be used for taking a position in Verizon is by selling a cash-secured put option which would allow an investor to get paid while waiting to buy the shares at a specific price. One option of interest is the put option expiring on September 15, 2017 with a strike price of $44.00. The current premium a seller of this option would receive is $1.21 or $121 per contract. This equates to a 7.68% annualized return given the holding period of 4 months considering standard fees. The seller of the option would only purchase the Verizon shares if they decline by at least 3.04% by the expiration date. Of course, an options investor will not be paid the dividend like shareholders which is one of the main draws of a Verizon investment.
Final Thoughts
We believe that the recent slide in the share price, with the doubts about recent acquisitions, provide investors with an opportunity to make an initial investment in the company. Investors will be collecting the 5% dividend and we believe will also see some share price appreciation in the years ahead. Investors who think the price can go a lower before bottoming out may want to consider selling a put option on the stock like the one mentioned above. In the long term we think Verizon will continue to generate cash albeit with perhaps less growth than in the past. The company has made recent acquisitions and investments to try to diversify its revenue streams and in an attempt to maintain some growth. While recent acquisitions are making headlines, investors should consider the relative size of these investments and the long term outlook and impact on growth and market share.
Disclosure: I am/we are long VZ.
I wrote this article myself, and it expresses my own opinions. I am not receiving compensation for it (other than from Seeking Alpha). I have no business relationship with any company whose stock is mentioned in this article.