A (Very) Brief Company History
NTT Docomo (DCM, OTCPK:NTDMF) is Japan's oldest and largest mobile carrier. The company was originally formed under NTT (NTT, which still owns 62% of NTT Docomo). The earliest trace of NTT Docomo can be seen in NTT's introduction of the "shoulder phone" in 1985. This is the same year that government owned and operated NTT was privatized. The formal start for NTT Docomo was in 1992, when NTT Mobile Communications Network started operations. In 1998, NTT Docomo was listed on the First Section of the Tokyo Stock Exchange.
A (Somewhat) Brief Industry Overview
The Japanese mobile carrier market consists of 3 major players (referred to as Mobile Network Operators, or MNOs from this point forward):
In addition to the MNOs, there are about 200 Mobile Virtual Network Operators (MVNO) - companies similar to Cricket Wireless or Virgin Mobile in the US. For those who are unfamiliar with MVNOs: These companies pay to use MNO's infrastructure to offer low-cost phone plans to consumers.
At the end of 2015, MNOs had a combined 156.5 M contracts while the MVNOs had 11.3 M contracts.
Here is how market share fluctuated among the MNOs in recent years: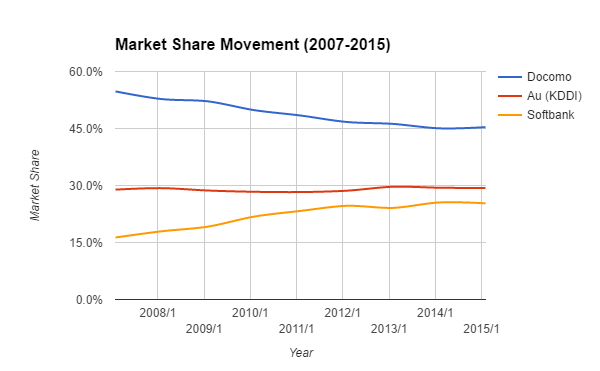 Source: Combination of historical NTT Docomo, KDDI, and Softbank Filings
Please note that the above share movement does not include MVNO contracts. Also important to note is the fact that the number of mobile contracts in Japan exceeds the population (127 M people as of 2015), suggesting that the industry is saturated.
The entrance of MVNO has been a hot topic in the industry over the past several years. This is in large part due to the fact that MVNOs almost doubled their footprint between EOY 2013 and EOY 2015 (from 6.7 M to 11.3 M contracts, respectively). Much like major American mobile carriers, Japanese carriers also typically have 2 year contracts. MVNOs are increasing in popularity and the moats for the 3 major players shrunk when Japan's Ministry of Internal Affairs and Communications mandated SIM cards to be unlocked at contract expiration.
For those that aren't familiar with SIM cards:
A SIM card is a card inside of a phone that facilitates communication with the mobile network. This is basically the mobile carrier's way of identifying you (and making sure you paid your bills). When it is "locked" this means your SIM card is married to your carrier's network. When it is "unlocked", it means that your SIM card can be used on any carrier's network.
Essentially, voice and data offerings are relatively commoditized, and price has become the focal point among consumers. This can be observed through the declining ARPU figures for the 3 big players: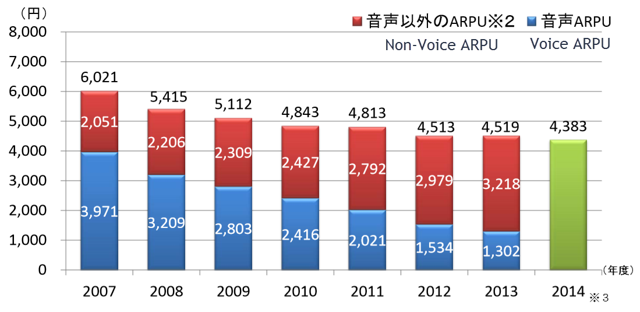 Source: Japan Ministry of Internal Affairs and Communications (English added by author)
MVNO entrance and NTT Docomo's less known reality
As observed by the declining market share, NTT Docomo has felt the pains of the emergence of MVNOs. However, there is more to this story: NTT Docomo's loss in market share isn't necessarily a function of bad service or poor pricing strategies.
Fun Fact: Most Japanese MVNOs run on NTT Docomo's network.
Japan's Antitrust Act essentially makes it near impossible for NTT Docomo to say "No" when companies inquire about using NTT Docomo's network to run a MVNO business. I couldn't find any hard data on exactly how many of the MVNOs run on NTT Docomo vs. KDDI vs. Softbank, but several online sources note that 20+ of the larger MVNOs run on NTT Docomo, while 3 run on KDDI, and 0 run on Softbank.
Here is one website (Japanese) that made a pretty list. It's all in Japanese, but the first list is NTT Docomo MVNOs, second is KDDI MVNOs, and the third (non-existent) list is Softbank's 0 MVNOs.
Not So Fun Fact: NTT Docomo offers the lowest rates to MVNOs because the government says so.
According to a 2013 publication by the Ministry of Internal Affairs and Communication, voice rates offered to MVNOs by MNOs were roughly the same (NTT Docomo still being the lowest). In contrast, data rates offered by NTT Docomo was the lowest by a long shot: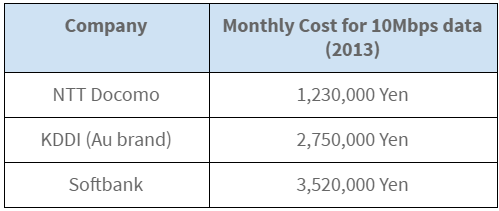 Source: Ministry of Internal Affairs and Communications
In this context, it makes sense that NTT Docomo has been "losing" market share to MVNOs over the past few years because:
Most MVNOs run on NTT Docomo's network.

SIMs have historically been locked.

NTT Docomo users don't need to unlock SIMs to switch to MVNOs running on NTT Docomo's network.
Now, the MVNO connection fee landscape is changing, but NTT Docomo still offers the lowest cost today: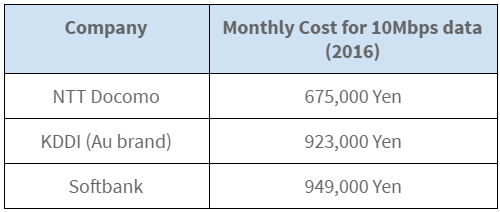 Source: Company documents geared for MVNO operators (all in Japanese) - NTT Docomo, KDDI (Au), Softbank
Between the lowering connection fees across all MNOs and the mandatory SIM unlock (both dictated by the Japanese government), we might see market share loss from KDDI and Softbank as well going forward. Given NTT Docomo's lowest connection fees and largest MVNO base, a KDDI/Softbank share loss to MVNOs may mean increased revenues for NTT Docomo.
NTT Docomo's Offensive Defense
Both KDDI and Softbank are fighting off MVNOs with low-cost sub brands. KDDI has UQ Mobile (not technically a sub brand, but a tightly knit MVNO) and Softbank has Y! Mobile. NTT Docomo, on the other hand, has no plans to create a sub brand. Frankly, the "damage" done to NTT Docomo by MVNOs are limited when compared to KDDI or Softbank, since most users stay on NTT Docomo's network anyway.
Instead of creating a sub brand, NTT Docomo is focused on building their own "eco-system". In the company filings, this is called the "Smart Life" segment (11% of 2017/3 revenues vs 80% for telecom business).
What exactly is the Smart life segment?
The Smart Life segment can effectively be summarized as content and financial services.
The content services is generally lumped into what NTT Docomo calls "dMarket". The dMarket is one big web portal which includes Netflix-like TV show/movie streaming, Pandora-like music streaming, e-book market, food-delivery, etc. Most of these services have separate monthly or per-use prices and often times come with a discount when a user has a NTT Docomo phone plan or subscribes to more than one service. The financial services includes payment services, credit card, pay-with-cell phone, etc.
What connects the Smart Life segment with the telecom operations is the dPoint system. NTT Docomo subscribers gain dPoints just by paying their phone bill. Additionally, dPoint members can accrue points by shopping at partnered restaurants, retailers, etc. The accrued dPoints can be applied toward the member's phone bill, restaurants, retailers, etc. Essentially, dPoints make NTT Docomo subscribers think twice before switching carriers.
From a broader perspective, NTT Docomo is leveraging its infrastructure to offer content and financial services, making a NTT Docomo phone subscription less of a commodity when compared to MVNOs who only offer vanilla voice and data plans.
In theory, the Smart Life segment is highly scalable, and anyone would believe that this is the next growth area. However, revenues have actually declined slightly in the past year (504B Yen in 2016/3 vs 502B Yen in 2017/3). In contrast, segment gross profits improved from 46.5 B Yen to 57.9 B Yen. This is the first revenue decrease since segment reporting started in the 2014/3 reporting period.
Surface Level Financial Metrics
Here are a few simple data points to get a rough idea of how NTT Docomo has performed: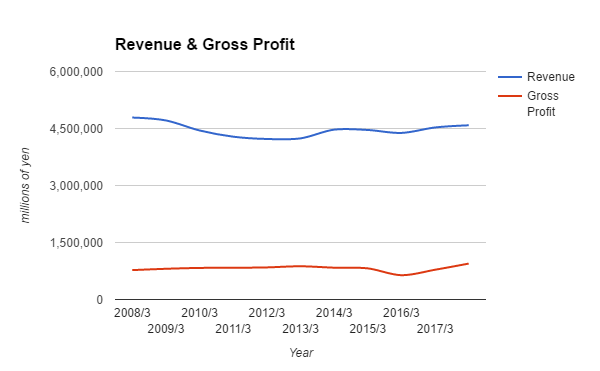 Source: NTT Docomo (Japanese)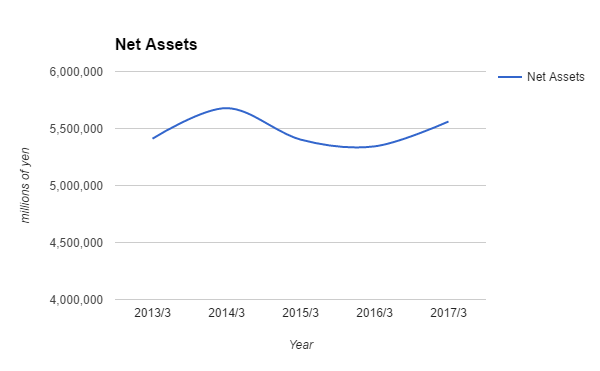 Source: NTT Docomo Filings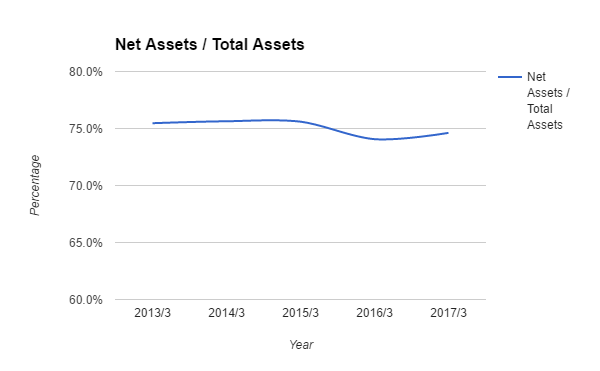 Source: NTT Docomo Filings + Author Calculation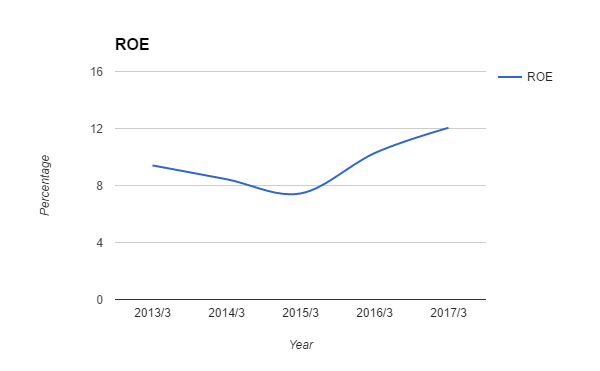 Source: Nikkei
Tearsheet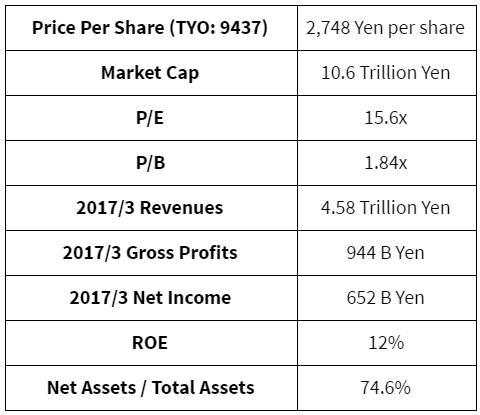 Source: Financial Times and Nikkei (data retrieved 5/16/2017)
Despite MVNOs eating into the mobile carrier market, NTT Docomo's business performance has not been affected that much. NTT Docomo's balance sheet is rather clean, as seen by the Net Assets / Total Assets chart. This is a metric commonly used in Japan to gauge balance sheet strength. As a general interpretation, we can say that roughly 75% of NTT Docomo's assets are financed by equity vs 25% financed by debt.
Some of the above metrics (like ROE, Net Assets / Total Assets) don't mean a whole lot unless it is compared against competitor metrics. I will broadly summarize the mobile carrier market in a follow up post (with metric comparisons) after covering KDDI and Softbank.
Author's Note: Thanks for reading! This is my first post on a "Japanese Blue Chip" series. If there are areas you'd like me to pay more/less attention to, please send me a message or leave a comment below! Thank again, and I hope you found this post useful.
If you enjoyed this article and would like to read more on Japanese ADRs, please click the orange "Follow" button at the top of this article. If you would like to read about Japanese securities in general, please visit my website at KenkyoInvesting.com.
Disclosure: I/we have no positions in any stocks mentioned, and no plans to initiate any positions within the next 72 hours.
I wrote this article myself, and it expresses my own opinions. I am not receiving compensation for it (other than from Seeking Alpha). I have no business relationship with any company whose stock is mentioned in this article.
Editor's Note: This article discusses one or more securities that do not trade on a major U.S. exchange. Please be aware of the risks associated with these stocks.