It is time to consider General Electric (NYSE:GE) over Honeywell (NYSE:HON). A little background on prior suggestions is covered below.
Why was there a long GE, short Honeywell pick?
In June 2015, Seeking Alpha had a paired trade contest. A paired trade is long one issue and short another issue. The June 16, 2015, article picked General Electric for the long side and Honeywell for the short side. The basic premise was that GE was deleveraging and that would benefit GE shareholders.
The paired trade is more of a long-term or macro call, based upon the deleveraging at GE. Honeywell is a very good firm, however, based upon relative valuation metrics discussed above GE appears to be cheaper of the two issues.
The GE deleverage thesis changed:
In December 2015, it was suggested investors might wish to exit or hedge the long GE short HON trade, as GE was increasing leverage, thanks to its decision to repurchase shares. At this time, GE's total return was 13.53% versus Honeywell's 1.18%.
However, it now appears that GE may re-lever the balance sheet and that would reduce the cash available to shareholders. Alternatively, management may transfer more cash to former shareholders than to current shareholders. The yield of the $1.78 to $2.08 per share, expected to be used for share repurchase, would total 5.9% to 6.9% at a $30.00 stock price.

It might be time to exit the 'long GE, short Honeywell' trade or hedge the position with options. The relative dividend yield advantage has narrowed.
Did GE's Massive Share Repurchase Add Value?
GE spent $22 billion via the acquisition of its stock during 2016 while owners got $8.5 billion in dividends, per 10-K. So far in 2017, GE has acquired another $1.6 billion worth of its stock while paying investors $2.1 billion in dividends, per 10-Q.
Unfortunately, the chart below shows the total return for GE investors while it spent over $23 billion repurchasing shares since December 2015 compared to the total return of Honeywell.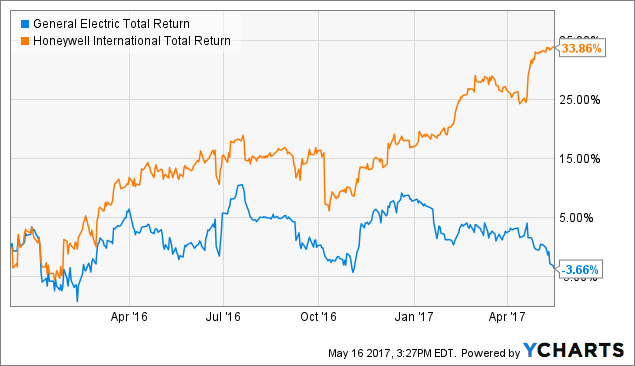 GE Total Return Price data by YCharts
Honeywell has returned 33.86% and has trounced the performance of GE that has declined 3.66%. In fact, GE's share price is lower today than it was on December 9, 2015, when it closed at $30.47; it is currently trading at $28.00.
Judging from the share price performance, it would appear that GE investors wanted the cash, as they have hit the bid sending the share price lower.
The Case for GE over Honeywell:
Given the massive outperformance of Honeywell over General Electric since December 2015, it is time to revisit and reconsider GE.
GE's 3.35% dividend yield appears attractive at current levels compared to Honeywell's 1.91% dividend yield.
GE's 3.35% dividend yield exceeds the 10-Year US Treasury yield, currently at 2.33%, by 102 basis points.
Dividend Yield: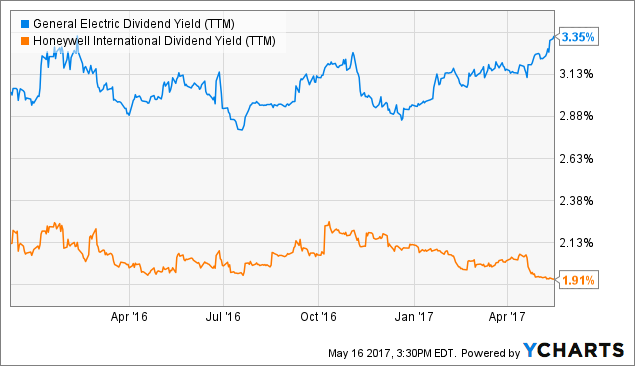 GE Dividend Yield (TTM) data by YCharts
Market Capitalization:
Since December 9, 2015, the market capitalization of GE has fallen over 20%, while Honeywell has increased its market capitalization by over 28%.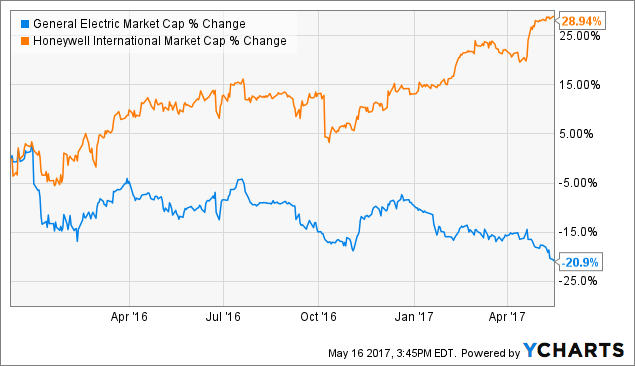 GE Market Cap data by YCharts
Return on Assets
Since December 2015, GE's return on assets has increased while Honeywell's has declined. It should be noted that Honeywell's return on assets far exceeds that of GE's. However, the trend is in GE's favor.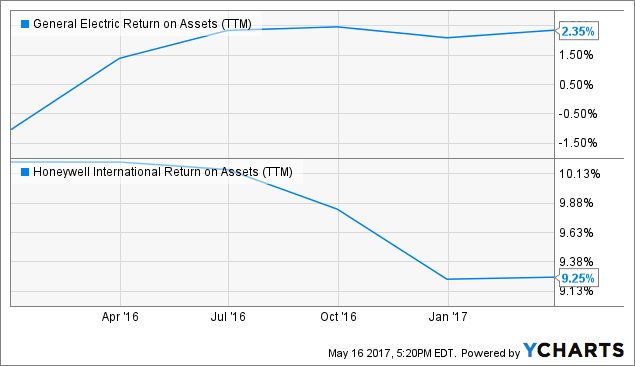 GE Return on Assets (TTM) data by YCharts
Conclusion:
GE offers a higher dividend yield than Honeywell, and that could be of interest to income-seeking investors. GE's return on assets has ticked higher while Honeywell's has ticked lower. Honeywell is a well-run firm, but GE appears to be slowly turning around. Should GE's return on assets continue its upward trend, then shareholders could be well rewarded. In the meantime, they can collect the 3.35% dividend yield while the turnaround takes shape. Should GE revise its capital allocation away from share repurchases and towards dividends, then GE's investors may again see the light.
What are your thoughts?
Disclosure: I am/we are long GE.
I wrote this article myself, and it expresses my own opinions. I am not receiving compensation for it (other than from Seeking Alpha). I have no business relationship with any company whose stock is mentioned in this article.
Additional disclosure: Also short puts and looking to sell calls. Option positions may change depending upon market conditions.