Criteo (NASDAQ:CRTO) is the French innovative advertising technology company or performance marketing company (as it prefers) we first introduced early January. The share price has performed pretty well since then, up by a good 20% since. This article tries to find out whether more gains are in store.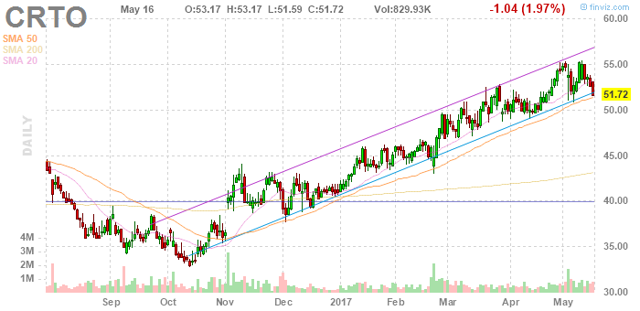 Criteo published Q1 figures that were quite well received. Some highlights (from the company PR and Q1CC):
Revenue excluding Traffic Acquisition Costs, or Revenue ex-TAC, grew 29% (or 30% at constant currency) to $210 million, or 41% of revenue.
Adjusted EBITDA grew 16% (or 18% at constant currency) to $56 million, or 27% of Revenue ex-TAC.
Cash flow from operating activities increased 134% to $44 million.
Free Cash Flow increased 136% to $16 million.
Net Income decreased 22% to $15 million, driven by the accounting impact of the HookLogic acquisition.
Adjusted Net Income per diluted share increased 6% to $0.46.
Same client revenue ex-TAC grew 15% at constant currency.
Criteo added 950 net clients, a 25% increase from Q1 2016. The company now has over 15,000 e-commerce clients, retaining 90% of them.
Average Revenue Per User (ARPU) was down 10%, but this is because of the strong growth (60%) of the mid-market segment (60%), which is somewhat less profitable.
Top line growth is still very good, but net income decreased considerably, although it still beat expectations by 3 cents. The reason for that is mostly the acquisition of HookLogic (a one-time equity grant, a $3.9 million intangible depreciation expense relating to the HookLogic acquisition).
If one excludes the non-cash accounting effects of the HookLogic acquisition, net income would have increased 15% to $21 million, so these HookLogic-related effects caused a one-time $6 million negative for earnings.
That's not all, though. Some expense categories are growing faster than underlying ex-TAC revenue growth:
Other cost of revenue (hosting cost) increased by 48% to $27 million.
Operating expenses increased 39% to $162 million.
R&D expenses grew by 43% to $33 million.
Capex increased by 133% to $28 million.
While the increases in cash flow from operations and free cash flow look really impressive, we wouldn't pay too much attention to them, as they contain specific and volatile items (like a decrease/increase in trade receivables and trade payables, see the 10-Q).
The increase in operating expenses was driven in large part ($18 million) to the introduction of Sponsored Products, much of which is non-cash and one-off.
Guidance
Q2 revenue ex-TAC will be between $209 million and $213 million.
Q2 adjusted EBITDA to be between $44 million and $48 million.
FY 2017 revenue ex-TAC growth will be between 28% and 31% at constant currency.
Adjusted EBITDA margin as a percentage of Revenue ex-TAC will increase between 0 basis points and 50 basis points (on 2016 margin of 30.5%).
The TAC margin was 27% in Q1, and the company expects that to be in the mid-20%'s for the year.
A little intro
The essence of what Criteo does in big lines isn't hard to understand (even if how it does it is much harder, and much of that isn't explicit). The company offers technologies that enable people-centric, data-driven advertising which is tied to performance metrics. This is, of course, the general direction in which advertising moves anyway.
Collecting as much information about people so that they can be targeted ever more precisely and keeping track of what ads drive sales. For the latter, Criteo's $20 million acquisition of HookLogic provided additional technology (and clients).
Much of Criteo's competitive advantage is based on the engine, which is simply a set of algorithms to handle the full chain, from collecting the data to serving the ad in real time and predicting the right value for an ad.
The engine went from click optimization to conversion rate optimization, and it's now moving towards being a value optimizer. The algorithm that drives these are constantly improved by machine learning and ever-increasing data. Here is roughly how it works (from the company's Investor Day presentation):
For every user that we see, let us say a user comes up on CNN.com. CNN tells us, 'Hey, are you interested in this user?' We take for that user all the advertisers that apply. That user might have gone to five eCommerce sites or travel sites or classified sites. For every one of those sites, we calculate what is the best product recommendation for that user, what would be the best personalized creative and the combination of those two, plus a prediction that we do, we calculate what is the prediction value, what is the value that we will get from this user. A user that has come on CNN.com might have a value of $1 for one advertiser, $3 for the other one, $4 for the other one, $7 for the other one and then $2. We run an internal auction to figure out which one of those values is the highest one. One of them is going to be the highest one. Once we have that internal auction, we bid on the publisher platform. It could be on Facebook. It could be on CNN. It could be on our RTB platform. By the way, every platform has a different configuration and you need to have a different bid strategy. There is an engine that does this. Then once we have gotten the go ahead, yes, you won the ad or the space, serve the ad, we custom serve an ad. Of course, it is a custom ad because it is the creative setup for that person.
It all depends on massive amounts of data. The company has access to half a trillion (by mid last year) of purchases on its client websites. Then there is the data from publishers that ads are served on.
By the middle of last year, it had a stack of 102 terabytes and 31,500 processing cores, the largest Hadoop cluster in Europe. And there's 26 terabytes of additional data. The company has 600 terabytes of data about shopping intent on 4 billion products (also by mid last year). The Criteo engine, driven by machine learning, is able to translate that data into ads that people click on and then purchase from.
This hardly begins to tell what the company does and how it does it. Besides, it does many more things, like the cross-device graph where it integrates data from different devices (a real problem for marketing, as 40% of transactions are across devices, which are much harder to track, but Criteo has come up with some innovative solutions here).
Innovation
The R&D really is the heart of the competitive advantage of Criteo. The company spends 16% of non-TAC revenue on R&D, which has a headcount of over 600. Just in the first half of 2016, it ran 190,000 tests to optimize the engine, and the amount of testing is increasing rapidly.
The amount of innovation that is going on at the platform is quite impressive. This is a company that doesn't sit still by any means. For anyone that wants to do a deep dive, the Investor Day presentations are probably a good place to start.
For the purpose of this article, we don't really need to go into all the technical details of the different technologies. Suffice to say that these are still evolving. Some recent innovations and improvements are as follows:
Engine improvements like kinetic design and adaptive revenue optimizer. The first now reaches 75% of its ads and produces a 3-5% lift in revenues ex-TAC. The latter allows clients to bid directly on a cost of sales targets instead of a cost per click and produces a 5% increase in sales for clients.
User Graph (following users across devices), launched as a service in Q1.
Sponsored Products
Header bidding
The Criteo User Graph matches data from the mapping of user identities across multiple digital devices and leveraging anonymized CRM data provided by advertisers (which a whopping 76% of customers share with Criteo, per Q1CC). The company was the first to create an Apple-compliant solution to be able to track information about users on Apple devices.
Predictive Search (from Criteo PR):
Criteo Predictive Search, available immediately in the US, offers an automated, end-to-end solution, based on powerful machine-learning, that eliminates guesswork and systematically improves results from Google Shopping using precise, predictive optimization across every aspect of the campaign. Early adopters of the new solution, who have taken part in beta tests, have seen as much as a 22-49 percent lift in revenue at constant cost. These clients include 30 of the leading U.S. retailers, such as Revolve Clothing, Teleflora and Camping World.
See here for a description of this solution.
Sponsored products (from Criteo):
Sponsored Products appear as native product listings in defined locations throughout the purchase path of retailer site and apps. Shoppers who click on the ads stay within your e-commerce environment, promoting conversion, while paying you for every click.
One has factor in that Sponsored Products is highly seasonal, but it's expected to increase revenues ex-TAC by mid-single digits this year (even if it has a slight negative impact on EBITDA as a result of introduction cost), so it's far from an inconsequential product.
Criteo initially experienced some headwinds with header bidding (see here for an explanation and alternative solutions), but after testing it with some 100 clients this is turning around, and management argued it could become a significant tailwind for the company.
It is also opening up new marketing channels like email, search, video and offline. This stuff is only really for illustrative purposes, as the heart of what the company does and on what its competitive advantage rests is rather complicated. Much of it isn't explicit - these are trade secrets like the algorithm driving the engine.
Even more complicated is to compare the Criteo engine to those of competitors. But basically, we don't have to know what's in "the box" as long as that box keeps performing, and that performance is visible in the financial results.
There are a couple of other metrics that the company shows to demonstrate its growth potential (from the 2016 Investor Day transcript):
From when it went public in 2013 to mid-2016, Criteo has been able to quadruple the amount of sales for clients.
Revenue ex-TAC increased by 35% in 2013, 40% in 2014, 52% in 2015, and in 2016 plus 32% (2016 Investor Day transcript).
Criteo is the second-largest global user network in terms of ads served, and by mid-2016 the company had 12,000 advertisers and 17,000 publishers as clients.
So far, Criteo seems to have a point. The company has exceeded Revenue ex-TAC and adjusted EBITDA guidance for 14 consecutive quarters since it was listed.
Drivers of growth
Apart from the innovations mentioned above, the following points were nicely summarized by the CEO on the Investor Day last year:
The cross-device graph
New marketing channels (email, search, video and offline)
Pooling data
Driving app installs
Verticals like manufacturing
Acquisition marketing
China, where the company is experimenting (as it's largely an in-app market) but not with much success so far. Advertisers are actually skeptical of "having us see the sales that are generated from our campaigns" (CEO Eichman during the Q1CC).
On average, Criteo drives between 8% and 9% of the sales of its clients. The company believes it can get that up to 10% with further optimization of the engine and data pooling.
In Search, management believes that the company can capture between 10% and 20% of the ad spend by clients, a $6 billion market opportunity. Acquisition marketing is another $9 billion market opportunity. Management believes it is confronted with a total of $25 billion in new market opportunities (ex-TAC).
Now, before you get excited and press the buy button, this is loosely equivalent to a total addressable market, and there is no guarantee that the company will capture all or even a major part of it. What it does show is that Criteo still has plenty of opportunity to grow, and as commerce increasingly moves online, the market and the opportunity themselves are growing.
Risks
With the ongoing expansion, a 90% retention rate and the settlement with Steelhouse, we think the short thesis discussed in our previous article, where a competitor accused Criteo of click fraud, is now well and truly behind us.
Given the growth rate, it's not obvious that performance receives much hindrance from adblockers either, although it remains to be seen what the new version of Google's web browser (which has an inbuilt adblocker) will do.
While the technology is inherently creepy, as it is based on collecting as much information about people as possible, Criteo has solid privacy policies in place:
The company ensures that there is no "PII" (personally identifiable information) data.
It provides transparency to users. There is a little triangle in the Criteo-powered ads that explains to users why they are seeing these ads and allows them to opt out from the campaign or even from Criteo entirely.
Valuation
Analyst, on average, expect an EPS of $2.45 this year, rising to $3.09 in 2018, but these estimates have come down a bit after the Q1 results. On this basis, the shares are not overly expensive, given the growth and a solid balance sheet ($302.7 million in cash and just $2.61 million in debt).
Conclusion
While the shares aren't cheap (though they are lower these days), we think they are still a buy. The company has a proven track record of solid growth over all its important metrics, and there are still plenty of opportunities for improvement and further growth left.
Disclosure: I am/we are long CRTO.
I wrote this article myself, and it expresses my own opinions. I am not receiving compensation for it (other than from Seeking Alpha). I have no business relationship with any company whose stock is mentioned in this article.