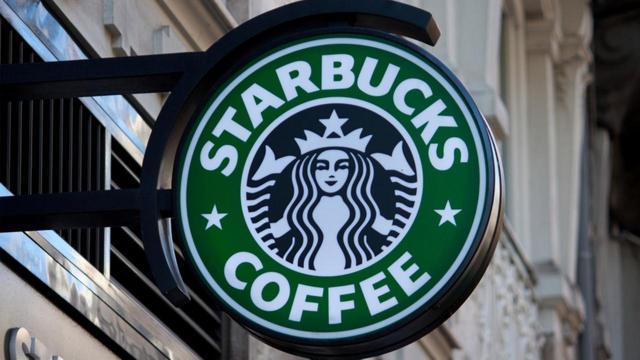 Some Context - Slowing Growth and App Congestion
Starbucks (NASDAQ:NASDAQ:SBUX) has been a growth investors' darling for many years, but the stock has failed to maintain momentum due to a deceleration in comps growth. The stock is still trading 6% below the top reached in October 2015, although revenue and EPS are significantly higher.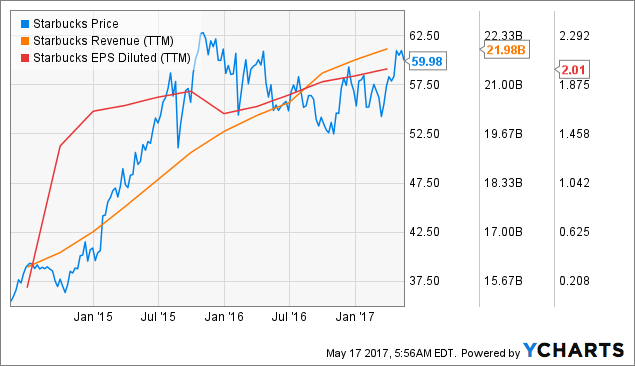 The reason behind the stock correction is related to the trend in comparable store sales. Comps growth has declined from 7-8% in 2015 to 3% for the last 2 quarters. I think this fully explains why the stock declined from $64 to $50 between October 2015 and November 2016. Declining comps are sometimes a warning sign that tells us the attractiveness of a product, brand or service is declining. Declining comps are different than slowing comps, and we should expect every company to experience periods of slowing growth, due to cyclical or macroeconomic phenomena. In Starbucks case, I find it difficult to find a reason behind the decline that could indicate a structural problem or a long-term challenge. The slowing growth rate of the last few quarters, which is considered an anomaly (per management), is probably nothing more than a short-term effect that could fade away soon. I identified some factors that may explain the recent weakness. The first factor is the overall weakness in retail, as a decline in foot traffic may have had an effect on Starbucks growth, with indirect results on stores located in malls affected by declining foot traffic. Other factors have been explained by management a few times. In particular, management identified 3 main drivers behind the declining comps:
The first is, there is a macro impact from restaurant, away-from-home occasions. And we participate in a big index, and it's not a public index. There are tens of thousands of restaurants that go into this index. And what we know is, we can track ticket and traffic -- it's all on a no-name basis, but we know where we are versus the index. And you can go back years, and there's always a gap between Starbucks and the index. What happened last March, or so, is that index went sharply negative. And we went down towards zero.
Basically, the management is telling us that the whole restaurant industry has been recently affected by some headwinds. Don't think that I am going to believe everything management says. I just try to understand management's perspective and see if it makes sense according to the information I have. The decline in comps growth that, according to management, has affected the restaurant industry as a whole, is consistent with my idea that declining foot traffic or lower tourist spending may have played a role.
The second thing is, the math of the comparisons got really hard as we started to comp against some very, very big numbers in fiscal 2015. And so we did 7s, 8s, and 9s for a while. If you go to the two-year comps and look at the two-year stack, they've been pretty consistent.
It makes sense. I think what we should expect from Starbucks is not stellar comps growth, as the brand is reaching maturity in some markets, but a more subtle but constant increase in mind share in developed markets, coupled with high growth rates in emerging markets, which are still underpenetrated.
A factor that has been discussed in the last few months is the "app congestion" problem. Mobile ordering is spreading like fire in the fast-food industry, and we can say Starbucks was a pioneer of this kind of service, and remains the leader. According to a 2016 report by app research company App Annie, Starbucks has the most monthly active users (MAU) on Android and Apple platforms compared to other food brands. The strong success of mobile order and pay, which should save customers some time and let them avoid long queues, has been so successful that it drove a massive rise in comps, which grew up to 20% YoY in 1800 stores. Put it simple, the test has led to an excessive increase in demand and a problem of capacity. The speed in the execution of orders could not keep up with the increasing demand. Customers ended up waiting in queues that were even longer than when the app was not implemented. Management understood the issue and the company has recently introduced a new system that should improve workflow. The new app has some new features. For example, customers will start getting notifications through the app when their orders are ready, instead of an estimate that may bring them into the line too early, making them wait. I am confident that the company will manage the issue of excessive demand (I wonder how many companies would like to have such a problem), and re-establish decent same-store growth, close to the 5% growth target that management has recently confirmed.
I rarely agree with sell-side analysts, but this time I have to agree with Deutsche Bank. In a recent note, analyst Brett Levy raised its rating on SBUX from Neutral to Buy, with a price target of $69, adding:
Time alone does not solve all issues (macro, traffic, labor challenges persist), but SBUX has been putting pieces in place to right its ship, in our opinion. Recent U.S. SSS improvements, refocused operations and the prospects for the coming years gives us reasons to be optimistic about the long-term story."
Future Prospects And Valuation
Starbucks is a growth stock and deserves to trade at growth multiples. The company has done an excellent job leveraging its scale and operations, and profits have grown much faster than revenue. This trend was confirmed last quarter, as earnings grew more than double the rate of sales and there is no doubt on the fact that future growth prospects are very positive. The company will also accelerate investments in growing its Roastery Reserve and Princi food business, expanding its digital capabilities, and Starbucks Rewards program. This has led management to revise earnings guidance a little bit, reducing GAAP earnings per share between $2.06 - $2.10, down from $2.09 - $2.11, but strong top-line growth was confirmed (in the 8%-10% range).
Starbucks' business model is scalable and easily exportable. A great advantage of Starbucks and other global chains such as McDonald's (NYSE:MCD) and KFC (NYSE:YUM) is that brand power is so strong that the company doesn't need big promotional investments when it opens a new store. Starbucks growth largely depends on new store openings - management plans to open 12,000 new stores by 2021, and promised to hire 240,000 additional employees in the next 5 years, a 70% increase from the current level. The company has a strong momentum outside the US, particularly in China, but its current valuation is in line with peers. The stock basically trades at the median P/E and EV/EBITDA multiples of the peers group, which is a fair valuation, at worst.

Source: Author's elaboration
The main risk for this stock is in the high multiples relative to its own history. Like many other stocks, the low interest rates have fueled a multiple expansion that drove SBUX's multiples to historical highs. A rapid increase in interest rates will have a negative effect on the present value of future cash flows, triggering a multiple contraction.
Conclusion
My position in Starbucks stock remains a long-term holding. Whether same store sales grow 2% or 4% in the next few quarters can make a difference with our short-term profits, but low growth rates in SSS would not jeopardize the long-term case. I do believe Starbucks has a moat around its business, mainly based on brand power, which finds a partial confirmation in the company's ability to raise prices often and still deliver decent SSS growth. Starbucks has a scalable business that grows at a very good rate, and I just want to be sure that the price I pay to take a slice in this business is not too high. Comparing the stock to peers, we can see that the price doesn't look exaggerated. In absolute terms, we can say the relatively high multiple is justified by strong underlying trends - growing number of stores, rising same-store sales, expanding margins, moderate buybacks, growing dividend. I see low company-specific risks and I think the only factor that could harm this investment's returns is an unexpected rise in interest rates, which would have a negative present value effect on future cash flows.
Thanks for taking the time to read the article. If you liked it, click on the follow button at the top of the page. You will get my articles as soon as they are published. I am available to further discuss the topics of this article in the comments section.