Citron Is Very Wrong On Exact Sciences
Summary
Exact Sciences is under another short attack regarding its non-invasive colon cancer screening test Cologuard.
The loud narrative made by short seller Andrew Left of Citron Research is similar to past loud incongruous arguments made by short sellers.
Beware anybody in finance who uses the words "guaranteed" or "proves beyond any doubt."
Cologuard is FDA approved in all screening guidelines and included in the most important quality rating measures.
Cologuard has an accelerating growth curve in a $14 billion market, is taking market share from its main competitors, and is leading to more patients being compliant with screening.
Exact Sciences (NASDAQ:EXAS) is under attack again by shorts. The arguments this time are similar to the arguments made in the past and just as likely to be wrong. That doesn't mean, however, that investors and Exact Sciences itself can't learn something from the rehashed criticisms.
The last big short attack on Exact was by Whitney Tilson who recently covered his losing position. This year's attack is led by short seller Andrew Left of Citron Research whose track record is spotty at best. In Left's case against Exact Sciences, he excretes a number of arguments that are rather easily disposed of. I will wipe those arguments away below.
Left's arguments, which can be read here on Seeking Alpha, center around four key points:
That Cologuard, Exact Sciences' colon cancer screening and currently only product, is an inferior screening methodology that surprised many when the FDA approved it and Medicare included it in payment guidelines.

That Exact Sciences is not profitable now and might never be due to being a non-scalable "poop-in-a-box" business.

That a periodic change in Medicare pricing for Cologuard due January 1st, 2018, will be dramatically lower, further damaging Exact's drive towards profitability.

That a currently non-existent blood test for colon cancer will someday displace Cologuard and potentially drive Exact Sciences shares to zero.
For those unfamiliar with me, I have been invested in Exact Sciences since late 2007, expanded my holdings during the financial crisis, again when CEO Kevin Conroy was hired, have regularly sold cash-secured puts for years accumulating both income and more shares and, on several occasions, bought calls or LEAPs. I have written about Exact Sciences on MarketWatch of the Wall Street Journal network multiple times, including here and here. I have also been quoted and interviewed about the company.
What is Cologuard?
Cologuard is a non-invasive stool-based screening test that utilizes DNA to detect colon cancer and pre-cancers. It requires a patient to provide a sample into a container fitted to the toilet seat and then close the lid after adding a preservative. The sample is picked up by UPS afterward and delivered to the Exact Sciences lab.
After going through a rigorous peer-reviewed process, Cologuard was approved by the FDA for use and Medicare for payment through a parallel review process that was created to help save lives, time, and money. Cologuard was the very first product put through that process, which was an indication that it had a pretty good shot at getting the nod from the FDA and Medicare. In fact, the FDA gave Cologuard preliminary approval five months before final approval.
Cologuard's technology is rated as a peer with other screening tests found in the USPSTF guidelines as an "A" rated test, just like colonoscopy and FIT. Further, it is now included in the quality measures that doctors and hospitals use in assigning care that they receive reimbursement from the government for.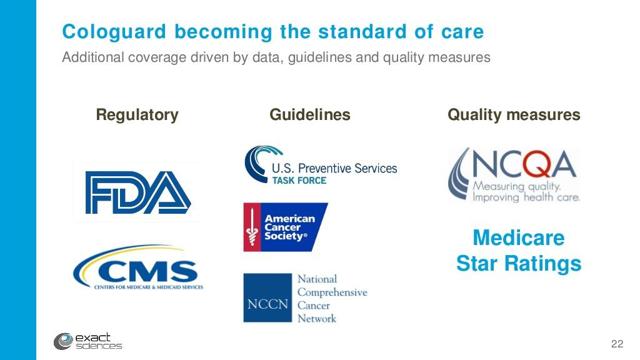 While there are a few holdouts left for private payer insurers, notably United Healthcare (UNH), which has a habit of stretching out contracting, there is already 78% coverage of the addressable market, including from Anthem (ANTM), Humana (HUM), and many other insurers. Medicare aged patients are all covered.
United Healthcare does claim that Cologuard is not medically necessary, stating that "there is insufficient published clinical evidence that fecal DNA testing reduces the likelihood of mortality from colorectal cancer."
The logic is sketchy on United Healthcare's part, in my opinion. Of course, early in the adoption process, there will be less data. If that were the criteria for doing screening, we would never do screening and the other screening tests would never have developed. And again, I refer to the image above that shows the institutions that disagree with United Healthcare.
The real core of United Healthcare's argument is that it found other methods of screening to be "less costly" than Cologuard. It appears to me that United Healthcare might strictly be looking out for its bottom line. It clearly has motivation to push off screening as more people turn 65 and qualify for Medicare payment.
I have been health insurance licensed since 1993 (though I haven't written a policy since the early 2000s). Frankly, United Healthcare's behavior reminds me of the movie The Rainmaker in which the insurance company has conflicted (to put it mildly) motivations. Maybe that isn't so, however, sometimes perception is reality.
Cologuard, the Unscreened Population and Other Tests
One of Cologuard's primary goals is to help increase the compliance rate for colon cancer screening as the current rate hovers just over 60% according to the CDC. The American Cancer Society is hoping to reach an 80% compliance rate by 2018.
Exact's test is on its way to helping to improve the compliance rate for screening as 42% of new users had never been screened before. With 4 million Baby Boomers turning 65 per year and over 30% having never been screened, that is a large untreated market which has largely rejected FIT and colonoscopy to penetrate. That penetration appears to have started, according to Exact's recent corporate presentation: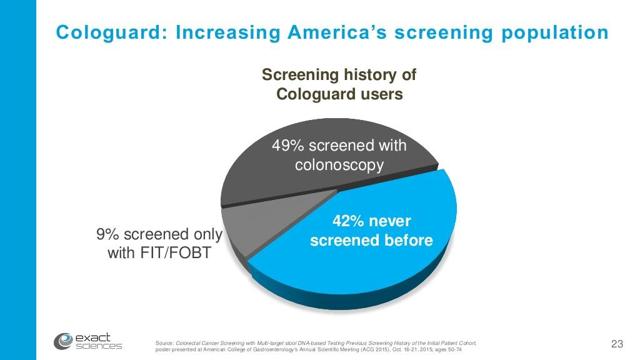 Cologuard is also a competitor to the current FIT (Fecal Immunochemical Test) screening method. The FIT is intended to be done every year versus every three years for Cologuard. The FIT requires that a person twice reach into the toilet with a swab-on-a-stick to get two samples.
Critics of Cologuard have alluded to an "ick" factor. While any test with excrement is certainly a bit icky, we must be aware that 10-11 million FIT tests have been getting done each year for the past few years. Here are the instructions for InSure's FIT test.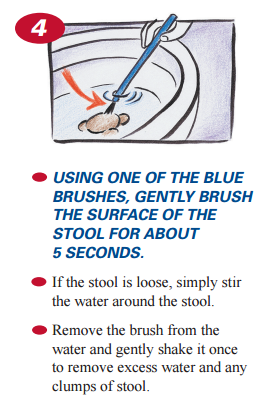 The InSure FIT is manufactured and marketed by Enterix Inc., a privately held biotechnology company. The FIT is Enterix's overwhelming source of revenue and is certainly motivated not to lose market share.
Despite Enterix's motivation, taking market share from the FIT is a major opportunity for Exact as the FIT suffers from extremely low compliance. I believe that due to the abysmal compliance rate of FIT, that is a signal that Cologuard has a chance to take most of that market share.
The annual compliance rate of FIT is about 55%, which means there are around 20 million prescribed each year.

The FIT over three years has only a 14% compliance rate, according to statistics published in the American Journal of Gastroenterology in 2016.

Over 10 years, the actual screening interval, fewer than 1% of people are compliant according to the American Journal of Managed Care, which was also published in 2016.
That 10-year number is important as that is how long it takes to get the cumulative benefit of FIT screening, i.e. finding cancer. Ergo, almost nobody is getting the full benefit of FIT. Thus, it is a moot point to try to argue that FIT is a better test than Cologuard, as virtually nobody is taking it in compliance with guidelines, and that is a core reason there are over 50,000 colon cancer deaths per year.
If Cologuard would replace FIT the way that FIT replaced FOBT, the prior older stool-based test, that could result in about 7 million Cologuard tests ordered per year. That number is derived by dividing the number of FIT prescribed each year by three, which represents the three-year screening interval for Cologuard.
At the current compliance rate of 67% for Cologuard, that could mean 4.7 million completed tests per year eventually. I am not including here that compliance likely increases over time as education for Cologuard occurs and aging Baby Boomers have more urgency in getting tested.
As doctors become educated about Cologuard and the last insurers start to pay as required under the law next year, I believe that doctors will prescribe it overwhelmingly to FIT within the next 2-3 years. Doctors are smart enough to know that compliance is the name of the game and that if Cologuard is more likely to be done, in addition to being more likely to find cancers, and is paid for, it is a no-brainer to order the Cologuard for those who don't want to do a colonoscopy.
That leads me to Colonoscopy. Colonoscopy is the so-called "gold standard" when it comes to colorectal cancer screening. Nobody disputes that. But it is an invasive test with a risk factor.
According to the Annals of Internal Medicine, five out of every 1,000 patients will get "serious medical complications," including death, from a botched colonoscopy. While this is not a huge number, it is high enough to be a reason dissuade quite a few people from using colonoscopy as a screening method.
People who are willing to take the cumbersome and sometimes dangerous colonoscopy should certainly continue to do so. While the range of effectiveness is wide due to difference in doctor skills, it still offers the highest sensitivity for cancer and pre-cancer at 95-97% (depending on which study you believe). It also allows for immediate treatment by removing polyps.
Cologuard tests that give a positive result for cancer indicate a follow-up colonoscopy. So, as a front line screening test, it makes all the sense in the world to use Cologuard and then only do colonoscopy if you test positive for cancer, if you are averse to the colonoscopy in the first place.
Because of the above realities, Cologuard's adoption pace is actually pretty good. In the last quarter, its growth rate accelerated to about 30%, roughly double the 2016 pace. Cologuard's launch is on a good curve: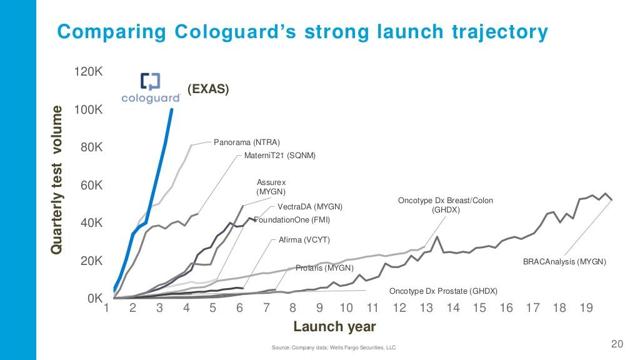 Ultimately, from the markets I noted above, Exact projects up to $4 billion per year in revenue by taking 30% of the screening market. I find that low. I believe that Cologuard will ultimately reach about 50% as it takes FIT market share and the largest portion of the currently unscreened market.
In the chart below, I annotate Left's chart which uses Google Analytics to show that the interest in Cologuard is in fact pretty strong. It is actually a nifty way to show what's being searched for. If that is a legitimate indication of interest, then Cologuard is trending positively the past year or so.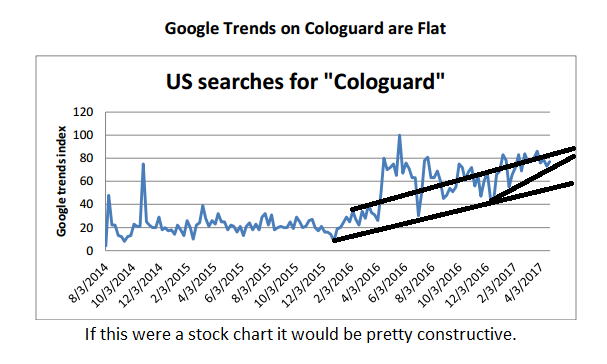 Here, I will note that I know and hang around with a lot of doctors. I have talked to them about Cologuard. I've also made a point to go to a pair of large Milwaukee-based hospitals to talk to doctors about Cologuard.
While my informal survey and field research is in no way scientific, the majority of doctors I talked to (over 50) around Milwaukee told me specifically they were intending to prescribe Cologuard in place of FIT - but not colonoscopy.
Because Milwaukee is in Exact Sciences' backyard, I have also talked to about three dozen doctors in Chicago, Las Vegas, and Phoenix. In all of those places, the doctors were open to Cologuard, more so in Chicago - again, possibly proximity. Out west, there seemed to be less urgency to make a switch in screening methods. Who knows why?
Show Me the Money
Exact Sciences is currently losing money as it spends on advertising and its sales team. I expect the advertising expenses to decrease in 2018 and the sales force expansion to complete soon as well.
Why do I expect ad spend to decrease in 2018? Simply, the tests ordered per doctor are increasing. With doctors now getting HEDIS and Stars points and compliance still a problem, in general, there is a lot of incentive for the doctors to get patients compliant using this new test. That will alleviate the need for as much direct to consumer advertising.
As revenue increases and ad spend decreases, that will eventually send cash to the bottom line. Most analysts, including Cowen, Baird, and Blair anticipate profitability for Exact Sciences in 2019 or 2020. I think that is conservative and can see the possibility of profitability by Q3 2018 depending on ad spend and based on maintaining the 30% growth rate for a couple years.
In addition, there is little reason to believe that reimbursement for Cologuard is about to change much with the new PAMA adjustment. PAMA is a way of periodically calculating Medicare reimbursements.
From Exact Sciences recent 10-Q:
"In the 2017 Clinical Laboratory Fee Schedule, CMS established reimbursement for Cologuard at $512.43. Payments from CMS are subject to sequestration. Under the Protecting Access to Medicare Act of 2014 ("PAMA"), effective January 1, 2018, the CMS reimbursement rate for Cologuard will be calculated based on the volume-weighted median of private payer rates for Cologuard. The initial data collection period for that purpose was the period between January 1, 2016, and June 30, 2016.

The CMS reimbursement rate will subsequently be reset every three years, or every year if the Company applies for, and is granted, Advanced Diagnostic Laboratory Test status for Cologuard, based on the volume-weighted median of private payer rates experienced in the applicable six-month data collection period. We submitted data for the initial collection period in March 2017, and our data submission will be subject to review by CMS prior to the finalization of the new reimbursement rate for Cologuard."
PAMA requires payment data from private payors (i.e., private health insurers, Medicaid managed care organizations, and Medicare Advantage plans) and is considering the time frame from January 1, 2016, to June 30, 2016, in order to set future pricing for Cologuard (and other companies' tests). During that time, virtually all counted Cologuard tests were priced at the Medicaid managed care organizations and Medicare Advantage plan rate of $512.43, as that was among the only coverage the test had then. In addition, there are limits to how far a test price can fall in a certain time frame under PAMA that are higher than Left's pricing model.
In the Q1 conference call, CFO Jeff Elliott indicates "a three-year interval reimbursed by Medicare and other payors." This means that whatever price gets set for Medicare on January 1st, 2018, it will be in effect for three years.
In this week's BAML conference call, Elliott reiterates that Exact believes that "Medicare reimbursement will remain stable, under PAMA, through 2020."
When Exact submitted its pricing data, it "demonstrated a weighted median of private payer rate equal to Cologuard's Medicare reimbursement rate in effect" at the time "which is approximately the same as its current Medicare rate ($512). Our calculation includes a large number of Medicare Advantage claims which PAMA requires to be included in the calculation of the weighted median of private payor rates..."
What this all means is that Cologuard's pricing from Medicare is likely to be about $500 per test from 2018 to 2020. While it might drift lower afterward, I suspect it remains stable a long time as Conroy has made it clear that he has no interest in negotiating down.
Of note, while Conroy and the executives did sell shares six months ago as part of their ongoing tax planning, that was not an uncommon occurrence. Looking at the Form 4s shows that CEO Kevin Conroy owns nearly 900,000 shares and COO Maneesh Arora owns over 600,000 shares. Both still have substantial options as well. The executives are highly leveraged to the success of Exact Sciences, much like founding owners would be.
Blood Tests, Schmud Tests
Left's argument against the long-term future of Cologuard is that blood-based tests will replace it in the next decade anyway. As Conroy says in his "mano a mano" with Left yelling at him on CNBC, the science suggests that is probably not possible.
The idea of blood tests for colon cancer has been around a long time. However, there are substantial biological reasons that those tests are unlikely to ever be effective for finding early stage cancers or pre-cancers. As Conroy described at BAML Healthcare Conference, cancer cells don't shed into the bloodstream early enough to detect early stage cancers. Consider that once cancer, or DNA markers, reaches the blood, that you are no longer in stage 1 cancer and certainly not pre-cancer as Cologuard is designed to find.
My educated take on blood-based tests is that they are more for maintenance and finding recurring cancers that are later stage. Most research to date supports this analysis. Even the test on the market today, which is not FDA approved or paid for by Medicare, is not used for finding early cancers; it is used to monitor existing or returning cancers.
It is also important to know that Exact has 10 blood-based tests in the pipeline in coordination with Mayo Clinic that will be moving through the regulatory process soon. If there is a blood-based test to be designed for colon cancer, there is a good chance Exact Sciences and Mayo are the ones to do it.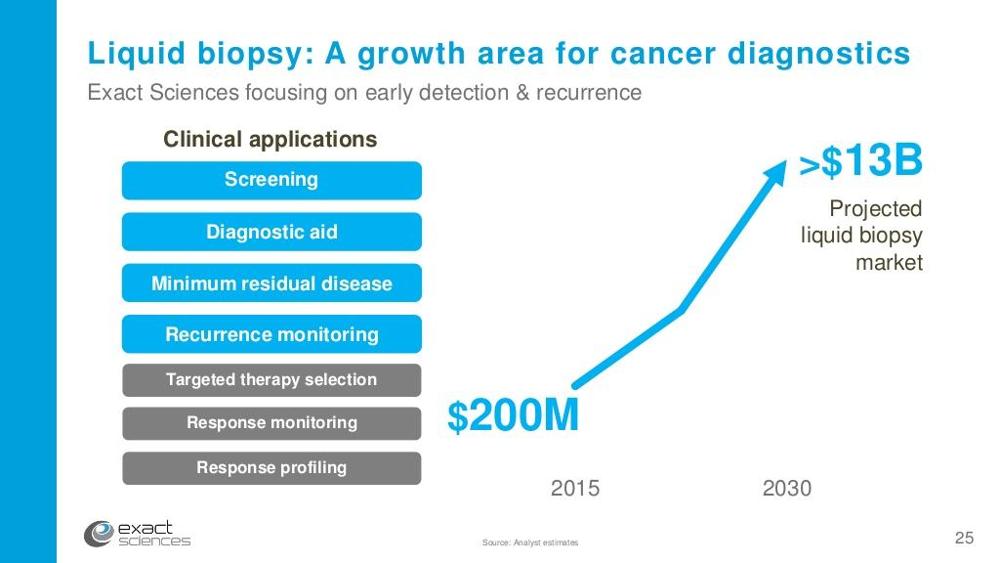 Conclusion
I have rightly been a bull on Exact Sciences for a long time. I know the company well. However, I am not married to it. There are plenty of IoT, smart grid, alternative energy, other new economy, and even old economy stocks out there that offer upside I can invest in. Few, however, have the upside of Exact Sciences, in my opinion. My 2-4 year price target is $60-100, and I am likely to increase that if adoption momentum continues and the pricing indeed comes in at the upper $400s (which we will know in November).
With short interest among the highest of all stocks, there is reason to be cautious on the Exact. There is also reason to believe another short squeeze could occur if the next quarter is as good as the last one. When Whitney Tilson shorted a couple years ago, many shorts got bailed out with an ambiguous USPSTF statement that eventually was corrected to fully include Cologuard in screening guidelines.
This time, the only potential downside I see is a secondary offering to raise another quarter billion dollars or so. I expect that soon. However, it will only temporarily hit share prices as people scream, stomp their feet, panic, and sell the dip.
A good analyst goes where the puck is going. It's a hard task, however, Cologuard's 30% growth rate from the last quarter, eclipsing the previous 15% per quarter, jives with the Cowen analysis that the test is gaining traction.
I believe that Exact Sciences is a buy right now for long-term investors who can own a volatile biotech and sleep at night. If the share price falls into the middle $20s, then it is a backup the truck screaming out the window buy opportunity.
This article was written by
Award Winning Kirk Spano's All-In-One Investing Service
25+ years of beating markets with less risk. Margin of Safety Investing. "The three most important words in investing are margin of safety." - Warren Buffett 
Get my Macro view and analysis of secular trends which led to my being named "The World's Next Great Investing Columnist" at MarketWatch. Join our investing group to get ETF asset allocation, top growth & dividend stocks, as well as, learn a repeatable approach to option selling for making more retirement income.
I own and operate Bluemound Asset Management, LLC - a boutique registered investment advisory that manages and consults on 9 figures of wealth. I was lucky to have several mentors who managed billions of dollars, including, one who literally helped write the book on option selling. I have now managed money since the 1990s through several major market cycles. 
In the past decade I have worked on private equity led real estate projects, as well as, consulted to several private equity firms, hedge funds and family offices. I currently actively help accredited investors find sustainable real estate investments through private equity. 
Since 2011, I have been widely syndicated and appear as an investing expert in the media. Follow my work, as I try to help you make great returns with less risk.
Analyst's Disclosure: I am/we are long EXAS. I wrote this article myself, and it expresses my own opinions. I am not receiving compensation for it (other than from Seeking Alpha). I have no business relationship with any company whose stock is mentioned in this article.

I have recommended that subscribers to Fundamental Trends Investment & Retirement Letter buy shares of Exact Sciences. Certain clients of Bluemound Asset Management, LLC own shares of Exact Sciences.
Seeking Alpha's Disclosure: Past performance is no guarantee of future results. No recommendation or advice is being given as to whether any investment is suitable for a particular investor. Any views or opinions expressed above may not reflect those of Seeking Alpha as a whole. Seeking Alpha is not a licensed securities dealer, broker or US investment adviser or investment bank. Our analysts are third party authors that include both professional investors and individual investors who may not be licensed or certified by any institute or regulatory body.