At an early age, my father taught me the importance of investing in the stock market. He drew a line with peaks and valleys that resembled the world's lamest rollercoaster and said: "You need to buy when the price is low and sell when the price is high." These simple words of wisdom still define my investing strategy 25 years later. Defining the highs and lows of that roller coaster is the hard part. I use the price-earnings ratio, or P/E, to provide guidance in finding undervalued assets.
The P/E is one of the most widely used financial metrics for experienced and novice investors alike. The P/E helps predict higher dividends or appreciating stock. For individual stocks, it is calculated by taking the share price and dividing it into the earnings per share. However, the calculation is not as straightforward for mutual funds, an investment vehicle that many investors rely upon.
Like most I look for value where I can find it and I invest in low-fee, high-yield mutual funds across a multitude of markets. When things are going well, I'm usually more accepting of the financial information I see, but I've always been perplexed why the P/E for mutual funds vary widely across financial websites. In the past, I chalked it up to differences in timing, but recently one of my small cap funds showed such a large difference, like a true finance Nerd with a capital "N," I decided to investigate further.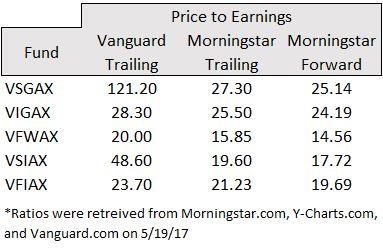 Example funds: Vanguard Small Cap Growth Index Fund (VSGAX), Vanguard Growth Index Fund (VIGAX), Vanguard FTSE All-World ex-US Index Fund (VFWAX), Vanguard Small Cap Value Index Fund (VSIAX) and Vanguard S&P 500 ETF Index Fund (VFIAX)
I discovered that financial institutions have different methodologies for calculating a mutual fund's P/E. This shocked me because a simple, well-known, and widely used metric should have only one method of calculation.
Most institutions like Morningstar calculate a fund's P/E by taking the harmonic average of the underlying equities and filtering out those with negative earnings. Filtering out equities with negative earnings? This methodology struck me as odd, but surely these guys know what they're doing. On the one hand, I can see why they remove stocks with negative earnings - to not lower the fund's P/E or because negative earning stocks have no P/E. However, this gives a false impression of better value and growth. Including the equities with negative earnings provides a more accurate representation of a mutual fund's underlying stocks.
The illustration below depicts a fictional fund and shows the two different methods of calculation and the resulting P/E.

Here, two funds with the exact same equities produce two wildly different P/E. Under Method 1, since Tesla's (TSLA) P/E is negative, it is excluded from the fund's calculation and the P/E is calculated by taking the average of only Apple (AAPL) and Ford (F). This results in a P/E of 14.91, which is a distorted picture of actual value because all the stocks are not included. Interestingly, under Method 2, including the stocks with negative earnings actually provides a much clearer picture. Under Method 2, the P/E is calculated by flipping the calculation to take the inverse of the average E/P (Earnings Yield) on all stocks, so companies such as Tesla that produce no earnings actually increase the fund's overall P/E, in this case to 23.81. Intuitively this makes sense because companies with negative earnings should be a riskier buy.
So what can the everyday investor do? While it isn't practical to aggregate the market caps and earnings of all the underlying equities, investors can do their research. Most financial institutions publish the source or method they use to calculate a fund's P/E, it just takes a little bit of digging in the fine print. If Morningstar is the source, the Price to Earnings calculation likely excludes companies with negative earnings.
Navigating the ever increasingly volatile market toward the safe harbor of high yields is much more challenging when left to navigate with a broken compass. With the increasing amount of financial information available, it is important to ask questions and be thorough with the information used to make your investment decision. The way financial metrics are calculated matters. They can distort the actual earnings and potential future growth of a mutual fund.
A healthy dose of skepticism and a questioning mindset are critical attributes for every investor to master before climbing aboard the investment roller coaster.
Supporting Documents