CNBC: 9:00 EST

ES futures sold off over 0.75% during the overnight session on the back of news that President Trump reportedly asked then-FBI Director James Comey to end the investigation into Michael Flynn. Futures are currently sporting a 20-handle range during Asian trading, easily double what we've seen recently during US sessions.
After finishing Tuesday roughly 0.50% lower, crude oil (NYSEARCA:USO) futures are back up near the $49 mark. EIA inventories are due out later this morning; yesterday the less widely followed API inventory number showed an unexpected build in oil stockpiles. Gold (NYSEARCA:GLD) futures are trading higher in the overnight session as well, up just over 1% from yesterday' s close.
Spot VIX is up 20% overnight, currently printing 12.78 as the market moves to price in the possibility of larger moves to either direction. As mentioned yesterday, VX futures have rolled over to a June front-month; May VX futures will cease trading later this morning. In another nod to the risk-off reaction investors are taking this morning, the Yen is trading stronger against the US dollar by a whopping 1.25%.

CNBC: Tuesday Close

While the S&P and Dow (NYSEARCA:DIA) closed roughly almost perfectly flat yesterday, the Nasdaq (NASDAQ:QQQ) continued its rally, locking in a three-day winning streak and another record-high close.
Financials (NYSEARCA:XLF) and technology (NYSEARCA:XLK) were the only sectors to gain meaningfully on the day, gaining 0.29% and 0.47% respectively. The utilities (NYSEARCA:XLU) sector posted the largest down day of the S&P sectors, dropping 0.73%.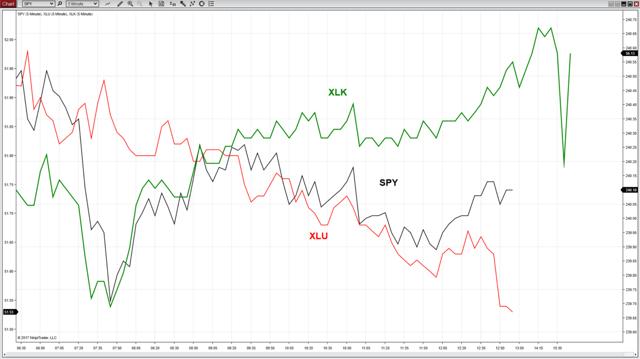 Source: The Balance of Trade
Shout-Out
Today we shout-out a recent article by SA contributor Ploutos, who offered readers A Sell In May Strategy in his Tuesday morning piece. Playing on the often-cited market axiom to" sell in May and go away," Ploutos notes that markets have, in the past, demonstrated strong seasonality, gaining modestly from November to April, then offering weaker performance with more volatility from May to October.
To take advantage of this, Ploutos has come up with a simple strategy which holds stocks for about half the year, switching them out for US Treasuries in May. More specifically, the strategy calls for holding SPY from November to April, then moving to long duration treasuries such as TLO for the remainder of the year. The author demonstrates this portfolio' s performance below:

Source: Ploutos
Demonstrating the performance of such a portfolio over a longer time horizon, the author shows the portfolio' s performance since the early 1970' s.

Source: Ploutos
In closing, Ploutos includes the following wrap-up and disclaimers:
In my article, I described some previous academic research on this phenomenon, which highlighted summer vacations and even seasonal affective disorder as potential causes of this calendar effect. While this Sell in May seasonality has held across many markets over long time intervals, it could certainly be a spurious correlation that will reverse over very long time intervals.
Thoughts on Volatility
After the relatively large move down in US equities overnight, we've observed a 20% or so spike in spot VIX values. VX futures are trading higher as well, with F1 (JUNE) now trading at 12.80, up from closer to 12-flat yesterday morning. F2 (July) futures are currently changing hands for about 13.75, up only $.60 or so from yesterday.
The VX futures spread position we suggested yesterday is up modestly; the position was long June at 12.15, short July at 13.35, and playing them back to near flat, or a move into a backwardated front-end of the futures market.
Compared to the futures curve from approximately two weeks ago, the mid-to-far end of the curve has risen in a modest fashion.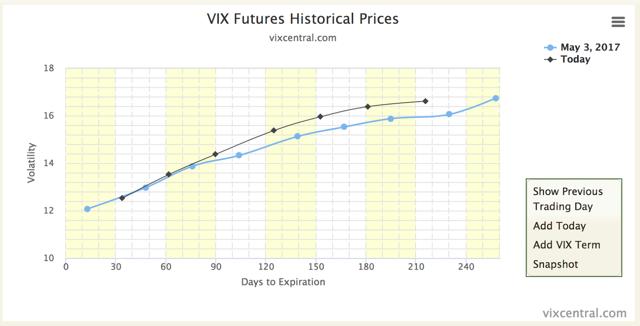 Though the 20% VIX move higher during the overnight session certainly makes for more interesting market observation, it is crucial to remember the ease at which this market has shrugged off risk in the past. While it is possible that this recent news will be" the straw the breaks the camel' s back" so to speak, the probabilities suggest the market is reasonably likely to shrug this off as well.
For those readers who tend to hold a short vol biased position, whether with futures or ETPs, this may be an area where you' re interested in adding to that position. While we tend to take a contrarian view on both the broader stock market as well as the volatility market, we do recommend those entering short-vol positions to consider doing so with a small enough position size that you are able to add in at multiple locations if market price-action determines it necessary.

Similar to the more-followed spot VIX, organic at-the-money vol has pushed higher since yesterday. What made yesterday interesting was that weekly, monthly, and even quarterly vol fell by about half-a-point each. In other words, we saw a parallel shift.
In contrast, today we see the weekly vol up by 2.5 points, monthly up by 1 point, and quarterly up by .7. This narrows the "contango" (read down column two) in the at-the-money market considerably.
Yesterday was fascinating really. In early trade, May22 implied vol for at-the-money got as low as 5.5! As we write this, it is 8.3. On the one hand, that's a pretty decent leap. On the other hand, we're still talking about vol in the "eights": nothing to get all worked up about.
We think the vol market - and S&P alongside - is experiencing a "once bitten, twice shy" moment. On the one hand, the stream of Trump-related news events feels almost like a daily occurrence, with yesterday's revelation perhaps the single most sensational. On the other hand, nothing but nothing keeps this market down long, and so the low vol paints the impression of a market that isn't ready to believe. After all, saying nothing of the longer term, we have inhabited a one-percent trading range for the last three-and-a-half weeks.
We think the volatility market is currently positioned for this to "blow over". We say that because the monthly and quarterly expirations do not yet believe. Once monthly and quarterly get over, say 12.5, then we'll consider that this news has potential legs.
Tracking the Trade*(please read disclosures) - Trade Initiation:
Last Monday we began a new trade to track. Specifications as follows.

As can be seen, this upcoming Friday will be time to close our position.
Strategy: Thesis (Set out on May 8 at trade initiation - read to see what our thoughts were on entry)
As we contemplate initiation, the S&P sits just a touch off its all-time highs. Vol is quite low; the trading range over the past couple weeks has been modest - 25 points wide.
While moves higher are certainly not out of the question, we'd like to entertain a move back into our larger trading range from the past couple months: 2325 to 2395. Preferably we find ourselves someplace in the middle.
We will opt for a "backspread" or a "one-by-two", where we buy one option and sell two further-from-the-money options. In this case, we will use puts.
As we update this, the ES has pushed down to 2378.
Tactics:
To open, we will trade the following 1x2:
• Buy the May 31 2385 put
• Sell two of the May 31 2335 puts

Source: Interactive Brokers
Above is the payoff diagram on this spread.
A couple observations on this trade. One is that upside risk is quite limited. Without making any modifications, we could potentially lose a couple bucks on the upside.
The real risk to the base trade is drastic downside. Given the movement of the last several months, we're not too concerned on this point. Last Friday we suggested a modification that could make any sudden downside swing less problematic.
The spread takes advantage of very low vols at-the-money vs. higher vol for the out-of-the money strikes. This is called "skew" and can be seen below:

Buying the at-the-money means buying cheap vol; selling the OTM strikes twice finances most of the purchase, due largely to the higher vol they trade at.
Options sensitivities on the position at initiation were as follows:

Last week, we modified the trade by buying in the two May31 2335 puts and selling in place two May22 2335 puts. This cost us a grand total of $5.80, and the trade was designed to make our lives a little easier should the ES swing lower.
On Tuesday, with the ES trading at 2403 and our core thesis of a staying in the past months' trading range seemingly violated, we put on a trade that essentially reduced our potential upside considerably. Of course, we "regret" that decision from an outcome standpoint now, but at the time it really was the right thing to do: be wrong early.
"How's the trade looking now?"
This is easiest to answer with a trade log table:

None of these trades is up or down wildly. However, the two trades from last week are profitable, while yesterday's trade - intended to work towards closing down the position - has been unprofitable.
"How do you feel about yesterday's trade?"
Well naturally we're not thrilled with the outcome. That said, it's worth remembering that even going into the last minute or two of trade in yesterday's session, ES was printing around 2399.
News bombs, even given their almost daily frequency, have never quite seemed to stick. Consider all the presidential news events from just the last couple weeks, say since last Monday when we initiated our position.
So finally, after hours, something does come out that finally catches the market's attention. Ugg!! That's definitely a shift in the pattern that we've been seeing.
We'd love to have that last trade back, but it was highly justifiable given the immunity to exogenous news items that S&P and its brethren had kept exhibiting.
"Are you going to do anything here?"
No. We're going to let things play out. We did "close up" our extreme downside yesterday when we traded the 2x3. Though we seem to be ready to dive into a lower end of ES' range, we must respect just how stubborn this current area has been for days on end: 2375-2403. Our May31 2385 put is still the most valuable on the board in this sense. Naturally, we do not have a crystal ball; but you have to respect just how deeply ingrained ES movement has been of late: it may take time to work our way lower.
We'll hold where we are.
Closing Thoughts
Thank you for reading Market Volatility Bulletin, and we remind you that these trade ideas are really for educational purposes. They are not so much about making "sim money"; we seek to show you how trades can play out, and offer you the reader a framework for understanding how to work with options Greeks, spreads, and the like.
Just as importantly, Tracking-the-Trade shows you how to divide your ideas into Strategy, Tactics, and Mechanics. Investors spend way too much time in our opinion fixated on strategy, and not nearly enough on tactics or mechanics of how to carry out an idea. That in our mind is a valuable skill set that traders have and investors will need in the years ahead.
So we ask our readers: is this another chance to "buy the dip"? Or do you hold off or even shed position in equities and/or short vol positions? Please do chime in, as we've seen some really nice commentary in recent past Bulletins.
Have any questions or suggestions? Let us know! We appreciate that.
Please consider following us.
Disclosure: I am/we are short SPY.
I wrote this article myself, and it expresses my own opinions. I am not receiving compensation for it (other than from Seeking Alpha). I have no business relationship with any company whose stock is mentioned in this article.
Additional disclosure: We actively trade the futures markets, potentially taking multiple positions on any given day, both long and short. It is our belief that the S&P 500 is meaningfully overvalued. As such, we typically carry a net short position using ES options and futures.