This was not unexpected, given that other companies involved in shale announced an operating profit for the first quarter of the year. One such company that I just covered was Chesapeake (NYSE:CHK), which is generally not thought of as one of the best in the shale patch. The fact that EOG (NYSE:EOG), which developed a reputation in the shale patch as one of the best, announced a profit did not surprise me. If there is anything to be surprised of here is the fact that the operating profit was only $108 million on revenue of $2.6 billion. Chesapeake by comparison had an operating profit that was double, on similar revenue, as I pointed out in a recent article.
So why is EOG not even more profitable? The answer may lie in a comparative analysis of latest well performance data compared with many of its peers. This of course does not tell the entire story, because there are other factors, such as capital & interest costs per well, as well as operating costs. It is nevertheless a decent indicator of what one might expect in terms of profitability.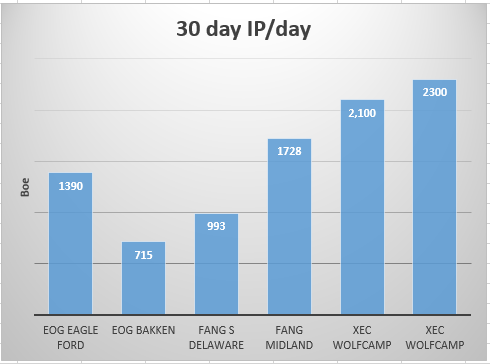 Data sources: EOG, Diamondback, Cimarex.
I chose Diamondback (NASDAQ:FANG) and Cimarex (NYSE:XEC) as comparisons, because they are Permian operators, which happens to be the hot shale field right now. EOG on the other hand relies to a great extent on the two fields which since 2014 have been exposed to be far less profitable than claimed by industry and analysts, namely Eagle Ford and Bakken. It is true that EOG is sitting on some of the more coveted core acreage within these two fields. Even so, there is a clear pattern emerging showing that EOG, which was often thought of as the safe shale bet, which can be profitable at a reasonable price level, may not necessarily be such a top performer anymore, relatively speaking.
It is true that the chart above does not tell the whole story in terms of product mix, which obviously affects the revenue per Boe, or the cost of drilling, which affects the capital costs. Operating costs also make a very significant difference, as does the financial situation of each company. Even taking all those considerations into account however, it is hard to argue that EOG's wells in the Bakken, producing only slightly above 700 b/d in the first 30 days will come close to some of the better plays in the Permian, such as Diamondback's Midland wells, which also produce mostly crude oil.
EOG's Eagle Ford play may see a gradual decline in profitability.
EOG's most important play historically speaking is its Eagle Ford acreage, which includes acreage in Karnes county which has been the most important oil producer in the field by far.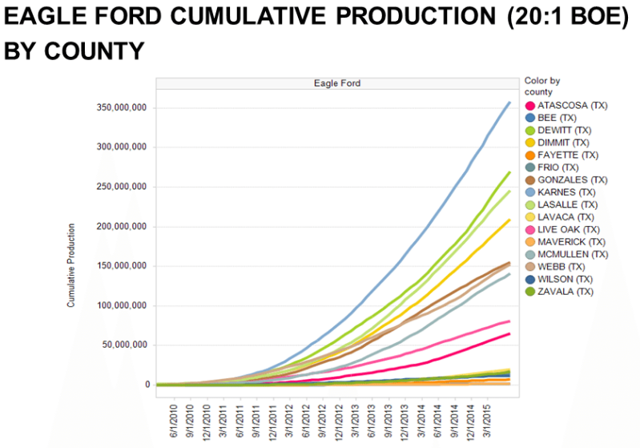 Source: Drilinginfo.
There are currently over 6,800 drilled wells in Karnes county, meaning that there is now an average of about nine wells per square mile. I have no doubt that thousands more wells will be drilled in this county, and EOG will play a big role in that. While I am not sure just how saturated EOG's Karnes county acreage is, the fact that its acreage dominates the oil window of the county suggests that EOG does not have much further room to drill there.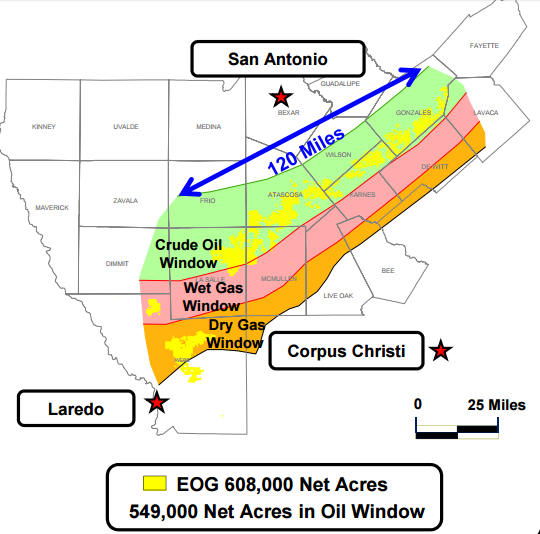 Source: EOG.
As we can see, EOG acreage dominates the Karnes county oil window. It also has significant acreage in Gonzales county, which is known for superior production per well. Gonzales is also one of the top Eagle Ford oil producers. It is in core places such as this that EOG managed to build its reputation as a top shale company in terms of not only size but also potential profitability. EOG's own data gives us a clear indication of this as it divides its Eagle Ford data in East & West. Karnes and Gonzales counties are in the Eastern part.
Source: EOG.
As we can see, the Western part has significantly lower production per well, despite much longer laterals. If we take a step back and contemplate this information, it means that EOG's Eagle Ford acreage, which is a major part of its overall business is about to get a whole lot less profitable as it moves away from drilling from more profitable counties such as Karnes and Gonzales and moves more into the less profitable counties in the Western part of its Eagle Ford acreage.
It is true that EOG is sort of staying ahead of this problem, including through acquisition of new drilling opportunities in the Delaware basin and Northwest Shelf through its deal with private company Yates. Through such deals EOG is set to become less dependent on its currently very important Eagle Ford acreage. Nevertheless, the end of the golden era of its prime Eagle Ford acreage production may still have a significant negative effect on the overall profitability of this shale champion going forward. It remains to be seen whether the new areas will pay for themselves or not.
If you enjoyed this article and would like to receive regular notifications when my new articles are published on a range of topics, including commodities, macro analysis as well as other sectors, there is a "Follow" button at the top of the article.
Disclosure: I/we have no positions in any stocks mentioned, and no plans to initiate any positions within the next 72 hours.
I wrote this article myself, and it expresses my own opinions. I am not receiving compensation for it (other than from Seeking Alpha). I have no business relationship with any company whose stock is mentioned in this article.