Wal-Mart (NYSE:WMT) is scheduled to report earnings for its fiscal 1Q18 this Thursday before the opening bell. I would be surprised to see "rock-the-boat" type results, as I expect some of the same key themes from prior quarters to come up once again this time around. But there are a couple of topics that I will be paying closer attention to.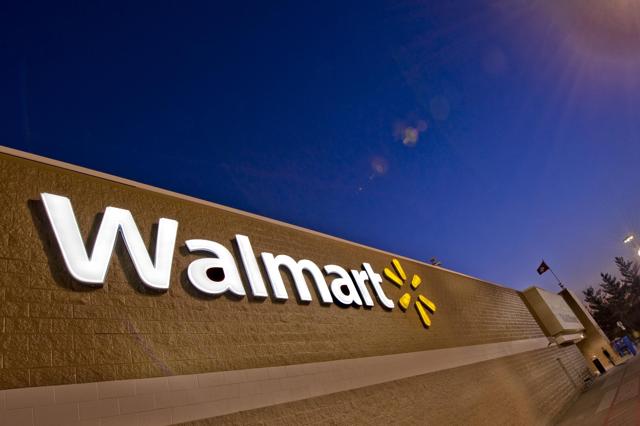 Credit: Wal-Mart corporate
First, I will be curious to see where Wal-Mart's same-store sales will land and whether main competitor Target's (NYSE:TGT) early transformation efforts might have caused any negative impact on the company this quarter (and possibly going forward). The Minneapolis-based retailer has largely declared a price war as one of its key strategic moves to gain market share from failing peers and return to growth in a couple of years. "You're going to see liquidation sales, which takes prices down and takes consumer trips out of the marketplace," said Target COO John Mulligan last quarter.
Target in fact reported a small same-store sales decline today that was better than management had expected. I will be interested to see whether this relative strength might be indicative of increased competitive pressure on Wal-Mart or a "lift-all-boats" effect that might be at play after a tough holiday season for many in the retail industry.
Second, I will be paying close attention to how Wal-Mart's e-commerce initiatives have evolved in the quarter. The company has moved fast, particularly in the back end of 2016, to position itself for fast growth in this area and catch up with fast-changing shopping behavior. Digital sales are still a very small part of the company's overall business, but I wouldn't be surprised to see easy comps for fiscal 2018 drive noticeable upside in the next few quarters. I estimate e-commerce to have represented not much more than 1.5% of U.S. sales last quarter, and will be curious to assess how that picture may have changed so far this year.
Otherwise, I continue to expect solid, albeit not exciting top-line growth and the usual operational efficiency driving at least flat EPS of $0.98 that would be better than current Street expectations.
On the stock
I continue to believe that Wal-Mart is a decent name for investors looking for a bit of stability and safety in an otherwise turbulent sector. The company has been managing to keep organic sales afloat while pushing harder for more meaningful results on the e-commerce side of the business. As I stated in the past, I'm not a big fan of the 2.7% yield that I believe could be much higher, but I appreciate Wal-Mart's strong cash flow generating abilities.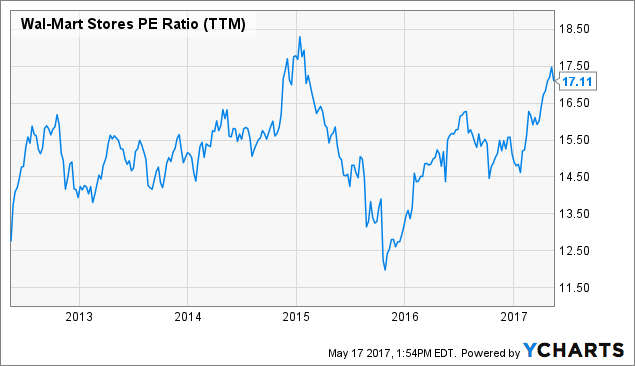 WMT PE Ratio (TTM) data by YCharts
Despite the rich trailing P/E multiple (see above) that is approaching a five-year high, at 17.1x, the stock might still be a good investment alternative given what I perceive to be the superior quality of the business. Ahead of earnings, I see WMT as a solid, although not very thrilling, option for the long-term investor to consider.
Note from the author: I invite you to follow me as I build a risk-diversified portfolio designed and back-tested to generate market-like returns with lower risk. I call it the Storm-Resistant Growth portfolio. The early results have exceeded my expectations, as the portfolio is beating the S&P 500 on a risk-adjusted basis despite the raging bull. Take advantage of the 14-day free trial (click here), and get immediate access to all the premium material that I have published so far, including my recent quarter-end report.
Disclosure: I/we have no positions in any stocks mentioned, and no plans to initiate any positions within the next 72 hours.
I wrote this article myself, and it expresses my own opinions. I am not receiving compensation for it (other than from Seeking Alpha). I have no business relationship with any company whose stock is mentioned in this article.