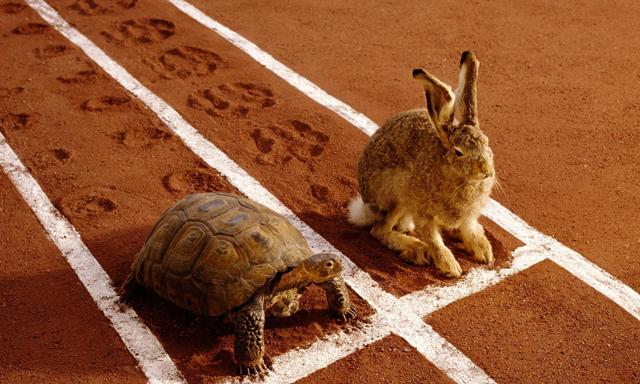 The tortoise-dinosaur didn't just win. It also was ahead most of the time. And paid dividends.
Yesterday I published an article titled "The Great Tech Disconnect." In that article I showed how several retailers were beaten like red-headed stepchildren for getting grades in line with expectations, while their siblings were pampered for missing expectations.
The reaction to this article did point out that retail is going the way of the dinosaur. That this is a certainty. That the Amazon.com (NASDAQ:AMZN) asteroid has already hit and temperatures are dropping fast for everybody else.
As it were, the Amazon.com asteroid has been hitting for years, in different sectors. Amazon.com started out with books, and indeed there it killed or totally maimed the incumbent dinosaurs. It then expanded into electronics and general merchandise, and there too it made its impact felt. Only then did it come for the apparel retailers.
Now, books were easy to ship and actually enjoyed preferential mailing treatment. Electronics were a bit harder, given bulk, but they had an advantage over apparel: Electronics don't need to "fit," they just need to work. Electronics, for sure, don't get returned nearly as often as apparel does. Apparel returns run higher than 25%, some even put the figure at as much as 40%. And returning stuff is both a hassle for the consumer and generally a cost for the retailer.
Knowing this, we'd perhaps think that victory was assured when it came to books. It was just a smidgen more difficult when it came to electronics. And it is harder when it comes to apparel or shoes.
Now, let's backtrack a little and make a little cherry-picked quiz here. December 2012 was a long time ago. It sits more or less 4.5 years ago, in fact. One would thus argue that any effect from Armageddon.com had long taken its inevitable toll on the electronics-retailing dinosaurs. Amazon.com, for its part, has cruised as the all-mighty winner we all know it to be. So, the quiz is, from November 30, 2012, to today, what stock did better? Was it Amazon.com or Best Buy (NYSE:BBY), that so evident electronics-retailing dinosaur?
Of course, you know I wouldn't be asking this if the answer wasn't a surprise. The winner, friends, was Best Buy. Since November 30, 2012, Best Buy is up 293%. Amazon.com, which doesn't pay dividends at all, is up 281%. On top of this, Best Buy paid an additional 41.4% in dividends since that date.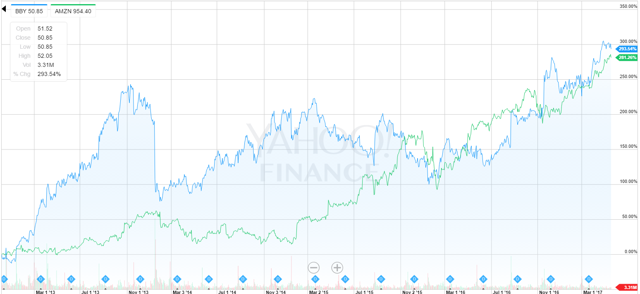 Source: Yahoo Finance
Why did this happen, you ask? How could Amazon.com's fabled stock market performance have been obscured by a retail competitor over such a long timeframe?
The answer is simple: Expectations. Back then, Best Buy traded as if the outcome was inevitable. Just like apparel retailers today, perhaps. The outcome, as it turns out, was not inevitable. Best Buy did have to re-invent itself to an extent - selling fewer electronic trinkets where online competition was impossible to beat and shifting toward things like smartphones or appliances where touching the product, immediate satisfaction or shipping costs still hold greater weight. It also saw its online exposure grow, but curiously even today it sits below where Nordstrom (NYSE:JWN) already is. It also implemented price matching, just like apparel retailers now. Price matching isn't a sure death sentence, simply because online retailers don't necessarily hold a cost advantage. And if that was true in electronics, it's even truer in apparel (due to returns).
Anyway, what matters is that in competing directly with Amazon.com, Best Buy showed the outcome was not cast in stone. Perhaps Best Buy loses later on, still. But it has held on and resisted for nearly five years already. What if the apparel retailers hold their own (stabilize and re-start growing) for five years? They aren't priced for that.
Conclusion
Expectations, as manifested through massively high or low multiples, always need to be confronted with near- and medium-term developments. It's harder to predict the far future than it is to predict the immediate future. If a high-multiple stock can't live up to its near- and mid-term expectations, the whole "fantastic future" expectation can be built on sand or be severely off-base.
At the same time, if a stock is pounded into the ground, into very low valuation multiples, yet its fundamentals are not showing a concomitant deterioration, one has to ask if the future really is so dim. In the past couple of weeks, we got a taste of both:
Tech stocks like Amazon.com, Netflix (NASDAQ:NFLX) or Tesla (NASDAQ:TSLA), trading at massive valuation multiples, walked back their expectations. They still went up. Retailers like J.C. Penney (NYSE:JCP), Macy's (NYSE:M), Nordstrom or Kohl's (NYSE:KSS), trading at minute valuations, kept their expectations. Yet they were slaughtered. If you think this reaction is rational and the future is certain, think back to what happened with Best Buy.
It is my opinion that due to these reactions and fundamental developments, those three technology stocks will underperform those four retailers.
Disclosure: I am/we are long JCP, KSS, JWN.
I wrote this article myself, and it expresses my own opinions. I am not receiving compensation for it (other than from Seeking Alpha). I have no business relationship with any company whose stock is mentioned in this article.