My investment thesis on American International Group (NYSE:AIG) was long based on the stock trading below book value while returning considerable capital to shareholders. The new CEO might be a game changer for the good.
In the midst of the selloff, AIG trades at only $61.50 with a book value up at $74.58. Is the stock a must own now?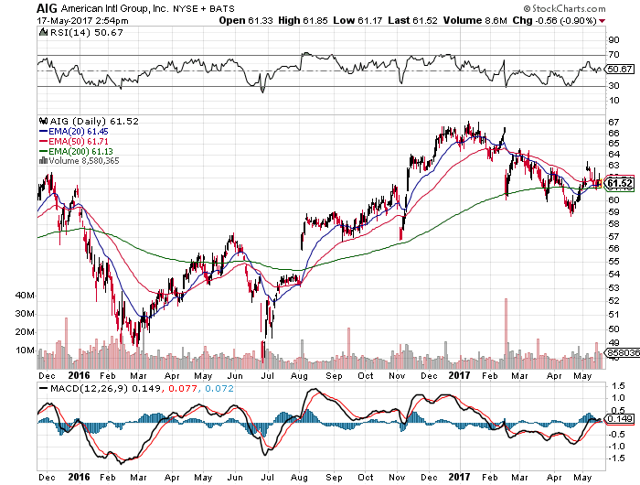 New CEO
To start the week, AIG hired Brian Duperreault as President and CEO effective May 14. The new CEO worked at AIG for 21 years and was previously working on cutting edge data science and analytics at Hamilton Insurance Group to transform the delivery and underwriting of insurance.
Placing AIG at the forefront of data analytics in the insurance business is a potential game changer for a stock that needs a catalyst to attract investors. The capital returns are nice, but the market needs to believe in the earnings growth, whether organic or artificially inflated by share reductions.
Morgan Stanley analysts point out three prime reasons for finding the stock appealing at these levels with the hiring of the new CEO:
The company has a path towards a 5-point improvement in the combined ratio, plus a $5 billion premium growth will add 13% to EPS.
CEO has boosted confidence at previous stops including producing industry-leading combined ratio at ACE and turning around Marsh & McLennan Companies (NYSE:MMC).
The new CEO's incentive compensation includes one million stock options that will only vest if AIG shares trade up as much as $30 higher.
Oddly, the analysts only upgraded the price target of AIG to $72, up from $70. The average analyst estimate was for an EPS approaching $6 next year, so the upgrade wasn't very aggressive at only 12x previous EPS estimates that included no benefit from the new CEO.
If Mr. Duperreault provides a catalyst for AIG returning to growth and leading the sector in data analytics, one would imagine the stock price trading above book value, not below. The full book value is all the way up at $78.59 when including AOCI and deferred taxes.

Source: AIG Q117 earnings release
Capital Returns
Turning back to capital returns, AIG is leading the large caps with a net payout yield of over 22%. The yield combines the dividend yield and net stock buyback yield and signals stocks with high levels of cash and a cheap valuation.
For Q1 alone, the insurance giant repurchased 56.0 million shares for $3.6 billion. Combined with a 2.0% dividend yield, AIG was on a path to grow the net payout yield from the already high levels.
The new CEO will likely pull back on these capital returns that were partly fueled by selling off divisions and using the cash to repurchase shares. The company could cut the repurchase levels in half and still have a top 10 capital return plan.
Besides, recent results have shown capital return plans mirrored with earnings growth and business catalysts are far more successful than just repurchasing a cheap stock with no growth.
Takeaway
The key investor takeaway is that the new CEO promises to reward shareholders via a confidence boost and a focus back on growth. The one major downside is that Mr. Duperreault is already 70 years old.
Regardless, the stock remains cheap trading below book value with limited downside risk and this new potential rewarding catalyst.
Disclosure: I am/we are long AIG.
I wrote this article myself, and it expresses my own opinions. I am not receiving compensation for it (other than from Seeking Alpha). I have no business relationship with any company whose stock is mentioned in this article.
Additional disclosure: The information contained herein is for informational purposes only. Nothing in this article should be taken as a solicitation to purchase or sell securities. Before buying or selling any stock you should do your own research and reach your own conclusion or consult a financial advisor. Investing includes risks, including loss of principal.