Constellation Brands (NYSE:STZ) has provided investors with incredible returns over the last five years.
(Source: Yahoo Finance)



However, lately, many investors are beginning to think that growth is over and that they should begin to exit their position. This article will discuss why we think that stock price growth will continue in the next five years.
Thesis 1: Existing Market Foothold Will Guide Future Growth
We believe that the existing foothold the company has within this market, alongside a wide array of product lines, will provide competitive advantages that will ensure future growth. The company is currently the third largest producer and distributor of beer in the U.S and has ranked number 1 in terms of premium wine sales. Specifically, the company imports a variety of popular beers from Mexico such as Modelo Especial, Pacifico, Negra Modelo, and Corona. These brands have displayed market dominance and growth, with Corona Light being ranked the number one imported light beer in terms of revenue and Modelo Especial consistently ranking in the top 5 fastest-growing beer brands. When it comes to hard liquors, Svedka Vodka has been extremely successful since launch and has become the second largest imported vodka in the U.S. As can be seen from these examples, Constellation does a great job establishing its brands regardless of the beverage line it operates in. We believe that the economies of scale and distribution networks that are available to the company due to its strong market presence will allow the company to expand to new products and establish them at the top of the market with relative ease. The following chart signifies the projected earnings of the company via Capital IQ estimates that should provide a baseline for probable future growth within the company.
(Source: Capital IQ)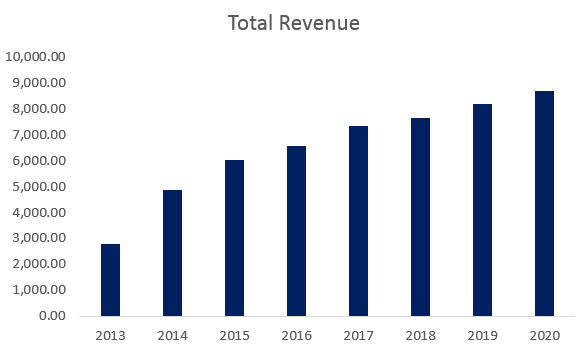 Thesis 2: Strong Operational Capabilities Due to Vertical Business Model
We have witnessed significant improvements in the profitability of Constellation Brands, much of which can be attributed to the improved operational efficiencies of the company. The chart below shows historical improvements in EBITDA margins in addition to projected number for the next three years.
(Source: Capital IQ)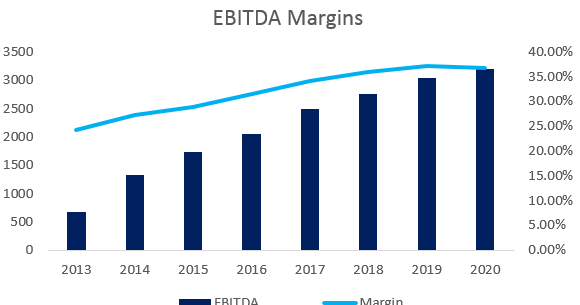 We believe that a significant portion of these efficiencies stems from having a wide variety of production facilities that allows the company to leverage geographical and managerial expertise to produce cost-efficient products. Currently, the company operates five beer breweries, 36 wineries, as well as various warehouses and glass production facilities. Having a vertically integrated supply chain provides the company with larger margins as it does not have to split revenues with third parties as well as increased flexibility in terms of production. We believe that this business model will continue to drive value as the firm increases its margins to an approximate 37% by 2020.
Thesis 3: Strategic Acquisitions to Grow Wine Business
While the beer business has undoubtedly been the focus of the firm in the past, we are encouraged by the diversification that is currently taking place. We view the focus on M&A activity to increase operational efficiencies and enter into new markets as a positive that will drive more value for shareholders. Constellation Brands has specifically focused on expanding its wine products. For example, in April of 2016, the company acquired The Prisoner Wine Company's brand portfolio. This transaction included popular brands such as Saldo, Cuttings, Thorn, and Blindfold. This particular move was a strategic shift to increase the company's focus on the wine business by expanding its already existing portfolio. Additionally, the company has expanded its existing facilities through additional investment such as its $32.8 million investment in the expansion of its Marlborough winery. We will continue to monitor future investments of this sort and believe that the wine industry could provide the needed growth opportunities to provide solid returns to investors.
Risks
First, we would like to point out that the company has experienced consistent drops in its net working capital over the last few years. The company has gone from having $1.78 billion in 2015 to just $705 million in 2016.
(Source: Capital IQ)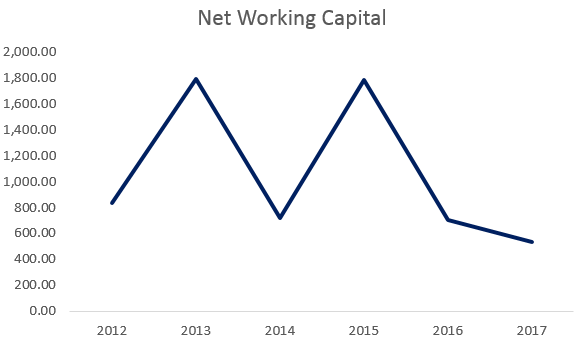 This may hinder our third thesis that discussed the company making significant investments to grow its wine business. We will continue to monitor this closely and recommend that all investors who are interested in this stock to do the same.
Takeaway
We like Constellation Brands due to its existing market position, efficient operations, vertical business model, and strategic expansion into wine. We believe this stock will provide 10%+ returns for the next five years.
Disclosure: I/we have no positions in any stocks mentioned, and no plans to initiate any positions within the next 72 hours.
I wrote this article myself, and it expresses my own opinions. I am not receiving compensation for it (other than from Seeking Alpha). I have no business relationship with any company whose stock is mentioned in this article.