We published a thesis yesterday for being short Australian dollars "AUD" (FXA, CROC) and Long Swiss Franc "CHF" (NYSE:FXF). In conclusion, we wrote: While we started drilling down on this idea because of our bearish view on AUD, in conclusion we have to admit that we like this trade more because of the CHF component. In our view, short AUD/CHF would be one of the best ways to capture the Chinese devaluation risk over the next 15-20 months. We are short AUD/CHF at 0.7417 targeting 0.6800.
Despite our gargantuan temptation to want to focus on CHF, we did our best to resist it and focused instead on the bearish AUD idea chain. We will be sure to publish our report on a long CHF idea in the coming days. This article, however, is a continuation of the short AUD idea chain. Our focus here is the Japanese yen "JPY" (NYSE:FXY) , another safe haven currency.
For those of you who haven't followed along, please check out our previous posts for a quick primer on this idea chain:
Our Thesis
Most of what we laid out yesterday applies to the AUD/JPY pair as well. Salient points below:
Protection is cheap:
In times of crises, during a risk-off mode, the US dollar, the Japanese Yen (FXY), and the Swiss Franc (FXF) are seen as currency safe-havens.
The Bank of Japan's (BOJ) balance sheet size to GDP ratio is at 90%, currency intervention from the BOJ is a low risk.
China devaluation risks have disappeared only from the minds of traders.
Timing A Negative Carry Trade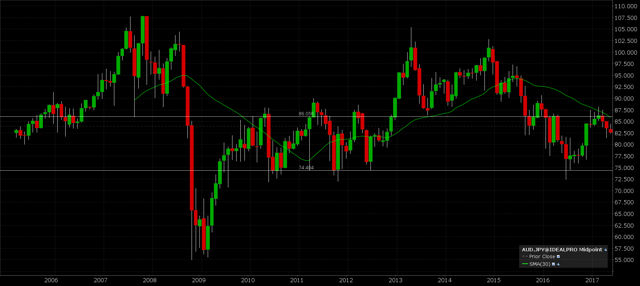 Monthly Chart
At the time of this writing, AUD/JPY is currently trading at around the 83.00 level. On the monthly chart, the pair seems to have tested support at the 74.00 level in June-2016 bounced from it only to be rejected by resistance at the 86.00 level around early 2017. From the looks of it, at least, on a monthly basis we seemed to have missed this boat. An optimal entry for a short would have been the 86.00 level, which it may or may not test again.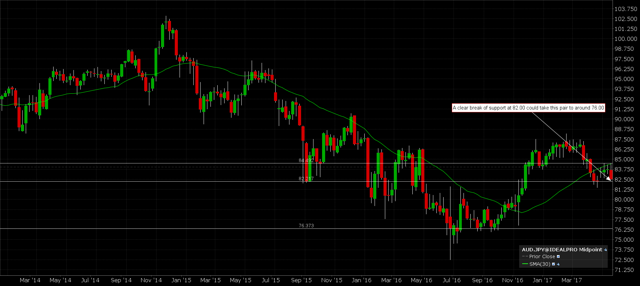 Weekly Chart
On the weekly chart, however, we see an interesting pattern emerging. On this timeframe, the chart suggests that a break of the 82.20 level will open up the possibility of a retest of the 74.00 area, the June-2016 level. So, a trade for a 15-24 week trading horizon, would be to initiate a short on a clear break of the 82.00 level, targeting 74.40 and risking 86.00.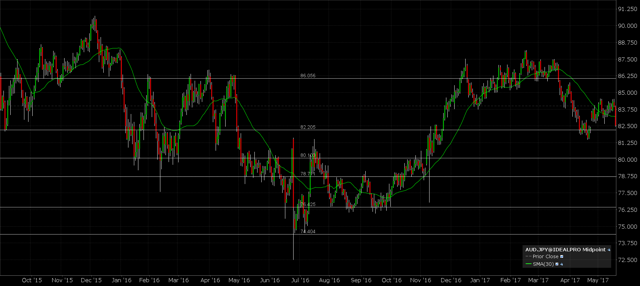 Daily Chart
On the daily chart, while this pair is breaking down through its 30 day moving average, we can see how choppy the path down to 74.00 is likely to be. There are support levels around 80.00, 78.50, and 76.50 to overcome before taking on the 74.00 level.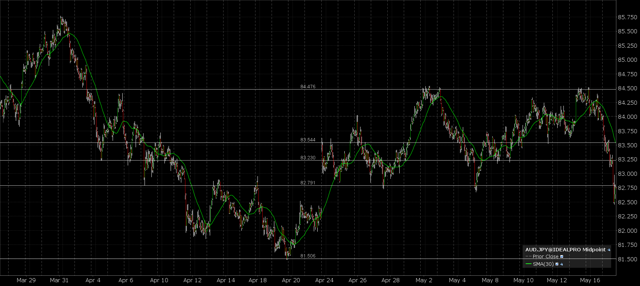 Hourly Chart
The hourly chart shows that the pair has been trading in a sideways channel for the last several months, confirming that a break of this channel should lead to further downside momentum in this pair.
Conclusion
While we think that a trade might be constructed to sell short AUD/JPY on a sustained break below the 82.00 level, targeting 74.40 and risking 86.00 we do not like our margin of safety on this trade. Considering that on the monthlies an optimal entry level would have been around the 86.00 level, we do not feel comfortable placing our stops around that level. We rather calibrate our trade a couple of hundred points higher. Our intention would be to sell short this pair on a move to the 84.00 level, targeting 74.40 and risking 88.00. So this way, while we keep our risk constant, we have a higher upside and a higher margin of safety.
Disclaimer: Rigel Mercantile Limited specializes in Macro/Value Research and Systematic Trading. The views expressed above are our discretionary ideas that we have arrived at using discretionary analysis and, therefore, are limited to our discretionary portfolios only. Our systematic strategies may or may not have a position (long or short) in the securities mentioned above. Under no circumstances should the information contained herein be used or considered as an offer to sell, or a solicitation of an offer to purchase, any security or investment service. The information presented herein is presented in summary form and is, therefore, subject to qualification and further explanation.
Disclosure: I/we have no positions in any stocks mentioned, but may initiate a short position in AUD/JPY over the next 72 hours.
I wrote this article myself, and it expresses my own opinions. I am not receiving compensation for it (other than from Seeking Alpha). I have no business relationship with any company whose stock is mentioned in this article.