The Resurgence of America Shale Oil Production
The resurgence of America shale oil production over the past six months has been driven almost entirely by the growth of production from the Permian basin. Over the past twelve months (June 2016 to May 2017), total U.S. production is up 514,994 barrels per day, with the Permian Basin up 507,186 barrels per day (or 98.5% of the total growth).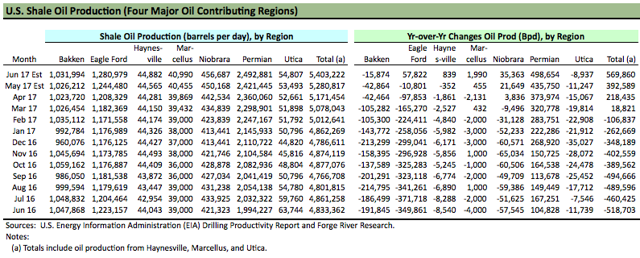 The Permian Basin was first to see a recovery in rig counts following the crash in oil prices. Beginning in September 2016, the Permian has seen nine straight months (including May & June estimates) of growing oil production, increasing 451,462 barrels per day in total.
Other Shale Plays Joining the Party - Supply Surging
While the Permian basin continues to grow at a high rate, other America shale basins are beginning to grow steadily (a result of higher rig counts and higher oil prices) and are beginning to contribute positively to year-over-year growth (see chart below). We recently wrote about the Eagle Ford's roaring back and expect great contributions to America shale oil growth through the rest of 2017 and 2018.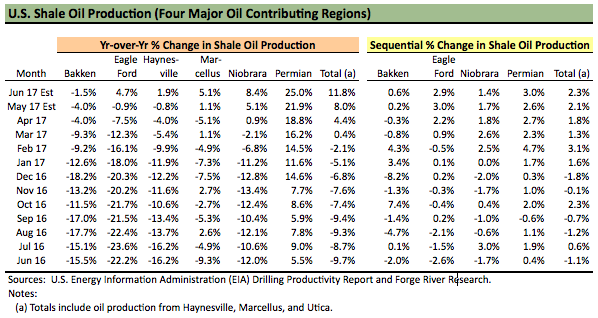 We Expect America Shale Oil Output to Eclipse Record Production Level in 2017
Output from all U.S. shale basins is expected to reach 5.4 million barrels per day in June 2017, up 11.8% versus the prior-year period. It is the first time since July of 2015 that America shale oil production will have grown double-digits on a year-over-year basis.
In March 2015, U.S. shale basin oil production peaked at 5,460,633 barrels per day. With the growth in rigs on the many wells coming online with additional production, we expect in the next few months America shale will set a new record high for production. Relatively stable and higher crude oil prices and hedging activity increase our conviction that E&P companies will see through their capital expenditure plans.
We Expect Further Upward Revisions to 2017 and 2018 U.S. Crude Oil Supply Estimates
Further, we believe the U.S. Energy Information Administration (EIA), the Organization of the Petroleum Exporting Countries (OPEC), and the International Energy Agency (IEA) continue to underestimate the contribution of U.S. crude oil supplies in their forecasts. Each significantly increased their estimates for 2017 U.S. crude oil production during the year, with recent upward revisions larger than prior increases. We recently wrote about the EIA's 11th consecutive upward revision of their 2017 estimate and of OPEC's recent large upward 2017 estimate revision.
OPEC Attempting to Walk a Fine Line
OPEC members have broadly stated their desire to maintain oil prices in a $50 to $60 range, with the thought process having been it will help them increase revenues to meet budget demands while not overly stimulating the U.S. shale industry. To do this, they would attempt to bring global oil supply and demand closer to balance by instituting production cuts.
The U.S. shale oil industry, like the U.S. conventional oil industry, is characterized by booms and busts. While OPEC has attempted to walk a fine line, U.S. shale has surprised with its sudden and substantial surge in activity and production. Lower service costs, technological advancements, and operational efficiencies have reduced U.S. E&P company break-even points. Following a bit of a rationalization and recapitalization, U.S. shale has stormed back.
OPEC has benefited greatly from the increase in oil prices, easing strained budgets. However, they must continue to weigh the impacts of U.S. shale's growth, its production levels, inventory levels, and global demand. It is a very fine line: 1. cut too little or not at all prices fall too much or 2. cut too much and prices may rise to levels to spur a greater surge in U.S. shale or crimp demand for oil products.
Oil market expectation for OPEC's 172nd (Ordinary) OPEC Meeting to be held in Vienna, Austria, on May 25, 2017, is for OPEC and those non-OPEC members who joined in the production cuts that began January 1, 2017, to extend the cuts for the remainder of 2017 or through the first quarter of 2018.
In Conclusion
While OPEC and non-OPEC production cuts totaling 1.8 million barrels per day for the past six months with high compliance rates have brought the global supply and demand of oil into balance, inventories are only down modestly. America shale oil production continues to grow sharply, reducing OPEC's efficacy.
We believe the high levels of global oil inventories and growth in U.S. shale oil production will continue to challenge OPEC in achieving their goals on price levels, lower global inventories, and supply and demand balance.
For those oil market participants believing in much higher prices being around the corner due to the market being squeezed with demand higher than supply, I believe this may occur; but I believe it may be a bit further down the line than anticipated.
Other factors at play include political disruptions. Developments in Libya, Nigeria, and Venezuela have reduced supplies of oil to the global market. Iran continues to return to pre-sanction levels. These situations and others may continue to impact the global oil supply and demand balance.
However, with America shale oil production roaring back and we expecting it will blow through to record higher output levels, we expect oil prices to remain under $60 through 2018.
Disclosure: I/we have no positions in any stocks mentioned, and no plans to initiate any positions within the next 72 hours.
I wrote this article myself, and it expresses my own opinions. I am not receiving compensation for it (other than from Seeking Alpha). I have no business relationship with any company whose stock is mentioned in this article.