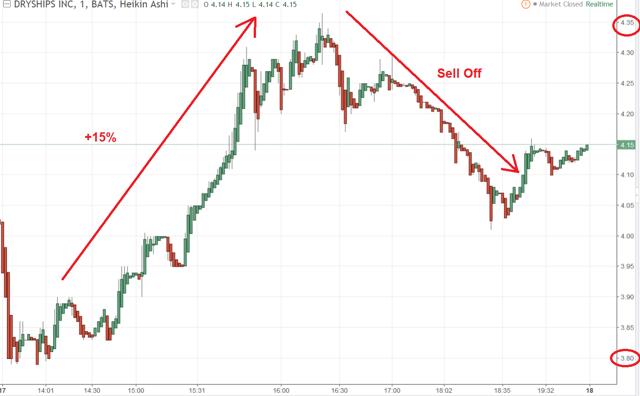 Source: Tradingview
Investment Thesis
On a daily basis, DryShips (NASDAQ:DRYS) is hitting 52 weeks low. Today, the stock traded at a low of $3.77. The company announced today that it has taken a delivery of the previously announced 81,129 deadweight tons of kamsarmax drybulk that was built in 2014. The vessel will be employed in spot market. The stock raised as much as 15% and gave up all its gains in the same day. I strongly believe that share sell off might have been caused by the dilution (issuing of new shares). Since the share dilution is not over yet, the share price collapse is certain and will continue to hit new lows.
Pending Kalani Deal & $2 billion shelf offering
In last November, the stock ran from $4 to $100 within a few days without any positive news from the company. Nasdaq decided to halt the trading. When the share price was $100, the company announced $200 million of equity sales. The $200 million worth of new shares pushed down the share price close to zero.
Since then the story continues to unfold as the company's dealings with Kalani are not over. The last time the company provided investors they gave an update on Kalani deals on May 02, 2017. There was about $159.2 million worth of shares to be sold to Kalani. Since then the company issued an additional 2 million shares but did not give investors the update.
I expect the share price will be highly volatile and the dilution will result in the share gain dying quickly. Do not be victim of bull trap.
Conclusion
As we can see from the chart below, DRYS traded at all time high of $42,000,000, a share and low of $3.77. Supposedly DRYS is the most expensive stock in the world. However this is not true. It is the adjusted price caused by numerous reverse splits. The cumulative reverse split stands at 1-for-336,000.
=$42,000,000 / 336,000 (cumulative reverse split 1-for-336,000)
=$125 a share (all time high) = $42 million
= $3.77 / 336,000
=$0.00001 a share (all time low) = today's price = $3.77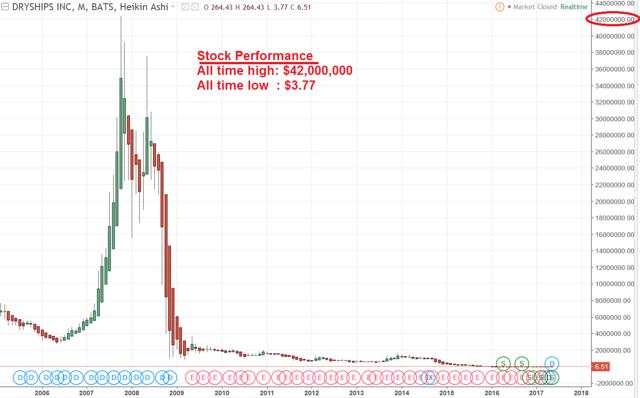 Source: Tradingview
As an aside, the most expensive stock in the world would cost you more than $2 million a share.
The take away from this analysis is that there will be no recovery in the share price until dilution ends. In DRYS case, the dilution will be last for another couple of years (pending Kalani deal and $2 billion shelf offering). My advice would be to stay clear of this stock. There is more chance of winning a lottery than the making money from this stock through holding the long positions. If you really want to play with the stock, I recommend shorting it.
Author's note: Get my articles as soon as they are published by clicking the big orange "Follow" button at the top of this page.
Disclosure: I/we have no positions in any stocks mentioned, and no plans to initiate any positions within the next 72 hours.
I wrote this article myself, and it expresses my own opinions. I am not receiving compensation for it (other than from Seeking Alpha). I have no business relationship with any company whose stock is mentioned in this article.
Editor's Note: This article covers one or more stocks trading at less than $1 per share and/or with less than a $100 million market cap. Please be aware of the risks associated with these stocks.