On April 29, 2017, health insurance player, WellCare Health Plans (NYSE:WCG) reported its 1Q 2017 results. The company managed to beat analyst estimates for both revenues and earnings. While organic growth across its three business lines of Medicare, Medicaid, and Medicare PDP mainly contributed to this stellar performance, the company's inorganic strategy is expected to pave way for strong operational performance in the remaining part of 2017.
Despite a robust upside potential, WellCare Health Plans is currently trading at significant discounted valuation multiples as compared to its peers. I believe that this may prove to be a very good entry point for retail investors with a time horizon of around one year. In this article, I will elaborate reasons for favoring WellCare Health Plans in 2017.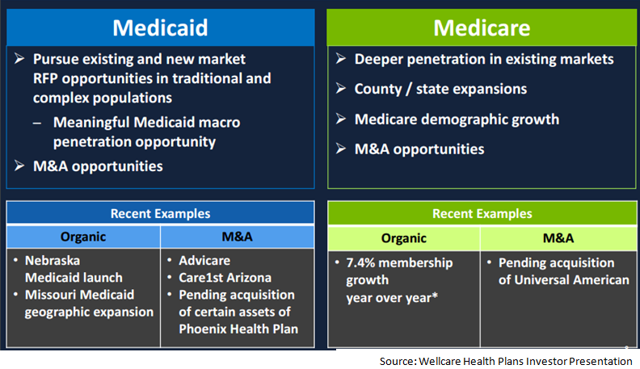 WellCare Health Plans has focused on both organic and inorganic growth opportunities in Medicaid segment.
Since implementation of the Affordable Care Act or ACA in 2011, many states in U.S. have contracted with managed care organizations or MCOs to deliver Medicaid services.
According to CMS 2016 Actuarial Report on the Financial Outlook For Medicaid and Managed Care Penetration percentages from HMA and CMS-64 report, there were 72 million Medicaid beneficiaries in 2016. Out of these, approximately 73% were enrolled by MCOs while remaining 27% were enrolled in Medicaid programs working on fee-for-service model. However, it was seen that these 27% accounted for a disproportionately high 55% of the total $576 billion worth Medicaid spending. These numbers make a convincing case for majority of states to adopt managed care model for delivering Medicaid services.
With Medicaid spending projected to increase at compounded average growth rate or CAGR of 5% and reach $958 billion in 2025, many states will be striving hard to reduce their healthcare bills. WellCare Health Plans, Humana (NYSE:HUM), Cigna (NYSE:CI), Centene (NYSE:CNC) and other health insurance players plan to capitalize on this market opportunity. Further, the states are increasingly looking to outsource their Medicaid services for higher acuity population segments to MCOs. This is also expected to be a significant growth opportunity in the health insurance industry.
At the end of 1Q17, around 2.6 million members across 11 states were enrolled in the WellCare Health Plans' Medicaid Health Plans. The quarter also saw a robust increase of 244,000 members or 10.3% on year-over-year basis, mainly due to commencement of the company's new Medicaid business in Nebraska starting January 01, 2017 and completion of the acquisition of Advicare and Care1st Arizona. The acquisition of certain Medicaid assets belonging to Phoenix Health Plans as well as Care1st Arizona has expanded WellCare Health Plans' Medicaid membership in Arizona market to 160,000.
Besides Nebraska and Arizona, WellCare Health Plans also managed to re-procure Medicaid contract in Missouri market. The new contract effective May 01, 2017, will further expand the company's presence in four new regions in the state.
Effective implementation of organic and inorganic growth initiatives have played a pivotal role in enabling WellCare Health Plans to target a significant portion of the growing managed Medicaid market in 2017.
On April 29, 2017, the company raised its 2017 revenue guidance for its Medicaid business by $100 million at midpoint. So while WellCare Health Plans had previously projected its GAAP Medicaid revenues to fall in the range of $10.3 billion to $10.7 billion in 2017, the recently projected range has been tightened to $10.5 billion to $10.7 billion. The 2017 GAAP medical benefit ratio or MBR guidance for Medicaid business, however, was not changed by WellCare Health Plans and continues to fall in the range of 88.6% to 89.6%.
Medicare Health Plans segment has become a major profit center for WellCare Health Plans
WellCare Health Plans has managed to improve two core metrics for its Medicare Health Plans business, improving premium revenues and reducing MBR. Achieving both these targets in the same quarter is no lesser than a feat.
In 2015 and 2016, the company had been far more focused on improving margins for its Medicare business than growing its revenues. In 2017, the company has restructured its Medicare strategy to target both revenue and margin growth.
The acquisition of Universal American, completed on April 28, 2017, has catapulted WellCare's Medicare Advantage or MA membership to 475,000. WellCare Health Plans currently offers MA services to members across 17 states in USA.
Even if we exclude impact of this acquisition, WellCare Health Plans seems to have made a strong organic progress in its MA membership. At end of 1Q 2017 , the company's MA membership was 356,000, higher than that in 1Q 2016 by around 9.2%.
The rapid growth in MA members is, however, far from over. Currently, 19.7 million members are enrolled in MA plans. While the number seems high on absolute terms, it is considerably small if we consider the rate of penetration of MCOs in Medicare which currently stands at only 34%. This definitely leaves much ground to explore for MA players such as WellCare Health Plans, Humana, and UnitedHealth Group.
With Universal American increasing WellCare's MA membership by around 34% and strengthening the company's presence in key markets of Texas and New York, there was a strong case for updating Medicare revenue guidance provided by the company on February 07, 2017. So instead of the previously projected revenue range of $4.1 billion to $4.3 billion, WellCare Health Plans' expects its Medicare segment revenues to fall in the range of $5.20 billion to $5.35 billion in 2017. Similar to Medicaid, however, the company has reiterated its previously projected Medicare MBR guidance of 85.50% to 86.75%.
WellCare Health Plans' Medicare PDP business is also witnessing steady rise in enrollments in 2017. In 1Q 2017, there were around 1.1 million members enrolled in the company's PDP plans, which is year-over-year growth of around 7.2%. The company has updated its 2017 revenue guidance for this business segment which is around $850 million to $900 million, while MBR ratio is projected to fall in the range of 80.0% to 82.5%.
Acquisition of Universal American can introduce meaningful improvements to WellCare's Medicare business in 2017
The acquisition of Universal American is expected to prove EPS accretive right from the first year after closing of the transaction. WellCare Health Plans' has projected an adjusted EPS benefit in the range of $0.60 to $0.70 in first year after deal closing, while incremental rise of $0.10 in adjusted EPS is being projected for second year after the deal.
Beyond the EPS and MA enrollment numbers, Universal American is expected to introduce certain quality improving capabilities to WellCare Health Plans. Now, Universal American has a 4.5 Star HMO plan in Texas and 4.0 Star PPO plan in Maine and New York. WellCare Health Plans has planned to incorporate these best practices to improve star ratings of its overall MA business.
Universal American has also added a sturdy accountable care organization or ACO business to WellCare's portfolio. Since there is overlap in the companies' existing ACO operations in only five markets, Universal American will be adding meaningfully to WellCare's primary care capabilities.
And all this seems very much possible because WellCare Health Plans has definitely not ignored the most important risk present in every M&A, which is the post-merger integration risk. For the past five and half months, management teams of both the companies have been working on an integration plan. The key leaders for Universal American's business as well as for combined operations have been selected. This definitely bodes well for WellCare Health Plans future growth prospects.
These positives have culminated into WellCare Health Plans' improved 2017 EPS guidance
WellCare Health Plans has updated 2017 revenue guidance for all of its three major business lines. Hence, even if MBR guidance remains unchanged for the business lines, there is an overall positive impact on EPS guidance for 2017. WellCare Health Plans has projected its 2017 adjusted diluted EPS to fall in the range of $6.55 to $6.80, much higher than previously projected range of $6.00 to $6.25.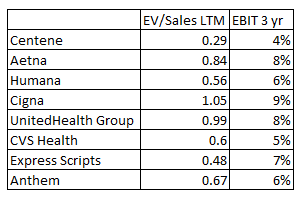 Based on its solid growth prospects, I believe there is significant upside potential in purchasing WellCare Health Plans' stock
WellCare Health Plans is currently trading at EV/Sales LTM multiple of around 0.29x, much lower than the median multiple which is around 0.64x. The forecasted average three year revenue growth rate for the peer group is around 5.4% and the median EBIT margin is 6.5%. WellCare Health Plans is expected to grow its revenues at 13.0% in the next three years on CAGR basis and has a forecasted three year average EBIT margin of around 4.1%.
If we run a regression with forecasted EBIT margins on independent axis and EV/Sales LTM on dependent axis, WellCare Health Plans' risk adjusted EV/Sales multiple comes to be around 0.34x. Based on these values, WellCare Health Plans' risk adjusted market capitalization comes to around $ 8.7 billion. The number of outstanding shares for Zoetis is around 44.49 million. Hence, the company's risk-adjusted target share price close to $196.16, which will be a return over current share price of around 17.1%. Hence, retail investors can consider to add this stock to their portfolio in 2017.
Disclosure: I/we have no positions in any stocks mentioned, and no plans to initiate any positions within the next 72 hours.
I wrote this article myself, and it expresses my own opinions. I am not receiving compensation for it (other than from Seeking Alpha). I have no business relationship with any company whose stock is mentioned in this article.