REIT yields have gotten higher in general due to the recent selloff, but of particular note are the REITs in the high yield space. The selloff does not seem to be fundamental in nature so we view it as an excellent buying opportunity. We believe a diversified basket of high yielding REITs should have outsized reward for the risk.
What selloff?
One may see that the REIT index is roughly flat YTD and think there has not been a REIT selloff, but there has been in the high yield space. Note below that each of the microcap small cap and midcap buckets is down about 6% while the overall index is basically flat.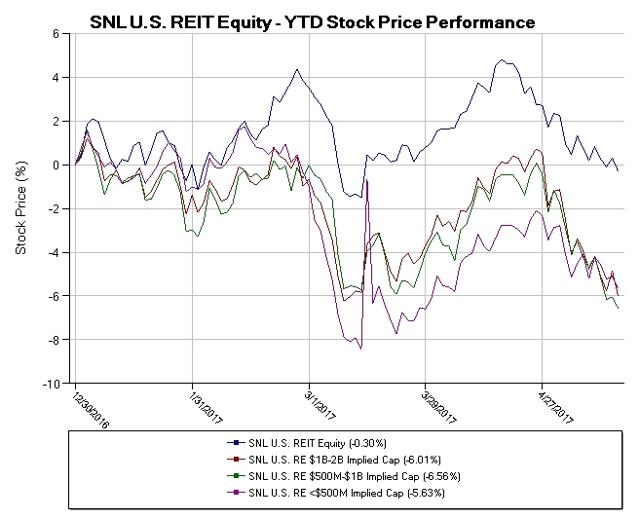 Source: SNL Financial
These same buckets are substantially higher yielding than the broader REIT index.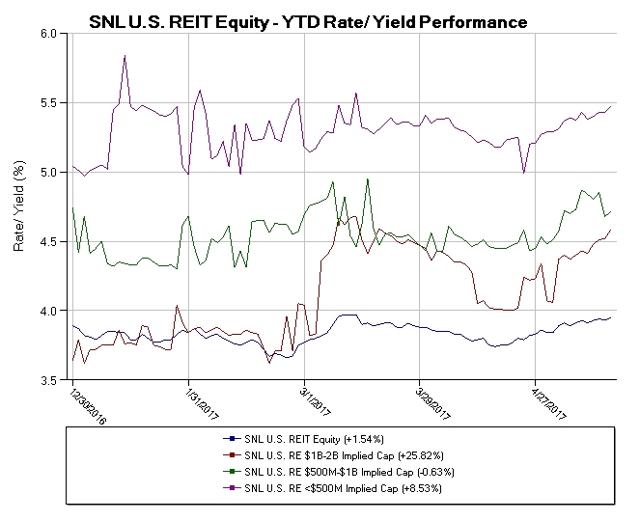 Source: SNL Financial
This action can be summed up as high yield REITs have gotten relatively higher yielding.
A self-perpetuating phenomenon
Causation is a tricky concept that is among the most misunderstood and abused in the investment world. As it relates to high yield REITs, the true causation is as follows:
High risk --> high yield
If a stock is riskier it should rationally trade at a lower multiple and higher yield to compensate investors for taking on the extra risk. However, this is often mistaken to mean:
High yield = high risk
This second statement follows the causation in reverse, suggesting that high yield in some form causes the high risk. Nothing could be further from the truth. If a low risk stock sells down on market noise, its yield will go up, occasionally taking it to high yield territory. This makes it even lower risk as there is now a substantial cushion between market price and fair value. However, the presently prevailing market sentiment is that high yield = high risk so the low risk stock will begin to be viewed as riskier and sell off even further. Thus, the self-perpetuating cycle is as follows:
Noise --> high yield --> perceived risk --> selloff --> higher yield --> higher perceived risk
This cycle creates a tremendous disconnect between fair value and market pricing which affords the opportunity to get BOTH an outsized yield and a discount to intrinsic value that Graham would refer to as a margin of safety.
We at 2nd Market Capital scour the market every day for opportunities of this nature and we have complied them into a portfolio.
2CHYP
2CHYP, or 2nd Market Capital High Yield Portfolio operates with outsized yield due to a diversified basket of high yield REITs. Shown below is a sampling of the portfolio.
| | | | |
| --- | --- | --- | --- |
| Stock | Yield | FFO Payout Ratio (2017 est.) | Primary risk |
| CorEnergy (NYSE:CORR) | 8.69% | 73.3% | Natural gas prices |
| Medical Properties Trust (NYSE:MPW) | 7.16% | 80.0% | Healthcare reform |
| Uniti Group (NASDAQ:UNIT) | 10.14% | 95.6% | Landline cord cutting |
| New Senior Investment (NYSE:SNR) | 10.70% | 97.1% | Tenant concentration with Holiday |
| Spirit Realty (NYSE:SRC) | 10.14% | 85.7% | Shop-Ko solvency |
| CBL & Associates (NYSE:CBL) | 14.74% | 59.6% | Death of malls |
| Global Net Lease (NYSE:GNL) | 9.60% | 96.4% | Weak management |
| W. P. Carey (NYSE:WPC) | 6.34% | 77.0% | Rising interest rates |
| Stag Industrial (NYSE:STAG) | 5.32% | 83.4% | Recession |
Data as of 5/17/17
Given where the treasury yields trade and the minimal dividends of the S&P, these yields averaging around 9%-10% are quite large. Further, these are not sucker yields as each REIT has a payout ratio under 100% and none of the dividends are under pressure unless something goes wrong.
In fact, many of these REITs are investment grade. The market's perception of risk relating to these names is far greater than the fundamental risk. In my opinion, any of these REITs could be bought individually for an outsized reward to risk. However, they work even better as a portfolio.
Individually risky - collectively safe
Most of the high yield REITs have a specific trigger that is making them risky, but these triggers, in a carefully constructed portfolio, are uncorrelated making the overall portfolio much lower risk. If malls do in fact die as the doomsayers are suggesting, CBL may be at risk, but the rest of these REITs would be untouched by such an event.
Telecommunications infrastructure has minimal fundamental correlation with healthcare and neither of these is all that related to energy infrastructure or natural gas prices. Through the magic of diversification with which we are all familiar, the portfolio can get a fairly massive yield without the level of risk one would typically associate with dividends of this size.
The take home point
Do not assume that a high yielding stock is risky simply because it is high yield. High yield and low to moderate risk stocks like CORR, STAG, MPW, UNIT and WPC represent true mispricing. An additional bucket of stocks exists in which there is a fair amount of risk, but the risk is more than fully priced in. These represent a similar opportunity but require more risk tolerance. Among the stocks above, I would place SNR, SRC, CBL and GNL in this category.
Disclosure: 2nd Market capital and its affiliated accounts are long CORR, STAG, MPW, UNIT, WPC, SNR, SRC, CBL and GNL. I am personally long CORR, STAG, MPW, UNIT, WPC, SNR, SRC, CBL and GNL. This article is for informational purposes only. It is not a recommendation to buy or sell any security and is strictly the opinion of the writer. Investing in publicly held securities is speculative and involves risk, including the possible loss of principal. The reader must determine whether any investment is suitable and accepts responsibility for their investment decisions. Dane Bowler is an investment advisor representative of 2MCAC, a Wisconsin registered investment advisor. Commentary may contain forward looking statements which are by definition uncertain. Actual results may differ materially from our forecasts or estimations, and 2MCAC cannot be held liable for the use of and reliance upon the opinions, estimates, forecasts and findings in this article.
Disclosure: I am/we are long CORR, MPW, UNIT, SNR, SRC, SRC, CBL, GNL, WPC, STAG.
I wrote this article myself, and it expresses my own opinions. I am not receiving compensation for it (other than from Seeking Alpha). I have no business relationship with any company whose stock is mentioned in this article.