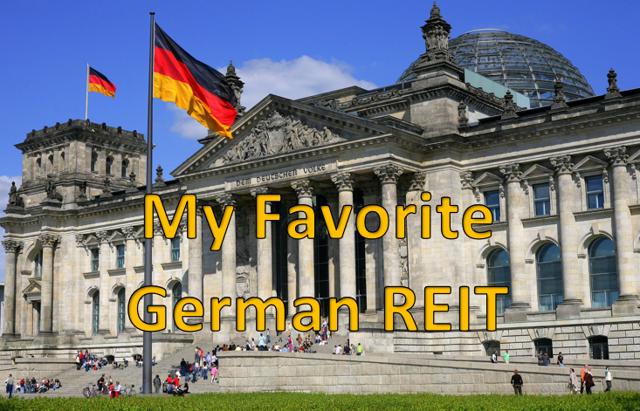 Earlier this month, I provided an update on Dream Global (OTC:DUNDF) which I started covering back in 2016. When I first wrote on Dream Global, I noted that its discount to NAV and dividend yield were abnormally high given that the German real estate market is generally very expensive and desirable today. Most German REITs trade today at a hefty premium to NAV, and therefore Dream Global appeared to be materially undervalued at a 20% discount.
Now that some time has passed since my initial buy thesis, the stock has gone up about 10% and I see less and less upside going forward as I have gotten increasingly concerned over potential conflicts of interests. Dream Global is an externally managed REIT and its most recent equity issuances were a warning sign to me. Externally managed REITs are famous for "empire building" or put differently, trying to maximize the size of their portfolio at all cost in order to increase their asset management fee income.
The fact that Dream Global keeps issuing shares very regularly despite trading at a discount to NAV is a clear sign of conflict to me. I believe that the shareholders would be better off if the management actually bought back some shares, but it is doing the exact opposite.
As a result of this disagreement on capital allocation, I decided to look for a better alternative within internally managed REITs. This is how I came across DIC Asset [DIC:GR], which is one of the very few German REITs still trading at a sizable discount to NAV today.
About DIC Asset
DIC Asset is one of the few German Office REITs that I consider to trade at a very compelling valuation today. With a $650 million market cap, it is relatively small and appears to be widely underfollowed, and as a result, its quality might have gotten overlooked.
DIC is a leading commercial real estate investment firm in Germany. It is not only an owner, it is also an asset manager as it manages separate private vehicles for private investors. The firm has today about $3.5 billion of assets under management and is well diversified across different German regions: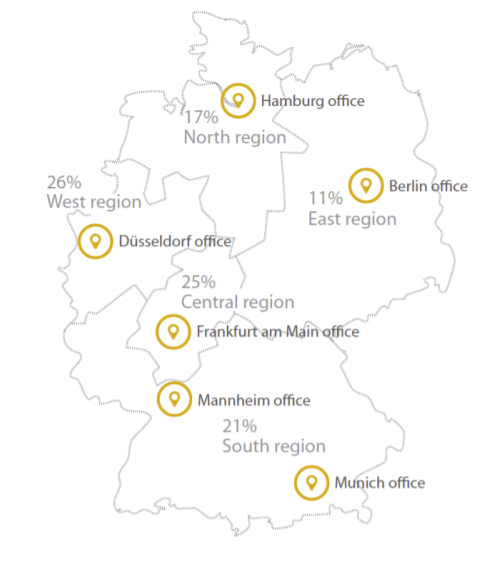 Source: DIC Presentation
The REIT is internally managed with 6 branches in Germany and internal property management capabilities. This was one of the main negatives of Dream Global as it is a Canadian REIT and had to strongly rely on other external German partners to manage its portfolio. DIC takes care of everything itself and therefore, the cost of management and conflicts of interest are well reduced.
The portfolio is mainly concentrated on Office investments (72%) with the remaining being allocated to retail and various other commercial properties such as industrial.

Source: DIC Presentation
The portfolio is fairly well diversified with over 200 properties and more than 1200 leases. DIC targets predominately "Core+" and "Value Add" rather than class A properties for its own portfolio. These properties are characterized by higher risk, but also higher potential reward given that they typically sell at substantially higher cap rates than class A properties. The downside of this type of properties is that they may often be located in secondary or tertiary cities, be occupied by smaller-sized companies and experience higher vacancy rates throughout cycles.
This clearly adds risk to DIC, but note that the portfolio of Dream Global isn't top quality either given its large exposure to old properties from Deutsche Post. Being based in Germany and researching private real estate markets, I am nonetheless not too concerned about the chosen strategy of DIC. For now, the German office market remains strong, and the spreads of these properties are particularly attractive relative to the class A properties in my opinion.
DIC is also an asset manager of various private vehicles in which it co-invests. As such, DIC is able to earn asset management fees on top of its real estate returns. This is one of the main reasons why DIC is so inexpensive today. Most market participants seem to perceive the asset management business of DIC as a net negative for the firm, but I actually think that it brings lots of value.
The product is quite simple: Since most German institutional investors prefer to own real estate directly instead of through REITs, DIC offers private investment vehicles where it co-invests along with the investors. It is a good concept with strong appeal as DIC can utilize its "REIT" status to convince investors to invest along with them.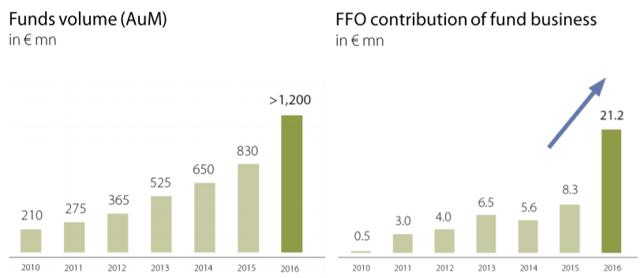 Source: DIC Presentation
Historically, as you can see from the chart, the REIT has done a great job at growing its asset base and attracting new capital from investors. It permits DIC to earn "equity-efficient" returns as it does not have to use its own money in each deal. The fees derived from this business nearly tripled in 2016 and further high growth is expected in 2017 as two new funds are currently in preparation.
High Discount to NAV
While German property companies sell on average 10% premium to NAV today, DIC continues to sell for a 20% discount to NAV.
This large valuation differential is due to a perceived higher risk at DIC. Some of this discount is certainly justified as DIC remains more leveraged than average and operates a secondary asset management business, but the gap here appears excessive in my opinion.
DIC was not too far from going bankrupt during the last financial crisis due to being overleveraged and since then, the firm has done a good job at reinforcing its balance sheet. Year after year, debt has been reduced and is now down to manageable levels at a LTV below 60%. While the REIT decreased its debt levels, it managed to grow its FFO at a very attractive pace. I believe that this deleveraging has remained overlooked and that the REIT remains stigmatized for its history of being overleveraged. It led many investors to get badly burnt in 2008, and the trauma is still there.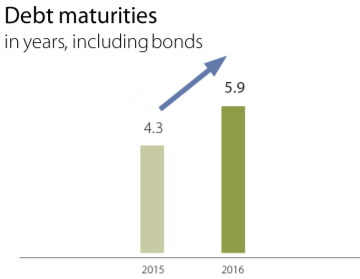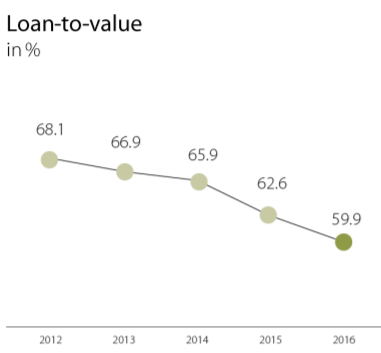 Source: DIC Presentation
Today, DIC is much stronger and has greater liquidity as a result of its reduced debt and longer maturities.
On top of the high discount to NAV, the FFO multiple is also relatively low today at only 12-13. To put this into perspective, have a look at the average FFO multiples paid for US Office REITs: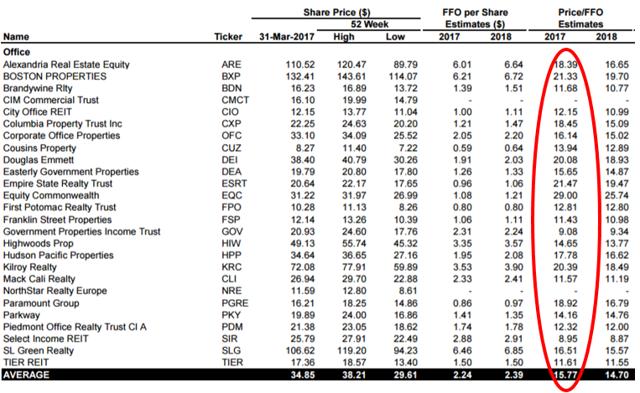 Source: NAREIT
The US office REIT sector trades today at close to 16 times its expected 2017 FFO with many REITs trading at or over 20 times FFO. REITs such as Boston Properties (NYSE:BXP), Equity Commonwealth (NYSE:EQC), SL Green (NYSE:SLG) are all high quality, but trade at historically high valuations today due to the low interest rates and cap rate compression.
Obviously, US REITs are not the right peer group for DIC, but it is interesting to compare the valuations given that cap rates are even lower in Germany than in the US. As such, all else being equal, German REITs should trade at higher FFO multiples than US REITs.
In this sense, DIC appears excessively cheap relative to its German peers, which trade at higher premiums to NAV and relative to US REITs, which trade at higher FFO multiples (despite potentially owning higher cap rate properties).
High Growth Coming in 2017
The 2017 guidance is highly favorable. The REIT has recently experienced strong growth in its asset management business and it now expects 28% higher cash flow for 2017 compared to last year. Since the announcement of this news, the market has of course reacted positively as the stock is up about 10%, but the value remains appealing here.
Moreover, the current low interest rate environment is very favorable for growth. The average interest cost of the firm is currently 1.7% and it invests in properties at 5-7% cap rates. The spread over its cost of capital is hence very substantial and should continue to lead to external growth.
Recommendation from Local Analysts
Out of 8 recommendations, 6 professional analysts rate DIC a BUY at current levels, with the 2 other rating DIC a HOLD. These analysts follow the German real estate market closely and believe that DIC is undervalued.

Source: DIC Presentation
Final Thoughts
DIC is today trading at an opportunistic price due to fears that are yet to really materialize. DIC is certainly riskier than average given its higher leverage and asset management business, but the high discount to NAV provides some downside protection in my view.
Dream Global is not a bad pick today. It also still trades at a sizable discount relative to German peers, but its external management structure will continue to be a drag on the firm. Dream Global is constantly issuing new shares through the dividend reinvestment program and other share issuances despite trading at a discount to NAV. I dislike this approach, and I am not the only one given the low valuation of the firm. DIC has a better strategic plan for achieving growth and its management appears to be better aligned with the shareholders.
Moreover, it trades at an even higher discount to NAV which combined with high growth has good potential for outperformance in my view. Lastly, its 4.1% dividend yield appears to be safe with a high coverage ratio and has recently been increased by 8%.
Since I invested in DIC, my shares are up over 15% and I expect further appreciation as the firm grows at above average rates.
If you enjoyed this article, please scroll up and click on the "Follow" button next to my name to not miss my future articles on other undervalued REIT. I have experience working in Private Equity Real Estate and aim to identify the best risk/reward opportunities within my field of expertise. My articles are free here on Seeking Alpha, and following me will allow you to receive all my research at no cost.
Additional Disclosure: This article is for informational purposes only. It is not a recommendation to buy or sell any security and is strictly the opinion of the writer. Readers are expected to conduct their own due diligence or seek advice from a qualified professional.
Disclosure: I am/we are long DIC:GR.
I wrote this article myself, and it expresses my own opinions. I am not receiving compensation for it (other than from Seeking Alpha). I have no business relationship with any company whose stock is mentioned in this article.