My fellow Seeking Alpha contributor Research & Development (R&D) recently penned a bearish Valeant (VRX) article. I wish we, as Seeking Alpha contributors, did more of that before 2015. However, to give credit where it's due, some actually did: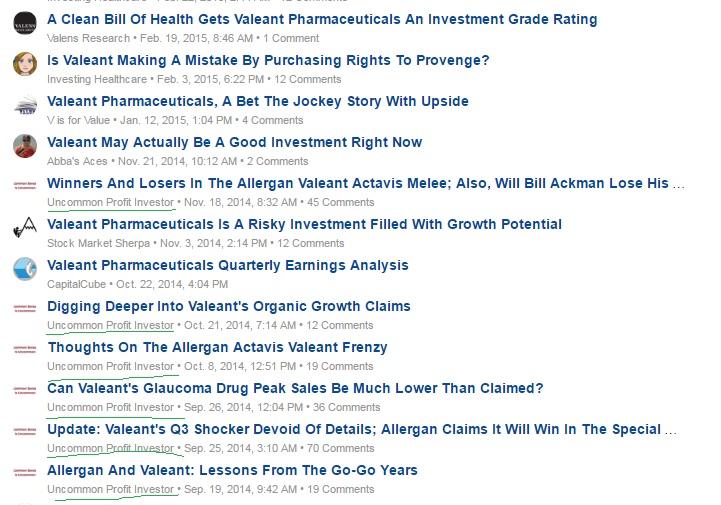 Source: Screenshot from SA, green edits added by author.

These days, the bearish pieces are like getting the paper a day late. There's no particular reason why I picked R&D's article to take issue with, except that I think it included a few suggestions that a casual reader interested in beaten-down value stocks might misinterpret without the necessary context. So, let's get into a few statements by R&D, in quote blocks, before I end with my expectations for Valeant's near future.
Revenue Growth
R&D opens with a self-constructed, very red and scary graph: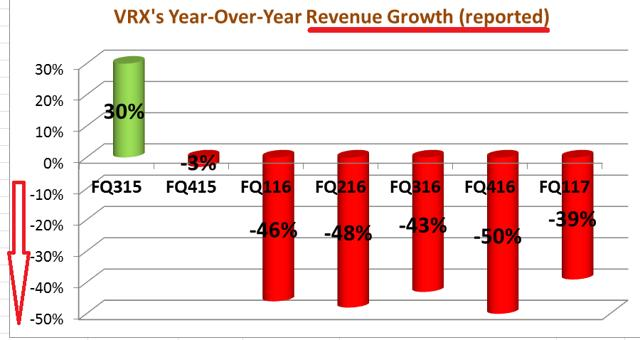 Source: R&D. Note: Meanwhile this chart has been updated - please disregard this one and visit R&D's original article.
A casual glance over the chart makes it appear as if Valeant's sales are tanking like the Brooklyn Nets. If I pull up a YCharts version, things don't look so dire: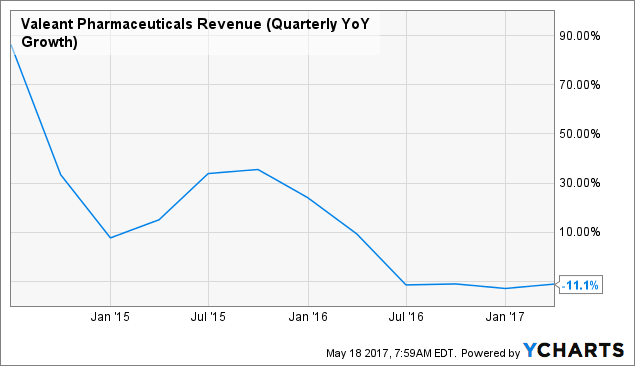 Investment Thesis
R&D proceed with an investment thesis (emphasis mine):

As we can see from the above chart, since the fourth quarter of 2015, Valeant's (NYSE: VRX) revenue declines are accelerating. From 2017 to 2021, many patents of the company's key products will expire. Valeant admits that it faces intense competition from manufacturers of generic products. I expect VRX stock price is likely to continue decreasing.
That 2017 is going to be challenging isn't news. Management warned about it several times. Last quarter's surprise to the upside happened because it wasn't as bad as management had led us to believe it would be. R&D's thesis is only half of the story, though. That's because the revenue declines related to patents expiring are mostly due to cigar-butt plays that were a key component of Valeant's buildup strategy.
The playbook on those was as follows: Buy drugs late in their patent life cycle from reputable pharma and jack up the prices. If you are a small player with no reputation to lose, that seems to have been a decent strategy -- although it's certainly ethically challenged.
Just like Warren Buffett found out about the cigar butt strategy, it doesn't scale well. Valeant has a lot of cleaning up to do, and cleaning up these cigar butts is part of that. Revenue drops are naturally very steep for a drug at a jacked-up price that goes off-patent.
The good news is that once it's dropped, it's gone. There is no reason to imply that negative revenue growth is accelerating and somehow this is an endless spiral of doom. In fact, many of Valeant's remaining businesses are robust growth businesses or even good growth businesses. Once cigar butts have dropped off or shrink in size, which they are doing, these overtake the growth rate and it turns positive again.
Actavis Stay
Then there's the press release on the Actavis stay. You can interpret it as a bad thing:
Today, the company announced that ... Valeant Pharmaceuticals and Actavis Laboratories have agreed to stay any outstanding litigation and extend the 30-month stay regarding Actavis' Abbreviated New Drug application for a generic version of Xifaxan (rifaximin) 550 mg tablets...

... Based on this, I would not say Valeant's Xifaxan patent protection is safe. The drug Xifaxan generated $1 billion in revenue in the past...
Confirmation bias is a very tough thing to overcome. I should know; if you read that paragraph above you'd be right not to feel safe. However, if you were to read more of the press release, you might feel a little better (emphasis mine):
... Legal action is stayed through April 30, 2018, and cannot be lifted prior to Oct. 31, 2017. All currently scheduled litigation activities, including the January 2018 trial date, have been indefinitely removed from the Court docket...

... The parties agree and the Court ordered that Actavis' 30-month regulatory stay shall be extended from Aug. 12, 2018, until no earlier than Feb. 12, 2019, and could be longer if the litigation stay lasts for more than 6 months...
The way I interpret this is that they stayed in theory, but for all practical purposes it's over with.
The Debt
Finally, the following paragraph implies that it will be years before the company can get to $20-$25 billion in debt. A casual reader might connect the negative revenue growth acceleration we just discussed and throw in the towel at this point:
Lack of revenue growth is a concern. With a loss of revenue from assets sales, intense generic completion and loss of revenue from branded products due to patent expiration, Valeant is still not a safe long bet. The stock will be under a constant downward trend until the company reduces its debt to a manageable level. The CEO, Joe Papa, earlier stated that the company's plan to reduce the debt to $20-25 billion would likely take several years.
He may have said it, but Seeking Alpha shows the debt at $28.5 billion now. Meanwhile, the company has about $1.2 billion in cash.
The CEO commented as follows on the last earnings call:
We reiterate our expectation to pay down $5 billion of debt from divestiture proceeds and free cash flow by February 2018, and we are well on our way to delivering on this goal.
That was accompanied by the following slide showing devestitutures that still need to close: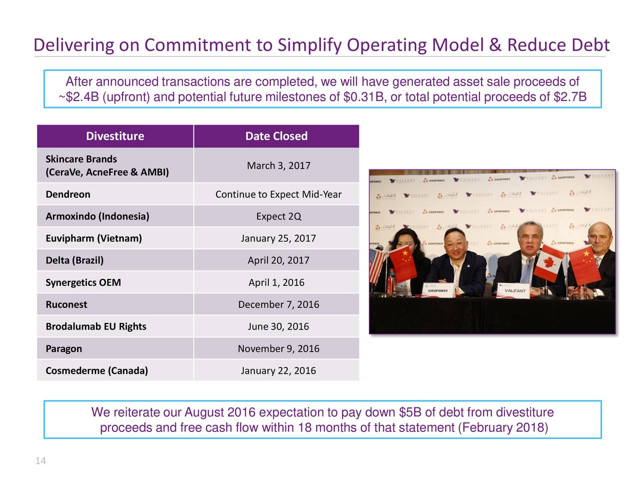 Just that takes their debt to $25 billion by February 2018. And that is only a couple of quarters away, not years.
Opinion
I think Valeant will be very quiet for another quarter and perhaps institute a name change. Then we might see more asset movement. If it is opportunistic to do so, the team will sell assets. There's another possibility opening up where the team will want to streamline the portfolio and make a sale to enable buying a more fitting asset.
Increasingly, I don't see them getting squeezed out of assets, which bodes very well for their ability to make deals. There will be less hustling around and more actual business at the deal table. Just one deal surprise could take debt to below $20 billion.
Summary
Near-term revenue problems are something management warned about repeatedly. I'll readily admit that Valeant is not a safe long bet. That doesn't mean it's not a good bet, or a bet with a high expected value. Valeant has had a bit of a run-up lately, but it's still highly attractive -- if you believe something along the lines of the odds being above 50% that it won't default in the next two years. I didn't buy Valeant to go from $10 to $14, but from $25 to ~$100.
Disclosure: I am/we are long VRX.
I wrote this article myself, and it expresses my own opinions. I am not receiving compensation for it (other than from Seeking Alpha). I have no business relationship with any company whose stock is mentioned in this article.