Twilio (NYSE:TWLO) collapsed about two weeks ago following the revelation that top customer Uber (Private:UBER) was utilizing dual sources. At that time, my suggestion was that its guidance wasn't that bad. The stock went on to retest the lows from the IPO last June.
A couple of executives stepped in to purchase shares at the lows. Did the executives signal the lows in Twilio as the stock bounced back to $25?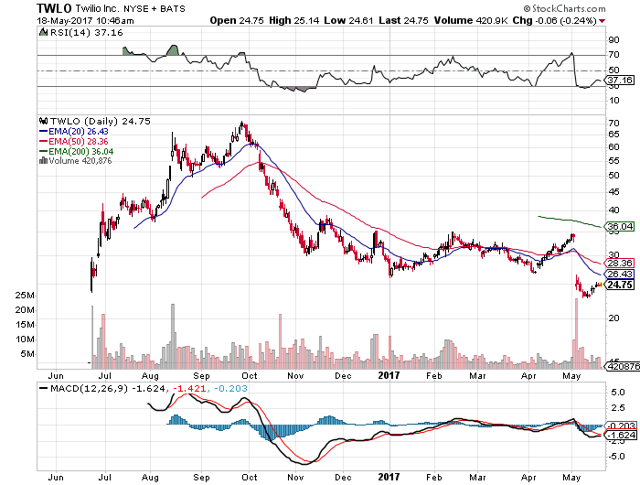 The Q1 results weren't nearly as bad as the stock selloff. The biggest issue was the valuation of the stock.
With or without Uber, Twilio grew customer accounts at a fast clip. Without Uber, revenues grew at a 60% clip, suggesting a very healthy business.
Revenues are set to decelerate from the 60% growth rates to sub 30% by Q3 and Twilio isn't exactly a cheap stock. Analysts still expect to see revenues surging to over $450 million next year while the market cap sits at $2.5 billion.
A February purchase by Twitter's (NYSE:TWTR) CEO Jack Dorsey signaled a bottom in that stock in the $16 range. The stock though was significantly cheaper than where Twilio trades now based on a traditional EV/Sales multiple.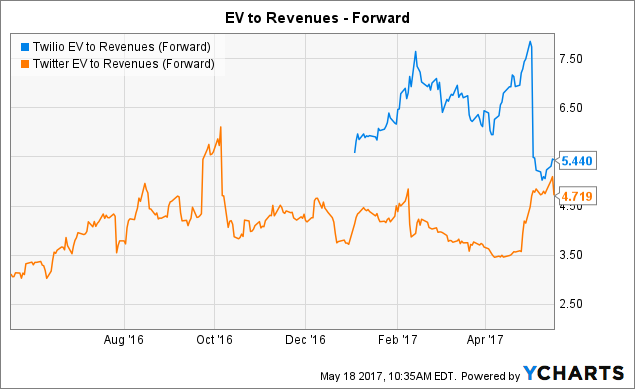 TWLO EV to Revenues (Forward) data by YCharts
So Twilio isn't an extreme bargain by traditional valuation measures, but two insiders purchased shares on the massive selloff last week. CEO Jeff Lawson bought 100,000 shares at $23.43 for $2.3 million and Director James McGeever bought 10,000 shares for $23.19.
The purchases are intriguing considering Twilio priced the IPO down at $15. These executives unloaded shares at a far higher price in the October secondary at $40.

Source: Twilio S-1/A
The CEO sold 830,977 shares and the Director sold 72,861 shares. In total, the executives sold over 900,000 shares and only bought 110,000 shares.
The data supports a tepid buying signal. The executives were clearly more eager to sell at $40 than purchasing shares at $23. The fact that the CEO still owns nearly 8 million shares naturally reduces his willingness to load up on more shares whether Twilio is extremely cheap or not.
The key investor takeaway is that the insider purchases at Twilio were indeed positive though the signals weren't extremely bullish considering the valuation and past sells by the insiders.
Disclosure: I am/we are long TWTR.
I wrote this article myself, and it expresses my own opinions. I am not receiving compensation for it (other than from Seeking Alpha). I have no business relationship with any company whose stock is mentioned in this article.
Additional disclosure: The information contained herein is for informational purposes only. Nothing in this article should be taken as a solicitation to purchase or sell securities. Before buying or selling any stock you should do your own research and reach your own conclusion or consult a financial advisor. Investing includes risks, including loss of principal.