Wayfair's (NYSE:W) customer retention rate is abysmal. Despite spending egregious amounts on advertising, Wayfair is losing existing customers faster than they are acquiring new customers.
First a definition from Wayfair's 2016 10-K.
Active Customers: As of the last date of each reported period, we determine our number of active customers by counting the total number of individual customers who have purchased at least once directly from our sites during the preceding twelve-month period. The change in active customers in a reported period captures both the inflow of new customers as well as the outflow of existing.
Now let's take a look at a couple of slides from the 1Q17 earnings presentation.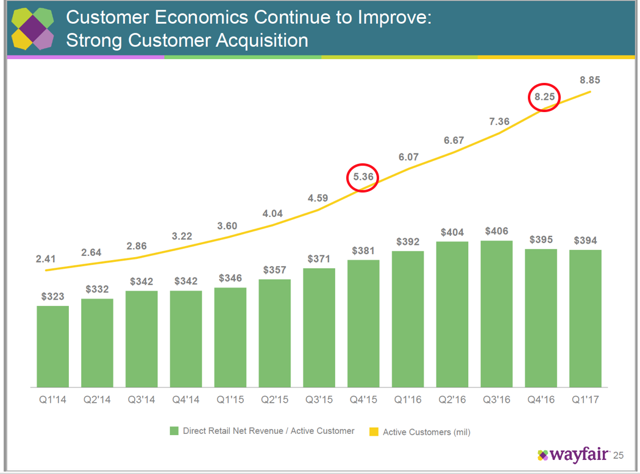 As of 12/31/15, Wayfair had 5.36M Active Customers, i.e. customers who transacted at least once in calendar 2015.
At the end of 12/31/16 the number of Active Customers was up to 8.25M, i.e. customers who transacted at least once in calendar 2016.
So From 12/31/5 to 12/31/16, Active Customers grew by 2.89M, which is a YoY growth of 54% and seems impressive on the surface.
From slide 45 of the same presentation we see that new customers acquired in 2016 was 6.04M and the advertising cost of acquiring each new customer was $66, for a total direct ad spend of $398.1M.
So 6.04M customers transacted for the first time in 2016 and the Active Customer count at the end of 2016 was 8.25M. This means that from the entire cohort of 5.36M Active Customers that existed on 12/31/15, only 2.2 M transacted again in 2016.
Think about that. Of the 5.35M Active Customers that existed on 12/31/15, 3.14M or 58% dropped off and did not transact in 2016.
And this is not a one-off. 61.66% of the 2014 cohort dropped off in 2015. The first three lines below are as reported by Wayfair and the three lines in italics are my simple arithmetic on these numbers.

So, just to stay in the same place, Wayfair must spend $62-$66 per customer to re-acquire the ~60% of the previous year's Active Customers that are lost.
In 2015 Wayfair spent $62*2M = $124M to make up for customers it lost in 2015.
And in 2016 it spent $66*3.1M = $205M to make up for customers lost in 2016.
And if the trend stays in place, in 2017 it will lose ~60% of the 8.25M Active Customers with which it started the year, and spend $66*8.25M*60% = $327M, to make up for customers likely lost in 2017.
And then comes the spending for "growth" - $66 for each additional customer required to maintain the perception of 30%-40% YoY growth.
Talk about unsustainable economics. Advertising spend can buy internet traffic and discounts can goose the first transaction but without much better customer retention Wayfair cannot survive as an e-commerce business.
What if I'm incorrectly extrapolating a drop-off trend that is about to improve in 2017?
Let's assumes that Wayfair maintains the YoY growth rate of ~30% achieved in 1Q17 and hits net revenue of $4.235B for 2017 (which is a 30% growth from 2016 net revenue of $3.258B).
Let's also assume that opex excluding marketing settles in at the 2016 rate of 11% of net revenue (even though the 1Q17 rate was much higher at 14% of net revenue).
Now consider the table below that shows the operating performance for different assumed drop-off rates.

The drop-off rate has to improve dramatically to 45% (from the ~60% level in 2014 and 2015) for Wayfair to just about hit profitability.
And even if we assume they can pull off this credulity-stretching improvement in the drop-off rate, Wayfair is trading at an astronomical forward PE of 290.
This is how far off Wayfair is from a sustainable business and a realistic valuation.
What's more, Wayfair is out of cash, as of March 31, 2017. Wayfair's current liabilities exceeded its current assets by $134M, i.e. Wayfair's net cash position is a negative $134M.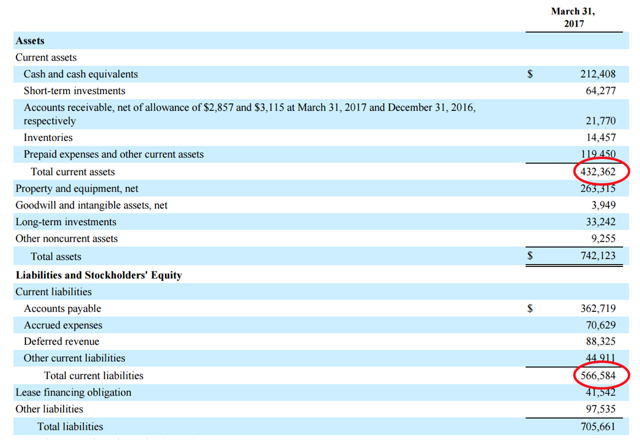 Realistically there are only two ways forward:
1. Sell to a buyer who is feeling the pain of online competition, who does not understand the basics of e-commerce economics and who can be swayed by topline growth and unintelligible e-commerce metrics. This is highly unlikely, especially at the current nose-bleed market cap which is 10x that of competent, profitable competitor Overstock.com (NASDAQ:OSTK) and with the imminent competitive threat from the recently announced Amazon (NASDAQ:AMZN) push into furniture.
2. Raise money in a secondary that gives them another year or two of runway to position for a sale. Even if Wall Street is willing to look the other way, misdirect investor attention to topline growth and support a secondary, it will only delay the inevitable.
In either case the stock is an extremely low-risk short at these levels. The best case outcome for the company is a dilutive secondary offering that will send the stock lower.
Disclosure: I/we have no positions in any stocks mentioned, but may initiate a short position in W over the next 72 hours.
I wrote this article myself, and it expresses my own opinions. I am not receiving compensation for it (other than from Seeking Alpha). I have no business relationship with any company whose stock is mentioned in this article.