The market is falling! Run for the hills! Bank of America (NYSE:BAC) is especially at risk. My fellow Seeking Alpha contributor, Achilles Research agrees - a 20% correction is possible!
No disrespect to Mr. Achilles. In fact the opposite: I respectfully disagree. While Trump has more impact on BAC than other stocks, I put more faith in the fundamental-stock correlation than the sentiment-stock correlation (for this company).
I have three reasons for being bullish on BAC. First, rates will be raised. Higher rates are good for banks because they can pass the spread onto the customer - read: higher return on equity.
Achilles and many others believe that the Trump fiasco will affect the degree at which rates are raised. Perhaps, but ultimately, the Fed has the plan to raise rates. And ultimately, I trust those who put their money where their mouths are: Thus, I trust the CME Fedwatch data.
The probability for June's rate decision has its ebbs and flows. But ultimately, the probability of a June rate hike is above 50%, Trump-related fears be damned. It's not like Yellen and Trump are buddy-buddy, anyway: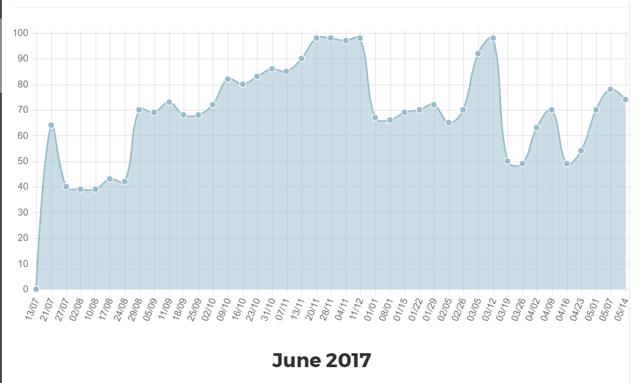 (Source: here)
So that's issue one. The rates will be raised. Even if they are put off, they will eventually be raised, and BAC's bottom line will grow.
The second issue is one I've been meaning to post for a while. Readers of mine might be familiar with my bank valuations. I use the excess returns model, which avoids the huge set of problems that comes with the standard method, discounted cash flow, when evaluating financial institutions.
Case in point, the discounted cash flow valuation for BAC is absurd:

The excess returns model emphasizes return on equity and its improvement in light of opportunity costs and comparison to general market returns (hence the name excess returns model). I have coded the excess returns valuation to be calculated annually so that we can plot it against the stock price for predictive uses. Here is the most recent version for BAC (I just updated it like five minutes after reading Mr. Achilles' article):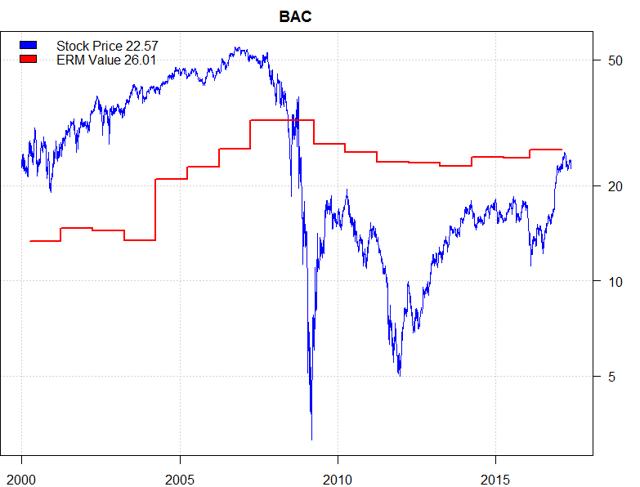 No new changes for this year: BAC is still undervalued, as it has been since the 2008 crash. As I have explained many times, I attribute this to "wet feet": An assumption that the banking sector still has much risk - a "bad aftertaste" if you will. Yet the valuation and the stock price are converging, which means that the upside is decreasing. If you didn't buy before, now might be a little late.
But my third point implies that we still have an opportunity. My third point is more technical. My third point is that BAC has a nice area gap.
Anyone who has taken my Gap Gameplan course or even read my free Gap Method guide knows what to do next. The techniques for trading gaps are a little too involved for this article, so I'll sum up with what my gap-prediction algorithm says of this gap type (double-red candlesticks, down gap, within recent trading region):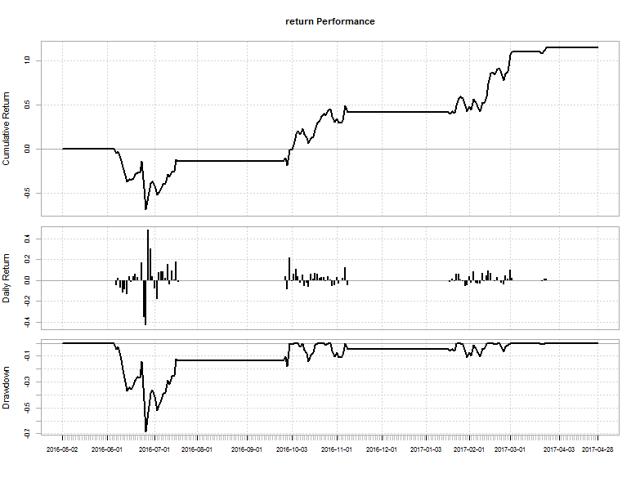 The algorithm shows the gap more likely to fill than widen. This is based only on the first post-gap candlestick. Gap Gameplan traders know that the probability of predicting the gap filling increases over the coming days via the candlestick patterns and indicators I mention in the course. But for those not interested in gap trading, the takeaway is in the above chart: BAC will likely close the gap; ergo, we have a buying opportunity, gentlemen (and ladies).
I could end my article here, but let me throw at you a couple more bullish facts. Dropping some truth:
Insiders are buying; nobody is selling:

Pattern recognition shows more upside than downside and a median forecast of gains, not losses: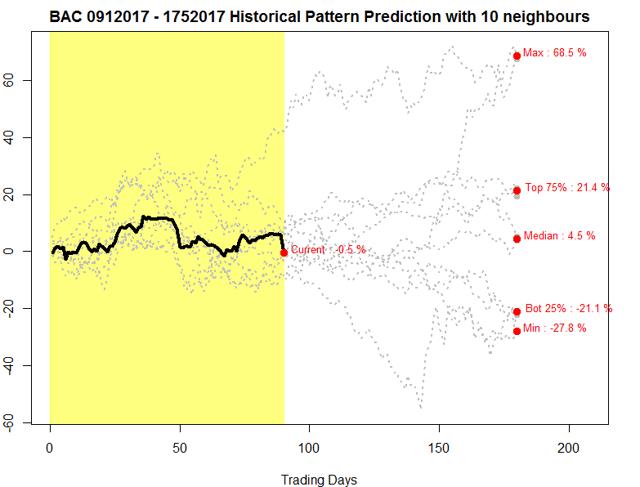 Seasonality is bullish. June kind of sucks, but we are still in BAC's "bull season":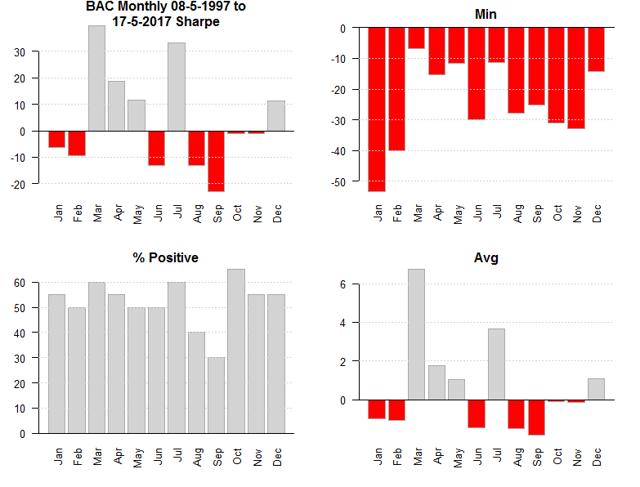 Happy trading.
Earnings Predictions Track Record:
April's Brier Score:
| | | | | |
| --- | --- | --- | --- | --- |
| Ticker | Probability | Direction | Result (1=correct) | Brier Score |
| GOOG | 0.68 | Long | 1 | 0.1024 |
| MSFT | 0.65 | Long | 1 | 0.1225 |
| FB | 0.68 | Long | 1 | 0.1024 |
| XOM | 0.59 | Short | 0 | 0.3481 |
| WFC | 0.65 | Short | 1 | 0.1225 |
| ILG | 0.72 | Long | 1 | 0.0784 |
| | | | Average Brier Score (0 to 1; 0 = always right): | 0.14605 |
| | | | Brier Skill Score (-1 to 1; 1 = perfect foresight) | 0.778712121 |
Upcoming Earnings Trades: BABA, NKTR, ILG, PCLN, ULTA, NTES, CACC, HD
Get my earnings trades: Exposing Earnings.
Have questions about Exposing Earnings? Contact me.
Gap Trading
I built my trading career on gap trading. See this quick guide for 11 ways to trade gaps.
Notes:
Note: Get my articles as soon as they are published by clicking the big orange "follow" button at the top of this page. Make sure you choose "real-time alerts." Trade alerts sent through "Copy My Trades."
Note: All unlabeled figures were created by me. I used R to pull data directly from Yahoo and ADVN. Charts with blue backgrounds are from Etrade Pro. Fundamental charts from a paid subscription at simplywall.st.
Disclosure: I/we have no positions in any stocks mentioned, and no plans to initiate any positions within the next 72 hours.
I wrote this article myself, and it expresses my own opinions. I am not receiving compensation for it (other than from Seeking Alpha). I have no business relationship with any company whose stock is mentioned in this article.